Los Angeles Lakers:

reserves
October, 22, 2012
10/22/12
8:46
PM PT
In the eyes of many NBA pundits and fans, two factors are commonly cited as the biggest threats to the
Los Angeles Lakers
' championship quest: health and chemistry. Both elements have reared their ugly heads during a heretofore winless preseason, often competed while key players watched in street clothes.
No question, some nerves were settled by the debut of
Dwight Howard
, whose mere presence provided glimpses of the high ceiling possessed by these Lakers. But as with any player returning from injury, there's always fear of setbacks. And in a game in which
Steve Nash
and
Metta World Peace
also suffered injuries (a sore ankle and a dislocated right middle finger, respectively), those concerns are compounded.
Well, so far so good.
Howard told reporters of notable soreness, but those aches are a part of the process. The center was told his body would react this way, and treatment was part of today's agenda. In other words, nothing out of the ordinary. For that matter, Nash and MWP practiced -- albeit in a session with no heavy contact -- and neither is expected to miss any games. The same can be said for
Kobe Bryant
, who
skipped today's workout with a strained right foot
. The injury took place during Sunday's loss to the
Sacramento Kings
, but nobody seemed particularly nervous about an extended absence.
Mike Brown
confirmed that
Jordan Hill
is close to a return.

The benefits to having all hands on deck extend beyond just the roster's collective strength. It allows Brown to finally develop an informed opinion for a desired rotation. Between the third-stringers he's been forced to give obligatory looks and some key players being absent, the coach hasn't been able to utilize players as envisioned. And the results have been obvious, especially with the reserves on the floor.


April, 12, 2012
4/12/12
5:54
PM PT
Over the last week, Lakers headlines have been dominated by issues like
Kobe Bryant's
shin,
otherworldly rebounding from Andrew Bynum
, a string of quality performances from
Metta World Peace
, and the implications of a 20-point loss to Phoenix and a 14-point win over San Antonio, both with The Mamba wearing a well-tailored suit. Such talking points would always feel trenchant, and with the playoffs lurking, the urgency is magnified tenfold. In the meantime, another notable development has surfaced almost entirely absent of hype. Compared to the previously mentioned story lines, under-the-radar status for this trend is understandable, but it nonetheless shouldn't be mistaken as trivial.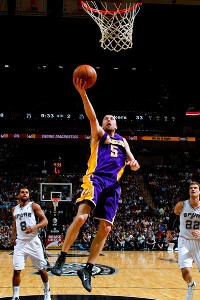 Win McNamee/Getty Images
Not a Photoshopped picture: Steve Blake did actually execute this finger roll.
Quietly and by any measuring stick,
Steve Blake
, who's suffered through a largely disappointing season, has played two very good games in a row.
From a statistical standpoint, his numbers are much improved. Over the last two games, he's averaged nine points (53.8 percent from the field/60 percent from deep), 3.5 assists, 2.5 rebounds, and .5 turnovers in 28.5 minutes. The stats aren't necessarily eye-popping, but they're perfectly fine from a backup point guard. And against the backdrop of
his overall April splits
(5.4 ppg, 41.4 FG, 41.2 3pt, 3.0 apg, 1.3 rpg, 1.1 TO), they're practically a revelation. While fellow reserve
Matt Barnes
has insisted
the Lakers bench shouldn't be judged by scoring totals
, this entire season has served as proof of how hamstrung the starters become without consistent support. In particular, Blake's cupboard has been bare. Nobody would reasonably expect
a dude with a 6.9 ppg career-average
to reinvent himself as a purple and gold
James Harden
, but
some
firepower off the pine is mandatory. For at least two games, Blake's brought a gun to a gunfight.
Blake's also managed to impact games beyond his numbers. In New Orleans, a pair of charges were drawn and he not only tracked down an otherwise certain turnover, but managed to huck the ball while airborne to
Ramon Sessions
. The possession ended with Barnes scoring at the rim, but Blake enabled the basket, even as the only principal who didn't enter the box score on the sequence. Against the Spurs, he prevented a fast break by hustling back on transition, squaring up
Stephen Jackson
and getting his mitts on the ball. Slowed by Blake, Jackson had to take the ball out, and the ensuing possession came up dry.
April, 29, 2011
4/29/11
4:44
PM PT
I am an admirer of
Phil Jackson
as a coach. I like the triangle. I like the defensive adjustments he's helped implement over the last few seasons. I like his "big picture" approach to coaching. I like the way he empowers players and assistant coaches through massive amounts of trust. I like the way he tries to understand his players on intellectual and spiritual levels. Yes, his tweaks through the media will occasionally backfire (see:
Artest
,
Ron
) and there will be the odd substitution pattern now and then. But these are minor gripes, as any coach observed game in and game out would offer. In the grand scheme of things, PJ doesn't get my dander up about much on a regular basis.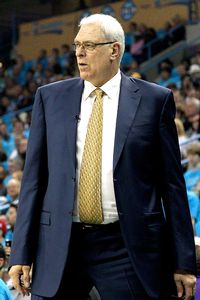 Derick E. Hingle/US Presswire
Even as a great coach, Phil can still make curious decisions
Except one recurrent issue, which presented itself during Thursday's win over the Hornets.
With 5:22 remaining in the game and a 19 point lead,
Phil Jackson
decided to empty his bench... of starters.
Ron Artest
,
Kobe Bryant
,
Derek Fisher
and
Pau Gasol
took the floor to relieve
Andrew Bynum
and The Killer B's. Jackson has a curious habit of using starters late in games iced by any reasonable standard. Sometimes it's a matter of leaving them to play excessive minutes another team's scrubs. Other times, like Thursday, he'll actually go out of his way to put them back on the floor. But whatever the methodology,
as I noted on Twitter, it never fails to drive me insane
.
Predictably, several tweeps sent responses along the lines of "After 11 rings, you can't possibly question Phil Jackson's judgment."
Actually, yes I can. For that matter, so can you.