Los Angeles Lakers:

retired jersey
December, 28, 2012
12/28/12
10:58
PM PT

By Dave McMenamin
ESPNLosAngeles.com
Archive
LOS ANGELES -- Jamaal Wilkes will be remembered as a part of Laker lore forevermore thanks to the team raising his No. 52 to the rafters Friday night at halftime of their game against the Portland Trail Blazers. But for those who saw "Silk" play, there's one part of his game he'll always be remembered for first: that funky jumpshot that was as deadly accurate as it was awkward to look at.
[+] Enlarge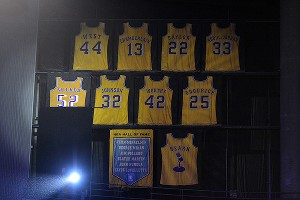 Harry How/Getty ImagesJamaal Wilkes' No. 52 was raised to the rafters Friday night by the Lakers. Wilkes, who retired after the 1985-86 season, jokingly said "I'm glad it happened while I'm still alive."
"It came straight from the playgrounds," Wilkes said Friday before his jersey became the eighth number honored by the franchise. "When I was 11-12, I was a pretty good basketball player in a little town, Ventura, north of here which was real basketball crazy and I began playing with older guys. I was going from the nine-foot to the 10-foot hoops, and of course they wanted to play on the 10-foot hoops and they would block my shot every single time. So, most kids start with that side-winder, I just learned to hold it back there until the last minute and I never realized I was doing anything different until I got to UCLA. Even then, I wasn't sure I was doing anything different."
Wilkes went on to share the story of his second year at UCLA, back when he was still known by his birth name of Jackson Keith Wilkes, when legendary coach John Wooden tested his shot.
"Coach Wooden called me over one day after practice early my sophomore season and said, 'Come here, Keith. Let me see how you shoot that ball. I want you to shoot some shots around key.' I was really confused by that and also terrified because you didn't want the man calling you out about anything, especially around the other guys. So, I did what he said and he said he would rebound for me.
"Well, that really confused me. I thought he was going to call one of the other players to rebound for me. What I remember about that, every pass was just perfect. I said (to myself), I could get used to playing with this guy. And I was drilling it, because you know, my manhood, my credibility, everything was on the line I felt at that moment.
"So he called me back and said, 'OK, how did you shoot that again?' And I was really (thinking) like, 'You just saw me shoot 40-50 shots, right?' So I said, 'OK, I go like this (Wilkes pulled his arms behind his head), I go like that (Wilkes moved his arms in a shooting motion).' Then he said, 'Well, does it leave your finger tips with (backspin)?' And I thought about it and I said, 'Well, yeah, coach.' And he said, 'OK, you're dismissed.'
"Years later we laughed about it. He said he thought about changing it but my setup and my finish, he thought, was textbook and whatever happened in between he decided to leave it alone, and I'm so glad he did."
That funny-looking shot of his led to two NCAA championships with the Bruins, four more titles in the NBA (one with the Golden State Warriors, three with the Lakers), a Hall of Fame induction in 2012 and
an upcoming jersey retirement
at UCLA in January.
Here are a sampling of other quotes from Wilkes on the occasion of the ceremony in his honor:
On what it means to him:
"They're saying no one will ever wear No. 52 again, and not only that, it will be in some lofty company."
On the timing of it, 26 years after he retired from the NBA following the 1985-86 season:
"I'm glad it happened while I'm still alive."