Los Angeles Lakers:

Richard Pryor
July, 12, 2012
7/12/12
1:16
PM PT

By Andy Kamenetzky
ESPNLosAngeles.com
Archive
Whether as a stand-up comedian or Hollywood presence (
"George Lopez,"
"Lopez Tonight"
),
George Lopez
has served with great pride as an entertainment industry voice for the Latino community. He's also a native Angeleno and a huge Lakers fan often found at Staples Center watching Kobe and the gang. Lopez will be performing concerts Friday and Saturday at the Nokia Theater L.A. Live as part of his "That's the America I live in" tour. An accompanying TV special "George Lopez: It's Not Me, It's You" can be seen on HBO on the 14th.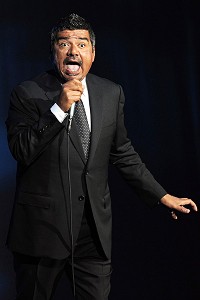 Jeff Daly/PictureGroup/AP Images
Lopez likely made the same face upon hearing the news about Nash.
We spoke with Lopez on Tuesday about a wide range of topics. The show can be heard by clicking on the module and below is a breakdown of talking points:



- (1:00):
Lopez is very excited at the prospect of
Steve Nash
donning purple and gold, even if the acquisition means an inevitable price hike for those, like him, who reside in the courtside seats. Hey, somebody's gotta pick up that tab, right?
- (4:50):
Lopez explains the title "It's Not Me, It's You," a bold celebration of passing the buck.
- (6:15):
Freddie Prinze
and especially
Richard Pryor
(described as "the Buddha of all comics") were big influences on Lopez as he developed his stand-up style.
- (7:25):
Similar to Rocky Balboa in "Rocky III," Lopez must work hard to maintain an edge as his career has grown more successful.
- (9:50):
How does a comic define the difference between avoiding political correctness and actually crossing the line?
- (12:39):
Our disappointment upon learning Lopez
isn't
actually friends with iconic pro wrestler
Pedro Morales
was quickly replaced by excitement upon learning he
is
actually friends with iconic -- and masked -- wrestler
Mil Mascaras
! He's even seen the grappler without his mask, which was ultimately kind of a bummer.
July, 3, 2012
7/03/12
9:53
PM PT

By Andy Kamenetzky
ESPNLosAngeles.com
Archive
Henry Diltz
is a name you might not immediately recognize, but if you're a fan of rock music, you likely know his work. Diltz is among the most famous and successful of rock photographers,
whose stunning portfolio includes iconic images
of, among others,
Crosby, Stills
and
Nash
,
Neil Young,
Keith Richards,
and
Michael Jackson
. His work is prominently featured in
"Who Shot Rock and Roll?"
, an exhibition of music photography at the Annenberg Space for Photography in Century City, which opened on June 23 and runs through October 7. We were excited to have Diltz in studio to talk about his career, the artists he's worked with, and the way Los Angeles has changed from the 60's to the present day.
The entire show can be heard by clicking on the module, and below is a breakdown of talking points:



- (2:38):
Diltz explains how his background as a folk musician influenced his approach and style as a photographer, but also helped him meet so many of the people he shot. His first picture sold? A group shot of
Buffalo Springfield
, which he shot on a lark. 100 bucks in his hot little hand, Diltz had officially discovered his calling.
- (6:58):
By mastering the art of "hanging out," Diltz was able to maintain a relaxed atmosphere and capture the unguarded personalities of these musicians.
- (10:00):
Diltz shares the backstories for his the instantly recognizable covers for the
Crosby, Still and Nash
and
Morrison Hotel
albums. He also recounts memories of working with
Jim Morrison
, and how the singer acted on and and offstage.
- (18:45)
: More memories of working with the likes of
Paul McCartney
, Neil Young, the Monkees,
Ron Wood
, and Keith Richards (whose face made for incredible pictures).
- (27:30):
As the official photographer for Woodstock, Diltz had no clue the festival would grow so huge.
- (31:44):
Richard Pryor
provided a change of pace from the musicians Diltz is most associated with shooting. The two collaborated to create
the cover for Pryor's debut comedy album
, and the comedian grew into a much more political, controversial artist than Diltz recognized at the time.
- (36:00):
Diltz shot
Michael Jackson
as an 11 year-old
for the cover of Rolling Stone
.
- (39:20):
Diltz's success has come without any formal training whatsoever, an element he believes played a deep role in discovering his style.
- (45:00):
Download technology like iTunes has made accessing music easier, but created a casualty in the art form of album covers.