Los Angeles Lakers:

Rick Adelman
May, 20, 2011
5/20/11
10:21
PM PT
By the Kamenetzky Brothers
ESPNLosAngeles.com
Archive
May, 13, 2011
5/13/11
3:01
PM PT
Ramona Shelburne and Dave McMenamin reporting
:
"The Los Angeles Lakers have had to replace two coaching legends in the last 20 years: Phil Jackson and Pat Riley. The only time it's worked out well, the team turned to Mike Dunleavy. They're thinking of doing the same again this time. Dunleavy was contacted by the team this week and is said to be on the team's current "short list" to succeed Jackson, according to a source with knowledge of the situation...

...Dunleavy is currently awaiting judgment in his arbitration hearing with the Los Angeles Clippers, who stopped paying the balance of his contract after they fired him as general manager last year. Dunleavy earlier had resigned as coach after going 215-326 with the Clippers. Though his recent history with the Clippers was unsuccessful, Dunleavy is still viewed as a strong tactician with an impressive history of postseason success. He was the NBA Coach of the Year in 1999 with the Portland Trail Blazers.

The Lakers have always thought fondly of the job he did in replacing Riley in 1990, leading the team to an upset over the Trail Blazers in the 1991 Western Conference finals before losing to Jackson's Chicago Bulls in the NBA Finals. Dunleavy has maintained a friendship with Lakers owner Dr. Jerry Buss and his son, Jim Buss. As recently as last year, he watched Lakers games with Buss from his suite at Staples Center. He also has a long history with Bryant, whom he courted and nearly convinced to join the Clippers as a free agent in 2004..."
Dunleavy's name is
one that came up relatively early in the process
, thanks to the good relationship with ownership and management referenced in the story, as well as a decent history in the league. Still, it seems very unlikely the Lakers would actually go his direction. For one thing, from a P.R. standpoint, it would be a nightmare. While he's had a great deal of success over the course of his career, Dunleavy is far too closely associated with the Clippers to make this work. The citizenry would storm the castle. It's not necessarily fair, but for a team like the Lakers, this sort of thing matters.
Moreover, stylistically Dunleavy seems a poor fit. He's more a micromanager, keeping a tight grip on everything on the floor. Beyond the idea that the Lakers have a versatile roster filled with high I.Q. guys deserving of more latitude, I don't know if Dunleavy and
Kobe Bryant
would mesh all that well together, despite what appears to be a perfectly cordial relationship. Granted, his approach could be different with a veteran group like L.A.'s but it still seems like a bad idea.
The Lakers could very well be doing Dunleavy a solid, helping get his name out there to pump up interest in other open jobs around the league. I can't imagine he'll actually be the guy here, when the dust settles.
May, 12, 2011
5/12/11
3:50
PM PT
Via ESPN.com's Marc Stein and ESPNLA.com's Dave McMenamin
:
"The Los Angeles Lakers' search for Phil Jackson's replacement is just beginning, but NBA coaching sources on Thursday described the Lakers as "very interested" in Rick Adelman as a candidate for the position. Lakers assistant coach Brian Shaw has the public endorsement of Kobe Bryant and is regarded as by far the strongest in-house candidate for the position. Yet sources say Lakers officials are intrigued by the Adelman option, not only because of his history of success in Portland, Sacramento and Houston but also his reputation for thriving with veteran teams and the similarities between Adelman's 'corner' offense and Jackson's 'triangle' offense."
Also on the early list of candidates, Stein and McMenamin report, are
Mike Dunleavy
, who began his coaching career with the Lakers, and
Jeff Van Gundy
. As for Adelman, nothing about the report is at all surprising. I noted when the Rockets fired Adelman last month
he'd instantly become an intriguing candidate to succeed Jackson
. And while I still think Shaw is the leading contender, the way the Lakers went out only decreases his odds. Had they advanced to a fourth straight Finals, it would have been harder to break up the band.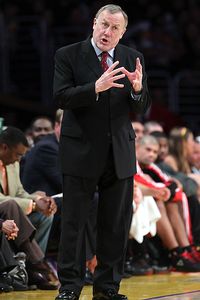 Jeff Gross/AP Photo
Rick Adelman's name is reportedly high on the list of replacements for Phil Jackson.
At his exit interview Wednesday
,
Kobe Bryant
pointed to "familiarity" as one of Shaw's great attributes. He knows their personalities as players, and how they like to be coached, Bryant said. At this point, though, familiarity and comfort may work against Shaw, not for him. Management might decide it best to make the players a little more
un
comfortable. Getting dusted in the second round adds credence to the theory the Lakers need an entirely new voice, and while by definition no voice is like Jackson's, Shaw's still comes from the same tree.
Dunleavy,
says Mark Heisler of the LA Times
, is well thought of in the Lakers' front office and has had a successful career on the bench, but I tend to think his stint with the Clippers creates a P.R. problem for the team. I don't know if fans would accept the choice. Van Gundy feels like a long shot.
The real wrinkle here is the possibility of a lockout
. A long layoff and short regular season favors veteran teams with continuity, obviously favoring Shaw (and, along with it, keeping the core of the team intact), who keeps the existing system and won't require a learning curve with the players. The Lakers don't have a large window with Kobe, and can't afford to give away a year rebuilding, whether with wildly different personnel or a big change in system in a compressed season.
Mitch Kupchak
wouldn't -- couldn't -- speak to how the labor issues impact the coaching search, but did say the team will be in no hurry to name the next coach.
Whatever the end result, I suspect it'll take a while to get there.
April, 23, 2011
4/23/11
6:37
PM PT

By Andy Kamenetzky
ESPNLosAngeles.com
Archive
For those yet to read
Lee Jenkins' (Sports Illustrated) profile of Andrew Bynum
, get on the stick, because it's fantastic. Upon completing that step, strap on a headset and click the module to the right, because Jenkins is our guest. Among the talking points in discussing his article:
PODCAST
Andy and Brian welcome Lee Jenkins of Sports Illustrated, author of a new feature on Andrew Bynum. Plus, a discussion of Bynum's impact on a threepeat run, and what happens next year if the Lakers fall short

Podcast

- Jenkins shares how Drew remains in many ways the same kid who entered the league with a love of computers, gadgetry and engineering. (Brian and I refer to such people as "geeks.") Bynum's desire to devour knowledge is what makes him both a unique athlete and a great fit for a team with a collectively high I.Q. -- basketball or otherwise -- and varying interests.
"He never really just hung out with the jocks at school," says Jenkins of Bynum. "He never really just saw himself as a basketball player."
- Jenkins talks about how the same thirst for learning mirrors Drew's desire to evolve as a player.
- Drew established himself in 2011 as a defensive force after two seasons spent resisting instructions to embrace this role. On the surface, Bynum looked like a typical youngster obsessed with "getting his." But as Jenkins shares, the issue ran deeper. Before getting hurt during his breakthrough 2007-2008 season, he appeared on the verge of becoming the second option behind
Kobe Bryant
. Then came the arrival of a more polished
Pau Gasol
, which lowered his place in the pecking order. As someone who fancied himself a scorer, Bynum felt like he had no role, or even a place in the franchise.
"There was a long period where he felt lost," explains Jenkins. "He needed time, a lot of time, to come to the fact that what he wants to do isn't necessarily what the Lakers need him to do. They need him to do something different."
- What bothers Drew most about Kobe's infamous "Ship his a-- out" parking lot rant? Being asked so often about it.
- As an intellectual kid, Bynum genuinely appreciates the heady Zen approaches of
Phil Jackson
. No matter who replaces PJ, Jenkins thinks it will be an especially big adjustment for Drew.
- With Jenkins gone, we talk about the importance of Bynum in the Three-peat quest. The 2009 and 2010 titles provided tangible evidence the Lakers can win without Drew dominating, but the quest becomes much easier if he does. Plus, he's been dying to make an indelible playoff mark, so it would be nice for that dream to finally get realized.
- If the playoffs ended with a whimper, how would that shape the offseason, whether in terms of the roster or Phil's replacement? Would a second round exit make someone like
Rick Adelman -- who brings more experience but also a different system to the table
-- more appealing?
- Is there reason to be concerned Pau's regular season inconsistencies will linger throughout the postseason?
April, 19, 2011
4/19/11
5:49
PM PT
Brian Shaw
has for a while -- through a combination of his own attributes, the belief he comes
Kobe Bryant
approved, and a lack of high-end competition (
Byron Scott
is in Cleveland,
Nate McMillan
re-upped in Portland, and so on) -- been seen as L.A.'s coach-in-waiting.
He probably still is, but
news out of Houston on Monday
could change the equation, as
noted in this post from Silver Screen and Roll's C.A. Clark
:
"...So the Lakers will be in a bit of a bind if Phil Jackson really does call it quits. The roster cries out for continuity of system, while the situation cries out for a coach who can command the respect of a star-studded group. There is no candidate who can provide both. But, thanks to a rather unexpected turn of events, there is now someone who comes close. The race to replace Phil Jackson has a new dark horse, except this dark horse might have been the race's favorite if we knew he'd be involved. His name is Rick Adelman..."
Clark lays out a variety of reasons why Adelman is a credible candidate, and it's hard to argue. My gut still says Shaw gets the job, but at the same time I absolutely believe there will be an element of support for a head coach with more experience. As Clark notes, it's much easier to get behind a newbie, even one as well groomed as Shaw, in theory than in practice.
It's also very possible this year's results could impact next season's hire. Hard to picture the Lakers changing systems after a three-peat, but what if they lose?
October, 26, 2010
10/26/10
12:17
PM PT

By Andy Kamenetzky
ESPNLosAngeles.com
Archive
Tom Petty
noted back in '81 how
the waiting is the hardest part
. Nearly 30 years have passed, and science has yet to discover a cure for the anxiousness during the countdown to an epic event. Like, say, the quest for a third consecutive NBA title. Thankfully, pins and needles can go the way of the T-Rex, because the season is officially on like Donkey Kong!
The two-time defending champion Los Angeles Lakers will do battle tonight at Staples Center against Houston Rockets. Just seeing their boys back in action would be enough for the Laker nation, but against a team capable of a compelling contest? Bonus! Here are a few items worth watching:
Pau Gasol vs. Yao Ming
This marks the Chinese icon's first meaningful NBA minutes since suffering a devastating foot injury during the 2009 playoffs (coincidentally enough, against the Lakers en route to the first of consecutive championships). Yao will be competing on the roundball equivalent of a pitch count, capped at what's been routinely described as a strictly monitored 24-minute mark.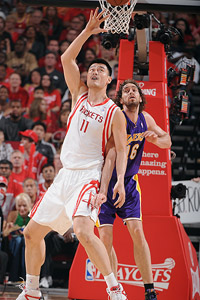 Andrew D. Bernstein/NBAE/Getty Images

The last time these two tangled also marks the last time Yao tangled, period.


While this limit
obviously affects Rick Adelman's substitutions and options
, Yao is nonetheless present, accounted for, and able to play hard. His presence alone, much less his enviable all-around skills, drastically change the complexion of Tuesday's opponents (who still toughed out a 42-40 record last season minus the services of a true star).
Gasol, charged with the task of slowing Yao, knows this:
"It's always a test to play against Yao. Such a big presence inside. So many moves also. So it's always a challenge. So you have to give your best effort against him if you want to be successful against him."
The meaty task is quite possibly a blessing in disguise for Gasol. As ESPNLA.com's
Dave McMenamin
notes, El Spaniard's coaches
haven't been especially pleased with his exhibition season gusto
, and even the player has admitted getting psyched for meaningless October games can be tough after the thrill of back-to-back titles. In fairness, Gasol is hardly the first decorated veteran to feel this way, nor will he be the last. But
with Kobe Bryant still on the mend
,
Andrew Bynum
unavailable, and key players still learning the triangular ropes (see below), the early leg of the season isn't just an opportunity for Gasol to further boost his credentials as a player capable of carrying a team through stretches. It's being counted on.
Playtime now over, Gasol can start taking the challenge to heart.