Los Angeles Lakers:

Rick Carlisle
November, 5, 2013
11/05/13
2:07
PM PT

By Dave McMenamin
ESPNLosAngeles.com
Archive
DALLAS -- The first two weeks of the NBA season includes a reunion tour for Los Angeles Lakers center Chris Kaman, as L.A. played the team that drafted him, the Los Angeles Clippers, on opening night and play Kaman's two other former teams -- the Dallas Mavericks and New Orleans Pelicans -- on the road this week.

Kaman, a one-time All-Star, has enjoyed a solid career over his 11 years in the league, but perhaps his most frustrating campaign was last season with Dallas.

"It just doesn't always work out everywhere you go, obviously, and players get bounced around, bumped around a lot and I guess I didn't really fit in to Coach (Rick) Carlisle's style," Kaman said Tuesday after shootaround. "So I just had to figure out another way to make it work somewhere else."

While things haven't gone completely according to plan with the Lakers either -- Kaman is averaging 8.8 points and 5.3 rebounds in just 16.5 minutes per game so far, seeing his role reduced after missing eight days at the end of training camp with salmonella poisoning -- he said he appreciate's his communication with Mike D'Antoni more than he did with Carlisle.

"It's a different coaching style," Kaman said. "Coach Carlisle is uptight and kind of plays games with people a little bit here and there, but Coach D'Antoni is more relaxed and more go-with-the-flow kind of thing. Let's let the guys play and get a feel and he'll let you make mistakes and still play. That's the kind of basketball that players like to play. You can't micromanage every tight little situation and pull guys in-and-out, in-and-out. It just doesn't work that way."

Kaman told reporters following the Lakers' win over the Atlanta Hawks on Sunday that he wanted more minutes alongside Pau Gasol moving forward, like he had been granted in the preseason before his stomach virus.

D'Antoni was fine with Kaman's candor.

"I would think it odd if he would have it any other way," D'Antoni said. "He wants to play and he wants to see stuff (on the court) where other guys aren't quite frank have also thoughts that they want to play and what they think is better. So, it's not odd. But that's how his personality is. He's been great. He's been super."

The coach also didn't mind Kaman spreading his message through the press.

"I talk to him all the time too and he tells me the same thing," D'Antoni said. "It's no secret. I'm cool with it. It's good. There's nothing wrong with it."

Kaman said the lines of communication are open on both ends.

"Coach is real candid," Kaman said. "He's open and he's honest and he's real flexible and he takes things just like they are. You're honest and up front with him and he's the same way back.

"It's odd to see a coach that has that style, but I like it. Because that's the kind of guy I am. I'm up front and I like to wear my heart on my sleeve so you know where I'm at. Some coaches don't like that and I think that can get you in trouble a little bit, but I just try to be honest with people and express what I feel and we'll see where we go from here. I've had nothing but good conversations with him."

Their communication will be tested depending on how long it takes for Kaman to take the floor with Gasol again.

"I think offensively he really knows how to play," said D'Antoni, before describing a role for Kaman. "He passes the ball, he's very skilled as a big guy and he can give us a lot of what Pau can give us so there's not really a drop off when Pau goes to the bench."
April, 14, 2012
4/14/12
8:10
PM PT
I've said it many times. In a season in which consistency has been as rare as a four-leaf clover discovered on top of a
copy of Superman No. 1
, there's been one solid trend for the Lakers. Opponents regarded with contempt on a personal level receive their best efforts, as evidenced by a 3-0 clip against the defending champs. The players on hand, whether
Derek Fisher
,
Ramon Sessions
,
Brendan Haywood
or
Delonte West
, have changed, but the Lakers' vibe has been metronome-steady.
Kobe Bryant
might not be available Sunday, and
Lamar Odom
absolutely won't, but I expect that intensity to be maintained. Particularly in light of
Friday's rather promising win over the Nuggets
.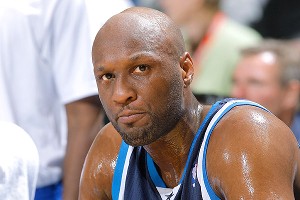 Rocky Widner/Getty Images
This glum face won't be seen on the Mavericks' sideline anymore.
To discuss the matchup, I had an IM conversation with
Jeff Caplan
, who covers the Mavs for ESPN Dallas. Below is the transcript.
Andy Kamenetzky:
From a psychological standpoint, what does Odom's departure do for Dallas?
Jeff Caplan:
The first thing is it removes daily frustration and exasperation from the locker room. His behavior was such that I believe players questioned his commitment, and have for some time.
Mark Cuban
and
Rick Carlisle
were as patient as possible, believing at some point he would turn things around and contribute. Finally, Cuban saw zero desire emanating from Odom and pulled the plug. The Mavs thrived with an all-for-one mentality last season and now can get back to that.
AK:
Even acknowledging Odom's disengagement and poor play, has he been a convenient scapegoat at all for Dallas' underwhelming season?
JC:
Absolutely. For evidence that it wasn't just Lamar, just
look at Thursday night at Golden State
. The Mavs were up 19 in the first half, then allowed the Warriors to cut it to three early in the fourth before turning it on again. That's a staple of this team this year: No lead is safe. That's mostly due to an offense ranking around 20th all year in scoring average and field goal percentage. But I don't think anyone within the organization has said, "It's all Lamar's fault" or "Now that he's gone, we're about to roll." I think there's now just more of a workmanlike mentality, with players going about their business. This is mostly a drama-free locker room led by
Dirk Nowitzki
, who is unlike any superstar I've ever been around.
The big question is will
Shawn Marion
have anyone to defend? What's Kobe's status with the shin and is anybody getting worried?
February, 27, 2012
2/27/12
8:25
PM PT

By Brian Kamenetzky
ESPNLosAngeles.com
Archive
Via ESPN Dallas' Jeff Caplan,
Lamar Odom
, who didn't play Wednesday when the Lakers beat the Mavs in Dallas, did not report back to the team Monday.
Dallas head coach Rick Carlisle gave no timetable for Odom's return.
"Lamar is not here today," he said Monday. "He is still dealing with a family matter and the hope is he'll join us soon, and we'll update you when there's an update."
It's a stone cold lock the Mavs won't bring back Odom next season, but there has even been some water cooler/sports talk radio speculation they might even buy him out this year. Carlisle gave no indication that was the case, but that the idea sounds plausible indicates just how much Odom has struggled. I suspect Dallas holds on to him, because a) Mark Cuban would owe Odom money anyway, b) he might land on a rival, and c) the potential good he'd do for the Mavs if he improves is too valuable. They've waited this long, and might as well see it through.
If Dallas did pull the trigger on a buyout, talk of a return to Los Angeles would be rampant, but given Odom left town I'd be surprised if the Lakers showed much interest.
They need help, but I suspect that ship has sailed.
February, 22, 2012
2/22/12
8:20
AM PT
When last we saw these teams, on MLK Day
, an "NBA Finals Game 7" atmosphere was anticipated. After all, it was the first meeting between the teams since the eventual champion Mavericks turned the Lakers' three-peat run into a car crash. What we got instead was an "NBA Finals Game 7" score (i.e., low). Both squads struggled mightily from the floor, and
Derek Fisher
's trey with three seconds remaining spared the teams the potential embarrassment of overtime without reaching 80.
To prepare for the rematch,
Jeff Caplan
, who covers the Mavericks for ESPN Dallas, and I had a conversation breaking down both teams. Below is the transcript.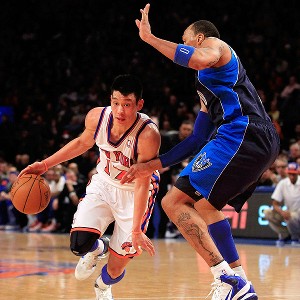 Chris Trotman/Getty Images
Shawn Marion has been a big part of the Mavs' defensive makeup.
Andy Kamenetzky
: After a slow start, the Mavericks have turned a corner. What's changed since the early struggles?
Jeff Caplan:
Defense. Believe it or not this a defense-first outfit. They've really absorbed
Rick Carlisle
's "system" and no matter who is out with injuries and who is playing, the offense might dip, but the defense has been consistently good. The Mavs are first in
opponent field goal percentage
, fourth in
scoring defense
and, before Sunday's loss at New York, top six in defending points in the paint.
AK:
And all without
Tyson Chandler
. Was the fret over his absence overwrought?
JC:
I don't think we'll really know until the playoffs.
Brendan Haywood
has played well and Carlisle is really using three centers with
Ian Mahinmi
and
Brandan Wright
. Mahinmi has gone south lately while Wright has shown promise. However, Chandler brought so much emotion and fire, both on the court and in the locker room, and that's a quality this team just didn't have in years past. So, yes, Chandler's absence has been overblown because the Mavs have surprisingly gotten good performances from their centers and the defense overall has been very good. But in the heat of the playoffs, the Mavs might miss Chandler's overall package.
AK:
Is safe to assume Dirk is back?
JC:
He certainly is getting there. He had a terrific stretch of six games or so, then his shooting tailed off again ... and now he's shooting lights out.
Kobe called out management after yet another road loss at Phoenix on Sunday. What is the chemistry like on this team? You get the sense that Kobe is unhappy.
AK:
If Kobe's not truly "unhappy," he's definitely "unhappy-adjacent." As for chemistry, I think guys get along, but on the court and mentally, there's much to be desired. They're struggling to score, which turns basketball into a grind-it-out chore and often a joyless drag. It also doesn't help that, in my opinion, the entire team is waiting for a trade to happen. There's a collective vibe of expected disbandment, which doesn't help in terms of jelling. I get the feeling guys are having a hard time buying into the idea of growing as a group.
April, 29, 2011
4/29/11
6:54
AM PT
Flip over to
ESPN.com's official Lakers vs. Mavs page
and one thing quickly pops out: 12 basketball writers forecast the series, and all 12 pick the Lakers. Four in five games, five in six, and three in seven.
Not a huge surprise. Dallas is a perennial playoff disappointment, and
despite polishing off a very solid Portland squad in six games
, few believe they have the requisite combination of talent and intestinal fortitude to knock off L.A. Particularly after a late season swoon costing them a chance to host this round instead of opening things up at Staples, and when all the matchups are taken into account. As it is in every series against the Lakers, the Mavs have the basic questions to answer about who guards
Kobe Bryant
or how to deal with L.A.'s length. On paper, at least, Dallas is not quite as equipped to exploit weaknesses of the Lakers as other teams in the Western Conference.
I won't rock the boat, because I'm picking the Lakers, too. But count me among those expecting a longer series. Dallas is a balanced team with depth, well coached and highly motivated. They'll be a tough out.
Season Series: Lakers, 2-1.
1. January 19 (at Dallas)-
Mavericks 109, Lakers 100
2. March 12 (at Dallas)-
Lakers 96, Mavericks 91
3. March 31 (at Staples)-
Lakers 110, Mavericks 82
The final two games will be the ones receiving the most attention when people look back at the season series, particularly the March 31st game in which the Lakers outscored Dallas 56-31 in the second half and five players were ejected thanks to a
Jason Terry
shove on
Steve Blake
. Both were important games rife with playoff implications, and for the Lakers to win both probably means something. Still, reading too much into either, especially the blowout, is a mistake. The score didn't reflect it at the end, but through the first 24 minutes the Lakers had only a three-point lead, and the game felt similar to the very competitive one played a couple weeks earlier in Dallas. The second half constituted a total unraveling of the Mavericks, not something likely- or less likely, at least- to happen in the postseason.
Bottom line, relying too much on regular season results can be a very poor diagnostic for the playoffs.
Questions and Ponderables:
March, 12, 2011
3/12/11
10:43
AM PT
There's only one way to move forward when
an eight-game winning streak ends
. Start a new streak. And for the Lakers, the desire to get the "W" train rolling again in Dallas isn't simply a matter of pride or competitive spirit. There are practical implications at hand.
Thursday's fall to the Heat coincided with the Mavs beating the Knicks. Thus, the Lakers are now two losses behind Team Cuban in the quest for the Western Conference's second seed. Saturday's result will swing the standings a full game in either direction. Should the Lakers fall three games behind, the race is essentially over in mid-March.
For more insight on the Mavs, we talked with
Jeff Caplan, who covers the team for ESPNDallas
. Here are a few items to keep an eye on once the ball is jumped.
K Bros:
From a matchup perspective, where do you see the strengths and weaknesses for Dallas against the Lakers?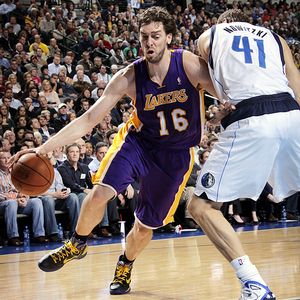 Glenn James/NBAE via Getty Images
Everyone knows Dirk can score? But can he slow Pau and LO?
Jeff Caplan:
When the Mavs play teams such the Spurs, Hornets and previously Utah, they can be exposed at the point guard position simply because
Jason Kidd
just can't keep up with those young, penetrating guards, and it forces the Mavs to put Kidd on the shooting guard. That's not the case with
Derek Fisher
. The matchup allows Kidd to stay on the point and the Mavs can then get creative with covering Kobe. So chalk that up as strength, defensively and offensively as well.
As for weakness, even though the Mavs have stocked up on 7-footers specifically to face the Lakers, L.A.'s big men,
Andrew Bynum
and
Pau Gasol
, are far more skilled inside, and when
Dirk Nowitzki
is on Gasol, I believe he's crafty enough to make it tough on Nowitzki. And when
Lamar Odom
is in as well, I'm not sure the Mavs can effectively match up.