Los Angeles Lakers:

Ricky Rubio
February, 1, 2013
2/01/13
9:21
PM PT

By Dave McMenamin
ESPNLosAngeles.com
Archive
MINNEAPOLIS -- Friday had the feeling of a layup, with the
Lakers
heading into the night against the
Timberwolves
winners of 19 straight against Minnesota, but you never know with these kinds of games.
"I don't think this team has ever played that team," Lakers coach Mike D'Antoni warned before the game. "I think this is the first time they've ever played."
There was the streak, and the fact that the Wolves had lost 10 of 11 going into the night, and the fact that
Kevin Love
was out of the lineup for Minnesota going for L.A. But then again, the Lakers were without
Dwight Howard
, who
flew back to L.A.
to receive platelet-rich plasma therapy on his sore right shoulder, and they had lost their past eight straight away from Staples Center to drop their road record to 5-16, so it wasn't like a win was guaranteed.
After blowing a 13-point fourth-quarter lead in Phoenix, the Lakers hoped to never let Friday become a competition.
But things are never that easy for the Lakers this season, are they?
At least they got the win.
How it happened:
The Lakers led by as many as 17 points in the first quarter and 29 in the second, as they went 9-for-11 from 3 as a team to start the game.
Ricky Rubio
(nine points, seven assists) led a mini Wolves charge to get L.A.'s lead down to 15 by the half. That hot start from 3 turned out to be fool's gold for the Lakers, as Minnesota settled into a zone on defense and dared L.A. to keep it up from the outside. The Lakers finished 12-for-32 from deep and saw their lead cut all the way to four in the fourth before pushing ahead by double digits again at the end.
What it means:
That the Lakers have continued to stay committed to sharing the ball -- picking up 27 assists on 39 field goals -- but their defense was still lackadaisical against the Wolves. They need to be more consistent on that end.
Hits:
Steve Blake
scored all of his 10 points in the first half. His season high going into Friday was just eight points.
Blake was one of six Lakers who scored in double digits, led by
Pau Gasol
's 22.
Antawn Jamison
(18 points) kept up his streak of four straight games of 10 points or more off the bench.
Earl Clark
(13 points, 10 rebounds) picked up his fifth double-double of the past 13 games since his breakout night against the San Antonio Spurs.
Kobe Bryant just missed a triple-double again, this time coming up short on assists with eight to go with 17 points and 12 rebounds.
Misses:
Minnesota went into the game shooting less than 30 percent as a team from 3 -- by far the worst accuracy in the league -- and shot 10-for-22 against L.A.
Metta World Peace
shot just 2-for-11 from the field, and
Jodie Meeks
finished 2-for-7 from 3 after starting 2-for-2.
Stat of the night:
Even though Bryant shot just 4-for-13 for the game, he tied Hakeem Olajuwon for seventh place on the all-time made field goals list with 10,749 for his career.
What's next:
The Lakers will practice in Detroit on Saturday as their trip rolls on and play the
Pistons
in a day game Super Bowl Sunday. L.A. should be able to get past Detroit without Howard, but the Lakers sure would like to have him back against
Brooklyn
on Tuesday.
March, 16, 2012
3/16/12
9:09
AM PT


Apparently, there's a provision in the new collective bargaining agreement mandating the Lakers and Timberwolves play once a week in seasons taking place during a leap year. Thus, the third meeting since Feb. 29. But despite Minnesota standing pat at the deadline (
Michael Beasley ... so close, yet so far away!
), this game should actually feel fairly different than the last two. The Lakers have new faces. The Wolves' lineup has been shuffled against the Lakers by the injury bug. With that in mind, here are three items to be mindful of upon opening tip.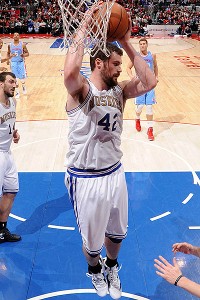 Andrew D. Bernstein/NBAE/Getty Images
Kevin Love will be in a uni ... right?
1) Kevin Love will presumably be available.
Unless, of course, he comes down with an unforeseen, semi-random, non-career-threatening ailment, as has been the case in the last two games. (After the flu and back spasms, what's the next logical diagnosis? Post-nasal drip? Grade-1 charley horse? Beiber Fever?) As I noted in the last preview,
Love's March splits entering that ultimately missed game were impressive
. A week later, little has changed.
Dude's numbers for the month are simply absurd
: 32.3 points, 12.7 rebounds -- a shade over four of which come on the offensive glass -- 2.2 assists, 47.1 from the field, 46.7 from deep and nearly 81 percent from the line.
Yowza!
As always, slowing Love will be a tall order tasked to the Lakers' bigs. In particular, I'll have my eye on how
Pau Gasol
responds to this challenge. Over the last few games, Gasol's effectiveness has come in sputtering fits. Against Memphis, three quarters passed before his presence was felt in the slightest. The next night in the Big Easy, he started strong but couldn't maintain that pace. In the latter game, fatigue appeared a mitigating factor. (In this respect, he had company.) But you also had to wonder if a clock ticking down to the trade deadline also weighed on his head. Well, noon pacific time passed Thursday with Gasol still on the roster. At least until the offseason, this shouldn't be an issue anymore. No better way to prove his head is clear than to hold his own against a forward playing as well as any in the NBA not named "
LeBron
" or "
Durant
."
February, 29, 2012
2/29/12
11:18
AM PT
It's been nearly a week since any Laker save
Kobe Bryant
and
Andrew Bynum
dribbled a basketball in a competitive setting, and Drew did so for less than six minutes. The Lakers were also playing a pretty uneven brand of basketball heading into All-Star weekend, which makes a smooth return after a layoff harder to picture. But as fans surely recall, the 2011 squad limped into the break after a Cleveland loss, possibly the worst of
Phil Jackson's
coaching tenure in L.A. And so, nobody anticipated the next 18 games would result in 17 wins, with
Bynum
playing the role of a modern day
Bill Russell
, and the rediscovery of optimism (albeit premature) that came with them. Similarly, this team's unpredictability -- among other pressing issues, like item #1 below -- makes a one-sided win or loss feel equally realistic tonight against Minnesota. That's why we play the games.
Here are three items to be mindful of once the ball is jumped.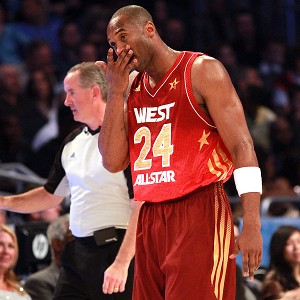 Ronald Martinez/Getty Images
Kobe's availability is the $1,000,000 question.
1) Kobe Bryant's potential absence

As reported Tuesday, Dwyane Wade's hard foul during the All-Star Game left Bryant with a concussion
in addition to a nasal fracture. While he's officially listed as day-to-day,
the NBA's new concussion policy
makes participation feel like a stretch to me. The final decision isn't Kobe's, so a willingness to play through pain isn't the issue. Doctors are typically cautious, particularly with brain injuries, and the procedure is rigorous. Plus, in a modern sports world hyper-conscious of the long-term effects from concussions, I'd be very surprised if the league risked clearing a player just 24 hours after being diagnosed.
Perhaps Bryant's concussion will be mild enough to prove me wrong, but if he's unable to go, the impact is obviously huge. To begin, who starts at shooting guard?
Andrew Goudelock
is behind Kobe on the depth chart, and actually matches up a lot better against 6'2" starter
Luke Ridnour
than 6'7" reserve
Martell Webster
. However, if Brown wanted to keep the rotation as relatively normal as possible, he could insert a player outside the rotation for Kobe rather than shuffle both units. That being the approach,
Jason Kapono
or
Devin Ebanks
(recently recalled from the D-League) would get the nod.
February, 1, 2012
2/01/12
6:44
PM PT
An exchange between
Kobe Bryant
and Timberwolves rook
Ricky Rubio
has been making the viral rounds.
After the Laker victory in Minnesota on Saturday
, Bryant spotted Rubio and
Pau Gasol
talking and congratulated the kid on a game well played. From there, the following chatter,
as seen on Tuesday's "Around the Horn,"
commenced.
Kobe:
"You talking about London (where the 2012 Olympics will be played)?"
Rubio:
"You gonna be there?"
Kobe:
"[Expletive] yeah, I'm gonna be there."
Rubio:
"You're gonna get that silver medal."
Kobe:
"[Looooooong drawn out expletive.] I'm taking bets. I'm taking bets."
Rubio:
"I bet you won't."
Kobe:
"If I win, I get the key to Barcelona."
Rubio:
"I bet what you want."
Kobe:
"I'll take it."
The natural inclination for some will be to treat this as trash talk bound to blow up this summer, as
Chris Rock
would say, "like The Godfather." But it's fairly mild and playful. Kobe's expressed admiration for the Spanish phenom after previous Olympic mano y' mano's, and the two are slapping hands and having fun. Plus, Rubio still looks like a 15-year with a beard Krazy-Glued to his cheeks, which doesn't make him the ideal candidate for boiling blood.
Even acknowledging the competitive nature of both players (especially Bryant) and brashness required to even initiate a challenge towards The Mamba, we've hardly entered "Oh know, he didn't!!!" territory.
To me, the biggest takeaway is how Rubio got suckered by Kobe into an all-or-nothing bet. If Team USA wins, Rubio has to call in serious favors to various friends in high places, then deliver Barcelona's
llave
to Kobe. But if Spain takes the gold, Rubio might end up getting the key anyway after such a historic victory. Thus, Spain's paying the bet for Kobe, so what does he care? "Low risk, high reward" wagering at its best.
And that, my friends, is how a cagey veteran takes advantage of a pup still wet behind the ears.
January, 29, 2012
1/29/12
10:03
AM PT
Should the Lakers drop tonight's contest in Minnesota -- certainly a believable outcome, given
the debacle in Milwaukee
-- it'll be doubly disconcerting because of the story within the story. The Lakers are a team in transition. From
Phil Jackson
to
Mike Brown
. From
Jerry Buss
to
Jim Buss
. Even the transition from
Kobe Bryant
to the next Lakers franchise player is on the minds of many a Lakers fan. This season is about reassuring fans a smooth shift is in the works, as well as (hopefully) re-establishing championship credentials. Thus far, it's been rocky at best.
In the meantime, the direction of the Timberwolves, after several years of floundering and creating "Island of Misfit Toys" rosters, actually contains promise.
Kevin Love
is a legitimate superstar,
Ricky Rubio
looks like he could be as well, and
Derrick Williams
has obvious potential. Yes, there are still questionable contracts (
Darko Milicic
) and draft picks (
Wes Johnson
), but at least a light at the end of the tunnel can be seen. Granted, it could just be the headlights of a train driven recklessly out of control by
David Kahn
, but at least there's light. The first 20 games have represented a lot of darkness for the Lakers, on the court and, for those thinking bigger picture, looking beyond.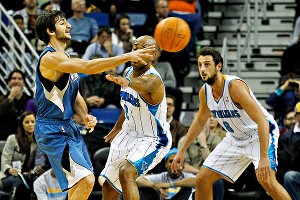 Derick E. Hingle/US Presswire
Doubts about Rubio's NBA-readiness have been quickly silenced.
For the scoop on the Timberwolves, we turned to
Myles Brown
, who runs
A Wolf Among Wolves
for the TrueHoop Network. Below are his responses to four questions about a surprisingly competitive Timberwolves squad. And if you'd be so kind,
check out my responses to his questions about the Lakers
, written
before
the Bucks game.
Land O'Lakers: At this stage of his NBA career, what does Ricky Rubio do especially well, and what still needs work? And along the lines of playmaking, does anyone else on the Wolves contribute regularly? The team ranks rather low in assists.
Myles Brown:
Rubio is obviously an excellent passer. He moves the ball well both in transition and the half court, but not enough attention is devoted to his defense. While there still are lapses in judgment -- he occasionally over-helps and does struggle with quicker guards -- his size has been an advantage. He has exceptionally long arms to contest shots, play passing lanes and recover. Despite a recent cold streak, Ricky's jumper isn't nearly as bad as advertised. It's still essentially a set shot, but he's shooting well from the corners and the elbows and is looking more comfortable pulling up off the dribble.
As for our other playmakers,
Luke Ridnour
has reportedly been revitalized by Rubio's presence, but he's actually just been freed from the constraints of
Kurt Rambis'
triangle. He's been particularly effective in transition since defenses must respect his jumper.
Kevin Love
, who isn't posting impressive assist numbers, is still always capable of creating for others. The Wolves do rank pretty low in team assists, but that could be due to most plays beginning and ending with Rubio.
June, 18, 2011
6/18/11
3:24
PM PT
The Ear Candy Express chugs along. With the draft approaching, we tracked down
David Thorpe
(ESPN.com Scouts Inc.) for insight. Among the talking points:
PODCAST
Andy and Brian talk with David Thorpe (ESPN.com's Scout's Inc.) about what the Lakers can do in the second round of the draft. Plus, a look at the hot rumor (Pau for Kevin Love/#2 pick) and the vocal stylings of Dirk Nowitzki
Podcast

- Is this year's draft as weak as it's overwhelming reputation? As Thorpe explains, that depends on a team's shopping list. If you're seeking multiple future All-Stars, then the 2011 class leaves much to be desired. However, there is legitimate value to players capable of solid NBA careers. Along those lines, this class contains many prospects. And as with four second-round picks, Thorpe feels the Lakers could, at the very least, pluck youngsters who'll provide the energy and athleticism the 2010-2011 team lacked.
- I asked about players who could potentially help the Lakers from the second round, whether as a specialist (namely a shooter) or just a mature rookie. Thorpe offers two names: Duke's
Nolan Smith
and UCLA's
Malcolm Lee
.
Jeremy Tyler, a Cali kid whose journey from high school to Israel was littered with issues
, could also be a potential sleeper.
Thorpe also shares thoughts on balancing the common second round approach (take the best player available) vs. the attempt to fill a more pressing need.
- Despite mentioning the possibility packaging picks in an effort to move up, Thorpe explains why it may not necessarily be wise. He feels there's rarely a tangible talent discrepancy between players taken late in the first round vs. the second round. For that matter, he thinks prospects are often easily lumped together past the first six or eight picks.
- Is it worth trading an established player like
Pau Gasol
(more on this later) for a top five pick? Thorpe doesn't see a
Blake Griffin
,
Derrick Rose
or even a
Russell Westbrook
among this year's top picks, but does think a player like
Derek Williams
or
Brandon Knight
could play significant minutes on a contending team right now, and at a considerably cheaper price tag. There are pros and cons on both sides.
- Finally, Thorpe weighs in on the Lakers' unexpectedly early exit from the playoffs:
"I think that what we saw there likely was the culmination of many, many, many games and many games together. And much of the b.s. that I think is going on with that team, at some point, people have to swallow that
Kobe's
not the best teammate we all think that he should be. I think there are times when he is and I have personal experiences with players that I trained that just love him to death because he was so generous with them, but none of them are named 'Pau Gasol' and none of them are named '
Andrew Bynum
.' I think for different reasons there was a lot of (an) 'I've had enough of this' attitude.
"And Kobe may have had some of it. There's no question Pau pulled a '
LeBron James
' before LeBron James pulled a 'LeBron James.' He went back to three seasons ago in that series. That happens. The dynamic of team chemistry is something that you can never underestimate. I thought that team got beat in Game 1,
Corey Brewer
had a big early part of the game for Dallas that kind of got them going, and the wheels just kind of came off. Guys were just saying, 'I'd rather just be on vacation than playing with these guys anymore.'
"That absolutely can be changed (at the) beginning of next year. It also could be the beginning of a real problem there. Not just with Kobe but just in general with that roster where they've just had enough of each other. I think that was very evident. If you're not willing to do everything you can to help your teammates, you're not gonna win against a team like Dallas."
- With Thorpe gone, we discuss the latest trade rumor involving a Laker:
Gasol to the Timberwolves for (at best) Kevin Love and the #2 pick... or straight up for Love.. or (at worst) the #2 pick, Michael Beasley and role players
. We'd both do the first scenario and consider the third an insult, but the one-for-one deal divided us. I'd pull the trigger. Brian wouldn't. Either way, neither of us gets why
David Kahn
would flip a young All-Star for an older player (albeit a very good one) when the Wolves are nowhere near contention. If the appeal is Pau providing a Spanish-speaking comfort zone for
Ricky Rubio
, it's an even stupider idea.
- Finally,
Freddie Mercury
rolls over in his grave as
Dirk Nowitzki
belts out a classic at the Dallas Mavericks championship parade.
October, 7, 2010
10/07/10
8:38
AM PT