Los Angeles Lakers:

road trip
February, 1, 2012
2/01/12
5:29
PM PT

By Brian Kamenetzky
ESPNLosAngeles.com
Archive
The Lakers may be 2-7 away from Staples, facing a six-game, 10-day road trip kicking off Friday in Denver, followed by tough dates in Utah, and Philadelphia. Combined home records: 28-8. Technically speaking, this is a classic "Nothing's gotta give" scenario.
Hakuna matata, says
Kobe Bryant
, who suggested Wednesday following practice in El Segundo the team might be better than the road record suggests.
"I'm not really worried about it. I'm excited to get on the road and play. I'm extremely confident that we'll play much better."
For that to happen, the Lakers need to improve in a few key areas, Bryant pointing specifically to the defensive glass. Despite
romping over a wretched Charlotte squad Tuesday night at Staples
, the Lakers gifted the Bobcats 10 second-chance points in the first half (of the 36
Paul Silas
' crew scratched out), one game after allowing the Timberwolves to grab 24 offensive rebounds, leading to 32 second-chance points. Facing the Clippers last week, the Lakers allowed 17 ORB's.
Obviously it's something requiring more attention, Bryant said.
"[We just need to] play with a sense of urgency. Be fundamentally sound on the glass. Put bodies on bodies. We're not gonna jump over people, so you can't just turn around and watch the ball. You gotta box people out, so you can be fundamentally sound."
Mike Brown
echoed concerns about the boards, adding their general level of execution has to get better. The Lakers have been plagued by inconsistency, particularly on the road, where papering over mistakes is a tall order and periodic breakdowns can quickly cascade into total operational failure.
"The biggest thing is our execution, especially down the stretch and throughout the course of the game, because that's where teams get separation. You're in somebody else's building, and if you're not familiar with one another, if I'm constantly changing rotations and lineups and stuff like that, that affects that area," he noted. "Now you're in a loud building and your execution isn't good, and you waste three or four possessions offensively and the other team scores. The momentum goes to the other team, and the next thing (you know) you're in a hole, and you're fighting your way out of the hole, and it's tough."
Brown said he'd try to build more consistency in the rotation, particularly in the second unit, using the two previous games as a blueprint.
Andrew Bynum
as an anchor, together with floor-stretching big
Troy Murphy
in the frontcourt and
Andrew Goudelock
running the point. "Hopefully," he said, "I can stick to it."
The bench scored 48 points against Charlotte, so at the very least, they're a group playing with a little confidence as the road trip starts. Ultimately it may not help, but it certainly can't hurt.
January, 28, 2012
1/28/12
8:26
PM PT
The Lakers entered this contest with a 1-6 road record, but I was willing to cut them some degree of slack. Yes, championship-caliber teams can win on the road, but at the same time, the majority of their losses have come against quality teams. Portland. Denver. Miami. Orlando. The Clippers. You'd like to see better results, but at the same time, this perspective, along with the knowledge of how little practice time the Lakers have received, can perhaps quell whatever urge to push a panic button.
However, a loss to a sub-.500 Milwaukee Bucks team playing the second end of a back-to-back and short
Andrew Bogut
and
Stephen Jackson
? That's a different story. I wouldn't blame any member of the Laker Nation who requires a strait jacket to avoid
jamming that big, shiny red button
. Here are five takeaways from the loss.

1) The Lakers are a team that simply can't afford to the turn the ball over.
Offensively, they're not smooth and prolific enough to waste possessions, and defensively, they're too slow to survive possessions constantly on their heels in transition. These realities came to an ugly head during the first half, when the Lakers continually gave the ball away against a Bucks team, as I noted in
the morning's What to Watch post
, already skilled at forcing turnovers. The Lakers coughed the ball up 10 times due to carelessness, along with the inability to dribble out of ball pressure.
That this team isn't flush with quality ball-handlers isn't exactly a government secret, but Saturday, that deficiency was comically bad. The Bucks wisely decided to pressure anybody with the ball, and too often, this approach resulted in the Lakers struggling mightily to counter. Even getting the ball across halfcourt to avoid an eight-second violation wasn't a given. The lowlight might have come when
Troy Murphy
, of all people, found himself isolated at the right elbow. With one defender in his grill and zero options at his disposal to counter, the Notre Dame product stood helplessly holding the ball for anywhere from seven to 10 seconds. The inevitable strip came courtesy of
Luc Richard Mbah a Moute
, followed by the inevitable transition dunk.
It was a microcosm of the Lakers' utter failure to deal with crowded quarters. They did a better job taking care of the ball in the second half, but by then any semblance of rhythm was already destroyed.
January, 17, 2012
1/17/12
11:08
PM PT
No doubt, Thursday's and Friday's back-to-back games against the Heat and Magic represent the biggest test for the Lakers this young season. Between the quality of competition (even if
Dwyane Wade's
leg issues shelve him, Miami remains a formidable opponent), the recurring issue of fatigue and the Lakers' issues while battling outside Staples, a split would be a quality showing, and an undefeated clip in Florida would be quite the reason for cheers. And among the players made available made available Tuesday in El Segundo (an admittedly small sample size), this road trip serves as a legitimate gauge for where the Lakers currently stand at the moment, even for a veteran team with 17 rings between them.
"It's been one of those tough back-to-backs that I think multiple teams have faced throughout the years," said
Derek Fisher
. "It's similar to, over the years, you have a Dallas-San Antonio back-to-back. You have to play those back-to-backs within regions. They're just tough. They're two of the better teams, not just in the Eastern Conference, but in the NBA as a whole. And when you combine that with our struggles on the road, it presents two good tests for us."
No argument from
Andrew Bynum
, who labeled the games "good measuring tools for us."
"We can definitely see where we're at," added the center. "Hopefully, we can get two wins ... We need to get at least one.
Interestingly, when I asked
Mike Brown
about the measuring stick potential for this Floridian jaunt, he downplayed the possibility.
"I don't know. No matter who we play, I'm always gonna try to use that game to determine where we are. So, yeah, we're playing Miami and then Orlando, but we played Dallas [Monday], but because we beat them that doesn't mean we're the best team in the West or anything. I think we did some good things and it shows we have a chance to be real good because we were able to execute and do some things positively against the NBA champions. But we still have a ways to go.
"We could lose and do a lot of things right and play well but it just wasn't our night or something like that. We could win and we could get lucky winning. We could hit shots out of our behind all over the place the whole time, and they could just be off. And I'd be just as hard on our guys if we win a game like that and we didn't do things the right way on both ends of the floor. I'd be just as tough on them as if we lost."
Truth be told, Brown's exactly right. The way the team plays is much more important than the actual score in either direction. This squad being a work in progress, progress is in fact the most critical element moving forward, and that's the bottom line, win or lose. Still, it would feel nice to touch down in L.A. with another W or two in the ol' back pocket.
December, 6, 2011
12/06/11
4:18
PM PT
As part of our series analyzing the Lakers' recently released schedule, I've highlighted what I feel is the softest of underbellies:
3/6 at Detroit, 3/7 at Washington, 3/9 at Minnesota
It's a trip from hell, but only for fans of evenly matched, hotly contested basketball. The Lakers return home to host the Celtics on March 11. If the starters aren't well rested, something went horribly wrong.
PREVIOUS ENTRIES IN OUR SCHEDULE SERIES
The five most anticipated games

Who (or rather what) is missing?
Toughest stretch
December, 19, 2010
12/19/10
8:06
AM PT
Come to Toronto for
the Ron Artest-themed art exhibits
. Stay for the basketball. Here are a few items to keep an eye on once the ball is jumped:
Kobe's pinkie
Another day, another injury to one of Bryant's digits. This time, it's a pinkie, the same one boasting 2009's avulsion fracture heard 'round the world (although the injuries are unrelated).
Dave McMenamin reports the diagnosis as a sprain and the X-rays negative
. Similar to how the sun always rises in the east, Bryant isn't expected to miss any action as a result of the ailment. That's the good news.
The bad news is, judging by Friday's season-low nine-point performance (3-for-11 shooting), success filling a bucket isn't the same lock. The problem, by the way, isn't limited to Kobe's release. In the past, finger injuries have also hurt his handle, decreasing his ability to create his own shots or whip passes with the usual precision.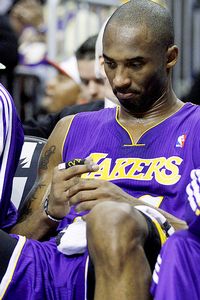 AP Photo/Matt Slocum
It ain't easy being one of Kobe's fingers.
How long the effects of this condition linger remains to be seen, but Kobe is as seasoned a pro as the NBA offers when it comes to the art of playing through injury. Even if he never truly "heals" until the offseason, I'm not terribly concerned about this newest ding. In the grand scheme of things, I expect Kobe to be fine. But as we've seen in the past, the immediate adjustment period isn't always pretty. Thus, I'm very curious to see how Bryant treats his first opportunity to road test his new hand.
Will the game be used as an experimental ground, shots rapid-fired as Kobe seeks the best technique under these circumstances? Will he view the injury as a challenge (as I believe has been the case in the past)? The game within the game on the schedule? Will he let others carry the day as spots are picked against an opponent that shouldn't require a Mamba-esque performance for victory?
Whatever route he and the Lakers take, it'll be worth watching, as is always the case.
March, 23, 2010
3/23/10
9:20
AM PT

By Brian Kamenetzky
ESPNLosAngeles.com
Archive
After Sunday's win over Washington,
Phil Jackson
was asked how he'd define success on the road trip the Lakers will kick off this afternoon, hopping aboard the team charter headed for San Antonio. 4-1? Maybe 3-2, given the injury questions?
"5-0," he said. "4-1 is acceptable, but that's not what champions look for going out on the road. And these are all tough games."
Yes, Phil, they certainly are. After Wednesday's date with the Spurs, the Lakers go to Oklahoma City, blow through Houston the next night, before finishing with New Orleans and Atlanta next week. Throughout the season, Jackson has tempered expectations on some of L.A.'s bigger road trips, talking about back-to-backs, playing good games, winning more than you lose on the road, and so on.
This time, he basically took out the white glove and slapped his boys across the face. There won't be paces and pistols, but Jackson's challenge was abundantly clear. Do you think he set the standard too high? What defines success for you? Exercise your democratic muscles and weigh in here, and as always, feel free to comment below:
I'm in the 4-1 camp.
.800 ball against this sort of schedule would require very good work from the purple and gold. Starting in San Antonio, 25-10 at home. Oklahoma City has lost two straight, but took the Lakers to OT at Ford Center earlier this season, and only the most inattentive of fans hasn't noticed their incredible talent pool. Houston is fading, but still play extremely hard, and present a challenge on the second night of a back-to-back. New Orleans got
Chris Paul back in the lineup Monday and blew out the Mavs
. Finishing in Atlanta against an athletic Hawks squad is no picnic.
But I love the peek PJ gave us into the process of converting his team to "playoff mode." We don't always get to see the sausage get made, but that was a big piece of pork shoulder dropped in the grinder.
January, 21, 2010
1/21/10
8:47
AM PT
January, 20, 2010
1/20/10
2:45
PM PT
With the Lakers now
on the road for an eight-city tour
, yesterday's practice saw players fielding many a query about what to take away from their first extended period away from Staples.
(It's a topic emerging in this morning's chat.
) Beyond the obvious (the Lakers have already played 26 of their Staples contests), fans remember how a vakay from L.A helped define last season's championship road. Late-January saw the Lakers not only go
6-0 despite matches in Boston and Cleveland
, but do so largely without the services of
Andrew Bynum
, who suffered a knee injury against (who else?) Memphis. That strong showing erased the"soft" tag and marked for many the Lakers truly announcing themselves as O'Brien owners-in-waiting. Does the same hold this year as the Lakers head out after playing an obviously successful first half (32-9), but one not always consistent?
Judging by the consensus reaction, not so much.
I asked
Phil Jackson
where he sees this year's team compared to last seasons, in terms of pre-roadie status. "That's hard to say... One night, we play well for a half. The next night, we play well for twenty minutes. We haven't really strung together three-and-a-half quarters or whatever. I always say there can be a short period of time in the game when you're not on your full function, but you can't have long minutes like that." How much does PJ think injuries and subsequent rotational shuffles have contributed to that inconsistency. "A little bit," before noting how the Lakers have "patched it up pretty good" while dealing with adversity.
December, 21, 2009
12/21/09
9:03
AM PT
With snow piling up on the east coast like a scene from
"The Shining,"
the Lakers were barely able to exit New Jersey after
their 103-84 win
. Defying the odds (or just airline safety), the Lakers eventually got in the air and landed in Motown around 4 am, their game against the Pistons looming just a dozen hours in the distance. Well, judging by
a "more lopsided than it sounds" 93-81 result
, an abundance of sleep
isn't required to beat the Pistons
. Yes,
Ben Gordon, Rip Hamilton and Tayshaun Prince
were on the shelf, but even taking into account those absences, the Lakers actually performed like the better rested squad. Save the turnovers littering
the box score (15 in all, eight in the first half),
this was a largely
sharp and aggressive effor
t by the visitors.
Wasting little time bumping their cushion to a dozen points
, the Lakers worked on both sides of the ball to render the Pistons an ineffective challenger. As is typically the case,
Kobe Bryant lent a hand with the scoring duties
, leading all players with 28 points. Not just content to simply
shred Detroit's defense
, Kobe also messed up their offense, swiping the ball five times and laying the foundation for 22 homegrown turnovers.
Lamar Odom and Pau Gasol
grabbed ten and eleven boards respectively, the latter good for
his seventh consecutive double-double
. Even
Andrew Bynum
,
whose recent funk
has been anything but the kind that gets one on their feet and dancing, got into the act. 5-5 from the field (16 points), seven boards, a trio of blocks, and most importantly, a decided uptick in the energy department.
The only down note
: A fourth quarter where
the reserve unit's sloppy play
required Kobe, Pau and
Ron Artest
to shift from "ice down" to "suit up" mode, which
displeased both Phil Jackson and Lamar Odom.
MORE LAKERS NEWS
NBA NEWS