Los Angeles Lakers:

Robert Horry
November, 13, 2010
11/13/10
11:53
PM PT

By Brian Kamenetzky
ESPNLosAngeles.com
Archive
One fun part about sports, and having a dedicated space like this one, is the ability to follow through on somewhat random, totally insignificant thoughts/bits of trivia on any given night, just 'cause.
I always have fun looking through the
Lakers uniform number register at Basketball Reference
, if only for some of the random names you'll find and to once again confirm
D.J. Mbenga
is unquestionably the best Laker to ever wear 28. Tonight, I wondered what the best team the Lakers could assemble using only the numbers of guys currently on the roster.
Or, if you prefer, "The All 2, 3, 4, 5, 7, 9, 12, 15, 16, 17, 18, 24, 45, 50 Team."
2
Kenny Carr 1978-1979
Rory Sparrow 1992-1992
Anthony Miller 1995-1996
Derek Fisher 1997-2011
Aaron McKie 2006-2007
This one's easy. No disrespect to
Pig Miller
, but Fish has this one wrapped up. Though without McKie, the Lakers may never get
Pau Gasol
, a far more significant contribution than the 29 points he scored in purple and gold.
3
Elmore Smith 1974-1975
Jeff Lamp 1988-1989
Jay Vincent 1990-1990
Sedale Threatt 1992-1996
Devean George 2000-2006
Shammond Williams 2007-2007
Trevor Ariza 2008-2009
Devin Ebanks 2011-2011
Not the strongest number in LAL history.
George
won some hardware, but barely played in those playoff runs.
Threatt
was actually a pretty productive player, but during a particularly unproductive time for the franchise. That leaves Ariza, who went to a Finals, won a ring, and might still be here if not for some lousy work from his agent.
August, 6, 2010
8/06/10
2:46
PM PT

By Andy Kamenetzky
ESPNLosAngeles.com
Archive
It may be the offseason, but that'll never stop us from yammering. For that matter, we actually found a fair amount of substance to yammer about during our latest session at the mic. Among the talking points:
PODCAST
Andy and Brian talk about Shannon Brown in purple and gold, Shaq in green, and which players belong in the Laker rafters. Can you make an argument for Fisher? What about Slava?

Podcast
- (3:50): After firmly establishing what kind of brothers we are, Brian and I discuss
the implications of Shannon Brown resigning with the Lakers
. From where we sit, it's a nice deal for both sides. Shannon gets a small raise, plus the flexibility to opt out again next summer if he prefers. He's got a solidified role with room for expansion. He gets to stay in a winning environment and purse a place in purple and gold history. The Lakers get a steadily improving backup for
Kobe Bryant
at a reasonable price, a dynamic change of pace, silly athleticism, familiarity with their system and an upgrade over the likeliest alternative (
Sasha Vujacic
). Everybody wins.
- (9:50): With Shannon in the fold, the Laker roster is basically set, save the expected inking of
Derek Caracter
and
Devin Ebanks
, or an unexpected trade. So, how was the Lakers' summer? Pretty flippin' good.
Phil Jackson, Derek Fisher,
and Brown were retained.
Steve Blake, Matt Barnes
and
Theo Ratliff
constitute an upgrade over the players they respectively replaced (
Jordan Farmar
, a hobbled
Luke Walton
,
D.J. Mbenga
). Caracter and Ebanks appear to be exceptional value at their draft spots. And none broke the bank. It would be hard to come up with a realistic criticism of how the Lakers could have fared better.
May, 24, 2010
5/24/10
10:43
AM PT

By Brian Kamenetzky
ESPNLosAngeles.com
Archive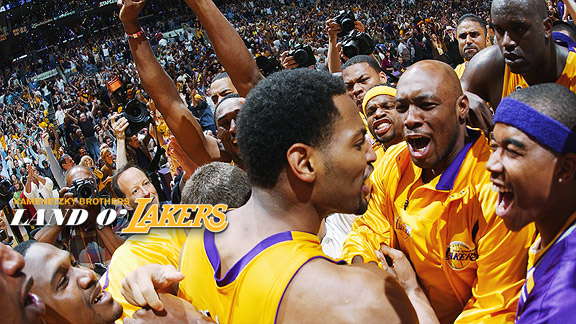 Catherine Steenkeste
Man of the Hour: Robert Horry saved the day for the Lakers in Game 4 of the Western Conference Finals against the Kings with a buzzer-beating triple. The Lakers would win the series in seven. May 26, 2002.
Rick Fox
stood on the right sideline, waiting to be handed the ball by the official. The Lakers were 11.8 seconds away from falling down three-games-to-one in the Western Conference finals against the Sacramento Kings.
Fox inbounded to
Shaq
near the right wing. O'Neal dished left to
Robert Horry
, who quickly gave it up to
Kobe Bryant
with about nine seconds remaining. Bryant faced up on Sacto's
Doug Christie
, then put the ball on the floor, beating him off the dribble with the right hand. He missed a floater in the paint. Shaq, coming off the weak side, grabbed the rebound, but missed what seemed like a near-gimmie at the rim. With time melting away, former Laker
Vlade Divac
slapped the rock out of the paint.
"I thought the time was going to run out," Divac would later explain.
It didn't.
Instead, Divac unwittingly executed a perfect bounce pass to Horry, who was hanging out at the top of the arc. With a lack of hurry perhaps drawn from his roots in molasses-paced Alabama, Horry reached for the ball, stepped into the shot, rose and launched. "It'll count if it goes,"
Chick Hearn
said over the radio. The roar from the Staples Center crowd left no doubt.
"I wanted the three all the way," Horry, who scored 18 points and added 14 rebounds and five assists, said later. "I stayed right where I could get it. When it came rolling out, it was like, "Oh, look what I got."
Indeed. And look what the Lakers got, too.When Horry's shot fell, it preserved any realistic chance the Lakers had to beat the Kings and advance to the Finals. If he misses, the Lakers face three elimination games. They almost assuredly lose one, and Sacramento advances. The purple and gold never steamroll New Jersey one round later, and the historic, dynastic Threepeat is an impressive- but not iconic- back-to-back.
So indelible was the shot, it was recently
voted the top moment in Staples Center history
.
"Thank God for Robert Horry," Shaq said. "And thank God his father met his mother, too."
ESPNLA.com and Land O' Lakers are counting down the ten greatest playoff moments in Laker history. Upon completion, fans will be asked to vote on the single greatest moment of all.
Previous moments include:
-Shaquille O'Neal's near quadruple-double in the 2001 NBA Finals, Game 2
-The Logo's steal in 1962

-Elgin goes for 61 in '62

-Worthy's Game 7 Trip-Dub in 1988
-Kareem's sky hook marks the end of Boston's dominance over L.A.
March, 26, 2010
3/26/10
10:17
AM PT

By Andy Kamenetzky
ESPNLosAngeles.com
Archive
Kobe Bryant's
absolutely official count for game-winning shots this season is six. If you count
his go-ahead bucket with 28 seconds remaining in an eventual 100-95 win over the Mavs
(I do), the number hits seven. Either way, it's impressive.
In the newest issue of
ESPN The Magazine
,
Ric Bucher caught up with The Mamba to talk about the secret to game-winning shots
. As you can see in this excerpt, Kobe doesn't consider the matter all that complicated.
"I light a bunch of candles, sacrifice some rats and have a séance... No, really, there's no special preparation. I haven't done the 3-2-1 thing since I was a kid. I don't study tape of guys hitting game-winners. No mental imagery. No seeing the ball go through the hoop or anything like that... The shots I make are often ones I've taken earlier in the game. It's just a matter of reading the D and seeing what it's giving you."
Later, Kobe downplays the notion of heavy pressure involved with taking these shots.
"I've always liked those situations. All I have to do is make one shot, and we win? Cool. People get scared of what others will say or the fallout from missing, but that doesn't make me nervous. Once in 2002 against Boston, I pump-faked Paul Pierce because I knew he'd bite. But the pump cost me the rime to get the shot off. Fortunately, I got another chance against the Hornets a few nights later and redeemed myself. "It sounds crazy, but I really just go out there and do it - after I burn the incense, of course."
Like I said. Easy, assuming you happen to be Kobe Bryant and one of the all-time greatest.