March, 22, 2014
Mar 22
12:31
AM PT

By Dave McMenamin
ESPNLosAngeles.com
Archive
LOS ANGELES -- Long before Mike D'Antoni became such an icon overseas that a young
Kobe Bryant
chose to wear D'Antoni's No. 8 in his own Italian youth league because he wanted to play like the free-wheeling, mustachioed guard, the current Lakers head coach failed to find his footing in the NBA and ABA.
D'Antoni scratched out four seasons with Kansas City, St. Louis and San Antonio in the mid-1970s, averaging 3.4 points, 1.5 rebounds and 2.0 assists before his only option to continue playing came with a transatlantic plane ticket.
[+] Enlarge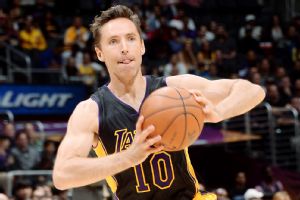 Andrew D. Bernstein/NBAE/Getty ImagesSteve Nash said, "It was probably pretty stupid for me to play tonight," but after a solid effort, his teammates would be wise to use him as inspiration.
Not that D'Antoni has anything against how his career panned out, but there's part of him that wonders what life would have been like if he had been able to stick around in the NBA. And it's with that mindset that he looks at his current Lakers team full of young players trying to prove themselves in the league and wonders why more of his guys aren't doing more to maximize their situation.
"We're giving them an opportunity to do something, and I think it's a great opportunity for them," D'Antoni said before the Lakers lost 117-107 to the
Washington Wizards
on Friday. "That's why sometimes I get kind of beside myself when they don't take advantage of it in the sense of really focusing in and understanding this is like playoffs to them.
"They should understand this is their future. This is not just, 'Oh, you know, we're having a bad year.' No. Next stop is Europe. So it's like, 'You know what? Let's buckle up.' You shouldn't have a minute where you don't play hard."
Ironically, the one Lakers player who seems to grasp the most of what D'Antoni is preaching is
Steve Nash
. Nash played Friday for the first time in nearly six weeks, without the benefit of a full-contact practice beforehand to test where he was but with the determination to play anyway.
"It was probably pretty stupid for me to play tonight," Nash said after racking up a season-high 11 assists to go with five points in 19 minutes. "But I just wanted to play."
Even though Nash already has 18 years of NBA experience, two MVP trophies and 10,307 career assists (Friday's game puts him just 27 dimes behind Mark Jackson for third on the all-time list), he has the urgency that D'Antoni is trying to pry out of the rest of his guys.
It's something that is so noticeable out of Nash that even Washington coach Randy Wittman marveled at the 40-year-old's dedication.
"He loves the game," Wittman said. "He loves to play. That's half the battle in our league. With as many games as we play, you got to have that love and drive."
Europe might not be the next stop for Nash, but the reality of retirement is, and he's fighting to ward that off as long as he can with the same vigor D'Antoni is hoping guys such as
Kent Bazemore
,
Kendall Marshall
,
Xavier Henry
,
Ryan Kelly
,
MarShon Brooks
and
Wesley Johnson
will show. He wants them to embrace the fight to prove they belong in the league as the Lakers play out the final 14 games of this lost season.