Los Angeles Lakers:

Robert Sarver
July, 11, 2012
7/11/12
10:52
PM PT

By Andy Kamenetzky
ESPNLosAngeles.com
Archive
Steve Nash's
introductory press conference Wednesday in El Segundo featured plenty of sentiment along the lines of "I never expected this to happen." Nash,
who'd previously stated his apprehension to join a heated rival
, described this chapter of his career as "surreal."
Mitch Kupchak
, who smiled while describing the point guard as "a thorn in the Lakers' side for most of this decade," still seemed to be wrapping his head around Nash sharing a backcourt with
Kobe Bryant
. And really, who can blame anyone pinching themselves during this meet-and-greet? Absolutely nobody, including the Lakers' brass, anticipated this turn of events, as Kupchak explained while recounting the courtship of the two-time MVP.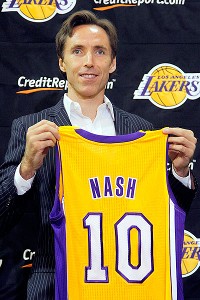 AP Photo/Reed Saxon
Who'da thunk it?
"We always like to call our players that are free agents first," recalled Kupchak. "
Ramon Sessions
and
Jordan Hill
. Players that were on our roster. So we did that. Coincidentally, Steve Nash is also represented by Jordan Hill's representative [
Bill Duffy
]. Steve was on the top of our list, in terms of point guards, but it never occurred to me that he would be available. All we had was the (mini mid-level), which is a $3 million exception.
Jim Buss
kept on saying, "Mitch, don't forget to call. Don't forget to call." Of course, he's at the top of the list. I said, 'Jim, I'm not sure this is something that can even begin to work out, but you never know until you try.'
"So when I spoke to Bill Duffy, we talked about Jordan Hill and I talked about Steve Nash. And his first comment was, 'Mitch, would you like to speak to him?' I said, 'Of course.' And then 10 seconds later, he was on the phone. He was with Steve Nash when I called at 12:01. I think they were together in New York. So that doesn't happen very often. Maybe looking back on it, it was a sign, if you believe in those things. Didn't hear much for a day or two, and then we got a call from Bill Duffy saying Steve's thought about the conversation we had and he'd like to make this work. So that started the whole thing with Phoenix in motion."
But as I thought about the general manager's words, I realized "motion" actually began much earlier, even if we didn't know it at the time. Looking backward, here's everything required to happen before Nash eventually ended up a Laker.
-- The
Chris Paul
deal must get scuttled, which eventually led to
Lamar Odom
asking out, which created the trade exception allowing the Lakers to absorb Nash in a sign-and-trade deal. Not that anyone would necessarily be complaining with CP3 around, of course, but the core would now be thinner, and despite any money saved by moving Odom and
Pau Gasol
, financial flexibility to build a supporting cast wouldn't necessarily have been gained. One could argue, at least in the short run, the team is better off as currently constructed. Either way, Nash certainly wouldn't be a Laker with Paul on board.
-- Hill must become the incoming player from Houston in the
Derek Fisher deal
. Otherwise, Kupchak might not call Duffy at 12:01 (regarding Hill), preventing him from talking directly with Nash so early in the process. Not that Kupchak couldn't have successfully gotten the ball rolling later, but given Nash's reluctance to become a Laker, the longer he stewed in that mindset, the dicier the prospect of changing his outlook could grow. Plus,
as ESPN.com's Marc Stein noted in this must-read feature,
the Raptors and Knicks pulled out ALL the stops pitching Nash, so having the Lakers on his brain from minute one was a bonus.
-- Sessions must opt out of the final year of his deal, creating a void at the starting point guard. Had Sessions opted in, the front office might have been content to see how the young player developed in a full year as the team's starter. And with Sessions off the books, absorbing Nash's salary perhaps becomes more palatable for the cost-conscious bean counters.
-- Kupchak must decide to let Kobe talk with Nash first early in the process rather than later, "a risk" given The Mamba's unpredictable nature. (
Kupchak's words, not mine
, so don't kill the messenger.) As it turned out, Bryant's salesmanship played a big role in persuading the point guard to join forces.
-- And finally, Suns owner
Robert Sarver,
despite whatever bitter taste it could leave in the mouths of Phoenix's fan base (not to mention his own), must agree to help a fierce divisional rival become a more legitimate contender by trading them arguably the franchise's most iconic player.
Safe to say, a lot of unrelated situations were required to pile up to reach an endgame involving the Lakers' best point guard since
Magic Johnson
. Was some luck involved? No question. But at the same time, every successful franchise benefits from lady luck occasionally smiling on them. Plus, some of these events (CP3, LO's departure, Sessions becoming a free agent) weren't necessarily regarded as positives from the outset. In fact, they actually left many
(myself included) to periodically wonder if the Lakers were stuck between a rock and a hard place
. But in the end, these obstacles, through happy coincidences, patience, and savvy were eventually converted into a productive conclusion.
As the saying goes, you make your own luck.
July, 9, 2012
7/09/12
1:48
PM PT

By Brian Kamenetzky
ESPNLosAngeles.com
Archive
The dust has settled, or is at least settling, on the shocker of a deal last week bringing
Steve Nash
to L.A.
So how did it happen? ESPN.com's Marc Stein
breaks it down in a fantastically well-reported feature
not only taking you inside Nash's thought process, but serving as a great window into how free agents are courted in the NBA:
"The first 24 hours of luxurious action delivered a lot to digest. [Nash's agent Bill] Duffy urged Nash to "sleep on it" all when they finally parted, but Nash admits that by "Monday morning I was ready to decide between New York and Toronto."

"We're thinking," Duffy said, "that this is going to be a two-horse race."

The phone didn't stop ringing, though. Nets general manager Billy King followed up on his initial call by reiterating that Nash was Brooklyn's top choice in the event that Deron Williams elected to sign with Dallas. He pressed for his own face-to-face session with Nash. Miami's Pat Riley, despite the Heat's limited financial flexibility, rang again. And then Kupchak circled back to see how things were progressing.

Duffy says that's when he asked [Lakers G.M. Mitch] Kupchak point-blank: "How serious are you, Mitch? Because Steve would love to be on the West Coast." By the end of Day 2, Kupchak had not only convinced Nash and his agent that the Lakers were serious but had also secured approval from Lakers ownership to offer the guaranteed third contract year that Nash was seeking at 38.

The far bigger obstacle was that everyone understood that the well-over-the-cap Lakers had only one path to making a representative bid for Nash, needing to absorb him into the $8.9 million trade exception L.A. had created in December by shipping Lamar Odom to Dallas without taking any salary back. And that would require the seemingly unthinkable: Phoenix consenting to signing-and-trading Nash to the team its fans loathe more than any other."
There are a couple big takeaways from the piece. First, Nash really wanted to be close to his kids. Second, Kupchak understands how to play this game. Third, Duffy earned his commission on this contract.
Again, a really interesting piece of work, well worth the time.
July, 8, 2012
7/08/12
8:38
AM PT

By Andy Kamenetzky
ESPNLosAngeles.com
Archive
Brian and I both work hard. We look forward to our time off. When I'm officially away, it takes a lot to pull me back into that world, even for a little while.
Safe to say,
Steve Nash
becoming a Laker qualifies as "a lot."
Thus, I briefly interrupted my vacation in St. Louis visiting family and friends for a PodKast with BK to break down what it means to have the future Hall of Famer in purple and gold. The show can be heard by clicking on the module, and a breakdown of talking points is below.



"
After establishing just how flippin' hot my week in St. Louis has been, I share my reaction when I first heard the news about this trade. Just like
Phil Jackson when he heard Kwame Brown was flipped for Pau Gasol
, I didn't believe it.
Between Nash's reticence towards joining the Lakers
and
Robert Sarver
's predictable reluctance to make deals with a heated divisional rival, this scenario felt improbable.
" Landing Nash in and of itself is great, but to acquire him without gutting the roster in the process? That's huge.
" On paper, Nash and Kobe Bryant make for a dynamite backcourt, with each guard's strengths complementing the other's rather nicely. In reality, you've got two guys very used to having the ball in their hands, which means adjustments are inevitable. However, Brian and I remain very confident in the finished product once the kinks are ironed out.
" Between Kobe, Nash and Gasol, you've got the foundation for one very brainy basketball team. And in Kobe and Nash, you've got a yin/yang leadership style mirroring how the team thrived under Bryant and
Derek Fisher
.
" Does the addition of Nash's salary mean the subtraction
Metta World Peace's
via amnesty? Particularly if Nash's free agent buddy
Grant Hill
is also successfully recruited to L.A., presumably for less dough?
" How will the roster continue to shape out from here? Does Nash's arrival increase or decrease the odds Gasol and/or
Andrew Bynum
remaining a Laker?
" And finally, the $64,000 question: Where is the Lakers' place in the NBA hierarchy with Nash on board?
May, 6, 2010
5/06/10
12:43
PM PT

By Brian Kamenetzky
ESPNLosAngeles.com
Archive
The worlds of politics and sports tend to intersect only when there's a vested interest for the interested sporting party. Lobbying for a new stadium, for example. In part, this is by design- there's a reason politics is one of only two categories generally forbidden at non-D.C. bars. One of the big reasons people enjoy sports is precisely to get away from more serious matters. Meanwhile, most athletes prefer to keep their political views private, whether to avoid offending potential customers/endorsers, or simply because they're not all that interested in the issues. Teams are almost always apolitical.
Almost always.
Wednesday night in Phoenix when the Suns took the floor for their Game 2 matchup against San Antonio in their "Los Suns" jerseys (the ones worn as part of the NBA's Noche Latina program), simultaneously a celebration of the Cinco de Mayo holiday and a statement of disapproval for Arizona Senate Bill 1070, the controversial illegal immigration legislation signed by governor Jan Brewer last month.
Suns owner Robert Sarver, along with GM Steve Kerr, both spoke with unusual candidness on their disapproval of the law. Said Sarver in a statement from the team: "The frustration with the federal government's failure to deal with the issue of illegal immigration resulted in passage of a flawed state law. However intended, the result of passing this law is that our basic principles of equal rights and protection under the law are being called into question, and Arizona's already struggling economy will suffer even further setbacks at a time when the state can ill-afford them."
Major League Baseball's Players Association has also spoken out against the legislation, as have individual players like Padres first baseman Adrian Gonzalez. There have been calls for economic boycotts of Phoenix teams, including for next year's MLB All Star Game set to take place in Phoenix, resulting in Brewer filing a column with ESPN.com in response. My point isn't to start a debate on illegal immigration, but ask a larger question: As a sports fan, are you comfortable with your team taking stances and making statements on political issues?
In California, there is no shortage of hot-button matters on the agenda. Would you want the Lakers as an organization to declare a position? Do you want to see individual players be more active in political causes?