July, 3, 2012
7/03/12
9:53
PM PT

By Andy Kamenetzky
ESPNLosAngeles.com
Archive
Henry Diltz
is a name you might not immediately recognize, but if you're a fan of rock music, you likely know his work. Diltz is among the most famous and successful of rock photographers,
whose stunning portfolio includes iconic images
of, among others,
Crosby, Stills
and
Nash
,
Neil Young,
Keith Richards,
and
Michael Jackson
. His work is prominently featured in
"Who Shot Rock and Roll?"
, an exhibition of music photography at the Annenberg Space for Photography in Century City, which opened on June 23 and runs through October 7. We were excited to have Diltz in studio to talk about his career, the artists he's worked with, and the way Los Angeles has changed from the 60's to the present day.
The entire show can be heard by clicking on the module, and below is a breakdown of talking points:



- (2:38):
Diltz explains how his background as a folk musician influenced his approach and style as a photographer, but also helped him meet so many of the people he shot. His first picture sold? A group shot of
Buffalo Springfield
, which he shot on a lark. 100 bucks in his hot little hand, Diltz had officially discovered his calling.
- (6:58):
By mastering the art of "hanging out," Diltz was able to maintain a relaxed atmosphere and capture the unguarded personalities of these musicians.
- (10:00):
Diltz shares the backstories for his the instantly recognizable covers for the
Crosby, Still and Nash
and
Morrison Hotel
albums. He also recounts memories of working with
Jim Morrison
, and how the singer acted on and and offstage.
- (18:45)
: More memories of working with the likes of
Paul McCartney
, Neil Young, the Monkees,
Ron Wood
, and Keith Richards (whose face made for incredible pictures).
- (27:30):
As the official photographer for Woodstock, Diltz had no clue the festival would grow so huge.
- (31:44):
Richard Pryor
provided a change of pace from the musicians Diltz is most associated with shooting. The two collaborated to create
the cover for Pryor's debut comedy album
, and the comedian grew into a much more political, controversial artist than Diltz recognized at the time.
- (36:00):
Diltz shot
Michael Jackson
as an 11 year-old
for the cover of Rolling Stone
.
- (39:20):
Diltz's success has come without any formal training whatsoever, an element he believes played a deep role in discovering his style.
- (45:00):
Download technology like iTunes has made accessing music easier, but created a casualty in the art form of album covers.
April, 28, 2012
4/28/12
7:46
AM PT

By Andy Kamenetzky
ESPNLosAngeles.com
Archive
There are plenty of celebrities who sit courtside at a Laker game purely to be seen.
Jack Black
is not among them. The L.A. native knows "
Ramon
" is pronounced "Rah-mon", not "Rah-mone," and was aware of the success in
Kobe Bryant's
absence at the time of this recording. In other words, he's the genuine article. When not watching basketball (or recording with the newly reunited Tenacious D), Black makes movies, and his newest features him in a very unusual role.
Bernie i
s the true story of Bernie Tiede, a charming mortician who becomes the darling of Carthage, Texas, even after murdering the small town's wealthiest (and nastiest) resident. Black is successfully cast against type as the film's title character, and the quirky film opened in limited release on Friday, April 27th in select cities, then goes wider on May 4.
The interview can be heard by clicking the module, and there's a breakdown of talking points below:



- (1:00): Black concedes this season has been trying at times, and there haven't always been reasons to believe, but the actor has a sneakin' feeling the postseason could treat the Lakers nicely. Particularly if the Buss family does the right thing and gets him permanent courtside seats.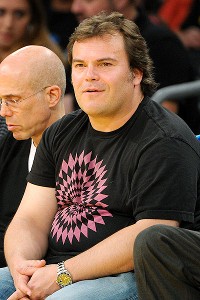 Noel Vasquez/Getty Images
When this celeb attends a Lakers game, he's actually paying attention.
-(2:35): Because Black is obsessed with true crime, the role of Bernie Tiede was quite intriguing. One horrible act aside, the man was by most accounts a genuinely nice person. This complexity made the character even more interesting to tackle.
- (5:54): Between
School of Rock
and Tenacious D, audiences have seen Black sing a lot throughout the years. In
Bernie
, however, he's belting out gospel music, which makes us wonder if he could reinvent himself. I mean, woulda thunk Hootie (of the Blowfish) would someday emerge a major country star?
- (8:20): As a fantatic of The Who, we put Black to the ultimate "Sophie's choice," and he counters with
a very creative response
.
- (11:46): Given how Black went very quickly from "working actor" to "above the title" star, he can relate to the bumps in the road for
Andrew Bynum
as his world very suddenly changed this season:
"It's crazy. Celebrity can be a real corrosive, corruptive force. And when you're in your 20's? He's just a kid. You gotta remember. I didn't have any kind of success until I was 30 year old. I can't imagine what it would have been like if I had hit the big time when I was 20 like Bynum. It's gotta do a number to your head, where suddenly everybody knows you when you're walking down the street. It's weird. It sounds like it's all fun and games until you're in it. You gotta be careful.
"I mean, to a certain degree, I wanted [fame]. I like being recognized and there's a lot of fun that goes along with it. Being able to go to fancy restaurants without a reservation. Just go and sit down. It's kind of fun. Life is your oyster. But you get spoiled real fast and there's a danger that you can lose control."