July, 12, 2013
7/12/13
9:43
AM PT

By Dave McMenamin
ESPNLosAngeles.com
Archive
What's the first thing that springs to mind when I think back on two seasons of covering Ron Artest, plus two seasons of covering
Metta World Peace
in Los Angeles?
"I can't remember."
It was World Peace's go-to answer in the postgame locker room when we asked about anything that made him remotely uncomfortable -- a foul, a missed shot, a turnover, a referee's decision, a teammate's shoddy play.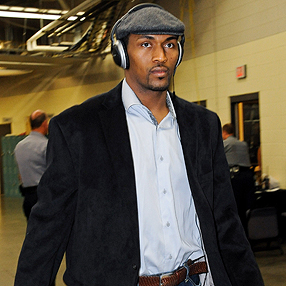 Andrew D. Bernstein/NBAE/Getty ImagesIn a word, the time Metta World Peace spent in Los Angeles with the Lakers can be labeled as memorable for a variety or reasons.
But despite all the times he feigned memory loss, for me, covering the guy was unforgettable.
He is one of the game's true characters, a living contradiction as a fierce, muscle-bound competitor with the wacky, off-the-wall humor of a cartoon character.
Phil Jackson once described him as a "na´ve, innocent lamb."
James Harden
once received a vicious, violent elbow from that lamb, right in the chops.
He was capable of inspiring you -- coming back to the court just 12 days after knee surgery last season; working day and night to lose more than 20 pounds in the middle of the lockout-shortened 2011-12 campaign; opening up about a painful childhood to try to erase the stigma and discrimination attached to those with mental health disabilities and really becoming a champion of the cause.
He was capable of infuriating you -- bullying younger players like
Brandon Knight
and
Michael Beasley
both physically and verbally without prompt; mocking former Lakers head coach Mike Brown for his background as a video coordinator.
And he was capable of making you shake your head and laugh -- making one of his haphazard failed coast-to-coast attempts that made you hear the "Benny Hill Show" theme song in your head; choosing to wear No. 37 to honor the number of Michael Jackson's No. 1 chart-topping singles; punctuating a successful play by kissing his biceps and blowing kisses to the crowd.
And through it all, he gave Lakers fans a boatload of memories.
From the serendipitous 2010 playoff run that resulted in three all-time great Laker moments:
1. His game-winning putback layup (cleaning up a
Kobe Bryant
miss) in Game 5 of the Western Conference finals, assuring L.A. would go into Phoenix up 3-2 for Game 6, rather than facing a potential elimination game on the road.