Los Angeles Lakers:

rookies
June, 28, 2011
6/28/11
8:22
PM PT
On Tuesday in El Segundo, second round draft picks
Andrew Goudelock
,
Ater Majok
(sporting a mohawk!!!) and
Darius Morris
were introduced to the L.A. media. Before the meet n' greet, they participated in a spirited scrimmage,
part of a two-day free agent mini-camp
. (Notable names on hand included ex-NBA players
Gerald Green
, the once exceptionally overpaid
Bobby Simmons
,
Cedric Simmons
and
D.J. Strawberry
.) The game-winning trey was canned by Goudelock, so that's a start for the rookie contingent. (
Check out the video courtesy of Mike Trudell at Lakers.com
.)
Here are four clips of Goudelock and Morris, with more to come later from BK. Among the talking points:
ANDREW GOUDELOCK, PART I
- Goudelock explains how his extreme confidence allows him to keep shooting even after a string of attempts fail to drop. This self-belief took a lot of time to develop.
- Goudelock offers a rather succinct response when asked if being a second round pick equals long odds of making the team: "No."
- Goudelock was actually drafted by the Harlem Globetrotters a few days before the Lakers. But despite the uncertainty of getting picked by an NBA team and the opportunity to bomb "fours," Goudelock never considered a future in confetti-ball. Still, he labeled the selection "flattering."
- In an interesting bit of symmetry, Goudelock described the Charleston program as a "family" atmosphere, which is exactly what
Mike Brown
tries to create with his teams, too.
May, 11, 2011
5/11/11
3:03
PM PT
Among the points shared from Derrick Caracter's exit interview was the need and determination maintain a suitable weight. D.C. has lost about 30-40 pounds since college and wants to drop another 15-20. The approaches will include proper eating, boxing and ballet, the latter to additionally increase flexibility. (I'll go out on a limb and predict he's the biggest student in class.) He also talked about the rookie experience, plus the ways he learned under a squad of veterans and Phil Jackson, whose unique approach was an eye-opener.

His most compelling thoughts, however, were shared on the topic of maturity, arguably of the reddest of flags for Derrick coming out of college. His admission of room to grow could have applied in a lot of aspects, whether his recent arrest in New Orleans or the admitted failure to remain mentally ready for opportunities earlier in the season.

"Just staying true to your word," said Caracter on where he fell short. "If I say I'm gonna go do this, then do that. If I say I'm gonna work out at a certain time, not pushing it back. Coming up with a plan and sticking to the plan."


September, 21, 2010
9/21/10
3:28
PM PT
Derrick Caracter
and
Devin Ebanks
aren't rookies attracting much hoopla at the moment. Both slipped to the second round, and fans and media tend to fixate their eyeballs on the lottery cats. Respective 58 and 43 picks typically remain under the radar until proving worthy of a little noise (
or get arrested, in the case of Lance Stephenson)
. But that doesn't mean the Laker frosh are going entirely unappreciated.
After acquitting themselves nicely during the Summer Pro League in Vegas
, their peers -- often considered the most meaningful source for professional compliments -- have taken notice. In particular, Ebanks grabbed the attention of his contemporaries.
NBA.com conducted an August survey among 40 NBA rooks
, and the
Trevor Ariza
doppelganger managed to garner a decent amount of love. Third place (7.7 percent ) for "which rookie is being most overlooked," plus votes received for "most athletic" and "best defender." Not bad, considering some of these guys did their summer internships in Orlando and may not have seen Ebanks up close and personal. Perhaps word of mouth is positive and spreading.
In related news, the kids were asked to name their favorite player in the league, and the winner was none other than
Kobe Bean Bryant
. And by quite the honkin' margin: 38.2 percent. The top 5 rounded out with
LeBron James, Carmelo Anthony, Kevin Garnett and Dwyane Wade
. No real surprises there, and for the most part, those receiving votes (including
Pau Gasol)
also raised no eyebrows... except for a pair of names I would respectively classify as "that's kinda random" and "what the
whuuuuuhhhhhh?
?!!"
Ramon Sessions
and
Renaldo Balkman
.
Okay, Sessions I sort of get. Well, not really, but at least
his breakout-ish 2009 featured double digit scoring
, and youngsters like them some scoring. Add in nearly six dimes per contest and I guess it's believable (if still pretty surprising) Sessions endeared himself so mightily to at least one teenage baller. But Renaldo Balkman? Seriously? A guy best known for being one of the more bizarre first round picks in recent memory and arguably the NBA's pointiest player? (Sharp nose. Sharp elbows. Even the end of his braids are pointy. The guy is strikingly angular.)
Look, I love me an energy guy as much as the next guy, and have a decided tendency to develop soft spots for fringe players. (Both quirks explain why I'm likely the only person on the planet besides
Jake Voskuhl
who wouldn't mind seeing Jake Voskuhl
back in the league.) But even I have my limits when it comes to narrowing down my favorite players. Unless the voter -- or
voters
, I guess, since we've already entered fairly strange territory -- grew up a Gamecock fan, I'm scratching my head at this selection.
August, 9, 2010
8/09/10
11:20
PM PT
With
Shannon Brown deciding a Three-peat shot is too great to pass up
, the Laker roster appears to be set, for all intents and purposes. Yes, time still remains for a preseason trade (likely the kind where
Sasha Vujacic
is jettisoned for nothing but a "no give backs!"). The uncertain status of
Luke Walton's
back puts his upcoming campaign and even his career in jeopardy. Plus, the Lakers' pair of draft picks aren't actually Lakers yet, despite all expectations of this being a matter of time.
But barring the unexpected or impossible to predict, it's become reasonably safe to assume who'll be on board as the Lakers look to defend their championship for the second year running. With that in mind, we decided to take a player-by-player look at the principals on hand, their roles for the upcoming season, and the best and worst case scenarios down the road.
First up, the pups...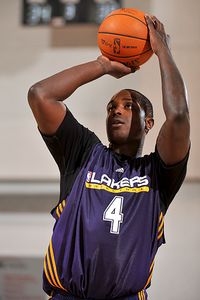 Garrett W. Ellwood/NBAE/Getty Images
Derrick Caracter (pictured) and Devin Ebanks have looked like keepers so far. Keepers who won't play, but keepers still.
Player(s)

Power forward Derrick Caracter/small forward Devin Ebanks

Salary
N/A, since a deal for neither second round draft pick, much less the dollars in their weekly paycheck, hasn't been formalized.

Role For The Lakers In 2010-2011
Be prepared to do a lot of the following: Push veterans and rotation players hard during practice. Clean up Gatorade bottles and towels after said practices. Carry luggage to and from the team bus during road games. Enthusiastically cheer from the bench during games when good things happen for the Lakers. Enthusiastically curse from the bench during games when detrimental things happen to the Lakers. Offer hearty high fives, butt slaps and "dap" during time outs. (Maybe even assume
Josh Powell's
vacated role of "dude who gives out the man hugs and elaborate handshakes during pregame introductions," if that's not considered overstepping boundaries as a first-year baller.)
Take whatever minerals Theo Ratliff insists become part of your diet
. Make small talk with a pair of annoying brothers who cover the Lakers, and even laugh at their lame jokes if necessary, which will demonstrate the requisite "humility" expected from a rookie. Listen. Keep your mouth shut. Be ready.
Be prepared to do very little of the following: Play.