Los Angeles Lakers:

rotation
October, 24, 2012
10/24/12
8:32
AM PT
Special guest Chris Duhon explains the goals of the preseason from a player's perspective, and what the Lakers have and have not accomplished while negotiating early injuries and a brand new offense.


October, 19, 2012
10/19/12
7:01
AM PT
The Lakers' 0-4 preseason record is arguably meaningless, but Dwight Howard has yet to play and Kobe Bryant, Pau Gasol and Jordan Hill have missed games, which interrupts continuity and muddies the picture for Mike Brown while creating a rotation. Thus far, have the Lakers gotten what's needed from the preseason? Along with ESPNLA 710's Drew Belzer, we discuss the question.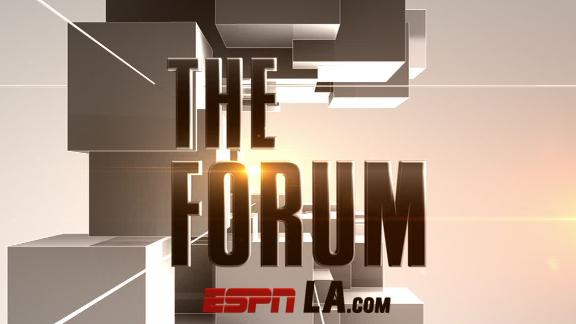 May, 26, 2012
5/26/12
7:23
PM PT
If you're a reserve looking to become a fan favorite, a recent blueprint has been firmly established. You can be a relentless hustler who pursues every loose ball and relishes the dirty work, ala
Ronny Turiaf
and
Josh Powell
. You can be a highlight dunk waiting to happen, ala
Shannon Brown
. Or you can be both, ala
Josh McRoberts
this season, at least for a while. With his high socks and higher elevation, the energizer bunny began the season as the reserve fans looked most forward to see check into a game. (Adding to the fun was the way he shattered some stereotypes. Nobody expects much athleticism from big white players, much less big white players from Duke. As it turns out, McRoberts ain't
Cherokee Parks 2.0
, and not simply because
his body isn't a mural
.)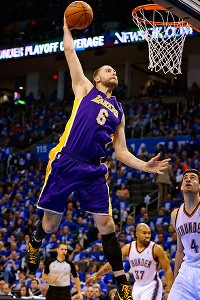 Brett Deering/Getty Images
McRoberts was fun to watch above the rim.
McRoberts' first season wasn't all fun and games, however. Like every member of the bench, he was yanked in and out of the rotation, often unsure of when he'd enter the game and for how long. As time went on, his limitations were also driven home. At his best, McRoberts resembles something of a poor man's
Lamar Odom
(or as the Dallas Mavericks called such a player this season, "Lamar Odom.") Another lefty with a surprisingly good handle for somebody 6'10", McRoberts isn't quite the playmaker on the break as LO, but he's capable of taking a defensive rebound past halfcourt, and from a halfcourt set actually passes the ball very well. Unfortunately, that's also where the comparison basically ends. As a scorer, McRoberts' range is more or less the rim. Unless putting back an offensive rebound or dunking, the guy provides no ability to spread the floor or even a presence worth guarding. And while his 24/7 effort is commendable, it didn't always translate into quality defense.
The day McRoberts was signed, I asked
Jared Wade
of the
Eight Points, Nine Seconds
blog for
a scouting report on McRoberts
. Among other things, he told me this:

Like the vast majority of players in the league, the best way to maximize his contribution is simply not to ask too much of him. He'll hustle, get some dunks, get some boards, and do little things. If you ask for him to be a prominent part of the offense, or a defensive stopper, he'll let you down.
Sounds about right.
Statistics
50 games, 14.4 mpg, 2.8 ppg, 3.4 rpg, 1 apg, .4 bpg, .475 FG
Highlights
McRoberts wasted no time making a strong impression while filling in for a suspended
Andrew Bynum.
Eight rebounds were pulled down in the season opener against Chicago. Three games later, he scored a season-high 10 against the Knicks, with two blocks and three steals thrown in for good measure.
Kobe Bryant
praised on a few occasions the team's early-season gritty vibe as a byproduct of adding McRoberts. Josh also developed a fast alley-oop chemistry with
Steve Blake
, which led to Lakers fans puffing out their chests about their own "Lob City." On a few occasions, the big lug opted to play the enforcer role in defense of a teammate, always a crowd-pleaser.
Lowlights
A strong start was thwarted by a January toe injury that sidelined McRoberts for six games. February and the first half of March was spent out of the rotation altogether, as
Mike Brown
opted to run with a floor-stretching
Troy Murphy
as the primary reserve big man. After winning back the gig in late-March, he eventually lost it again to
Jordan Hill
heading into the playoffs.
Prospects for 2012-13
Mitch Kupchak
warned big changes could be afoot, and if
Pau Gasol
and even
Andrew Bynum
aren't immune to relocation, one can safely assume McRoberts isn't untouchable. The need for his services in L.A. will be dictated by a lot of variables. Will Gasol and/or Bynum be traded? If so, will an incoming big man be part of the haul? Will Hill be resigned? What are the projected minutes available for Josh? Should he be deemed expendable, a $3 million expiring contract makes him reasonably easy to trade or package into a larger deal.
McRoberts ultimately provided as advertised upon getting signed, and he can't be heavily docked for being the player he's supposed to be. But the inability to rise above expectations often left the Lakers wanting, and perhaps even searching this offseason. They could do worse than McRoberts, but perhaps better as well.
Grade
C+
Previous 2011-12 report cards:
April, 26, 2012
4/26/12
9:49
PM PT

By Dave McMenamin
ESPNLosAngeles.com
Archive
Matt Barnes
missed the Lakers' regular season finale against the Sacramento Kings to stay back in Los Angeles and work rehabilitate his right ankle which the team says is moderately sprained and
Mike Brown
calls a "serious" injury.
No matter if Barnes' ankle is fully recovered in time for the Lakers' playoff opener against the Denver Nuggets on Sunday, he'll have to wait a little longer than tipoff to get on the floor.
Even though
Metta World Peace
will have six more games remaining on his suspension when the postseason opens up, Barnes won't be starting in World Peace's place at small forward.
"Ebanks can play the small forward or the two guard," Brown said, alluding to the seven games Ebanks filled in as a starter for
Kobe Bryant
while Bryant was out with his left shin injury. "I always like to if I can to not disrupt too much of the team or too much of what we have going on. We have a rotation right now that we feel good with with our bench, so I'd probably end up starting Ebanks, but who knows."
Ebanks started Thursday against the Kings despite dropping a 55-pound weight on his left hand while working out this week. He did enough to earn Brown's confidence in the Lakers' 114-106 double-overtime victory over the Oklahoma City Thunder to get the nod moving forward. Ebanks had eight points, five rebounds, two steals and a block in 27 minutes, but more importantly helped hold
Kevin Durant
to 11-for-34 shooting with his defense.
"He showed me a lot," Brown said. "You don't stop a guy like Kevin Durant. Hopefully you can just make him work and I thought Ebanks did a good job or a solid job of trying to make the guy work and the guy still scored, which he's going to score, but we like Ebanks doing at least what we ask him to do with our defensive principles."
While Barnes earned a starting spot with the Thunder win,
Jordan Hill
found a role in the rotation. Brown inserted Hill into the lineup as the first frontcourt player off the bench behind
Andrew Bynum
and
Pau Gasol
on a hunch, and was rewarded as Hill put up a season-high 14 points and a career high 15 rebounds.
"Jordan has earned the right to continue getting looks at that third big, so that's what I'm going to continue to do," Brown said, meaning that Hill should see time ahead of
Josh McRoberts
and
Troy Murphy
.
A combination of Hill's right knee not being 100 percent after suffering an MCL sprain when he was still with Houston and Brown not wanting to "disrupt" the rotation with L.A. playing solid basketball since the All-Star break kept the 24-year-old on the bench.
But not anymore.
"He's earned the right to play and continue to get looks," Brown repeated. "He'll be that guy."


Dave McMenamin covers the Lakers for ESPNLosAngeles.com. Follow him on Twitter.