Los Angeles Lakers:

Roy Hibbert
November, 27, 2012
11/27/12
8:53
AM PT
The Lakers aren't the only team with high expectations that has struggled out of the gate.
After providing the Miami Heat with a credible 2012 Eastern Conference semifinals challenge, the Indiana Pacers were expected to be one of the most dangerous teams in the East. Instead, their follow-up campaign has thus far been brutal. All-Star swingman Danny Granger has yet to suit up because of a knee injury, and the squad has regressed while he's been in street clothes. Things have picked up a bit of late, with three wins in their last five games. But the bottom line is that
the Pacers (6-8) have yet to beat an above-.500 team at the time of their meeting
-- two victories came against the winless Wizards -- and the Lakers should rise above .500 at Indiana's expense.
For more insight on the Pacers, I conducted an IM conversation with Jared Wade of the True Hoop network's
Eight Points, Nine Seconds blog
. Below is the transcript.
Andy Kamenetzky:
Things clearly haven't progressed as expected for the Pacers. What's gone wrong, beyond Granger's absence?
Jared Wade:
That's a big part of it. The team relied a lot more on Granger offensively than I think anyone realized. We've really seen the lack of movement, spacing and reliable individual play with him out. But it also goes deeper. Roy Hibbert and Paul George were disastrous early in the season; they were turnover machines and ball-stoppers who sucked much of the fluidity out of the offense. Things are improving with both, however, and the team has looked at least passable while trying to score, a huge improvement from the first six or seven games.
AK:
Why do you think Hibbert has struggled?
JW:
Some of it was pressure put on himself. He is a legitimately nice, responsible guy who feels a burden to live up to his new, $58 million contract. He has also simply struggled in areas that have long been a problem: establishing and holding low position, finishing with power, footwork in the paint, not making his moves quick enough. And the Pacers don't have many players who are good at feeding the post. Granger isn't exactly John Stockton, but he just has a higher basketball IQ than some others mopping up minutes (Gerald Green, Sam Young), so he has a better understanding of when to get Roy the ball and how to get out of his way to give him space.
Why are Dwight Howard and Pau Gasol struggling? I imagine it has little to do with confidence or being melancholy that they aren't "earning" their money.
AK:
Like everyone, they've been hurt by a chaotic training camp and early season. There have been signs of stability, but they come in fits, and nothing comes easier with Nash on the shelf.
For Dwight specifically, conditioning is a factor. He was expected by most to return in January, which means he's ahead of schedule, but not truly up to speed. His timing and lift aren't quite there yet, but I think the issues will work themselves out in time.
Pau's problems are a little trickier. His conditioning also isn't up to snuff, and
he recently revealed a monthlong battle with tendinitis
, which compounds the problem. Plus, like last season, he's in the high post more than he'd like or what's truly ideal. But some blame also lies with Pau. He's often too willing to settle for an elbow jumper -- which hasn't been falling with regularity -- rather than put the ball on the floor, attack and force a defender to actually guard him. Even with tendinitis, he needs to pick more spots to take a defender off the dribble. Ultimately, I think coach Mike D'Antoni will find a way to maximize his versatility, but it'll take some tweaking.
Has David West asserted himself as the Pacers' primary scorer?
January, 22, 2012
1/22/12
10:05
AM PT
After several seasons spent rebuilding from the Palace Brawl aftermath, the Indiana Pacers are a team I think many NBA fans still reflexively regard as mediocre. Well, they shouldn't.
Frank Vogel's
appointment as head coach in February 2011 coincided with immediate, drastic improvement. The Pacers became a tougher, more focused team,
pushing the Chicago Bulls in a first-round playoff series harder than a 4-1 result would indicate
. This season, they've picked up where they left off, with a couple of new faces (
David West
,
George Hill)
making contributions.
For the inside dope on the Pacers, we tracked down
Jared Wade
, who hosts the outstanding
Eight Points, Nine Seconds blog
for True Hoop. Here are some thoughts on four questions, plus an additional one of my own.
Land O' Lakers: The Pacers are holding teams to 89.3 points per game, down dramatically from last season's 100.9. Even taking into account Indiana's pace and the fact that scoring is down across the board in a compressed season, that's a pretty remarkable uptick. What's accounted for this improvement?
Jared Wade:
Most importantly, there is for the first time a consistent rotation of players with clearly defined roles who play in a cohesive system the team has bought into. And the addition of Hill's long arms, quick feet and well-drilled habits are a part of an overall improvement to the perimeter: the first line of defense, if you will.
Paul George
didn't see big minutes until the twilight of last season, and he is an excellent defender who, at 6-foot-9, can envelop most guards with his length and stay in front of them with his agility. He gained a lot of confidence after checking
Derrick Rose
so well in last year's playoffs and it shows; he is now the rare player whose offensive game starts flowing after he makes a good defensive play instead of vice versa.
Darren Collison
is much improved. He was lost in the pick-and-roll last year and just got beat a ton. He isn't perfect now, but there are way fewer possessions that leave you shaking your head at his defensive technique and effort. And
Danny Granger
, who has always had the tools to be a better defender, has gotten back to being more of a two-way player. Perhaps it's because he's struggling to score and he feels he has to, but he is clearly not taking as many plays off on the other side of the ball as he has in recent years.
November, 28, 2010
11/28/10
9:46
PM PT

By Brian Kamenetzky
ESPNLosAngeles.com
Archive
Friday, the Lakers lost in Utah, but in a way leaving fairly little about which to complain. The offense generated good looks that simply didn't fall, helping goose Utah's attack. Obviously the Lakers could have done better work against
Deron Williams
, but overall it wasn't a bad game, just one they lost. Sunday, the Pacers came to town, and the story was different. Don't toss this in the same category as the now infamous "MinnesotaGate." The Lakers were invested from the start tonight, playing hard but without any effective flow.
I
noted in the pregame breakdown
how effective the Pacers are defensively, and the visitors proved the numbers right. Indiana took them out of their game early, and the Lakers weren't able to find it. Either Kobe was going to bail them out, or he wasn't, and tonight he couldn't quite do it.
Here's how it broke down ...
Three Up: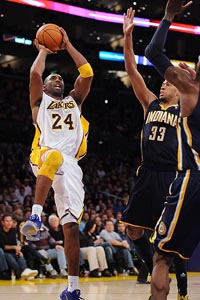 Noah Graham/NBAE/Getty Images
Kobe Bryant had his first 40 point game of the season, but it wasn't enough to lift the Lakers Sunday against Indiana.
1. Kobe Bryant
-- I didn't like his first quarter (see below) and the tone set early and the final line won't show a great percentage (14-of-33), but it's impossible to ignore what Kobe did in the second half. In the third quarter, Kobe scored 15 of his team's 24 points, on four-of-eight from the floor, with two 3-pointers and five free throws. In the fourth, he continued to pour it on, adding another eight points, all within the last 4:30, and mixing in an assist on a critical three from
Ron Artest
, as well. He was taking and making some freaky tough shots, as he's capable of doing. But honestly, these aren't my favorite types of Kobe games. While the skill is obviously impressive, when the Lakers as a group get into Kobe Hero Mode (I'll leave aside the arguments about how it happens for another night) it means collectively they're not performing as they should.
Phil Jackson
said after the game the Lakers didn't have time to wait to get the offense going and Kobe's hand was forced. It's better if the Lakers don't make it to that point.
2. Fourth-quarter defense --
They didn't get a couple critical stops late, but it's hard to argue with what the Lakers did over the final 12 minutes defending their bucket. Indiana scored 18 points, on 35 percent from the floor. They missed all six of their threes, and the Lakers forced some key turnovers. It looked as if the home team would pull out a game almost purely on the strength of their defense, which would have been a welcome sight for coaches and fans alike. Had the offense executed with more proficiency throughout or late in the game, it would have happened.
3. Punt, at least for now. Maybe when I watch the game again, I'll change my mind.
Lamar Odom
was pretty strong, scoring 15 points on six-for-10 from the floor, including a pair of threes in three tries. Add in 11 rebounds, a pair of assists, and a block, and it's hard to pin this one on him. So maybe I'm not punting after all?
Fake punt! Special teams magic.
November, 27, 2010
11/27/10
10:52
PM PT

By Brian Kamenetzky
ESPNLosAngeles.com
Archive
First things first: The Pacers were supposed to be pretty bad, but aren't cooperating with preseason predictions. They'll enter Sunday's game at Staples with a ho-hum but very deceptive 7-7 record. Indiana has five wins in its last nine games, but those losses aren't exactly steeped in shame: by three in Houston, four in Orlando, four in an overtime loss to the Thunder in Oklahoma City, to name a few.
In short, the Pacers have shown plenty of mettle away from Conseco Fieldhouse, and are best not trifled with. Based solely on their production, the computers would expect them to be 9-5. If a team with that sort of record rolled into town, we'd call it a test game. Treat this as such.
Here's what to watch:
1. Roy Hibbert.
Lakers fans have, with good cause, been pumping up the early candidacy of
Shannon Brown
for the league's Most Improved Player award. Pacers fans have been doing the same for Hibbert. In his third season, the Georgetown product has blown up, averaging 15.6 points, 9.5 rebounds, and 2.3 blocks, fairly prodigious totals for a modest 30 minutes of burn a night. These, needless to say, are all career highs. Importantly, though, Hibbert is also averaging 3.2 fouls a game versus 3.5 last season, despite spending more time on the floor. Not exactly blemish-free, but a big step for a guy who was extremely foul prone for the first two years of his career.
Clearly his presence has a major impact on Indiana's fortunes. By leaps and bounds,
Hibbert has the team's highest plus-minus rating.
The matchup in the middle with
Pau Gasol
will be interesting. Hibbert is long and a load, and has a rapidly developing game. Still, he
does most of his damage with jumpers
, so Pau will need to respect his midrange game. On the other end, Hibbert is a great shot-blocker, but doesn't move well in space. How he covers Gasol out at the elbow or in the pick and roll (or doesn't do those things) will be a major key in determining L.A.'s success offensively. Off-ball movement from the whole team, limiting Hibbert's ability to roam freely for blocks, will also be a factor.
January, 28, 2010
1/28/10
10:29
AM PT
Before
last night's 118-96 win over the Indiana Pacers
, I appeared on the
710 ESPN's
Kia Motors Lakers Shootaround Show with
Steve Mason
. One of our guests was
Dan Dakich, who covers the Pacers for 1070 The Fan.
Dakich wasn't sure if Coach
Jim O'Brien
would opt to go small with
Troy Murphy
at center (the way the Pacers play most effectively) or outside their comfort zone with
Roy Hibbert
at center to match the Lakers size. That indecision struck me as indicative of the Pacers' central problem against the Lakers: Playing either dwarfed or uncomfortably. As it turned out, the answer to "WWJO'BD" was "a fair amount of both." As it also turned out, neither approach was "the answer."
Ron Hoskins/Getty Images
A lot of this happened while the Lakers beat Indiana.
With Murphy kicking off at the five, the Lakers wasted no time shuttling the rock to
Andrew Bynum
and working the size/"Murphy can't defend a stationary bike" advantage. Drew's first five shots were good and even with Hibbert eventually inserted to check him, didn't really matter much. 12-14 shooting for 27 points (
although Hibbert wasn't exactly stymied in the reverse matchup
).
Phil Jackson
admitted afterward to being
surprised by the call to go small
, but like I said earlier, "damned if you do, damned if you don't" for O'Brien. Eight points, Nine Seconds provides
a terrific breakdown of why the Pacers coach faces a classic "no win" situation.
Kinda like the poor souls dispatched with the task of guarding
Kobe Bryant
.