Los Angeles Lakers:

Rudy Gay
November, 23, 2012
11/23/12
11:24
AM PT
The Lakers haven't played many high-end opponents this young season, much less many outside the cozy confines of Staples Center. Tonight, they'll get a serious taste of both. The Memphis Grizzlies are playing as well as any team in the NBA. At 8-2, they boast the Western Conference's best winning percentage,
along with its top point differential (+7.6)
. On both sides of the ball, the Griz are putting in quality work. If the Lakers want to redeem themselves for
Wednesday's "Muppet Time" fiasco in Sacramento
and keep alive the chance of a winning three-game roadie, they'll need to sharpen their efforts.
For more perspective on the Grizzlies, I sent some questions to Chip Crain, among the hosts of
the True Hoop Network's 3 Shades of Blue blog
. Below are his responses.
Andy Kamenetzky:
Memphis is off to a seriously hot start. They were obviously very good last season as well, but what accounts for the seemingly upgraded play this year?
Chip Crain:
The Grizzlies have developed the team chemistry missing from last season. Rudy Gay is more focused. Zach Randolph is healthy. And the bench is stronger despite the loss of O.J. Mayo. Jerryd Bayless, Wayne Ellington, Quincy Pondexter and Marresse Speights all working together with a full training camp has allowed the team to build on the past two seasons. With Mike Conley and Marc Gasol both hitting their prime years, the team is suddenly deep and on the same page. The results speak for themselves.
March, 25, 2012
3/25/12
8:47
AM PT
L.A. is now in Day 11 of Ramonpalooza, the festival of appreciation aimed toward point guard
Ramon Sessions
following his acquisition from the Cavs on deadline day. (My Morning Jacket will be appearing shortly on the main stage.) It's easy to go overboard, but his presence really has represented a sea change for the Lakers.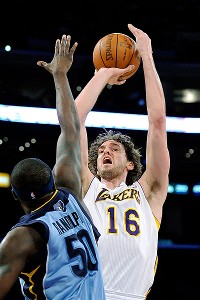 AP Photo/Mark J. Terrill
The matchup between Pau Gasol and Zach Randolph will be key Sunday night.
Friday, we noted
the ways in which Sessions has improved the team's offense
, goosing efficiency with high-percentage shots either for himself or teammates, many coming in transition, plus an ability to get himself (and teammates) to the line. And this was before he made his debut as a starter, lighting up the Blazers for 20 points and 11 assists Friday night at Staples. The game was significant not only for his impressive numbers but how Sessions affected the action down the stretch. In a still competitive game, Sessions dominated the fourth quarter with eight points and six assists as the Lakers piled up 32 points, all while
Kobe Bryant
happily took only one shot in the final 12 minutes.
It's a brave new world, folks.
Sunday, the Lakers get another good test against the Memphis Grizzlies, the same team
L.A. edged in double-OT not even two weeks ago at FedEx Forum
. That night, the Lakers were carried by
Andrew Bynum
(37 points) and Bryant (34) but only had one other player in double figures (
Pau Gasol
, with 14). Meanwhile, the Grizzlies got a career night from
Marreese Speights
, one of six Grizzlies with 10 points or more. Normally, when teams meet twice in a small window, the first game can be instructive. Not here.
The Lakers played that night with
Derek Fisher
and without Sessions. Memphis was missing not only
Zach Randolph
, but also
Rudy Gay
. They've also added
Gilbert Arenas
as a free agent, giving him real minutes in his first two games. The cast on the floor Sunday will be very different on both sides.
With that in mind, here are three things to watch:
1. Z-Bo vs. Pau Gasol.
In five games since returning from a knee injury, Randolph has been solid: 15.4 points and 7.8 rebounds, while shooting nearly 47 percent in about 31 minutes a night. Pretty good, but not the walking double-double he was in a dominant 2010-11 season. At some point, Randolph will round into form. If it's Sunday, the Lakers (and specifically Pau Gasol) have one more tough cover. Friday against Portland, the Lakers, who rarely do this sort of thing, were forced to bring doubles against
LaMarcus Aldridge
in the first half before order was restored in the second. If the same thing happens Sunday, the Grizzlies -- not a good half-court team offensively -- might find some lanes opening up that would otherwise be closed. The more extra rotations the Lakers have to make, the more wing players such as Gay can attack or
Marc Gasol
, who needed 25 shots to get 20 points in Memphis, can get easy looks on putbacks and open feeds at the bucket.
2. Kobe Bryant vs. Tony Allen.
Allen is among the league's most active defenders, one of the few guys capable of making Kobe's life truly difficult. On the ball, he can be very hard to beat, but while the Lakers had periodic success with Bryant operating away from the ball at points this season, with Sessions on board they have the means to do it more effectively and more consistently. Closer to the rock, the potential for good 1/2 or 2/1 pick and rolls could give Allen and
Mike Conley
looks they haven't seen much against L.A. Bottom line, as
Mike Brown
and
Bryant noted
after Friday's win, with Sessions the Lakers have so many more ways to attack, making them much tougher to prepare for.
Still, despite some weakness (see below) the Grizzlies constitute a very solid test for the revamped offense. They'll be at full strength, making them the best defensive team the Lakers have seen since acquiring Sessions, more effective than a Dallas squad missing
Shawn Marion
. Moreover, no team in the NBA is better at
forcing turnovers
, and Synergy rates them as the league's second most productive team in transition, meaning mistakes on the offensive end won't go unpunished.
3. L.A. vs. expectations.
Memphis is a dangerous team, one nobody will want to see in the postseason -- unless perhaps the postseason started today. The Grizzlies have dropped five of six overall, including Saturday afternoon to a slumping Clippers squad, and four of five on the road, and are just 9-14 outside Memphis overall. Perhaps it's because they don't score much, averaging only 91.2 points on the road compared to 99.1 at home. Nor have they been very good against teams over .500, going just 10-17. All told, Memphis' talent says it's a game the Lakers could absolutely lose, while the numbers say they really should win.
March, 13, 2012
3/13/12
8:36
PM PT
No Zach Randolph and no Rudy Gay? Ultimately, it was a bit too much of a problem for the Grizzlies, who hung very tough without two of their three best players, even forcing 10 bonus minutes of basketball to decide the contest. Lesser names like Tony Allen, Marreese Speights and Quincy Pondexter were clearly up to the task of filling those gaps. Plus, a gritty showing from a squad that made the playoffs without Gay last season, and has thrived all season without Z-Bo or Darrell Arthur shouldn't be shocking. But ultimately, the absence of a true go-to option grew increasingly evident against a Lakers squad at full strength. Luck can only be pushed for so long. And in the meantime, the Lakers eventually capitalized on these fortunate circumstances.

Here are four takeaways from the win.

1) The Lakers barely survived Pau Gasol waiting a long time before showing up at all.
From start to finish, the presences of Andrew Bynum and Kobe Bryant were felt in BBQ Country. Bynum was about as dominant as can be humanly expected. Only three misses in 18 tries from the field, plus seven makes in eight visits to the charity stripe. Thirty-seven points in all, and in a variety of ways Memphis found impossible to stop. Lobs sequences. A sequence where the ball moved from Kobe at the high post to Pau at mid-post to Drew at the rim proved particularly hard to stop. Spins toward to the bucket after backing down his defender. Drives off a face up. He was as unstoppable as one can be, a nice extension of his go-ahead bucket in the final seconds against Boston. For his part, The Mamba poured in another 34 points, the gaudiest figure of a very well-rounded stat line. Overtime was reached after he drilled a 3-pointer to force a 95-95 tie, then he set up Gasol on a running dunk for another two points. Kudos would be in order for the nearly 52 minutes of run alone.

The two also joined forces on a great hustle play when Bryant sprinted to track down an ORB off a missed corner three, then fed Drew on a cut for running dunk.

Gasol, however, lagged mightily in a game where his talents were needed. After three quarters, he had just five points on 2-for-8 shooting, two rebounds, three assists, and a pair of turnovers to match two blocks. Defensively, he didn't appear particularly engaged, whether matched against his brother Marc or Speights. His overall energy was low, which was disappointing as the Lakers were trying to shake their road woes. Some slack was picked up as bonus basketball began, but it was nearly a matter of too little, too late.

Granted, Gasol wasn't the only starter who didn't take over in Memphis. After a quick start that allowed him to reach the 10,000-point mark for his career (congrats!), Derek Fisher did very little, then found himself benched down the stretch in favor of Steve Blake. Metta World Peace clanged treys as if he were getting paid by the miss (technically speaking, I guess he is) and beyond a few hustle plays, the small forward was pretty much a non-factor. More was needed of them as well.

However, Pau is a different caliber of player, which creates much higher expectations. He didn't meet that bar, which left far too much in the hands of his fellow "Big 3" members.


January, 8, 2012
1/08/12
9:53
PM PT
By the Kamenetzky Brothers
ESPNLosAngeles.com
Archive
The Lakers didn't win pretty, but there's no category in the standings for aesthetics, just victories. Despite turning the ball over 27 times,
they still knocked off the visiting Memphis Grizzlies Sunday night, 90-82
. It's the team's sixth win in the last eight tries. Following the game, we fired up the Lakers Late Night machine, hitting on the following topics...
Turnovers and defense. The former were plentiful, the latter was good. Take out the tallies Memphis gained on the break, largely provided by L.A.'s generosity, and they basically couldn't score in the half court. Mike Brown was pleased with the team's effort defensively, just not the carelessness.
Kobe Bryant was stellar Sunday, with 26 points on 11-of-22 shooting, plus nine dimes. Once again, he received the ball in his comfort zones, and was set up for a host of catch-and-shoot jumpers. I asked Brown if he's at all worried about the load Kobe currently carries, and (as you'll see), he's not. Why? Because they're doing a much better job putting him in positions to succeed with the least amount of effort.
As was the case Friday against Golden State, Matt Barnes was again outstanding. No surprise, he's wrapped up the starting gig at small forward.
This was the team's 10th game in 15 days. How much does fatigue play a role, and can anything be done about it?
In-show video from Brown and Barnes.
The postgame video is below. Clips from Brown,
Pau Gasol
,
Josh McRoberts
, and Barnes.
January, 8, 2012
1/08/12
10:21
AM PT
The Lakers again sit one game above .500 as their roller-coaster season pushes forward. Save for the home victory over Denver, they've yet to beat a team universally viewed as good, and it's hard to say that Sunday's opponent, the Memphis Grizzlies, qualifies as such. For many NBA scribes, including yours truly, this was the sexy pick for "dark horse contender." But myriad injuries --
most notably Zach Randolph's torn MCL
-- have led to a 3-4 start.
Still,
Rudy Gay
,
Marc Gasol
,
Mike Conley Jr.
and
O.J. Mayo
can all do damage;
Tony Allen
(
a must-follow on Twitter
) is capable of making
Kobe Bryant
work hard; and
Lionel Hollins
is a good coach. Plus, I don't think it's going out on a limb to say -- or at least
hope
-- the Lakers aren't firing on all cylinders at the moment.
For more perspective on the Griz, we called upon
Chip Crain
, who runs the TrueHoop Network's
3 Shades of Blue
blog. Here are his thoughts on five questions about the Grizzlies.
Land O'Lakers: How drastically has Zach Randolph's injury affected the Grizzlies, whether in production, presence, etc.? For that matter, the frontcourt is pretty thin, with Darrell Arthur also hurt. How has this changed the way the Griz operate?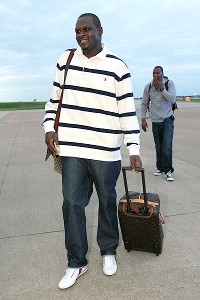 Joe Murphy/Getty Images
It's a nice ensemble, but Griz fans nonetheless don't like seeing Z-Bo in street clothes.
Chip Crain:
Z-Bo's injury hasn't affected the Grizzlies any more than the Lakers' losing Kobe for at least six weeks would. It's a huge loss to lose your All-Star player and dominant paint player. Throwing his injury on top of losing Arthur, a key bench player for the Grizzlies, has left a huge hole at a position that was an area of strength heading into the season.
So far, the Grizzlies have responded by moving Gay and
Sam Young
to power forward at times and playing a faster tempo. It has worked so far because
Mike Conley
, who sprained his ankle against OKC in the second game, returned, and the team was able to push the tempo without dramatically increasing turnovers. It is not a long-term solution, however. Neither is
Marreese Speights
, for whom the Grizzlies traded after learning of Randolph's injury, but they had to have someone to put next to Gasol.
LO'L: Mike Conley made a pretty drastic leap forward last season after most people roundly mocked his contract. (He also had a habit of carving up the Lakers.) Has that evolution continued, and do you see him as a potential high-end PG in the making
?
CC:
As I said, Conley has been instrumental in keeping the Grizzlies' heads on tight and managing to win games (2-0 since Randolph's injury was revealed). Conley is not a big-stat point guard. He's not going to shoot a bunch of shots, nor does the Grizzlies' offense set up for huge assists, but he keeps everyone focused and on the same page. What Conley lacks in stats he more than makes up for in composure. It's difficult to measure composure in a box score, but the team is plus-40 when he is on the court since his return.
October, 8, 2011
10/08/11
9:34
AM PT
Fans entering the Walter Pyramid at Long Beach State for the Drew/Goodman rematch Sunday night will view high-end talent playing with real playground freedom. Unencumbered by the structure of a typical NBA game (and by structure, I mean defense) players can unleash their full range of their offensive skills. It's great stuff to see up close; for the average fan, this venue gets them as close as they'll ever get.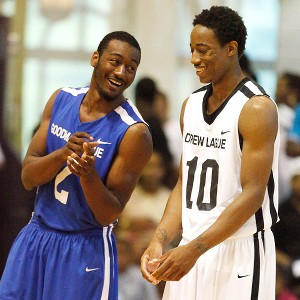 AP Photo/Charles Dharapak
John Wall and DeMar DeRozen are among the participants in Sunday's Drew/Goodman rematch. It is, unfortunately, a game that shouldn't exist.
As ESPNLA.com's Dave McMenamin notes
, if the lockout has a bright side, exposing fans to L.A.'s "pickup" culture is probably it. Awareness of great summer games, from the Drew League in Washington Park in South L.A. to the always-high-end runs at UCLA has grown almost exponentially this summer, as fans jonesing for hoops discover some of the city's (heretofore) lesser known outlets.
In a vacuum, it's a great event.
In reality, Sunday's game could very well feel like running into an old friend at a memorial service. Sure, it's great to catch up, share some stories, and even a laugh or two, but in the end getting past the context of the event bringing you together is damn near impossible. So yeah, Drew vs. Goodman is fun, but by definition its existence means something else isn't happening, and it's not better than what's missing.
It's not cooler than the buzz generated by a regular season just around the corner, or more interesting than looking for early clues about
Mike Brown's
offensive system and how he'll manage the egos of players who vastly outstrip him in championship hardware. It's not better than learning how the debacle against the Mavericks has changed the team's outlook. It's not more significant than charting
Andrew Bynum's
progress, more important than gauging whether this is the season he really does chafe against the team's established pecking order, or if the edgier aspects of his personality on display at the end of last season are permanent. I could go on.
This isn't to discourage anyone from going. I'll be there, and am actually excited to watch the game. Lockout or not, I'm taking any chance I have to see (among others)
Kevin Durant
,
James Harden
,
Brandon Jennings
,
John Wall
, and
Rudy Gay
do their thing, especially in a game where flair, freedom, and creativity are more tolerated. I'll likely be oohing and aahing along with the crowd, watching without the critical eye we try to cast at Lakers games because.
Frankly, with something like Drew/Goodman, who wins is beyond the point. It's a celebration of skill. It'll be worth the drive.
Friday afternoon,
ESPN The Magazine's Chris Broussard reported owners and players won't meet ahead of Monday's deadline
to save an on-time start for the 2011-12 season, basically guaranteeing, save divine intervention, the first two weeks of the season will be canceled. But despite all the gloomy news of the week, there was some reason for optimism. It certainly seems like a deal is out there to be had. Hopefully the two sides, separated by a relatively small amount -- and remember, it's all relative-- can find the magic numbers that will save the season.
Without that hope, Drew/Goodman 2.0 is a tough event to love, because in a world lacking labor strife, it doesn't get played.
November, 30, 2010
11/30/10
8:34
PM PT


Monday afternoon in El Segundo, Phil Jackson said the following about his team's too-late fourth-quarter push against the Pacers on Sunday night at Staples Center: "Sometimes you're not going to get the breaks at the end of the game because you haven't deserved them."

Fair to say Tuesday's loss in Memphis, L.A.'s third straight, was one they didn't deserve to win, despite having a shot at a game-winner on the game's final possession. Not that they actually got one off. Ron Artest's double-clutch hoist from beyond the arc was blocked by Rudy Gay, and that was that. My guess is the Basketball Gods, so offended by L.A.'s performance throughout the night, made sure the leather never reached the rim.

Here's how it broke down ...

Three Up: No trouble keeping this section short.

1. Rebounding. It has been a major issue for the team throughout the season, but don't blame tonight's loss on poor glass work. The Lakers outrebounded Memphis 42-29 and allowed only five offensive boards all night.

2. Free throws. The Lakers made 21 of their 25 attempts. That's an 84 percent clip, and some very solid work. They also got there 25 times compared to only 16 for the Grizzlies. (Of course, part of the problem was that too often the Lakers never actually got close enough to the Grizzlies to foul, as they made their way relatively unimpeded to the bucket. So maybe the free throw advantage isn't something to crow about? Either way, 84 percent is very good.)

3. Shannon Brown. He provided a spark late, burying a semi-miracle 3 from just outside the lobby of the Peabody Hotel to help keep the Lakers close down the stretch, then picked up more points aggressively attacking the rack off a Memphis turnover. His jumper still didn't fall (mega-3 notwithstanding), but more than once he compensated by putting the ball on the floor. Was he great? No. Not at all. But I feel as if I earn my money when I can fill up all three parts of the "Three Up" column, even on a night like this.

Three Down: Wow, only three? This is going to feel limiting. I'm going broad, here, people ...


March, 3, 2010
3/03/10
5:56
PM PT
Corey Maggette
.
Rudy Gay.
Paul Pierce.
Andre Iguodala.
Carmelo Anthony
.
Danny Granger
. What do they all have in common?
They're all prolific small forwards. And they've all encountered recent difficulties matched up against
Ron Artest.
The last couple of weeks have witnessed defense from Artest greater than many a wild dream would allow. His relentless pursuit and fast hands have garnered much of the attention, but the key to this success may be some pounds recently shed.
Just your everyday average 280 lb. small forward earlier this year
, Artest decided masquerading as an NFL defensive end was murder on his feet and a death knell to his mobility. Thus, he began an intense quest to lose weight, even hitting the gym after games during the long roadie .
"I sensed that everybody was making so many trades. We didn't make no trades, so I figured everyone was trying to gear up for the Lakers. I'm not sure. So I wanted to make sure I kind of could be like a whole new person. Kind of like a new trade."
In other words, the Lakers have gotten in "the Ron Artest business" twice since last July, and for the price of just one player at the mid-level exception. Shrewd G.M., that
Mitch Kupchak
.
February, 23, 2010
2/23/10
9:15
PM PT
The seemingly obvious call would be
Kobe Bryant's game-winning three-pointer,
canned with four seconds left and set up by a beautifully designed inbound play allowing the superstar to use a
Pau Gasol
screen to run off ball and free himself for glory in his return to action.
I could instead go slightly less obvious and nominate Kobe's game-tying trey, which squared the game at 96 apiece with just a minute to go. On that possession, Mamba utilized another Gasol screen, then casually pulled up a foot or so behind the arc. Nothing but net.
But honestly, I think the game's real "moment" came during the second quarter when, on consecutive possessions,
Shannon Brown
made two bad decisions with wildly different results. These "Jekyll and Hyde" 21 seconds were the embodiment of both why the Lakers emerged victorious and why the game came down to the wire in the first place.