Los Angeles Lakers:

Ryan Anderson
December, 5, 2012
12/05/12
11:52
AM PT
For 24 minutes Tuesday night in Houston, it appeared the Lakers were on the verge of bouncing back from a mortifying loss to Orlando with a blowout win over a Rockets squad with consecutive home wins under its belt. After 36 minutes, it seemed the Lakers would simply have to settle for a comfortable win.
After 43 minutes, a respectable, if less impressive, single-digit victory
. After 47 minutes, a dogfight squeaker W.
And after 48 minutes, they settled instead for an 8-10 record and heads shaken in disbelief.
On the plus side, the Lakers have an immediate opportunity to get back on a winning track against a Hornets squad missing key players and fairly thin even at full strength. On the minus side, a win over a 5-11 squad can't even remotely be taken for granted. Either way, they'll lace up the sneaks and give it a run.
For more perspective on the Hornets, I sent some questions to Joe Gerrity, who covers the team for
the TrueHoop Network's Hornets 247 blog
.
Andy Kamenetzky: I realize this question could ask you to cover a lot of ground, but what are the main reasons the Hornets are struggling to win games?
Joe Gerrity:
Well, they're paying about $36 million of their $63 million in total salary this season to Eric Gordon, Anthony Davis, Rashard Lewis and Matt Carroll. Lewis and Carroll -- both waived after arriving via trade -- have never and will never touch the floor for the Hornets. Gordon is rehabbing in L.A. and continues to have his estimated return date pushed back. Davis has played only six games so far. They're struggling to win because the team they're fielding is less talented and less experienced than the vast majority of opponents. On
Monday night
, for example, Brian Roberts, Austin Rivers, Xavier Henry, Lance Thomas and Jason Smith were all in the game at the same time for the Hornets.
May, 4, 2012
5/04/12
1:40
PM PT

By Brian Kamenetzky
ESPNLosAngeles.com
Archive
To be perfectly honest, I haven't spent much time thinking about awards season this year. The big one (MVP) seems pretty obvious (
LeBron James
). It's hard to argue with
Gregg Popovich
as Coach of the Year. If
James Harden
doesn't win Sixth Man honors, the world might spin off its axis.
Tyson Chandler
had his hooks on Defensive Player of the Year for a while -- rightly so -- and
Kyrie Irving
is a near-lock for Rookie of the Year. The right guys, or at worst extremely credible guys, are winning thus far, so there's really not all that much to discuss.
Save maybe one. The strangest of the postseason awards issued by the NBA is Most Improved Player,
given today to Orlando Magic power forward Ryan Anderson
. As my fantasy team attested, Anderson had a very good year, averaging a career high 16.1 points and shooting 39.1 percent from 3-point range, but critics will point note his
advanced numbers are about what they've always been
, and Anderson simply benefited from moving into the starting lineup.
Someone like Milwaukee's
Ersan Ilyasova
, who finished second, made
far larger statistical improvements
.
The basic problem with the M.I.P. is the context: A player can only be so good going into the year and have a legitimate shot to win. The soft bigotry of low expectations, and all that. Which brings us to
Andrew Bynum
, who finished tied for fourth with Detroit center
Greg Monroe
. Bynum has for a while been called the second best center in the league behind
Dwight Howard
, the only guy worth Orlando's time in a big man swap. He's also been very effective when healthy, entering the year riding a streak of four straight seasons with a PER north of 20, which Bynum pushed to five in 2011-12. I.E., he was already seen as too good to have a real shot at M.I.P.
This season, Bynum's advanced numbers weren't all that different from
ones posted earlier in his career
(a knock against his candidacy, maybe, but applicable to Anderson as well), but he played a much different and more difficult role. His minutes were up, along with the level of responsibility. More importantly, Bynum had never seen the double and triple teams routinely sent his way over the course of the season. Relative to earlier in his career, producing at similar statistical levels was much harder. Still, he stayed healthy, made his first All-Star team, and firmly established himself as an elite NBA player.
Last week, ESPNLA's
Dave McMenamin made a strong case for Bynum as M.I.P
., posing the most fundamental question: "What's more impressive: going from average to good or going from good to great?"
I'd say the latter. That only 28 of 121 voters put Bynum on their ballots indicates either people disagree, or more likely thought Drew was already too good to win, showing again why this is the goofiest of all NBA honors.
January, 20, 2012
1/20/12
8:04
AM PT
The upside of playing a tough team on the heels of a terrible loss? The chance for a win and immediate redemption. The downside of playing a tough team on the heels of a terrible loss? The chance to convince skittish fans you're even worse than they imagine with a loss. Either way, we'll be given the chance to compare
Dwight Howard
and
Andrew Bynum
for the 4,573,618th time, despite
Drew's stated opinion that this national pastime is in fact a waste of time
.
For perspective on the Magic, we called upon
Eddy Rivera
of the True Hoop Network's
Magic Basketball blog
. Here are his thoughts on four issues, plus a few thoughts of my own. (I along with the boys at Forum Blue and Gold, provided some Laker perspective in
a 3-on-3 for Magic Basketball
, and also took part in the
ESPN/True Hoop 5-on-5 round table
.)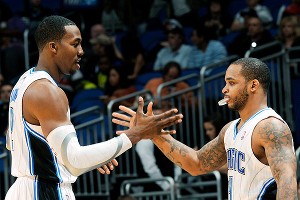 Fernando Medina/Getty Images
Despite whatever madness off the court, the Magic are still winning games.
Land O' Lakers: Unlike the Nuggets before the Carmelo Anthony circus left town, the Magic have managed to play well so far despite questions surrounding Dwight Howard. Considering the bad postseason and they made no substantive changes, how surprising is this? And how is it happening?
Eddy Rivera:
It's a little surprising, though not entirely because the Magic are expectedly benefiting from continuity in a truncated season and Van Gundy's coaching. It's happening because Anderson has emerged as Orlando's second option offensively,
Hedo Turkoglu
is reverting back to his old self, and
J.J. Redick
is having the best start of his career. With Howard, that trio has aided in the fast start.
LO'L: Ryan Anderson is off to an exceptionally good start. How sustainable is it, and what in particular is he doing well beyond shooting? (Assuming he is contributing in more ways, of course.)
ER:
Nothing in Anderson's numbers suggest anything abnormally strange going on. Outside of a spike in his free throw percentage and a much lower turnover percentage, Anderson is just getting more opportunities to score with more playing time. Aside from Anderson's shooting, he's a sneaky good offensive rebounder for his position and although his defense still needs some work, he's adept at taking charges.
March, 14, 2011
3/14/11
12:13
PM PT
The last time the Lakers and Magic met, the results opened the floodgates for a sea of concerns about an L.A. three-peat. After winning the opening four games of a marathon seven-game roadie,
the Lakers dropped one in the Magic Kingdom
. The 89-75 loss featured little backcourt support for
Kobe Bryant
(who might have been feeling the effects of an impending flu), inferior rebounding and
Pau Gasol
being perpetually oblivious to the concept of
Dwight Howard
getting fed over the top. At the time,
the bad performance struck me as teamwide exhaustion
, but subsequent losses in Charlotte and (gulp!) Cleveland meant an All-Star break ripe with speculation about what's wrong with the Lakers.
Since the hiatus, the Lakers have won nine of 10 games. Beyond the status of
Kobe's sprained left ankle
, there is tranquility among fans. Assuming the two-time defending champs can even out the series Monday evening, they'll have three days to get the Mamba's wheel healthy again before a game against the Wolves. (And really, how healthy does he need to be for that contest?)
For a better look at the Magic, I sent a few questions to Evan Dunlap of
Orlando Pinstriped Post
. Here are a few items to keep an eye on once the ball is jumped. (Also, while watching the game, drop by ESPNLA.com and click on the 710 ESPN live stream link to hear Brian and me do live commentary throughout the game.)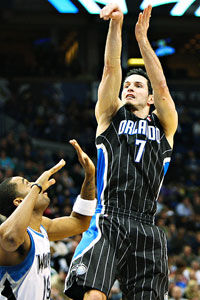 Brace Hemmelgarn/US Presswire
J.J. Redick will be missed if he's unable to go.
K Bros:
If an abdominal strain prevents
J.J. Redick
from suiting up, what are the ramifications? How much does that change the way the Magic operate?
Evan Dunlap: Losing Redick does have a bit of a trickle-down effect in terms of the rotation. Gilbert Arenas will shift to shooting guard for a few minutes per game; he's played the point almost exclusively in Orlando, which is why I say "shift." The Magic can get away with it when the Lakers have Shannon Brown in the game, but when Kobe's in and Jason Richardson needs some rest, they'll turn to Quentin Richardson instead.

Redick is a better player than a lot of people realize; he's developed a solid all-around offensive game despite entering the league as a standstill shooter. And while opposing guards can just play over the top of him at the other end, Redick at least makes them work for their shots by playing intelligent defense, both on-the-ball and off.

As far as strategy without Redick, the Magic will rely on Arenas to create offense from the 2-spot. He'll dominate the ball while the point guard, either Jameer Nelson or Chris Duhon, spots up in the corner. Redick doesn't get nearly as many such chances to run the offense.

February, 13, 2011
2/13/11
8:10
AM PT
Another day, another opportunity for the Lakers to remain undefeated on their mammoth road trip. A fifth victory would be impressive on a few levels. The Orlando Magic may not be playing their best ball at the moment -- 4-6 in their last 10 games -- but this remains a quality team just two years removed from a Finals appearance. Despite recent losses hosting the Heat and Hornets, they're 19-8 inside Amway Center. Plus, it's an early start, a scenario often inspiring less than the best out of the Lakers.
Bottom line, just about any road win represents achievement, and a W in Disney World would be no exception.
To get some insight on
Dwight Howard
and the gang, I contacted
Eddy Rivera
of
Magic Basketball
(True Hoop network). Here are some items to keep in mind once the ball is jumped:
Q: Ever since the Magic's blockbuster shakeup, the team is 18-11, but nine of those wins were in succession. Since that streak ended, the team has basically played .500 ball. How would you evaluate the team since these moves? What are the pluses and minuses?
Eddy Rivera:
For the minuses, click
here
. (
AK's note
: If you're looking for a well-detailed look at the Magic's recently poor dynamics, this is a link worth your time.)
For the pluses, well, there are not many.
Hedo Turkoglu's
synergy with
Dwight Howard
in the 3/5 pick-and-roll remains intact. There's just something with Howard's comfort level with Turkoglu that never fully surfaced when he was playing alongside
Vince Carter
. Of course, Howard playing with Turkoglu for five seasons before the trade has a big thing to do with that.
Also, with
Rashard Lewis
' departure,
Brandon Bass
and
Ryan Anderson
have been able to blossom with increased minutes. Before the trades, it became harder to justify playing Lewis over Bass
and
Anderson. Lewis was struggling that badly, yet coach
Stan Van Gundy
was somewhat forced to stick with him. Nevertheless, the trades have fixed that problem.