Los Angeles Lakers:

Sam Presti
February, 23, 2012
2/23/12
9:12
PM PT

By Dave McMenamin
ESPNLosAngeles.com
Archive
Oklahoma City Thunder general manager
Sam Presti
and Los Angeles Lakers coach
Mike Brown
are both at the top of their profession these days -- Presti running the team with the best record in the Western Conference and Brown guiding one of the league's premiere franchises.
Back in the early aughts when they were both working for the San Antonio Spurs, they weren't quite as established.
Brown was an assistant coach. Presti was an intern right out of college.
Before Presti was charged with putting together players who worked together on a roster for OKC, one of his responsibilities when he was with the Spurs was to put songs that would work together as mix CDs for Brown.
"He used to be into music. I don't know if he is now, but he used to make me music CDs," Brown said before the Lakers' game against the Thunder on Thursday. "I listen to all types of music. I like the jazz, smooth, mellow type. He turned me on to that a little bit. He's a good guy."
Presti is actually a
pretty good drummer
, but his most impressive solo to date didn't involve music. Rather, it was drumming it into the Spurs' organization's head that
Tony Parker
was the right person to draft with the No. 28 pick in the first round in 2001.
"[Presti] worked extremely hard. You could tell he was bright," Brown said. "He was the one that convinced us to basically draft Tony Parker."
Really?
"We worked him out and he was terrible," Brown remembered of a predraft workout in Chicago that he and current Phoenix Suns GM
Lance Blanks
ran Parker through. "We walked away as coaches like, 'Man, we're wasting our time.' We told Tony that he needed to develop a medium game because he was quick. He couldn't really shoot the ball and all he could really do was get to the rim, but against 7-footers that's going to be hard to do all the time. We were done with him after that and Sam and
R.C. [Buford]
convinced us to bring him back for a second workout in San Antonio."
June, 20, 2011
6/20/11
10:15
AM PT

By Brian Kamenetzky
ESPNLosAngeles.com
Archive
The 2011 NBA Draft is Thursday afternoon (4 pm PT, ESPN). We've spent scads of time taking stock of where the Lakers stand heading into draft day, and now aim to catch up on the rest of the Western Conference.
Today, the Northwest Division...
Oklahoma City Thunder
2010-11:
55-27, lost Western Conference Finals 4-1 to Dallas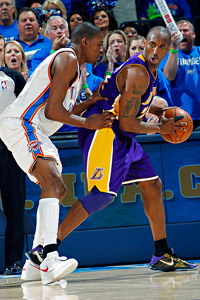 Layne Murdoch/NBAE/Getty Images
The Thunder are set to be a major obstacle in L.A.'s effort to reclaim the Western Conference.
Picks:
24, Round 1.
Where They Stand:
Tall. After losing to the Lakers in the first round of last year's playoffs, the Thunder reached the Western Conference Finals this year, eliminated by Dallas in a series tighter than the five-game result suggests. The Thunder, they know they've lost only to the best, and looking towards next year remain the Western Conference franchise with the highest amount of upside. While there is some early speculation about the future of
Russell Westbrook
in OKC, he's under their control for two more seasons, meaning the core of Westbrook,
Kevin Durant
,
James Harden
, and
Serge Ibaka
is locked in, with role players like
Kendrick Perkins
and
Nick Collison
sewn up as well.
Really, the only question they have from a roster standpoint revolves around 3-point specialist
Daequan Cook
.
They don't need much, but if the WCF proved anything, the Thunder need another guy to facilitate the offense. As brilliant a young player as Westbrook is, Harden proved himself easily their best facilitator of the halfcourt offense. In those moments he couldn't play (after fouling out in Game 4 against the Mavs, for example), OKC suffered greatly. Westbrook should/must improve as a wheel-greaser, but adding another guy fitting the profile won't hurt.
PODCAST
Andy and Brian talk with David Thorpe (ESPN.com's Scout's Inc.) about what the Lakers can do in the second round of the draft. Plus, a look at the hot rumor (Pau for Kevin Love/#2 pick) and the vocal stylings of Dirk Nowitzki
Podcast

OKC could use a little more shooting, as well.
Projections:
Chad Ford, ESPN.com (Insider Required)
-
Nicola Mirotic
(SF, Serbia).
DraftExpress
-
Kyle Singler
(SF, Duke)

Denver Nuggets
2010-11:
50-32, lost in first round to Oklahoma City, 4-1
Picks:
22, Round 1. 52, Round 2.
Where They Stand:
Littered with options. Predicting exactly what the Nuggets will look like next season is like determining exactly where one of those Escher staircases ends. G.M.
Masai Ujiri
can go in any number of directions with his roster, depending on how he wants to use the assets gained in the
Carmelo Anthony
deal.
Kenyon Martin
and
J.R. Smith
are free agents,
Nene
has an $11.6 million player option, they have a decision to make on restricted free agent
Wilson Chandler
, and
Raymond Felton
is a hot name in trade rumors. About the only thing that can be said with confidence is that Denver won't let
Arron Afflalo
, also a restricted free agent, get away.
June, 19, 2010
6/19/10
10:06
PM PT

By Brian Kamenetzky
ESPNLosAngeles.com
Archive
What, you think it's a little too soon to look ahead? Still basking in the glow of Thursday's win? C'mon, it's been three days already. Quit living in the past!

I kid. Starting with Monday's parade and a week of exit interviews, we'll have plenty of opportunities to reflect and celebrate another title run. But the offseason is indeed upon us, and with it a whole host of issues ready to play themselves out over the coming weeks and months.

Here's a look at 10 of the biggest questions facing the Lakers this summer.

1. So... seriously, Phil Jackson is coming back, right?

Is there any other outcome at this point? Any lingering inclination from some inside the organization Jackson may not be worth the money he commands or that the team had tuned him out were squashed with a second straight Larry O. Jackson isn't going to coach in another city, and so all standing between P.J. and a run for a staggering fourth three-peat is an incident free trip to the doctor's office and a negotiation with Dr. Buss that, like Lamar Odom's last summer, has no suitable outcome for either party but a signed contract.

2. What about Derek Fisher?

Here's another situation where both parties are better off with each other. Fisher has more value to the Lakers than any other team in the league. His role in the locker room, as a balance to Kobe Bryant, an on-floor professor emeritus of the offense, and so on serve needs very specific to the Lakers. Meanwhile, Fisher isn't going to find a place where he'll a) win, and b) have a reasonably sized role in the rotation if he leaves L.A. Other teams around the league would value him more for his leadership than skills, and the best squads already have their leaders. Fish won't leave just to mentor younger players on a middling team, even for a little more money.

If Jackson is back, Fisher is back. If Jackson isn't back, which he will be, Fisher is still probably back.

3. Well, even if Fish returns, they'll need some help at the guard spot, right? Who can they get?