Los Angeles Lakers:

scoring
August, 16, 2012
8/16/12
3:58
PM PT
Among other deficiencies last season, the Lakers lacked a legitimate backup shooting guard behind Kobe Bryant, reliable outside shooting, reliable bench bench scoring and young legs attached to a reasonably NBA-seasoned player. By agreeing to terms with Jodie Meeks, the Lakers have simultaneously addressed all four areas. Obviously, his presence pales by comparison to that of fellow newbies Dwight Howard, Steve Nash, and Antawn Jamison, but as Shane Battier, Mario Chalmers and Mike Miller demonstrated during the 2012 Finals, the players around the edges of a roster often push a championship quest over the top. Hopefully, Meeks can follow suit for the Lakers.
The show can be heard by clicking on the module, and below is a breakdown of talking points.

- (:55): Meeks explains why he chose the Lakers over other options. For many young players still establishing themselves, starting for a lesser team would feel more practical than coming off the bench in a title chase, but in this case, it wasn't a sticking point.
- (2:40): Having spent the first four seasons of his career guarding Kobe, Meeks now looks forward to learning from The Mamba as a teammate.
- (4:28): Meeks believes he's a better defender than his reputation. For that matter, he considers himself a more generally well-rounded player than his image as primarily a spot-up shooter.
- (8:50): The Lakers are a fairly brainy crew, which means Meeks, a former SEC All-American at Kentucky, should fit right in. The guard places a high value on keeping his brain active, but draws the line at Sudoko puzzles.
- (10:15): Seriously, Jodie. It's time to update your personal website.
-(10: 48): Meeks has a "shoe fetish." His words, not ours.
- (12:15): With Meeks gone, we break down his potential effect on the Lakers.
July, 18, 2012
7/18/12
3:04
PM PT
Per ESPNLA's
Dave McMenamin
:
"Jamison will sign a one-year deal for the veteran's minimum with the Lakers ... The 36-year-old forward will bolster the Lakers' bench with scoring and veteran leadership while pursuing the first championship ring in a career largely spent as the best player on bad teams...

... Jamison had several suitors for his services, including his hometown Charlotte Bobcats, the Brooklyn Nets and the Golden State Warriors, his employer for his first five NBA seasons. For a player who has never advanced past the second round of the playoffs in 14 NBA seasons, the Lakers' chance to contend apparently was too enticing to Jamison."
Brian recently shared some thoughts on Jamison
. The two-time All-Star was
among the bigger "names" available, but also among the more productive players
. His numbers may be trending southward, but
last season's 17.2 ppg and 6.3 rebounds is nothing to sneeze at
. Even if those figures -- along with his shooting percentages from the field and downtown -- continue to dip, Jamison could become the most useful Lakers reserve since
Lamar Odom
. And we all remember how much LO (or a credible equivalent) was missed in 2012.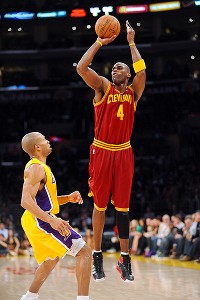 Andrew D. Bernstein/NBAE/Getty Images
The Lakers really needed a bench player who can score.
Beyond his age -- and all joking aside, it wouldn't be worst thing to add another rotation player who refers to a 30 year-old as "sir" -- the biggest issue I suspect fans will raise about Jamison is his defense.
And with good reason
. The guy wasn't a particularly good defender in his prime, which means at 36, he's only slightly more effective slowing foes than an Antawn Jamison fathead. (Which, incidentally,
can be yours for the low, low price of just $99.9
9!) Will that be problematic at times? I imagine so. Perhaps the chance to play for a title, an opportunity rarely presented over the course of Jamison's career, will spark a greater commitment to the defensive side of the ball. Granted, one doesn't typically discover his inner-
Bruce Bowen
15 years into a career, but if increased effort led to even 10-20 percent better lockdown, that beats the alternative.
And even if Jamison remains an absolute sieve, here's the thing: Last season, the Lakers subs averaged
a league-worst 20.5 ppg
(more than a third of which were
provided by Matt Barnes
, who ain't walking through that door). Unless the bench scoring is drastically improved, the reserves' collective defense is largely irrelevant, because they'd need to hold opposing second units to 10-15 points a night to be effective. That being a completely unrealistic goal, enter Jamison, who nearly outscored the purple and gold reserves himself in 2012. He's often a volume shooter, but outside of his rookie season, he's never averaged less than 14.8 points (which came off the pine). Jamison's proven ability to unite ball and basket removes pressure off the starters and reserves alike. Simply knowing somebody can consistently score should provide the bench with a mental lift, and defenses being forced to key on Jamison should make the unit as a whole more effective. Thus, I'm guessing the points generated by Jamison will offset the inevitable buckets he'll allow in the process.
There are other pluses as well. He's a former Sixth Man of the Year. Yes, that was eight seasons ago, but success in that role requires a specific mentality. Some players adjust well to joining games already in progress. Others struggle to catch a groove. Jamison is familiar with the process, so hopefully this will help him hit the ground running. The half-season spent under
Mike Brown
in 2010 means he's at least somewhat familiar with the coach's style and system, which could result in a reasonably smooth transition. (Ditto
Steve Nash
after their 2004 season as Mavericks teammates.) While probably better suited for the four at this age, Jamison can play both forward positions, which provides depth at two spots. Durability isn't an issue, even at his age, which is important for a team lacking the depth to absorb an injury to a key player. He's also long carried a reputation as a good locker room addition, and even veteran teams can never get enough of those players.
And finally, the money involved makes this a pretty sweet deal. More often than not in life, you get what you pay for. On paper, Jamison represents more help in one player than I figured the Lakers could realistically land at that cost. Unless he seriously underachieves, this signing should prove a very useful bargain.
June, 19, 2012
6/19/12
8:10
AM PT
By The Kamenetzky brothers
ESPNLosAngeles.com
Archive
With
Brandon Roy looking to make a comeback
, we've naturally been hit with questions on the blog, Twitter and weekly chat about whether the Lakers should take a flier on the former All-Star. Along with
Arash Markazi
, we break down the pluses and minuses.
February, 9, 2012
2/09/12
6:50
AM PT
By The Kamenetzky brothers
ESPNLosAngeles.com
Archive
Just two seasons ago, the Lakers and Celtics battled for the NBA championship in a seven-game series for the ages. They meet Thursday as squads good enough to be taken seriously, but because both are old and flawed, they are widely regarded as outsiders looking into the 2012 title chase. However, neither team seems ready to pack up the tents. And even if they were, there's enough bad blood remaining from a split pair of Finals ('08 and '10) to guarantee a spirited battle.
Along with ESPN Boston's
Chris Forsberg
, we pondered three questions heading into this game.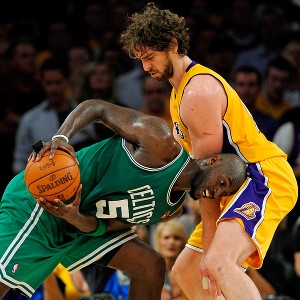 AP Photo/Mark J. Terrill
It's always interesting when these chums meet up.
1. What matchup are you most looking forward to seeing?
Chris Forsberg:
Kobe Bryant
vs.
Mickael Pietrus
: We sorta know how the starters match up, so I'm interested to see if Pietrus can be a
Tony Allen
-like Kobe stopper off the bench. Pietrus has been spectacular since being picked up on Christmas Eve after the Suns released him. And Pietrus supposedly said this summer that Bryant wanted him on the Lakers. (Runner-up:
Troy Murphy
vs. Anybody. Really, he's one of the Lakers' top reserves this season?!)
Andy Kamenetzky: Paul Pierce
vs.
Metta World Peace
. There have been signs that MWP is rediscovering his defensive mojo. Most recently in Denver, he did the lion's share of the work in limiting
Danilo Gallinari
to just six points. Of course, there are still games where his defense is as ineffective as his offense, which renders MWP a total nonfactor. The Lakers need
Paul Pierce
kept in check, and much of that responsibility falls on MWP. We'll see if he's up for the task against a potential All-Star.
Brian Kamenetzky: Pau Gasol
vs.
Kevin Garnett
. Pau's output against what will surely be an extra yappy, extra chest-puffy KG will get the attention, and Gasol needs to produce more efficiently (eight of last 12 games with FG% at 45 or below). If he doesn't, L.A. will have to find alternative options against a top-end defensive squad. Meanwhile, Garnett's scoring has picked up, but Gasol has held opposing PFs to a respectable PER (14). If one goes off at the expense of the other, a victory for his team is highly likely.
December, 16, 2011
12/16/11
9:19
AM PT
If you can't have
Lamar Odom
running your bench, how does one of his close friends since childhood grab you?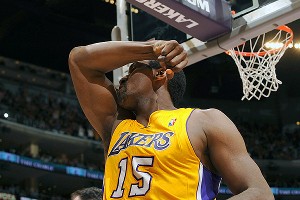 Noah Graham/NBAE/Getty Images
Metta World Peace has a chance to flex his muscles as Bench Kahuna.
When I
interviewed Metta World Peace this offseason during a "Dancing With the Stars" rehearsal
, the small forward said he "wouldn't be surprised if [
Mike Brown
] brings me off the bench." Well, as he revealed during Thursday's practice, this wasn't an attempt at clairvoyance, but rather coyness. This plan was hatched when the two spoke shortly after Brown was hired. Given MWP's less than stellar 2011 campaign, fans may assume this was a decision to improve the starting lineup. (For now, Brown says, the starting gig is a three-way race between
Matt Barnes
,
Devin Ebanks
and
Luke Walton
.) But as both explained,
it's actually about creating a better second unit and hopefully a better version of Metta
.
"I think we need to bolster our bench," Brown explained. "I think we need to able to have certain guys we can play through and I think at times, we can play through [World Peace]. Not only that, my opinion is if he's with the starting group, there's one basketball. I got three guys [
Kobe Bryant, Pau Gasol
and
Andrew Bynum
] that need touches. I got three guys in that starting unit that are post-up guys. With my second unit, [World Peace] will be one of my main guys. He'll be one of my main post-up guys."
Added Metta: "It's going to be good. … I get a chance to come in and have some more responsibility, which I've had my whole career. So it's going to put the other team off balance because when Kobe, Pau and Bynum are out, you still got to double-team me on the block. You can't leave me open. So at all times on the floor there's going to be a threat. You can't leave me on the block by myself, you can't."
Will this plan prove effective? That remains to be seen. But on paper, thinking about the bench's needs, along with Metta's, it actually makes sense.
February, 1, 2010
2/01/10
9:49
PM PT
Kobe Bryant
passing
Jerry West
to become the franchise's all-time leading scorer, but not for the reason one might assume.
Joe Murphy/NBAE via Getty Images
Kobe passing Jerry West with this dunk was fantastic, but also about as good as it got for the Lakers.
Undoubtedly, it was a thrill seeing Kobe make history, taking his indelible place as the creme de la creme of purple and gold scorers. All praise is wholly deserved. But at the risk of sounding like a curmudgeon, whatever chapter
this 95-93 loss
represents in the book of Kobe's life, were it not for an especially memorable footnote, there would be absolutely
no
other reason to even skim these particular pages.
This was one stinker of a loss to watch, regardless of where your rooting interest lie.
Kobe's 44 points-
Dude is nothing if not capable of creating irony
- took a while to set into motion, as Bryant missed his opening trio of shots and first two free throws. But upon drilling a turnaround jumper against
O.J. Mayo
halfway through the opening frame, he quickly heated up, canning 15 of his next 25 attempts. And there was variety brought to the table as the guard grew closer to changing.
A buzzer-beating corner triple as the first quarter elapsed. A mid-range J canned over
DeMarre Carroll's
outstretched arms. Fouls drawn and baiting Mayo and Zach Randolph into technical fouls, the latter out of frustration when another guy altogether (
Hamed Haddadi
) was whistled for contact on Kobe behind the arc. A soaring, one-handed tomahawk dunk as the crowd buzzed and
Marc Gasol
could do nothing but helplessly watch.
And of course, there was the sequence allowing him to grab the torch.
January, 29, 2010
1/29/10
11:42
AM PT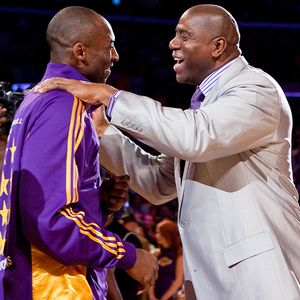 Icon SMI
Two all-time greats, only one can be G.L.O.A.T.

As a date with the Philadelphia 76ers awaits
,
Kobe Bryan
t needs just 72 points to pass
Jerry West
as the Lakers' all-time leading scorer. Yet another milestone in the career of The Mamba. (The
dude quite literally shatters records every week these days
.) Yet another step towards being not just a face on the purple-and-gold Mount Rushmore, but perhaps
the face.
The Greatest Laker of All-Time (G.L.O.A.T.)
Like Brian and I discussed in the latest PodKast
, a strong argument can be made Kobe's only true competition is
Magic Johnson
.
Based on feedback from fans
, Bryant remains the bridesmaid. But could that ever change?
To a large degree, it's a question of whether you prioritize success on the court, or the entire package.
December, 21, 2009
12/21/09
12:55
PM PT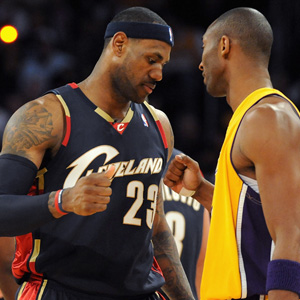 Harry How/Getty Images
Kobe vs. LeBron! Let's get ready to ruuuuuummmmmmmble!!!
In life, there are three elements safely deemed "certain": Death, taxes, and NBA analysts comparing
Kobe Bryant and LeBron James
. While the first two issues can be avoided until periods ranging from "April 15th" to "hopefully several years away, knock on wood, as I down another vitamin and drag my fat butt to the gym," basketball fans know "Mamba v. The King" is unavoidable, particularly with the X-Mas Day showdown lurking around the corner.
You know the endless jabber is coming, so why not get it over in one fell swoop? Land O' Lakers breaks down the NBA's top pair of dogs every which way from Sunday with the ultimate tale of the tape.
SCORING
Hey, why not jump in headfirst with a decision difficult enough to plague mankind for centuries?
LeBron's career numbers
and
Kobe's
are a wash, but Kobe's career-high smokes everyone not named "Wilt" or "Chamberlain." Kobe's able to score in more ways and spots, but LeBron's spent more time racking points while teamed with fewer teammates worth guarding. How do you make a call? Actually, you don't.
Edge: Push