Los Angeles Lakers:

Scott Brooks
March, 5, 2013
3/05/13
9:42
PM PT

By Dave McMenamin
ESPNLosAngeles.com
Archive
OKLAHOMA CITY -- Before the game Tuesday night,
Los Angeles Lakers
coach Mike D'Antoni said he believed his team had truly turned the corner and it had "stuck" for the previous 18 games, with L.A. winning 13 of them.
The second of those wins was against the
Oklahoma City Thunder
back in January, when the Lakers held OKC's potent offense to just 96 points. It was a needed win at the time.
But to do it again at Chesapeake Energy Arena, where the Thunder were 26-4, could really legitimize the run the Lakers have been on.
"You look at the schedule, you look at OKC, and I use it more as a measuring stick of where we need to go," D'Antoni said. "What we have to improve on."
They can start with protecting the basketball.
A game after coughing it up 21 times against Atlanta, leading to 29 points for the Hawks, the Lakers had 16 turnovers Tuesday against the Thunder that led to 22 points.
Shoring up their defense overall would help, too.
Despite
Kobe Bryant
and
Dwight Howard
stating repeatedly that the Lakers would have to control the tempo and slow down the rolling Thunder in order to have a chance in the game, Oklahoma City scored 71 points in the first half en route to 122 for the game.
Even if the Lakers accomplish their goal of making the playoffs, they have a long ways to go to have a chance of knocking off a team such as the Thunder in a seven-game series. Here's a quick overview of Tuesday's tilt:
How it happened:
Things looked mighty bleak in the early going, with Bryant going to the locker room with an ulnar nerve contusion in his right arm and Howard needing a timeout to attend to his sore right shoulder. All the while, the Thunder kept putting up points like the scoreboard was a pinball machine. The Lakers crawled their way back within five in the fourth, thanks to 10 points in the final period from
Metta World Peace
and
Steve Nash
's finding his stroke (finishing 7-for-15 for 20 points, after going just 1-for-7 in the first half).
What it means:
The Lakers' time at .500 was short lived, and they'll have to wait until at least Friday against Toronto to get back over .500 for the first time since Nov. 20. Meanwhile, L.A. still doesn't have an answer for
Russell Westbrook
(37 points, 10 rebounds, five assists) or
Kevin Durant
(26 points, nine rebounds, five assists, three steals, three blocks).
Hits:
Bryant scored 30 points on 8-for-19 shooting, despite the right elbow injury. He hit three big 3s and helped keep L.A. within striking distance for most of the game.
Earl Clark
(13 points, 11 rebounds) had another double-double, but his five first-half turnovers made D'Antoni start
Antawn Jamison
in the second half.
Misses:
Howard fouled out with just six points on 1-for-7 shooting. (He did manage 16 rebounds.)
The Lakers were outscored 52-22 in points in the paint.
The Lakers' bench was outscored 39-20, with
Derek Fisher
pouring in 10 points on 3-for-4 shooting for the Thunder.
Stat of the game:
The Thunder finished with just two turnovers, tying the NBA record for fewest turnovers in a game.
What's next:
The Lakers play the second night of their road back-to-back in New Orleans on Wednesday. The Hornets are just 21-40 on the season, but they are full of young legs and had Tuesday off to rest in anticipation of L.A.'s visit.
December, 7, 2012
12/07/12
9:22
AM PT
When the Oklahoma City Thunder shocked the world by trading James Harden just days before the season opener, many wondered whether the franchise was prioritizing the bottom line ahead of winning. On and off the court, Harden's been a critical factor in the Thunder's steady rise since 2010, and his do-it-all skill set was
often the grease for the dual engines of Kevin Durant and Russell Westbrook
. Kevin Martin may be a talented scorer, but he's not the same player, and a shorter financial commitment doesn't change that. Clearly, OKC couldn't be written off without Harden, but last season's Western Conference champions appeared poised for a slow start while adjusting to a new dynamic.
That lull lasted precisely three games.
After a 1-2 start, the 15-4 Thunder have lost just two games. They're riding a six-game winning streak, and have put up 100-plus in 10 consecutive contests. Fourth quarters still present times when the reigning sixth man of the year might come in handy, but overall, OKC has moved forward in strong fashion. A game in Oklahoma City always represents a tough challenge, and this one doesn't figure to buck any trends.
For more perspective on OKC, I conducted an IM conversation with Royce Young, who covers the team for
the True Hoop network's Daily Thunder blog
. Below is the transcript.
Andy Kamenetzky:
On the surface, it appears the post-Harden era has commenced without a hitch. Has it been that smooth?
Royce Young:
Honestly, it has. I recently looked over the schedule and the only game I thought the Thunder probably would've won with Harden around was the opener against the Spurs. They clearly hadn't adjusted to not having him -- that was only about four days after the trade -- and they didn't close well. Otherwise, by pretty much any metric, not only are the Thunder winning, they're winning better this season. Bigger margin of victory. Better offensive efficiency. Better assist rate. Better defensive efficiency. I guess that's not all that difficult when Russell Westbrook and Kevin Durant are still on your team.
AK:
We've seen Harden serve as an important bridge between Durant and Westbrook in the fourth quarter. How do they operate down the stretch of close games without him?
RY:
Basically it's all Westbrook and Durant, all the time. Like you said, Harden was an extremely valuable late-game player. When "Bad Russell" was in the building and playing wild and reckless, the Thunder could just take the ball away from him and let Harden run point and create. And don't get me wrong. There's still a very real fear about crunch-time situations in the postseason. Kevin Martin has fit in extremely well, except during late-game situations. Serge Ibaka is a bit more involved, but it's mostly all Durant and Westbrook. So far, it's worked pretty well. But that doesn't mean it's a lock to work smoothly in May.
This is off the wall, but I'd love to hear your thoughts. In OKC recently, there's been a discussion over who's better: Serge Ibaka or Pau Gasol. Who would you rather have?
AK:
Ibaka. He's got two good knees (to the best of my knowledge) which makes him more immediately valuable than Pau. He's also nearly 10 years younger, a huge plus for the long term. And while Ibaka may not be as versatile, he seems like an incredibly hard worker intent on improving weaknesses. (Witness the improved jumper.) Plus, he and Howard would form an absolute wrecking-crew defensive frontcourt. Pau certainly has a better understanding of the game, and is light-years ahead at running an offense. But were Sam Presti to offer a straight swap, I'd say yes in a heartbeat.
You mentioned Martin's snug fit with the second unit, but how has Eric Maynor performed since returning from injury? I thought his absence flew under the radar last season.
May, 21, 2012
5/21/12
9:08
AM PT
By The Kamenetzky Brothers
ESPNLosAngeles.com
Archive
With their backs against the wall, it's obvious what the Lakers must do to send this series back to L.A.: Play near-perfect basketball against a team that's not only more talented, but better at closing tight contests. Nothing less will likely get the job done, especially in the Thunder's insanely loud building. The confidence of fans, based on the LO'L chatter, appears low, but what actually matters is the confidence of Lakers players. We'll get an idea of their collective belief -- and what that's worth -- soon enough.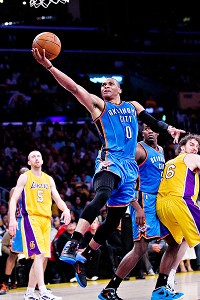 Layne Murdoch/NBAE/Getty Images
Russell Westbrook took over Game 4 down the stretch.
For a look ahead to Game 5, we had an IM conversation with
Royce Young
, who covers the Thunder for the TrueHoop network's
Daily Thunder
blog. Below is the transcript.
Andy Kamenetzky:
What stood out most to you in the Thunder comeback/Lakers collapse?
Royce Young:
The obvious thing people want to point out is
Kobe Bryant's
shot selection the final few minutes, but what stuck out to me was
Russell Westbrook
. He's been steadily improving at sensing his moments, where he can separate from Kevin Durant, and he picked an outstanding place in Game 4. He did the heavy lifting, and Durant carried them across the finish line. But like I said, it seems Kobe-ball had a lot of people talking.
AK:
I watched the fourth quarter again, and there were definitely possessions where he went into "head down/Mamba/iso" mode and most weren't terribly fruitful. But
Metta World Peace
and
Steve Blake
also over-dribbled some possessions.
Andrew Bynum
was getting fronted, and as a team, they adjusted poorly. In the meantime, the Lakers' D went to pot.
Oh, and the mother of all bad turnovers from
Pau Gasol
!
It was just horrible execution on both sides of the ball, and OKC capitalized.
RY:
One thing that's really hit home is just how fragile a playoff game can be. Each possession is priceless. The Thunder have valued the ball more than ever, and have approached games with a crazy amount of focus. Down seven, down 13, they see it as just pressing on and not letting up until the clock officially runs out. Whether that's just the natural evolution of maturity, or a voice in the locker room like
Derek Fisher
, the team doesn't lose focus even when times are tough.
Brian Kamenetzky:
Still, the Lakers have played three straight competitive games. Royce, do you see in those any reason for Thunder fans to worry?
RY:
To be frank, no. The Lakers are in a position where they need to win three straight, two of those games in Oklahoma City, and the Lakers weren't a strong road team this season. It's obvious not much separates the teams, but the Thunder are deeper and more talented than the Lakers. Unless they get tight and anxious about closing, they should handle their business.
Some are probably thinking about Game 4 in Dallas last season for the Lakers. Is this team different, or could they be headed toward a clunker in Game 5?
May, 16, 2012
5/16/12
10:35
PM PT
Wow. Just... wow.
There are losses. There are bad losses. And there are bad losses that carry the sting of 1,000 bees -- all born and raised in Oklahoma, naturally -- working in unison to attack as one. A primo chance to drastically alter the tone of this series went out the window, and the Lakers will have to work overtime to dig themselves out of a hole. And by "overtime," I mean "quite possibly beyond their capabilities." And by "hole," I mean "grave."
On tonight's Lakers Late Night, we broke down the break down over the final two minutes, along with ...
The magnitude of the wasted opportunity. The Lakers blew a seven point lead with two minutes remaining, fueled by giveaways and mismanaged possessions.
A rough fourth quarter for Kobe Bryant, who not only turned over the ball in a critical spot with 1:45 remaining, but also missed his final five shots in a 2-of-7 final frame.
Yet another disappearing act for Ramon Sessions. Two points, no assists, one turnover. He wasn't the only member of the supporting cast coming up short, and along with a lack of outside shooting from the team (2-of-13 from 3-point range) it was too much to overcome, despite a great effort defensively.
A look ahead to Game 3. Is there any way the Lakers play themselves back into the series?
May, 16, 2012
5/16/12
1:01
PM PT

By Dave McMenamin
ESPNLosAngeles.com
Archive
It was like any of the thousands of practices in which Derek Fisher and Kobe Bryant had gone up against each other since entering the league as rookies with the Lakers in 1996.

But this time, there were 18,203 mostly blue-shirted fans in the stands, Fisher was wearing his Oklahoma City home white uniform and Bryant his purple Lakers road jersey, and the spirit of competition was dampened by the fact Fisher's Thunder were already up by 30 when he matched up with Bryant on defense and got him to miss a turnaround jumper on the baseline.

"It was interesting," Thunder coach Scott Brooks said Tuesday. "I was a little worried for Derek. But (Kobe) did miss the shot."

It wasn't the first time Bryant and Fisher have been opponents. There were those years when Fisher played for Utah and Golden State before coming back to L.A. for rings No. 4 and No. 5. It wasn't even the first time this season they've played each other, as the Lakers and Thunder had two games in the regular season since Fisher was traded from the Lakers in March.

It was the first playoff game, however. Now, Fisher and Bryant find themselves pitted against one another in individual quests for a sixth championship, rather than going for it together.


May, 16, 2012
5/16/12
7:57
AM PT
By The Kamenetzky Brothers
ESPNLosAngeles.com
Archive
It's fitting NBA games are now flooded with "Men in Black III" ads (there's even one with an NBA tie-in), because after Game 1, Lakers fans had the urge to
"flashy thing"
themselves. Who'd blame any member of the Laker Nation for making every last memory of a 29-point beatdown instantly disappear? That's not a bad plan for the actual players, too. Dwelling on what can't be changed is pointless and could perhaps hinder moving forward. Of course, this is also contingent on having addressed the problems causing their nightmare. Otherwise, the "flashy thing" would just be creating space in their brains for a brand-new set of horrors.
To help preview Game 2, Brian and I conducted an IM chat with
Royce Young
from the True Hoop network's
Daily Thunder
blog. Below is the transcript.
Andy Kamenetzky:
I'll start with a question for Royce. Wha happa?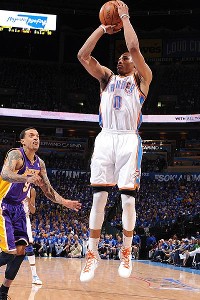 Win McNamee/Getty Images
Russell Westbrook owned the left and right elbows.
Royce Young:
Yeah, that was something. I expected the Thunder to win, but definitely not a 29-point victory. The Thunder weren't rusty, and were foaming at the mouth to get on the court. OKC is good and has maybe the NBA's most explosive offense, but if they're going to turn it over just four times, the Lakers might as well hit the beach right now and save themselves the trouble.
Brian Kamenetzky
: How sustainable is OKC's performance? The starters shot 63 percent. As a team they hit 60 percent between 10-15 feet.
Russell Westbrook
barely missed from 10 feet-plus, etc. Even if the Lakers don't do anything differently -- and they'd better do some things differently -- do you expect the Thunder to come back to earth?
RY
: That's definitely about as good as it gets, although not completely out of left field. The Thunder have rolled up big offensive games before: Game 3 against Dallas, in the regular season against Miami and Chicago. But the mid-range game can dry up at a moment's notice, 3s might not fall and transition opportunities might not be available. Then it's about executing in the half court, getting to the line and finding easy buckets. They're
capable
of doing that every night, actually doing so isn't entirely realistic.
Is there an adjustment the Lakers can make to slow down Westbrook and
Kevin Durant
?
AK: Metta World Peace
must do better staying with KD despite the constant screens. MWP's bulk can work against him fighting through bodies, but he's succeeded better than on Monday. Considering that his were the freshest legs of any Laker, I was disappointed by his general lack of defensive tenacity. As for Westbrook, when he's running pick-and-roll to that elbow spot, the Lakers bigs need to hedge harder to challenge shots or make him give up the ball. I realize the recovery after showing is tough for someone like
Andrew Bynum
, but Russ' looks were too clean, and he pulls up so quickly to begin with.
RY:
Here's the dirty little secret with Westbrook: Everyone thinks you give him that mid-range shot and take away his path to the rim, but it's actually the opposite. Give him the jumper, he'll eat you alive. That's the hinge to his game. It opens the door to everything else. Actually, in hindsight, let's scratch my previous paragraph from the record. I don't want anyone to know this.
BK:
If
Mike Brown
waits for game previews to get his scouting report for that night, I think you're OK.
May, 13, 2012
5/13/12
10:55
AM PT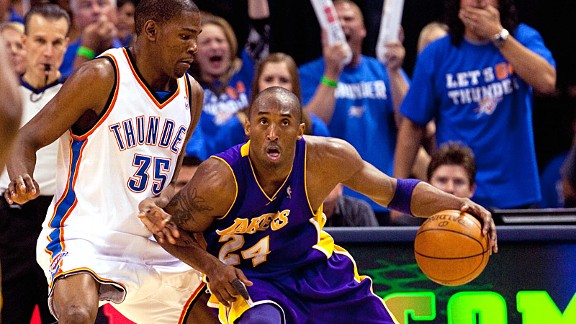 Dilip Vishwanat/Getty Images
High on the list of intriguing storylines in this series will be the battle between the NBA's two leading scorers.
The prospect of facing the Oklahoma City Thunder in the postseason has for most of the season conjured incredibly pessimistic images for Lakers fans. As the regular season wound down you could practically hear
Adrian's pre-Drago speech to Rocky
ringing throughout the city as most prayed the Lakers would leap through whatever logistical hoops required to avoid the Thunder until the Western Conference finals. But steadily the Lakers built momentum, solving some of their road woes and finding some actual support in the supporting cast.
Two games into their first-round matchup against Denver, things looked even better. Four games after that, they seemed much, much worse. Saturday, a strong performance pushed the Lakers through Game 7, finally earning a date with those very Thunder, starting Monday night in Oklahoma City. Nobody, save those viewing the world entirely through purple-and-gold-colored glasses, will make them a favorite -- nor should they. But despite the inconsistent effort vs. Denver, it's not out of the question the Lakers, through strong post play, attention to detail defensively, the intensity shown eliminating the Nuggets, and perhaps a
healthy dose of ultra-rustic Siberian training
can give OKC a genuine test.
Maybe even pull the upset?
The series features serious star power, with each team trotting out a high-end big three. Oklahoma City's combo of
Kevin Durant
,
Russell Westbrook
and
James Harden
brings, among other things, scoring punch and athleticism, while the Lakers counter with the length, experience and skill of
Kobe Bryant
,
Pau Gasol
and
Andrew Bynum
. Lovers of subplots and intrigue will have a field day, too, starting with the NBA's two leading scorers facing off in a battle of old vs. new guard.
Metta World Peace
and Harden will share the floor for the first time since
this happened.
Bynum and Gasol each have narratives to repair.
And, of course, the Lakers face a motivated
Derek Fisher
in a playoff series. The citizenry fears getting .4'd.
With all that in mind, here's a first look at the matchup ...
SEASON SERIES -- Oklahoma City 2-1
1. Thunder 100, Lakers 85
(Feb. 23, Chesapeake Energy Arena): The Lakers finished the first quarter up 23-19, but were outscored by 19 the rest of the way. Bryant finished 7-of-24 from the field, while Durant popped for 33.
2. Thunder 102, Lakers 93
(March 29, Staples Center): Again, L.A. got up early but was thoroughly outclassed after the first quarter. Durant and Harden were relatively quiet, but Westbrook went off for 36. Again, Kobe struggled (7-of-25).
3. Lakers 114, Thunder 106, 2 OT
(April 22, Staples Center): The Lakers limited OKC to 14 fourth-quarter points, erasing an 18-point deficit and pushing the game to OT. Kobe again struggled overall (9-of-26), but hit huge shots late and ate up Westbrook (3-of-22) defensively. Big games for Gasol and the Lakers' bench.
April, 21, 2012
4/21/12
2:55
PM PT
Following
Friday's thumping in San Antonio at the hands of the Spurs
, Sunday's tilt with Oklahoma City takes on a little extra significance. First, mentally it would certainly benefit the Lakers to play a strong game against an elite Western Conference team. Losing would run their record against San Antonio and OKC to an uninspiring 1-5, not exactly a top shelf omen looking ahead to the postseason.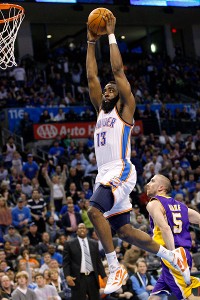 AP Photo/Sue Ograki
Like most of his Oklahoma City teammates, James Harden can soar through the air like a majestic bird.
Then there are the practical implications. Should the Lakers lose, they would no longer control their own destiny in the Pacific Division. Instead, the Clippers could win out over their final three games and take the crown, pushing the Lakers to a four seed and a first round date with an extremely dangerous Memphis squad.
Not good. To preview Sunday's action, we hit up the always insightful
Royce Young, host of TrueHoop's Daily Thunder Blog
with a few questions...
1. The Thunder put up points more efficiently than just about anyone in the league (2nd in efficiency), but the D has been good-but-not-great (9th). How good are the Thunder, really, on their own end? Where are the strengths and weaknesses?
Royce Young:
The Thunder are extremely vulnerable against a good pick-and-roll team.
Kendrick Perkins
, while a wonderful post defender, struggles hedging, showing and helping.
Scott Brooks
tries to combat this by going small with Durant at the 4, but that leaves the Thunder weaker on the glass. It's been an issue for OKC this season and a reason the Thunder have had problems with San Antonio and the Clippers, both good pick-and-roll teams.
Two other things the Thunder struggle with defensively are 1) defending the perimeter and 2) defensive rebounding. Teams have been known to get hot from the outside against OKC because the Thunder are a bit slow in rotating the shell to the wings and corner when a guard penetrates against them, which opens up looks in bulk. And any time you give teams extra shots off the offensive glass, you're asking for trouble.


2. How has Derek Fisher fit in with the Thunder, on and off the floor?
RY:
It's been a really strange thing with Fisher, honestly. His signing was billed as him being a new backup point guard to
Russell Westbrook
, but I'd contend he's barely played any point.
James Harden
runs much more point guard with the second unit as Fisher often just finds his way to the corner and waits for a kickout. He's been a steadier presence off the bench than rookie
Reggie Jackson
, but if his role is to essentially be a shooting guard, the Thunder might be better off using
Daequan Cook
-- a much better 3-point shooter -- more in that role.
Brooks seems to have fallen in love with sticking with Fisher for extended stretches, which has led to curious minutes for Fisher at times. Again, he's an upgrade from Jackson, but his role has been a tad confusing.
March, 29, 2012
3/29/12
8:07
AM PT
Even before a tumultuous turn of recent events -- a lethargic home loss to Memphis,
Mike Brown
sitting
Kobe Bryant
and
Andrew Bynum
during key stretches of two contests
--
this game would be huge. As I wrote Wednesday, it marks
the first of five games potentially instructive about the Lakers' postseason prospects
. But with the Lakers attracting drama like a
magnet attracts steel
, the spotlight and stakes have increased. If the Lakers post
another showing like the one in OKC in February
, it will become that much harder to picture a deep playoff run. What becomes easy to envision, however, is growing tensions and eroding chemistry at the wrong time. It's important for the Lakers to win this game, but even more important that they appear on the same page.
Daily Thunder's
Royce Young
and I had an instant-message exchange tossing around various questions about this matchup. Below is the transcript.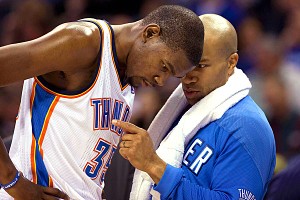 Richard Rowe/US Presswire
No, really. Derek Fisher imparting wisdom to Kevin Durant won't seem weird at all.
Andy Kamenetzky:
As far plotlines go, albeit ones that might not swing the game, the big one locally is
Derek Fisher's
return. What's been his impact so far and how has coach
Scott Brooks
used him?
Royce Young:
Thus far, minimal. Nothing about his play has been all that striking. Other than the fact that Brooks played him way too much
in that double-overtime game where Fisher got 36 minutes
. He's been OK and brought some of that old confidence and comfort level to OKC's second unit, but he still isn't even close to what the Thunder had in
Eric Maynor
and not strikingly better than
Reggie Jackson
. "Adequate" is probably the word I'd say fits best.
AK:
Do you picture Brooks continuing to use Fisher in crunch time?
RY:
Brooks absolutely loves to go small, so in some situations, yes. He has said Fisher would play between 13-20 minutes a game, but there will be nights when he likes Fisher in the same way he liked Maynor with Westbrook late. Brooks uses his rotations a lot by feel.
AK:
Either way, you gotta love Fisher's choosing "37" for the jersey. Rather cheeky of the ol' geezer.
RY:
I did like that.
It seemed by his explanation kind of a veiled shot at the Lakers
.
AK:
Um...
yeah
. You needn't be an expert in between-the-line reading to interpret
what he meant by thanking rookies Darius Morris and Andrew Goudelock like they'd been through the wars
, but omitting the organization altogether. It'll be interesting to see the psychological effect of playing against Fish. It was very emotional the first time guys faced
Lamar Odom
, and Fisher's presence was even bigger. Plus, they know he's got the huevos to hit a huge shot, and will be aching to stick it to the Lakers.
RY:
Secret weapon, huh? A little mental warfare. I can dig it.
March, 20, 2012
3/20/12
12:23
PM PT
Via ESPN.com's Marc Stein:
"The Miami Heat and Oklahoma City Thunder have emerged as the early leaders in the race to sign veteran guard Derek Fisher after he clears waivers on Wednesday, according to sources close to the situation.

With the Chicago Bulls needing another big man more than another guard and the San Antonio Spurs still hopeful that they can complete the signing of guard Patrick Mills by week's end, sources told ESPN.com that Miami and Oklahoma City are the current frontrunners to land Fisher, who was formally waived Monday night by the Houston Rockets."
To help facilitate his buyout, Fisher reportedly dropped a $3.4 million player option for next season, kissing goodbye a significant amount of money -- no level of performance the rest of the way earns him anywhere near that next season -- to play for a contender now. The trade may have been a necessary second step following the acquisition of
Ramon Sessions
, but nonetheless instantly created the possibility of Fisher joining a high-end team the Lakers could meet down the stretch and into the playoffs.
Bad as he's been on the floor (and he's been bad), if some of the Tweets and emails we've received are any indication, the idea of getting down to crunch time and seeing Fisher in the other team's uni makes a lot of fans nervous. Particularly given how motivated he'd be to stick it to Lakers management.
So with that in mind, I ask
: Are you scared at all of Derek Fisher?
May, 20, 2011
5/20/11
9:10
AM PT
By Ryan Gomes, special to ESPNLosAngeles.com
ESPNLosAngeles.com

With a highly entertaining Western Conference Finals between Dallas and Oklahoma City now in full swing, we asked Clippers forward
Ryan Gomes
, a six-year vet who has matched up with both
Dirk Nowitzki
and
Kevin Durant
, to break down the action for ESPNLA.com.
He looks at
Thursday's win in Game 2 for Oklahoma City
, and ahead towards Game 3. Here's an excerpt:
"...After Dirk Nowitzki's incredible Game 1, the Thunder did a nice job with their adjustments in Game 2, giving Dirk different looks compared to what they did in the other night. In Game 1 he was fouled a lot, but on the shots where he wasn't, Dirk had his areas down. He was catching, jabbing, and shooting over guys. He was comfortable. In Game 2, the Thunder ran a few double teams at him, and made him get rid of the ball. Dirk finished with five assists, but in the third quarter the Thunder were forcing turnovers because he and his teammates couldn't time when that double team was coming.

Oklahoma City did a nice job putting it in Dirk's mind that help could be coming at any point, and from different places. As a player, that makes you just a little less sure in your moves. Then as they built the lead, they didn't really want or need to double any more. The Thunder could play Dirk as straight and solid as possible, keeping other defenders on their shooters, knowing if he scored the Mavs still needed two or three more possessions in order to tie.

Dirk still had a great game, with 29 points on only 17 shots from the floor, but over the course of the night Oklahoma City did a nice job changing his rhythm.

Offensively, I thought Oklahoma City did a good job against Dallas' zone, putting Durant on the wing, but moving him around to the middle of the free throw line area. The Thunder tried to get him isolated right there against the guards at the top, so he could take those little mid-range shots or draw attention and kick to the opposite side of the floor. One time, he shot a pull up and missed it, but the Thunder earned the offensive rebound, and were able to capitalize with a nice lefty putback from Nick Collison. That's the thing about a zone- if you don't get that first defensive rebound, the opportunities for the offense to go in there and find holes are big.

That's what they'll need to keep doing in Game 3. Keep finding ways to get Durant to the middle, and have him make plays.
But even though Dirk and Durant were both good, the big key Thursday was with the other guys on the court..."
For the rest of Gomes' breakdown, including some great stuff on
James Harden
and the fourth quarter benching of
Russell Westbrook
,
click here
.
April, 11, 2011
4/11/11
2:09
PM PT
Whenever I watch the Lakers, I do it from a divided perspective: Lakers fan and basketball fan. While I always try to report the action objectively, I've never made my purple and gold blood a secret. I rooted for this squad well before I covered them, and the gig doesn't change my heart. However, I'm also a basketball fan, which allows me to appreciate excellence from the opposition, along with great basketball purely for it's own sake. Many times I've walked away mad after a highly contested Laker loss, but invigorated from the privilege of witnessing it.
With that in mind,
last night's loss to the Thunder
was undoubtedly disappointing for a championship squad in need of righting a suddenly faulty rudder. But in a vacuum, the exciting game drove home what was already obvious: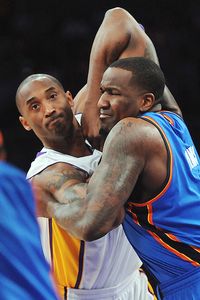 Jayne Kamin-Oncea/US Presswire
And with this bit of nonsense, Kendrick Perkins added to his "enemies" list.
A Lakers-Thunder series would be
fantastic
.
Even better than last year's excellent opening round showdown. Quite possibly the best the conference has to offer the Lakers from a standpoint of pure entertainment. Among the oodles of story lines and matchups...
- The arrival of
Kendrick Perkins
, who automatically hates anybody not wearing his uniform, and
especially
hates anybody wearing a Laker uniform.
The center made perfectly clear his thoughts about Pau Gasol
, who responded with a terrific performance. Perk also inexplicably decided to put
Kobe Bryant
in a head lock during the game. Same response, second verse. Whether or not you think it's wise for Perkins to run his yap and rile the enemy, he brings an edge to an OKC team with a confidence more quiet than confrontational.
(Oddly enough, the camera actually caught Perkins laughing on the bench, and as I tweeted, I was seriously intrigued by what punchline could crack up he of the permanent scowl. @stevewarmerdam offered this suggestion: "And then the kitten died." I laughed.)
Oh, and Perk happens to play some of the best interior defense in the league, lest we paint his presence purely about bad blood.
April, 30, 2010
4/30/10
3:32
PM PT
The closest thing this afternoon produced to really juicy news ahead of tonight's Game 6 came just before Thunder coach Scott Brooks started his meeting with the media. Comfortable all cameras and recorders were safely off, Brooks smiled. "I'm giving a guarantee," he said.

He was kidding, of course.

Neither Brooks at OKC's shoootaround nor Phil Jackson at L.A.'s delivered anything controversial, sticking instead to expressions of respect, reflections on Game 5, and thoughts on tonight's contest. Really, the most interesting aspect of the day was watching the end of Oklahoma City's workout and seeing how they operate as a group. It wasn't simply the increased activity level of the Thunder relative to a typical Lakers shootaround -- they're all nine years old and can run endlessly without tiring -- but the atmosphere generally.

As they rehearsed different sets and actions, players, coaches, and support staff on the sidelines were all clapping, and yelling words of encouragement. "Good shot, Russell." "Good shot, Thabo." "Nice work, Jeff." That sort of thing. It had an extremely collegiate feel, which makes sense since most of the team either could still be in or would have just left school if four years of university life were mandatory. The team-building theme is driven home in other ways. The massive picture on one wall opposite the court, for instance, featuring one Thunder player picking up another -- faces and numbers aren't in frame -- off the court, the clasped hands positioned dead center.

The symbolism is pretty clear, as is the quote on GM Sam Presti's wall from Ralph Waldo Emerson: "That which we persist in doing becomes easier, not that the task itself has become easier, but that our ability to perform it has improved." We will improve because we will work hard, and we will do so as a team. (Incidentally, Presti's office is adjacent to the court, fully enclosed in floor-to-ceiling glass. Frankly, he looks like the main feature in a some sort of exhibit. If they were allowed, I'm sure Presti devotees would flock there, noses pressed against the glass like kids on a school field trip might in the penguin house at the zoo.)

Throughout their drills, Brooks was consistently emphasizing the need to set screens with more purpose than they did Tuesday night in Game 5. "We've got to get into the middle," he repeated over and over, driving home the importance of creating disruptions in how the Lakers operate defensively. OKC has struggled mightily in the half court, and if they're going to push the series to a decisive seventh game will likely need to improve.

It all served to drive home the many contrasts between these teams.

Click below for some choice quotes from Brooks and Phil Jackson: