Los Angeles Lakers:

Scott Skiles
January, 28, 2012
1/28/12
7:45
AM PT

By Andy Kamenetzky
ESPNLosAngeles.com
Archive
The Milwaukee Bucks have tumbled a long way since the "Fear the Deer" playoff run of 2010. Last season, they ended below .500, and this campaign is paced to match, with
Andrew Bogut's
fractured left ankle doing hope no favors. However, that doesn't mean this game should be taken for granted as a win to open the Lakers' back-to-back road swing. For starters, no team 1-6 outside of its home turf can ever count on a win away from its soil. Plus, as inspired as the Lakers played against the Clippers, their nonexistent track record of consistency means they're essentially starting from scratch.
In other words, this may be a winnable game for the Lakers, but it's best to treat it as one requiring blood, sweat and tears for victory.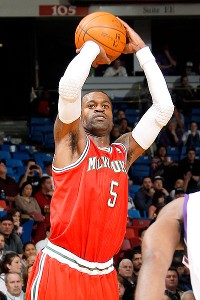 Rocky Widner/Getty Images
Stephen Jackson and his coach at odds? Who'da thunk it???
For some perspective on the Bucks, we tracked down
Jeremy Schmidt
, who runs the
Bucksketball blog
for the True Hoop Network. Below are his responses to four questions about the Bucks, plus a couple thoughts of my own.

Land O' Lakers: The "Jax" era in Milwaukee has appeared volatile and not nearly as productive as hoped. What have been the issues on and off the court, and do you see them smoothing out as the season progresses?
Jeremy Schmidt:
Thus far, things haven't been great, but that has a lot to do with
Andrew Bogut
having missed a lot of games. There have been some spats, as Jackson has moved out of the starting lineup and occasionally hasn't played the minutes he's accustomed to. But that's just a learning curve he and
Scott Skiles
are going to have. The biggest issue with Jackson is that he isn't a great player and the biggest issue with the Bucks is that they are an average team. None of that will change, and Milwaukee will continue to be sad about the Bucks.
November, 16, 2010
11/16/10
12:24
PM PT

By Andy Kamenetzky
ESPNLosAngeles.com
Archive
As Brian noted in
his Week in Preview
,
Phil Jackson
thinks a three-game roadie could help the Lakers rediscover some execution recently lost. Everything from hotel living to unfriendly arenas to a basic lack of familiarity spark relative discomfort, which in turn can lead to a sharpened focus. Like
Shannon Brown told me after Sunday's loss to Phoenix
, you really have no choice but to play better on the road. Assuming you want to win, that is.
Of the three consecutive contests played outside Staples Center, tonight's date with the Bucks appears by far the biggest challenge. Here are some items to think about once the ball is jumped:
Brandon Jennings the scorer vs. Brandon Jennings the playmaker
The Lakers want the former, not the latter. This season,
Jennings is shooting (almost) 41 percent from the floor,
and a look at
the young point guard's game logs
manages to make the paltry clip feel bloated. The kid's managed just two games with a 50 percent success rate, plus five where he didn't even hit 37 percent. The bottom line is he's not yet an efficient shooter.
Even with a reportedly
improved tear drop move
and a recent hot streak from beyond the arc (10-19 in his last four games), he's still a guy I don't fear calling his own number.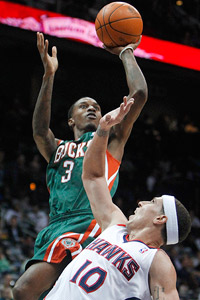 Josh D. Weiss/US Presswire
If Brandon Jennings wants to shoot, generally speaking,
let him.
Calling someone else's number, however, Jennings is arguably the team's blood source. He leads the team in assists (6.3) and for relative NBA novice who often devotes a lot of time dribbling and probing, his turnovers are impressively low (2.5). Moreover,
the team averages an NBA-29th 17.6 assists per game
, meaning Jennings sets up more than one-third of the team's buckets for an already putrid offense. Cut off this particular snake's head, and I'm guessing you're left with a reptile none too venomous.
Keep a body on Jennings' teammates and deny clean entries. Cut off his passing lanes. Sag off at times and dare him to let fly. If you turn Jennings into a one-man gang for points, he could be a lightning-quick handful, especially heading to the cup (
where the most hay is made
), but I'll gladly take my chances.