Los Angeles Lakers:

Seattle Supersonics
April, 14, 2012
4/14/12
10:45
AM PT

By Andy Kamenetzky
ESPNLosAngeles.com
Archive
In 1987, Guns N' Roses exploded on the music scene with "Appetite for Destruction," an album that sounded nothing like the hair/glam metal groups dominating radio and MTV. In fact, "Appetite's" edgy, raw songs didn't sound like much of anything popular at the time, period. Bassist
Duff McKagan
, one of the band's original members, lived Guns' chaotic rise to the top, only to watch the band steadily disintegrate into a current incarnation barely recognizable to its origins.
Since leaving GN'R in 1997, McKagan has played in groups like Velvet Revolver and (briefly) Jane's Addiction, gotten sober after battling serious health issues caused by his excessive lifestyle, and even penned a memoir,
"It's So Easy: and other lies."
On April 14th, the band will be inducted into the Rock and Roll Hall of Fame.
We caught up with the Seattle native to talk about Guns' place in music history, what Saturday's honor means to him and his beloved Super Sonics, a team he still deeply misses. The show can be heard by clicking on the module, and a breakdown of talking points is below.



- (1:40):
McKagan tries to verbalize the surreal feeling of entering the HOF. Music awards have always felt strange to him, since there's no tangible "stats" to measure achievement beyond sales, which isn't necessarily the same thing as greatness.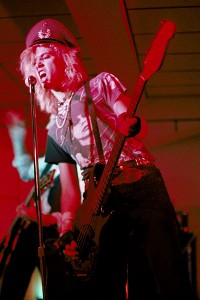 Marc S Canter/Michael Ochs Archives/Getty Images
McKagan playing with Guns during the club days.

- (4:50)
: McKagan reminisces on band's legacy and how, once "Appetite" started flying off the shelves, other bands started to look like GN'R, everyone started to "get my humor," and women suddenly "discovered how good looking I was." In other words, he was officially a rock star now, which took getting used to.
- (10:50):
As a one-time member of the Seattle music scene, what was it like for McKagan to see the grunge scene blow up years after he left?
- (12:40):
Similar to how people wonder how many titles the
Kobe
-
Shaq
teams could have won if the superstars had gotten along, McKagan concedes the band's constant drama equaled potential left on the table.
- (16:30):
After playing in bands fronted by
Axl Rose,
Scott Weiland
, and
Perry Ferrell
, it's safe to say McKagan is incapable of being thrown for a loop by a lead singer.
- (20:20):
McKagan describes how writing columns for the Seattle Weekly, Playboy and ESPN eventually led to a book, and the experience of looking back on his life.
- (23:05):
McKagan shares his bitterness towards the Sonics' relocation,
Clay Bennett
and his plan to bring the team back to Seattle.
- (27:54):
McKagan's crazy (and by "crazy," we mean "awesome") connection to The Simpsons
.
- (29:30):
Even before Rose
publicly stated he wanted no part of the the HOF induction
, McKagan expressed doubts over a full reunion and performance. At the risk of putting words in McKagan's thought bubble, I'll go out on a limb and predict he anticipated Axl being a problem.
November, 11, 2011
11/11/11
4:02
PM PT

By Andy Kamenetzky
ESPNLosAngeles.com
Archive
It's one thing to talk sports with actors, musicians and entertainers, which we often do. It's another to talk with an actor who actually played sports at a big-time college.
Joel McHale,
the hilarious star of
"Community"
and
"The Soup,"
is among the rare Hollywood guests who fits such a bill.
With USC battling Washington on Saturday
, it felt like a perfect time for McHale to join us for a conversation about his two seasons as a walk-on tight end for the Huskies. From there, we also talked about Hollywood, reality TV, and professional sports in Seattle.
The entire show can be heard here,
or you can jump to specific parts by clicking the links in the breakdown below: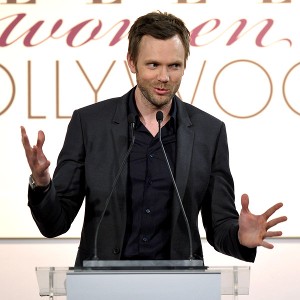 John Shearer/Getty Images
McHale can make you laugh with stories about football or Snooki.
(2:31) -
McHale relives his days as a walk-on tight end for the University of Washington
, which basically translates to "glorified tackling dummy." He labeled himself only marginally talented, but considering he also only played one year of high school football, that he made the team even as a practice player is pretty impressive. Either way, it beats rowing crew and being surrounded by a bunch of hair pillows. (You heard that right: Hair pillows.)
(5:34) -
McHale describes getting hit by
legendarily brutal Huskies linebacker Dave Hoffman
, who was tough enough to join the secret service after college. Every bit as fun as it sounds.
(10:43) -
"Community" has been a breakout vehicle for McHale as an actor
, but for co-star
Chevy Chase
, it's been a career resuscitator after some extreme highs followed by rock bottom lows. Arguably the premiere comedic actor in Hollywood throughout much of the 80's, bad projects and a reportedly even worse attitude derailed him. McHale says Chase doesn't shy away from the less flattering parts of his past.
(13:50) -
McHale describes the art of ensemble comedy and praises NBC's patience with quirky, critically acclaimed shows that don't necessarily rule the ratings. Of course, it also helps that McHale is a focus group bully.
(18:12) - What's even sadder than the way
stars of "The Jersey Shore," "The Bad Girls Club" and the like humiliate themselves? That said C-Listers actually
want
McHale to insult them on "The Soup," because it helps extend their 15 minutes of fame. Oh, the humanity!!!
(20:26) -
McHale explains how the nature of comedy and what's funny to him has changed after being on "The Soup" and "Community."
(24:36) -
Growing up in Seattle, McHale rooted Seahawks and Sonics.
He assesses
Pete Carroll's
performance coaching the former team and the laments the absence of the latter.