Los Angeles Lakers:

Sebastian Pruiti
December, 9, 2011
12/09/11
5:10
PM PT

By Brian Kamenetzky
ESPNLosAngeles.com
Archive
November, 28, 2011
11/28/11
9:15
AM PT

By Andy Kamenetzky
ESPNLosAngeles.com
Archive
With the lockout now ended, we can actually examine questions beyond, "When will we see basketball again?" One topic, of course, is how the Lakers' offense will run under new coach
Mike Brown
. Since October 2005, we've seen this Lakers core run the triangle under
Phil Jackson
. Really, that system represents the Lakers' look since October 1999, save a brief period under
Rudy Tomjanovich
.
It's safe to say the aesthetics under Brown will be different.
How different, you ask?
Well, that's difficult to answer with real certainty. Since July 1, when the lockout began, access to Brown has been limited. When he has been available, league rules have prohibited him from speaking publicly about current players by name. Thus, specific details have been in short supply for quite some time. But we have been offered hints, along with some templates, to stoke our imaginations.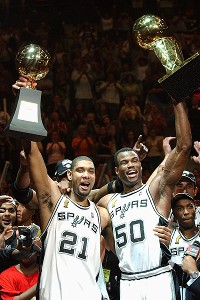 Jesse D. Garrabrant/NBAE/Getty Images
Did Timmy and The Admiral provide the foundation for similar success in L.A.?
During his introductory news conference
, which took place before lips were zipped, Brown downplayed the shadow of the triangle. "A lot of people run bits and pieces of the triangle offense," he insisted. "It's just basketball. It's spacing. It's reads. Even Cleveland, we had some bits and pieces of it within our offense." For that matter, he predicted his offense "will have bits and pieces of it that will be incorporated and will be based on the skill set and the comfort level of our players that will determine how much of it will be part of our offense."
Having said that, Brown also added, "We're not gonna run the triangle offense."
So there you have it.
As for what Brown actually will run, a small nugget was introduced that same afternoon:
"A lot that I'm gonna take offensively will stem from the time I was with San Antonio. ... We had two big, skilled 7-footers in
Tim Duncan
and
David Robinson
. So we'll do something similar to what they did with a little sprinkle of the triangle offense and a little sprinkle of what I want to bring to the table, also. We'll kinda combine it. But offensively, I think you have to tailor your offense to your personnel. You can't take our offense from team to team to team."
On draft day, amid the
Darius Morris/Andrew Goudelock
hoopla, Brown
expanded these details a bit, offering thoughts on the following:
The role of the point guard in what will presumably be a more traditional offense
"It will be an equal opportunity offense where the 1, the 2 or the 3 can bring the ball up. Because all the smalls are interchangeable. So it's not going to be too much different, because in the past here they had multiple guys, even including
Lamar
[
Odom
], bring the ball up. But the one thing we like to emphasize, we like to emphasize attacking the clock. We want to get the ball from the backcourt to the frontcourt within the first four seconds or so, so that we can get to a second, a third and sometimes a fourth option without our backs being up against the shot clock. So we'd like to get the ball up the floor a little quicker than what we've done in the past."
Whether Brown has an idea of how he wants to use Kobe Bryant
"Yes, I do. It fits into what I'm trying to do in our early offense. What I was saying is our early offense is going to be similar to what San Antonio did back when they had the two bigs in David and Tim. Again, there will be some bits and pieces of the triangle involved. But I think the triangle, it's a motion offense for the most part, and a lot of people have bits and pieces of that within their offense. It won't be any different for us, and we'll make sure Kobe's in his comfort zone, or his sweet spots out on the floor."