Los Angeles Lakers:

Shannon Brownn
July, 24, 2012
7/24/12
6:42
PM PT

By Andy Kamenetzky
ESPNLosAngeles.com
Archive
I got a chance Monday to watch a DVR playback of Thursday's Summer Pro League action between the Lakers and Clippers.
The purple and gold took the game 75-69
, their lone victory during an exceptionally unkind Vegas stay. (Losses by
40
and
50
? Yeesh!) While watching, various observations surfaced.
Darius Morris
, for example,
definitely looked the 217 muscular pounds Dave McMenamin recently reported
, and despite a shaky jumper, extremely confident running the show.
Robert "Mr. Irrelevant" Sacre's
offensive game leaves much to be desired, but the seven-footer made good use of an NBA-ready body. And it was nice to see former Laker
Adam Morrison
, two years removed from an NBA job,
continue his fantastic Summer League roll with 22 points on eight-of-13 shooting
. (Beyond swishing baskets, the guy moved as well as I've seen since his rookie season featuring two good knees.)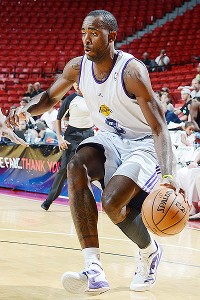 Garrett W. Ellwood/NBAE/ Getty Images
Hopefully, what happened most recently in Vegas doesn't stay in Vegas.
But the player who stood out most was
Christian Eyenga
, in part because of the numbers (22 points on 10-for-15 shooting, plus a pair of rebounds and steals), but also
the way
he played. For "projects" young, bouncy and commonly regarded as small forwards, expectations don't often extend much beyond dunks and athleticism. And Eyenga certainly delivered along those lines. A first half tomahawk was one-upped in the second half by a two-handed throw-down created off the dribble. He also stayed in front of
Eric Bledsoe
after the speedy Clippers point stole a terrible pass from Morris, then forced a jump ball. Again, everything expected from a ridiculous athlete.
However, Eyenga didn't just perform feats out of
The Matrix
. Jump shots were actually drained. From the elbow extended coming off a screen... A step-back between the circles... A catch-and-shoot with his foot on the three-point line... A self-created triple working (very) high pick-and-roll with Sacre. His handle was utilized while driving lefty across the lane, with a foul eventually drawn. No assist was recorded, but nice court vision was displayed while feeding Morris on the run for an eventual up-and-under layup. And while it's often tough to gauge what constitutes "set plays" during SPL, Eyenga appeared on several possessions to be helping initiate the offense.
In other words, he operated like an actual two-guard, rather than a two-guard-in-name-only starting alongside Morris.
Like all things SPL, this performance must be ingested with a grain of salt, and not simply because of the diluted competition. For example, Eyenga, who went a whopping 1-for-11 from deep over five games, shot above 31 percent overall in just two. I admittedly saw just scattered bits of the other four games, but if they featured the same emphasis on hitting shots from beyond point blank, it's safe to conclude his jumper isn't quite ready to be labeled "automatic." He also recorded just one assist in Vegas, meaning his play-making skills likely also need refinement.
Nonetheless, Eyenga got me thinking about the spot in the rotation behind
Kobe Bryant
, along with the last guy assigned that gig on a regular basis:
Shannon Brown
.