Los Angeles Lakers:

Shawn Marion
November, 5, 2013
11/05/13
10:38
PM PT

By Dave McMenamin
ESPNLosAngeles.com
Archive
DALLAS --
Pau Gasol
and
Jordan Hill
are very different individuals who approach the game of basketball very different ways, so it's not shocking they would have different gut reactions when asked about what went wrong with the
Los Angeles Lakers
' defense Tuesday.
Hill, the boundless bundle of energy -- bone-bruised knee or bum hip be damned -- went in a visceral direction when explaining the letdown.
[+] Enlarge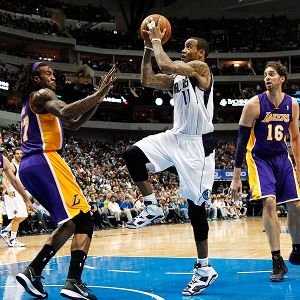 AP Photo/Tony GutierrezJordan Hill, left, and Pau Gasol, right, had differing views as to why the Lakers struggled so mightily on defense against Monta Ellis and the Mavs.
"It's a heart thing, basically," Hill said of the Lakers' 123-104 loss to the
Dallas Mavericks
in a game in which the Mavs scored 67 points in the first half, shot 52.1 percent overall, made 13-of-27 3-pointers and outscored L.A. 52-36 in the paint. "They're a great offensive team and we knew that from the jump, so we should have buckled down on them from the start of the game and we didn't and they took advantage of it."
Gasol, the cerebral player who identifies himself as much for his interests outside of basketball, offered a logical explanation.
"We just got to make sure we can't give up all those paint points that we did in the first half," Gasol said, illustrating how all those chippies were like the kindling that allowed Dallas to catch fire. "Then they got comfortable. They got comfortable and they started hitting shots, one shot after another and they shot the ball very well, hitting some tough ones down the stretch. The main thing is we just got to make it uncomfortable for them and not allow them to get easy ones."
If the team can pick up Hill's heart and Gasol's brains on defense, they might just be able to play with the requisite courage to win a game on the road, where they are now 0-2, giving up an average of 124 points against the Mavs and the
Golden State Warriors
.
"It wasn't the necessary toughness, it wasn't the necessary concentration on what we're doing," Lakers coach Mike D'Antoni said. "There was just so many breakdowns."
L.A. broke down its defense in the offseason, losing two former defensive player of the year winners in
Dwight Howard
and
Metta World Peace
on a team that already struggled to get stops.
So far this season, opponents are ripping through them like a wet paper towel, averaging 109.0 points per game on 47.9 percent shooting and 42.4 percent from deep.
October, 30, 2012
10/30/12
10:50
AM PT
With an 0-8 preseason in the books,
Kobe Bryant nursing a foot injury
and training camp a bust as a platform for building chemistry, it would be difficult to claim the new-look Lakers are kicking off the games that count on a high note. Fortunately, the scheduling gods decided to hook them up. The Dallas Mavericks' radical offseason facelift required players to wear name tags during training camp, so they're negotiating continuity issues of their own. In the meantime, two starters -- Dirk Nowitzki and Chris Kaman -- are out with respective knee and calf injuries. Throw in the uncertain vibes following their exceptionally uninspiring defense, and the Mavs enter Staples Center with plenty of questions swirling about.
For some local knowledge about the Mavericks, I conducted an IM conversation with Tim MacMahon, who covers the squad for ESPN Dallas. Below is the transcript.
Andy Kamenetzky:
What's been your impression of the new-look Mavs, injuries and new faces acknowledged?
Tim MacMahon:
It's been an absolute mess. Dirk's knee scope isn't even the biggest concern. Nor is Chris Kaman's strained calf. This could be a chemistry experiment that completely blows up in the Mavs' face. They've already suspended Delonte West twice, and there was a heated argument between two other teammates after a preseason loss last week. It's a volatile mix of potluck players in contract years.
(Editor's note: The Mavs waived West after this conversation concluded.)
The only real bright spot is it looks like the Mavs got a steal in second-round pick Jae Crowder. But it's far from a good thing that he's probably starting Tuesday night.
AK:
Doesn't sound like a fun locker room, but has it been just as bad on the court?
TM
: Well, it's been entertaining. It's not like the Mavs have a bunch of bad guys. It's just an awkward situation. On the floor, the Mavs in their current state are short, can't shoot and commit turnovers by the bunches. Other than that, they look great.
By the way, are the loaded Lakers ever gonna win a game?
AK:
Tuesday, apparently.
TM:
I dunno about that. Eddy Curry is coming for Dwight Howard.
AK:
That is a game-changer. All kidding aside, these guys should be fine once they get all the core players on the floor for an extended period to get in sync. They've added a bunch of new players, a new offense, and the preseason has featured six games missed by Dwight Howard, five by Jordan Hill, three by Kobe and one by Pau Gasol. It's hampered Mike Brown's ability to decide on a rotation, and put the team-wide learning curve behind the 8 ball. However, the actual starting five looked unguardable in the one game they played together.
April, 14, 2012
4/14/12
8:10
PM PT
I've said it many times. In a season in which consistency has been as rare as a four-leaf clover discovered on top of a
copy of Superman No. 1
, there's been one solid trend for the Lakers. Opponents regarded with contempt on a personal level receive their best efforts, as evidenced by a 3-0 clip against the defending champs. The players on hand, whether
Derek Fisher
,
Ramon Sessions
,
Brendan Haywood
or
Delonte West
, have changed, but the Lakers' vibe has been metronome-steady.
Kobe Bryant
might not be available Sunday, and
Lamar Odom
absolutely won't, but I expect that intensity to be maintained. Particularly in light of
Friday's rather promising win over the Nuggets
.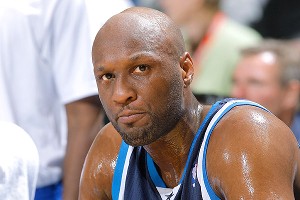 Rocky Widner/Getty Images
This glum face won't be seen on the Mavericks' sideline anymore.
To discuss the matchup, I had an IM conversation with
Jeff Caplan
, who covers the Mavs for ESPN Dallas. Below is the transcript.
Andy Kamenetzky:
From a psychological standpoint, what does Odom's departure do for Dallas?
Jeff Caplan:
The first thing is it removes daily frustration and exasperation from the locker room. His behavior was such that I believe players questioned his commitment, and have for some time.
Mark Cuban
and
Rick Carlisle
were as patient as possible, believing at some point he would turn things around and contribute. Finally, Cuban saw zero desire emanating from Odom and pulled the plug. The Mavs thrived with an all-for-one mentality last season and now can get back to that.
AK:
Even acknowledging Odom's disengagement and poor play, has he been a convenient scapegoat at all for Dallas' underwhelming season?
JC:
Absolutely. For evidence that it wasn't just Lamar, just
look at Thursday night at Golden State
. The Mavs were up 19 in the first half, then allowed the Warriors to cut it to three early in the fourth before turning it on again. That's a staple of this team this year: No lead is safe. That's mostly due to an offense ranking around 20th all year in scoring average and field goal percentage. But I don't think anyone within the organization has said, "It's all Lamar's fault" or "Now that he's gone, we're about to roll." I think there's now just more of a workmanlike mentality, with players going about their business. This is mostly a drama-free locker room led by
Dirk Nowitzki
, who is unlike any superstar I've ever been around.
The big question is will
Shawn Marion
have anyone to defend? What's Kobe's status with the shin and is anybody getting worried?
March, 21, 2012
3/21/12
9:33
PM PT
As I said to ESPN Dallas' Jeff Caplan in today's "What to Watch,"
nothing has focused these Los Angeles Lakers more throughout this season than genuine animosity toward a particular opponent. Now 3-0 against the team that ended their title run last season, I think we can all agree, the Lakers regard the Dallas Mavericks with, as Jules Winfield said in "Pulp Fiction," "great vengeance and furious anger." There's simply no limit to the pleasure taken in whipping these dudes. Apparently, the key to a deep playoff run is manufacturing grudges against the San Antonio Spurs, Oklahoma City Thunder and Memphis Grizzlies. Here are the four takeaways from the game:
1. Ramon Sessions made a serious case to enter the starting lineup.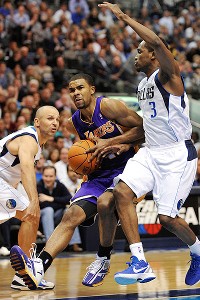 Max Faulkner/Fort Worth Star-Telegram/MCT/Getty Images
Sessions took over the game for the Lakers.
After watching
Steve Blake
go seven scoreless minutes with one assist to his name, Sessions checked into the game, then wasted little time stealing the show. He first entered the box score with a 3-pointer created off the dribble, working beyond the scouting report would define as his range. A few minutes later, he assisted four-of-five consecutive Lakers buckets on as many possessions, the other basket a 22-footer drilled by the man of the hour. As the half commenced, more of the same continued. The ball was moved with purpose. The rim was attacked with authority. A give-and-go handoff from
Troy Murphy
was cashed in the lane. The newbie looked exceptionally comfortable and in complete control as he closed the half with 12 points (on a 5-of-6 clip), four rebounds and seven assists. Aside from a couple of fourth-quarter possessions over-dribbled into trouble, the second half was essentially a Xerox of what happened before intermission.
Lakers coach
Mike Brown
has been noncommittal about moving his new point guard into the starting lineup, and normally, this wouldn't be a big issue to me one way or the other. As I've often said, who starts is an overrated talking point, whereas minutes and who finishes games are really what matters. But in the case of Sessions vs. Blake, I'll make an exception to my credo. Brown needs to make this move ASAP for a few reasons. Ultimately, this job will be Sessions', unless his coach has absolutely lost his mind. So you might as well pull the trigger on the inevitable. The more reps with the starters, the quicker he'll become acclimated to the way
Kobe Bryant,
Pau Gasol
and
Andrew Bynum
play. Once that happens, he can make life considerably easier for the big three for as many possessions as possible, which was the whole point of acquiring him in the first place.
Plus, delaying the move does no favors for Blake. He's playing like a guy expecting to lose his gig, which appears to be preventing any comfort level whatsoever with the first five. Blake had been quarterbacking the second unit well before Sessions' arrival, and developed a very nice chemistry with Bynum and
Matt Barnes
. Let the Terp play what's really his proper role, and my guess is he'll look a heck of a lot better.
February, 22, 2012
2/22/12
8:20
AM PT
When last we saw these teams, on MLK Day
, an "NBA Finals Game 7" atmosphere was anticipated. After all, it was the first meeting between the teams since the eventual champion Mavericks turned the Lakers' three-peat run into a car crash. What we got instead was an "NBA Finals Game 7" score (i.e., low). Both squads struggled mightily from the floor, and
Derek Fisher
's trey with three seconds remaining spared the teams the potential embarrassment of overtime without reaching 80.
To prepare for the rematch,
Jeff Caplan
, who covers the Mavericks for ESPN Dallas, and I had a conversation breaking down both teams. Below is the transcript.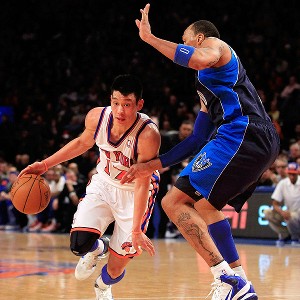 Chris Trotman/Getty Images
Shawn Marion has been a big part of the Mavs' defensive makeup.
Andy Kamenetzky
: After a slow start, the Mavericks have turned a corner. What's changed since the early struggles?
Jeff Caplan:
Defense. Believe it or not this a defense-first outfit. They've really absorbed
Rick Carlisle
's "system" and no matter who is out with injuries and who is playing, the offense might dip, but the defense has been consistently good. The Mavs are first in
opponent field goal percentage
, fourth in
scoring defense
and, before Sunday's loss at New York, top six in defending points in the paint.
AK:
And all without
Tyson Chandler
. Was the fret over his absence overwrought?
JC:
I don't think we'll really know until the playoffs.
Brendan Haywood
has played well and Carlisle is really using three centers with
Ian Mahinmi
and
Brandan Wright
. Mahinmi has gone south lately while Wright has shown promise. However, Chandler brought so much emotion and fire, both on the court and in the locker room, and that's a quality this team just didn't have in years past. So, yes, Chandler's absence has been overblown because the Mavs have surprisingly gotten good performances from their centers and the defense overall has been very good. But in the heat of the playoffs, the Mavs might miss Chandler's overall package.
AK:
Is safe to assume Dirk is back?
JC:
He certainly is getting there. He had a terrific stretch of six games or so, then his shooting tailed off again ... and now he's shooting lights out.
Kobe called out management after yet another road loss at Phoenix on Sunday. What is the chemistry like on this team? You get the sense that Kobe is unhappy.
AK:
If Kobe's not truly "unhappy," he's definitely "unhappy-adjacent." As for chemistry, I think guys get along, but on the court and mentally, there's much to be desired. They're struggling to score, which turns basketball into a grind-it-out chore and often a joyless drag. It also doesn't help that, in my opinion, the entire team is waiting for a trade to happen. There's a collective vibe of expected disbandment, which doesn't help in terms of jelling. I get the feeling guys are having a hard time buying into the idea of growing as a group.
January, 16, 2012
1/16/12
10:41
AM PT
Not quite a true return to the scene of the crime, since the Lakers officially surrendered their reign as back-to-back champions after a blowout loss in Dallas. But it's nonetheless a rematch and, for the Lakers, one with bitter feelings attached. Bowing out of the postseason is one thing. Getting swept is quite another. I don't imagine any Laker would even bother claiming this game is just another among 66 this season, if for no other reason than his nose would grow at least one foot.
For perspective on the defending champs, I recorded a podKast with
Tim MacMahon
, who covers the team for ESPN Dallas. The topics discussed included the presence of
Delonte West
, the absence of
Tyson Chandler
and the team's prospect for repeating as champs.
You can hear the entire show by clicking here.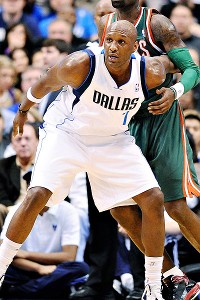 Jerome Miron/US Presswire
It has not been easy for Odom in Dallas so far.
But of course, from a Lakers fan's perspective, there's no talking point more intriguing than
Lamar Odom
now in Dallas. His exit was abrupt and controversial, and since arriving in Big D, LO's adjustment on and off the court has been a work in slow progress. Considering the incredible 2010-11 campaign, numbers like
6.8 ppg, 5 rebounds and a PER of 7.44 are pretty shocking
. Below are some excerpts from MacMahon about Odom's transition.
MacMahon, on why Odom has struggled in Dallas:
"He's out of shape. He's out of sorts. And he's completely out of sync with what's going on here. He came in in poor conditioning. The primary goal is to get him in shape. He's not playing many minutes because he's not in good enough shape to do so, and the minutes he is playing, he's usually not playing very well. They've got to get him up to speed in the Mavericks' system and then a lot of this, mentally, he just has to come join the party here in Dallas. He obviously took it extremely hard that the Lakers wanted to trade him in the Chris Paul deal, and [when] that fell apart, he pretty much demanded to be traded. Now that that happened, he has to deal with it.
He also had an extremely difficult offseason from a personal perspective. He had a cousin that was murdered. He was in a car where there was an accident. He wasn't driving, but a young man was killed, who wasn't in that car, but was killed in that accident. So he's dealing with a lot of very difficult off-the-floor emotional baggage. He hasn't fit in with his new team and a lot of that is his own fault and some of it's situations that are out of his control."
MacMahon, on Odom's comments to Sports Illustrated's Chris Mannix that he's not "prepared to play" and that his game isn't adapting the way he thought it would:
"Really, I think he has to accept the fact that it's a new situation and he has to completely invest himself emotionally. That and his conditioning are the two main things. They don't want to run a bunch of set plays. They want to play a flow type of offense that he theoretically should fit in very well, but he doesn't know what he's doing on the defensive end of the floor. If you're not getting stops, it's hard to get into a flow type of offense, and that's part of the problem.
But what I really think, for the most part, he has to get into shape, and deal with the fact that he's in Dallas now. This is a team that obviously has a chance to contend. It won the championship last year. Stop moping around, start focusing on not what happened in the past, and the opportunity he has in front of him. I think he'd be surprised at how well he might fit in."
MacMahon, on whether there have been signs of that happening
"The one thing you hear is that he has a good attitude in terms of he's on his own conditioning program. They've got him running extra sprints, doing extra conditioning after practices, after shootarounds. ... But his body language on the floor is just awful. He looks like a guy who doesn't want to be here, who doesn't want much part of what's going on. They like the work ethic, but everything else really needs to improve and improve quickly."
April, 30, 2011
4/30/11
11:17
PM PT
As the Western Conference inch closer and closer, we continue digging deeper and deeper into the matchup at hand against the Dallas Mavericks. This time, it's a conversation with
Tim MacMahon
, who covers the team for ESPNDallas.com. The talking points included:
PODCAST
Andy and Brian preview the Lakers-Mavericks Western Conference semifinals with ESPNDallas.com's Tim MacMahon.

Podcast

- Just as the Lakers still deal with the "soft" tag, so goes the "choke" tag for the Mavericks. And just like the Lakers, the Mavs have grown rather sick of being asked about their respective reputation. Thus, as MacMahon shares, advancing past the first round -- despite a Game 4 collapse against Portland-- means something for Dallas on a psychological level. Even if
Dirk Nowitzki
and
Jason Terry
are the only remaining members of a 2007 squad ousted in the first round oust as a No. 1 seed, the cloud looms, fairly or not.
- "I think he pretty much has to be absolutely dominant," answered McMahon when asked how well Dirk needs to play for the Mavs to pull the upset. "I think for the Mavericks to have a chance in this series, Dirk clearly has to be the best player on the floor for at least four games."
- MacMahon points to
Jason Terry
,
Jason Kidd
and
Shawn Marion
as supporting cast members who must step up in support of Nowitzki. He also says he thinks
the confirmed unavailability of Caron Butler hurts
. The ex-Laker has been out a while, but were he somehow able to recapture his old form in a hurry, Butler has been the best No. 2 scoring option alongside Nowitzki in quite some time.
- How will the Mavs go about defending
Kobe Bryant
? In MacMahon's estimation, not particularly well.
DeShawn Stevenson
is a decent enough option but plays only limited minutes as a starter. If you eventually put Marion on Kobe, that leaves "Pick your undersized Player X" to get bullied by
Ron Artest
. As for matchups favoring the Mavs, MacMahon says he thinks the backup backcourt of Terry and
Jose Barea
could provide some fits, but at the end of the day, it's mostly about Dirk being the best big on the floor.
- So what to expect in this series from
Mark Cuban
and his rarely shut mouth? Beyond "fun" jabs at Artest and
Phil Jackson
, MacMahon predicted another scenario with the potential to send the billionaire's lips into motion:
"Any time the Mavericks lose, be on the look out for lessons about officiating and journalism, because those are the things that seem to cost the Mavericks a ton of games."
Speaking of patterns, there is a decided rhythm to whenever Cuban decides to embark on an anti-journalism crusade: Mavericks will lose a few straight games, then Cuban will take issue with the press. In 2008, after slow dividends to the
Jason Kidd
deal, Cuban imposed a brief locker room lockout for
any
blogger, even those attached to a major newspaper. This pitted MacMahon (then with the Dallas Morning News) and me (then with the L.A. Times) as quasi-political prisoners during a Lakers-Mavs game in Dallas.
It also led to my open letter to Cuban calling shenanigans on this nonsense
.
Ah, Memory Lane!
- Predictions! MacMahon offers a skeptical"Lakers in 7," while Brian and I both see the Lakers closing out in Game 6.
- With MacMahon gone, Brian and I discuss more Lakers-Mavericks matchups and whether the Lakers can resist the bait that is Dallas' zone defense.
March, 31, 2011
3/31/11
10:43
PM PT

By Brian Kamenetzky
ESPNLosAngeles.com
Archive
Who knew Dallas would come to town, and a Lakers-Nuggets game would break out!
I kid (sort of), but in what could very well be a preview of the Western Conference Semi-Finals, the Lakers sent a very, very strong message to the Mavericks, outscoring them by nine points in the third quarter and 15 in the fourth, turning a tight game at halftime into a blowout.
While the chippiness of the second half- five players found themselves in the showers early by the time the game was over (along with three ejections in the crowd on a crazy night for the Staples Center red coats)- will dominate the news Friday, the final score, and how the Lakers decimated the Mavs down the stretch, should really be the story. Dallas is a very solid team worthy of L.A.'s respect, but still seem lacking in answers for what the Lakers can do down low. Nothing about tonight's game leaves the impression they could beat the Lakers in a seven game series.
"We just wanted to put our stamp on the game and let everyone know we're here to win,"
Andrew Bynum
said after. Fair to say the Lakers slapped enough postage on the proceedings to send it over a couple oceans.
Here's how it broke down...
Highlights
1. The Third Quarter.
Up by three at the half, the Lakers came out of the break and did a true number on the Mavs. In the process of outscoring them 28-19, L.A. held the Mavs to 35.3 percent from the floor (six-of-17), and forced three turnovers.
Kobe Bryant
worked over
Roddy Beaubois
on the perimeter, drawing a pair of shooting fouls en route to six free throws for the quarter (the last coming after drawing contact on
Jason Kidd
on a baseline jumper off the dribble). Bynum earned four more free throws and blocked a shot.
But where the Lakers really changed the tone of things was on the glass. At the break, Dallas was plus-seven on the boards. The Lakers ate up the entire margin in the third, outrebounding the Mavs 17-8. Perhaps more importantly, they turned Dallas into a one-and-done squad, allowing a grand total of zero offensive boards after giving up seven in the first half, leading to nine second chance points for Dallas. Obviously that number dropped precipitously after the break.
Second chance points are impossible to come by when a team only gets first chances.
2. Turnovers.
One big reason the Lakers have piled up wins since the break, now 16 in 17 tries including eight straight, is the care they've taken with the ball. Thursday was no exception. L.A. finished with a very stingy seven giveaways, including only three in the first half.
Low turnover rates mean more time spent in a structured, halfcourt defense
, where the Lakers have thrived. On the night, the Mavs had only nine points off turnovers, and only three in the second half.
3. Lamar Odom.
If tonight's game really served as a showdown for this season's Sixth Man of the Year Award- for the record reducing a year-long award to a single game is completely absurd- Odom should be clearing space on his mantle. Before his ejection Terry was only two-for-nine from the floor, with a pair of turnovers, admitting later to losing his cool out of frustration. "Emotions got the best of me tonight. I apologized to the team. You just can't let that happen in big games," he said.
Odom, on the other hand, flat out exploded after a reasonably quiet first half, at least from a scoring standpoint (two points, though he had five boards and a pair of assists).
In the third, Odom added five more points and a pair of boards, capping off the quarter with a three before kicking off the fourth with two huge triples, pushing L.A.'s lead to 18 before a minute had gone by. That's nine straight points to you and me. He finished with 16 points and 11 boards, proving again how integral he is to the Lakers' collective success. "He's been playing like that all year," Bryant said. "For him, I'm sure it was kind of a challenge to be that Sixth Man of the Year. Terry has been a phenomenal sixth man for years, but I think this is [Lamar's] time."
No argument, here.
January, 3, 2010
1/03/10
12:27
PM PT
By Andy and Brian Kamenetzky
ESPNLosAngeles.com
Archive
Noah Graham/NBAE via Getty Images
The Lakers will be counting on Lamar Odom, among others, to keep Shawn Marion from doing this.
Five Items Of Note:
Lamar Odom, by and large, has outplayed Shawn Marion in numerous battles over the years, particularly while forcing The Matrix to guard him. Dallas' small forward is no slouch when it comes to slowing even elite scorers, but Odom's combination of length, size and southpaw action has consistently neutralized Marion's skills.

Of course, it's easy to wonder if Odom will neutralize himself. In recent victories over Golden State and Sacramento, Lamar rode out very quiet first halves before exploding in the third quarter. He'll tell you it's a matter of keeping with the game's flow and not forcing the action, but between the matchup and the Lakers' shorthanded state, it'd be a pretty big bonus if Odom made his presence felt right off the bat.