Los Angeles Lakers:

Shawn Ryan
September, 25, 2012
9/25/12
4:35
PM PT
Fans of good TV know
Shawn Ryan
, even if they don't know they know Shawn Ryan.
Few producers have racked up his level of critical acclaim, for shows like 'The Unit,' 'Terriers,', 'Lie to Me,' and his signature show, 'The Shield,' which ran 88 episodes between 2002 and 2008, easily ranking among the elite shows of the last 15 years. Ryan's newest effort,
'Last Resort'
starring Andre Braugher and Scott Speedman, premieres Thursday night at 8 PT on ABC.
(If you're impatient or have plans that night, you can watch the pilot
by clicking here
.)
'Last Resort' centers on the U.S.S. Colorado, a (fictional) nuclear submarine captained by Marcus Chapman (Braugher) and his XO (Speedman) fired at (
after a series of commands delivered in unorthodox fashion
) by another U.S. vessel, damaged, and then forced to go rogue, so to speak. It's a complicated hour of television with a lot of information packed in, but very entertaining and a potential standout on the new fall calendar.
We spoke with Ryan -- a Chicago native and huge sports fan -- about the show, his career, and his take on everything from the NHL lockout to the NFL. Click on the module to hear the show, and use the handy rundown below as a naviational tool, should you be so inclined.



- (3:00)
In L.A., the NHL lockout hasn't moved the needle, despite housing the Stanley Cup champion Kings. In Chicago, however, people are very upset, reflecting a difference in the sports cultures of the two cities.
- (6:50)
Without getting too political, Ryan laments the efforts to bust employee unions in sports, not just in the NHL but also the NFL with the referees. (And keep in mind, this was recorded
before
the Week 3 debacles.) He draws on his experience working for the Writer's Guild as a reference point.
- (10:00)
As a long suffering Bears fan, what does Ryan make of Jay Cutler, as a quarterback and a leader? Any evaluation, Ryan says, has to be put into context. Specifically, the
cavalcade of awful signal callers they've had over the last 15 years,
along with a horrible offensive line.
- (17:15)
Turning to the show, Ryan explains the inspiration for 'Last Resort,' and how the show developed from concept to full blown production. From there, we discuss the challenges of making a great pilot, particularly one requiring a great deal of exposition.
- (23:00)
Like many of today's successful shows, 'Last Resort' is a serialized drama. How does Ryan strike the balance between rewarding loyal viewers and moving a show along while making sure nobody is punished too harshly for missing an episode.
- (26:00)
How political a show is 'Last Resort?' Ryan acknowledges the show certainly delves into politics, investigating the distrust of politicians and politics shared by Americans from both sides of the aisle, but believes it's more about power at multiple levels.
- (31:00)
Ryan talks about the always outstanding Braugher, what does he bring to the show, and whether there any concern about casting a guy who might still be seen in a certain way by TV fans. A lot of TV honks (Andy, for example) still identify Braugher strongly with Lt. Frank Pembleton, his character on 'Homocide.'
- (37:00)
On a show like 'Last Resort,' taking place on a nuclear sub, how much specificity and true-to-life detail is required, but is there such a thing as too much accuracy?
October, 14, 2011
10/14/11
11:43
PM PT
If you missed
our podcast with Shawn Ryan
, writer and executive producer for such landmark shows as "The Shield," it included a discussion about the challenges inherent in building an audience for a highly serialized show. There's a built-in risk of losing audience when viewers feel missing an episode or two makes following the plot too difficult. It's a problem the industry takes very seriously:
"Listen, TV execs will show you these scary charts that say even the people who describe themselves as an intense fan of your show will on average only watch about one out of every four episodes. So if you want to get an audience of, say, 3 million for FX or 10 million people to watch your show on network TV, what you really need to do is have 40 million people consider themselves to be a fan of your show, and in any given week 10 million will show up to watch."
Meaning it's hard enough to build a faithful audience under the best of circumstances, and requires deeper penetration of the market than simple viewership measurements might suggest. Adding structural elements potentially making that process more difficult is, put mildly, problematic.
Ryan's comments apply to the NBA's labor situation, as well.
In a lot of ways, we cover the league like a highly serialized television show, following big storylines, tracking characters, and trying to figure out how A impacts B and could change C 10 games down the road. Many fans consume it that way, too. But a far larger number are more casual, passing in and out of the NBA world depending on countless other things vying for their attention.
How each demographic reacts to the lockout I don't know, but one thing is undeniably true: To sustain the sort of growth the NBA has seen while continuing to expand in ways they'd like requires an enormous number of people consuming the product, wildly outstripping the amount of people in an NBA arena or watching on TV on any given night.
Ultimately, whether the NBA misses a month or a season, the die-hards (most of them, at least) will come back. Angrily and with resentment, but back nonetheless. I'm confident Lakers fans would again fill the Staples Center. But die-hards and Lakers ticket buyers don't constitute the bulk of the basketball viewing public. In a world with ever expanding entertainment options, particularly on television, and in the face of a lousy economy, what happens to everyone else?
It's not a stretch to say steroids were required to save baseball after it lost the World Series in '94.
If they lose much, or even all of the season, what would the NBA require?
October, 11, 2011
10/11/11
7:36
PM PT
Last week was a big one over in the Land O'Lakers in regards to Hollywood. Hopefully you had a chance to listen to our conversations with
Breaking Bad's Bryan Cranston
, and veteran character actor
J.K. Simmons (The Closer, Oz, Juno)
. If not, I'd encourage you to do so.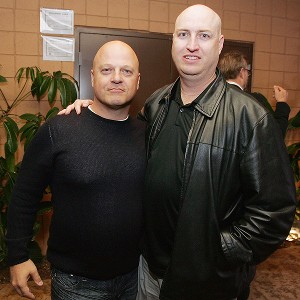 Mark Mainz/Getty Images
Shawn Ryan (right), writer and executive producer of The Shield (among other things), hangs with Michael Chiklis, who played Vic Mackey in FX's iconic cop drama.
We also had the chance to speak at length with
Shawn Ryan
, the highly influential writer and producer of programs like Lie to Me, The Unit, and most importantly, The Shield, easily one of the most groundbreaking shows television has seen over the last decade. Over the course of 88 episodes spanning from 2002-2008, The Shield, which aired on FX, fundamentally re-wrote the rules for scripted drama not hidden behind a pay wall, as other landmark shows like The Sopranos had been.
We ran the gamut over about 75 minutes, talking TV, why some shows thrive while others fail, and how he handles the critics. A native of Rockford, IL, Ryan, who can be
followed on Twitter here
, is also a huge booster of Chicago sports. We touch on that city's sports culture, how
Steve Bartman
was treated,
Phil Jackson
(Bulls version) vs. Phil Jackson (L.A.), and more.
And of course, we get deep into The Shield, and not just because it's Andy's favorite show.
Click here to listen to the whole show,
or use the links below to jump around.
Among the high points...
5:38- On making a city into a character,
as he's done on The Shield, Terriers, and The Chicago Code. Why is L.A. such a great city to shoot?
10:08
- On how he uses music in his shows.
14:27
- The comeback of scripted TV. How The Shield helped play a role, and the challenges of producing envelope pushing, edgy programming on a station still needing to sell commercials.
21:15- Does he dwell more on success or failure?
How does he react to critics? In his business, what is a good "batting average" for successful shows vs. ones that fade away?
29:06-
On the nearly infinite number of ways a good script can go bad.
31:40- What makes Chicago unique as a sports town?
Would winning ruin the charm of the Cubs? Plus some thoughts on Bartman, and how Cubs culture differs from Lakers culture.
43:45-
Phil in Chicago vs. Phil in L.A.
57:20- What does he watch on TV, and why?
1:04-
The evolution of "The Shield" into a serialized show after its first season. Why was that such a risk?