Los Angeles Lakers:

shooting
August, 1, 2012
8/01/12
3:38
PM PT
As the Lakers continue to fill out the roster, 76ers guard
Jodie Meeks
and Jazz swingman
C.J. Miles
have recently popped up as free agents on the radar.
The Salt Lake Tribune's Brian T. Smith has reported
Miles is strongly considering the Lakers, and
the Meeks news comes straight from the player himself
. While it certainly would be fantastic if both could enter the fold as reserves, that feels like a long shot, given the franchise's shallow pool of financial resources. Thus, if both are in the mix, a choice eventually feels necessary. So who would make the most sense?
For more perspective on Meeks, I called upon
Carey Smith
of the True Hoop network's
Philadunkia
blog. Here is Smith's scouting report on Meeks:
"When he's "on," Meeks owns a lethal jumper that can be a game changer. He plays solid and ever-improving defense, can find the open man with the extra pass and he's a great locker room guy. So he has a number of valuable basketball skills, and as long as Meeks is used correctly, he can be a positive contributor for an NBA roster. He's at his best as a role player coming off the bench for eight to 10 minutes a game and hitting one or two open jumpers.

Unfortunately, he was not used this way until literally his final days in Philly during the 2012 playoffs. Instead, Doug Collins stubbornly penciled his name in with the first five 114 times over the last two seasons. Thus the two-guard position was the Sixers' most glaring weakness from 2010-2012. His jumper is wildly inconsistent and he cannot create a shot for himself off the dribble. In my opinion, those are not items a team or a fan wants to hear about your starting shooting guard. I don't care what the advance stats prove about Meeks (apparently they say he is an efficient NBA player, given his salary) or how Collins tries to spin his decision. Meeks is not a starting two guard in this League. PERIOD. Watch him play for a mere five games and any knowledgeable hoop head will come to that same conclusion."
Well, first things first. While perhaps frustrating for Sixers fans over the last pair of seasons, that Meeks isn't a credible starting two guard is irrelevant for these purposes. He ain't beating out
Kobe Bryant
for the gig, and were the Mamba to miss a significant chunk of time, the season would shift so radically his replacement is arguably trivial. What matters is Meeks' qualifications as a reserve, and there's no reason to think he can't handle those responsibilities.
May, 24, 2012
5/24/12
6:48
PM PT
Rookie Andrew Goudelock began this season as the surprise winner of Kobe Bryant's primary backup at the two-guard. Later, he played some minutes as a quasi-point guard of sorts. He's a considerably more natural scorer than playmaker, but has the literal stature of a lead guard. So what position do the Lakers see him playing sown the road? As it turns out, they may wanna split the difference.

"They see me as a combo guard," explained Goudelock. "They see my size as point guard size but my game as more two-guard. So right now, I'm a two-guard, in the future, I strive to be a point guard who can score. A point guard that can play the two. A better combo guard. I think once I get more comfortable running the point guard position, I didn't run it until this year and I was learning it in the game on the fly. So that's really tough in the NBA. I think once I get more comfortable doing that, I'll be okay.

"One thing that I keep hearing from a lot of people around the league is [I] can shoot really well and there's a need for that. As long as I can shoot, I'm always gonna be okay. But for me to be successful as I wanna be, me tweaking those other areas, it's really important. Nobody wants to be a one-dimensional, two-dimensional player. I strive to be like some of the guys I came up watching. I always watched Allen Iverson, but you know, I don't think my career is gonna be anything like this. You have to be more realistic when you have watch guys and you wanna pattern your game after guys.

"I've always liked Chauncey Billups. Right now that's probably the biggest guy I'm looking to be somewhat like. Just keep trying to get better."


April, 6, 2012
4/06/12
1:12
PM PT
By The Kamenetzky Brothers
ESPNLosAngeles.com
Archive
June, 28, 2011
6/28/11
8:22
PM PT
On Tuesday in El Segundo, second round draft picks
Andrew Goudelock
,
Ater Majok
(sporting a mohawk!!!) and
Darius Morris
were introduced to the L.A. media. Before the meet n' greet, they participated in a spirited scrimmage,
part of a two-day free agent mini-camp
. (Notable names on hand included ex-NBA players
Gerald Green
, the once exceptionally overpaid
Bobby Simmons
,
Cedric Simmons
and
D.J. Strawberry
.) The game-winning trey was canned by Goudelock, so that's a start for the rookie contingent. (
Check out the video courtesy of Mike Trudell at Lakers.com
.)
Here are four clips of Goudelock and Morris, with more to come later from BK. Among the talking points:
ANDREW GOUDELOCK, PART I
- Goudelock explains how his extreme confidence allows him to keep shooting even after a string of attempts fail to drop. This self-belief took a lot of time to develop.
- Goudelock offers a rather succinct response when asked if being a second round pick equals long odds of making the team: "No."
- Goudelock was actually drafted by the Harlem Globetrotters a few days before the Lakers. But despite the uncertainty of getting picked by an NBA team and the opportunity to bomb "fours," Goudelock never considered a future in confetti-ball. Still, he labeled the selection "flattering."
- In an interesting bit of symmetry, Goudelock described the Charleston program as a "family" atmosphere, which is exactly what
Mike Brown
tries to create with his teams, too.
May, 2, 2011
5/02/11
11:58
AM PT
For the Lakers, a win tonight is obviously important, but considering their pedigree, it could be seen as little more than the expected handling of business. It's what they're
supposed
to do, right? For the Mavericks, however, a road victory out of the gate would be massive. Their confidence after closing a series in Portland would be further inflated. Plus, home-court advantage would be, at least temporarily, neutralized, a scenario desperately needed by Dallas to end the Lakers' championship run.
There will be a tone set by tonight's outcome, regardless of who is standing when the dust settles. Here are a few items to keep an eye on once the ball is jumped.
Kobe Bryant in isolation and his outside shooting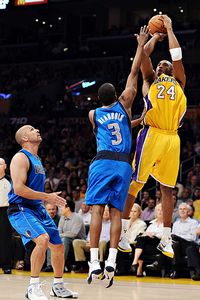 Harry How/Getty Images
We'll see if shots like this one from Kobe Bryant drop.
Whether specifically because of
the "62" game in 2005
or generally because of several strong games in the not-so-distant past,
I tend to think of the Mavs as a team Kobe Bryant destroys
. That they're low on options to check him (
DeShawn Stevenson
in limited minutes,
Shawn Marion
and, um, the popcorn vendor?) only enhances that perception. Thus, I was surprised to learn, via our friends at ESPN Stats & Information, about some of Kobe's numbers this season against Dallas.
On isolation plays this season, Kobe shot 44.3 percent (fourth-highest in the league in iso situations) on 6.3 attempts per game, good for one point per play on average. Against the Mavs, he took more shots in isolation (8.0) but connected at a lower percentage (37.5), dropping the average points per play down to .87.
Continuing that theme, Kobe averaged 8.7 points per game on jumpers 15 feet or further, drilled to the tune of 36.3 percent. Against the Mavs, Bryant was good for just 4.3 points and 22.2 percent shooting.
What to make of the seemingly unlikely dip? After a little digging of my own, I wonder if it could largely reflect one bad game and extenuating circumstances.
Bryant missed 14 of his 20 attempts during a 96-91 win in Dallas and,
according to the Hoopdata advanced box score
, his outside shooting was particularly horrific. Eight of nine shots were clanged from 16-23 feet. Ditto for all three attempts from behind the arc. Of course,
Bryant also badly rolled his left ankle
while already mired in a shooting slump. (The previous game was in Miami,
site of the famous after-hours shoot-a-thon
.) It also stands to reason that at least some of these long shots were created through one-on-one situations.
Remove that game, and the results are a little better. Bad luck from behind the arc persisted, but Kobe has always been a streaky 3-point shooter. In the meantime, he went 2-5 from 16-23 feet during
a 109-100 loss
and 2-4 from that distance during
a 110-82 win
. In the former game, Bryant shot 10-18 overall, and in the latter, he visited the line 15 times, meaning any success "containing" Kobe came with an asterisk.
It could be reasonable to conclude the back story surrounding one game could explain, in part, Dallas' unlikely success checking Bryant this season. Then again, considering the state of Kobe's ankle, concerns are understandable. In any event, we'll find out soon enough which iso/outside-shooting version of The Mamba surfaces.
September, 17, 2010
9/17/10
9:57
AM PT
With training camp around the corner, we asked a group of local and national roundball experts to weigh in on some of the big Lakers questions heading into the 2010-2011 season. Call it a preseason prognosticationpallooza.

Our panel:
Andy and Brian Kamenetzky (ESPNLA.com Land O'Lakers Blog),
Elliott Teaford
(L.A. Daily News),
Kevin Ding
(O.C. Register),
Kevin Arnovitz
(ESPN TrueHoop),
Eric Pincus
(Hoopsworld),
Chris Clark
(Silver Screen and Roll), J.A. Adande (ESPN.com),
Darius Soriano
(Forum Blue and Gold),
Kurt Helin
(ProBasketballTalk.com),
Mark Medina
(L.A. Times.com), Arash Markazi (ESPNLA.com), and Dave McMenamin (ESPNLA.com):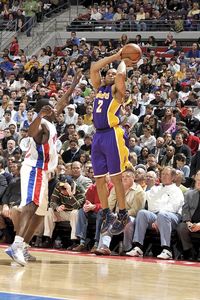 Allen Einstein/Getty Images
Fish was great in the clutch. But like most Lakers, he struggled to consistently make outside shots.
Today's question:

What is the Lakers' greatest weakness?
The Results:
Outside shooting:
5
Complacency:
3
Health:
2
Lack of athleticism:
1
Point guard:
1
New pieces not fitting:
1
My take:
The Lakers have won consecutive titles without consistent outside shooting. Three-peating means overcoming the same issue.
Steve Blake
will help, but the Lakers still aren't rich with reliable three-point shooters. (But fear not. This won't prevent these little scamps from continually ignoring
Pau Gasol
and
Andrew Bynum
down low in favor of bombing from downtown, bless their little hearts!)
Other responses:

February, 3, 2010
2/03/10
12:11
PM PT
Kobe Bryant's passing of Jerry West as the Lakers' all-time leading
scorer will be forever a part of franchise lore. But as is often the case with The Mamba, the milestone wasn't reached without some controversy attached.
The accompanying loss
featured Bryant taking 28 of the team's 73 total shots, indicative of an effort with few players making presences felt. Basically, you had Kobe,
Ron Artest
(15 points on nine shots) and...
well
... that's about it. The Lakers often appeared unsure whether the goal was to run the triangle or get Kobe a record, and
Phil Jackson
said at halftime to "get (Kobe) over the hump" so they could start "playing team ball."
Obviously, the objective never came to pass.
PODCAST
Andy and Brian break down a "so-so" eight game road trip, and look forward to a brutal February schedule. Plus, is Kobe Bryant overshooting? Have the Lakers lost their balance?


Podcast
You've already heard
Gasol and Derek Fisher
discuss the importance of playing inside-out and offensive balance
. You've heard Phil
offer a further two cents
. With those shmoes accounted for, you can now get the perspective that really moves the needle:
Ours.
-(1:45) Brian and I deem the 5-3 roadie solid enough, but felt it featured little truly great ball, a microcosm of the season as a whole thus far. Is this a sign of problems to come? Brian is a little more concerned than me about the lack of focus and execution, but even as
somebody with no need to see January games approached like Gladiators fighting for their lives
, I agree "fun time" is more or less done. Time to start the process of clicking.
-With that in mind, we discuss the question of offensive balance (11:57). The happy medium between Kobe making his presence felt and everyone else chipping. What constitutes "too many shots" for Kobe, particularly with a bad hand and this many weapons at the Lakers' disposal? Is there controversy brewing in the locker room?
All that, plus a prog-rock reference!
While his ability to inspire wayward youth may fall short of Gene Krupa's
, does any lyricist in music history make us
think
like
Neil Peart
?