Los Angeles Lakers:

shooting guards
July, 20, 2011
7/20/11
10:40
PM PT

By Andy Kamenetzky
ESPNLosAngeles.com
Archive
The comments section of
my earlier post about free agent shooting guards
included the following gem from LO'L regular
JohnRobertPerry
(or as he's often known, "LongTimeLakerFan"):
"I've decided to abandon reality in trade proposals for the day (to celebrate some of the ludicrous trades people have been proposing). Here's how the Lakers can get the backup SG they need... and they can get a backup PF in the deal:

http://games.espn.go.com/nba/tradeMachine?tradeId=...

It works in the trade machine so it must be a legitimate trade - Make it happen Mitch."
I don't want to ruin the surprise before readers click the link, but I think they'll agree everything from the satire to the phrasing ("backup PF," "backup SG") to the 2-for-1 exchange to the step taken by the Lakers' trade partner to ensure salaries match is nothing short of genius.
In tweaked
Comic Book Guy
parlance...
Best... ludicrous trade...
ev-ver
!
Oh, and make sure to check out "Hollinger's analysis," too.
July, 20, 2011
7/20/11
11:15
AM PT

By Andy Kamenetzky
ESPNLosAngeles.com
Archive
For those depressed after seeing Brian emphasize
the "thin" options for free-agent point guards
, buck up, campers! The shooting guard crop is better. Granted, it's hardly overflowing with eye-popping candidates, but upgrades, however small, are still better, right? There are definitely some 2's feasibly acquired, if not necessarily the proverbial "missing piece."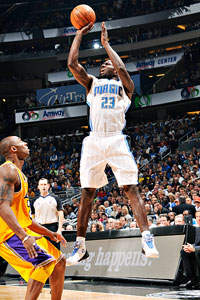 Fernando Medina/NBAE/Getty Images
If Jason Richardson were a pie, he'd be too high in the sky for the Lakers.
The "Unless they're so geeked to become Lakers a bench role and mid-level exception are amenable -- and mid-level exceptions still exist in the new CBA -- don't hold your breath" guys.
Jason Richardson (UFA, Orlando)
Jamal Crawford (UFA, Atlanta)
Even acknowledging both aren't likely to maintain their previous salaries, this wouldn't just be a paycheck below market value. We're talking the monetary haircut equivalent of
Demi Moore in "G.I. Jane."
Their roles could also be reduced along with their cheddar. On the flip side, those sacrifices would allow both to harbor less guilt over deficiencies (defense for Richardson, darn anything outside scoring for Crawford).
Between the two, Richardson is the better player and outside shooter (his three-point percentage hasn't dipped below 38 percent since 2007), but either can fill buckets at will. Hopefully, not at the Lakers' expense, since they're likely to remain opponents.
The "Not quite as expensive, but I still wouldn't hold my breath" guys
J.R. Smith (UFA, Denver)
Nick Young (RFA, Washington)
Arron Afflalo (RFA, Denver)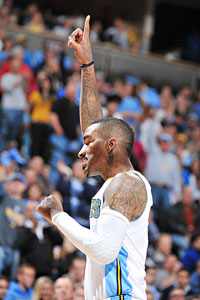 Garrett W. Ellwood/NBAE/Getty Images
J.R. Smith is talented, but like a renegade cop, is also something of a loose cannon.
For Smith and Young, mid-level-ish money is perhaps more realistic. The bigger headache, however, likely comes after inking them. True, there's a desperate need for another wing not named
"Kobe"
or
"Bryant"
who can create for himself, and these guys score in their sleep. However, wild shot selection, erratic decision-making, and porous D are part of Smith's package. And the equally undisciplined Young offers literally no other skill set beyond scoring. Similar to how
Lamar Odom's
is often described as a Swiss Army knife because of his versatility, Young's tunnel vision gunning makes him a spork.
For his part, Afflalo actually qualifies as a legitimate two-way player, not to mention a high character, steadily improving Karl favorite to boot. Thus, I'd be stunned if Denver allowed him to walk under any circumstances other than an astonishingly big offer the Lakers can't pony up in the first place.
Anyhoo ...