Los Angeles Lakers:

sixth man of the year
May, 18, 2011
5/18/11
10:12
AM PT
Lamar Odom's
season was an exception to an old athletic rule that says as you get older your game declines. Not that Odom is "old" at 31, of course. Some even consider 31 part of an athlete's prime years. But it's one thing to perform at a high level at 31 years of age, and quite another to take a sizable and unexpected leap forward. Lamar did did the latter, 12 seasons into a career, which is basically unheard of.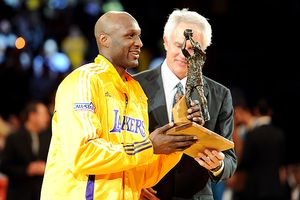 Harry How/Getty Images
Lamar Odom has the hardware to prove 2011 was the best season of his career.
Still, as I wrote in
lamenting his failure to capture what I felt was a deserved All-Star nod
, Odom's career has always been difficult to pin down. From his unique skill set to the seeming inconsistencies in focus to the way he sometimes forces us to rethink the necessity of a "scorer's mentality," Odom doesn't fit in a box. If anybody was destined at 31 to win the Sixth Man of the Year award while filming a reality show starring his celebrity wife, it would be Lamar Odom.
Odom has been a chameleon throughout his Laker career. More than any teammate, he's been asked to switch positions, responsibilities, and status as a starter or reserve. This season put that versatility to the test, and LO passed with flying colors any way you slice it. Yes, his averages definitely benefited from 35 games in which he filled in for an injured and/or suspended
Andrew Bynum
. However,
his splits demonstrate just how well LO got it done no matter when he made his first entrance.
Starter (35 games)
37.2 minutes, 57.3 FG %, 34.8 3pt %, 10.2 rebounds (2.4 ORB), 3.4 assists, .9 blocks, .6 steals, 2.1 TO's, 16.3 points
Reserve (47 games)
28.4 minutes, 49.4 FG %, 40.2 3pt %, 7.5 rebounds (1.9 ORB), 2.7 assists, .7 blocks, .6 steals, 1.4 TO's, 13.0 points
Beyond the high quality,
a metronome
would be impressed by the steadiness.
March, 29, 2011
3/29/11
9:45
PM PT
It's not often
Devin Ebanks
and
Derrick Caracter
steal the show in El Segundo. Frankly, it's not often the media pays much attention to the rookies, period. But having just undergone an MRI for the stress fracture in his left leg, a few scribes gathered around Devin for test results.
The kid's been out since March 5
, and unfortunately has at least three more weeks remaining before he's cleared. It's a situation he's learned to begrudgingly accept.
"I feel fine," nodded Ebanks. "I guess it's one of those things where it's not ready yet. I gotta wait it out.
"It's definitely stressful, especially being in practice and wanting to be out there with your teammates. Be a part of it, really. Even when you're sitting on the sideline with the team, you don't really feel a part of it."
But despite the inherently glum nature of an injury discussion, there were laughs to be mined. I asked Ebanks if he's been playing the "I'm injured" card as a way pushing rookie duties onto
Derrick Caracter
, who happened to working out nearby. "That's already been happening," Caracter shot back. "That card doesn't need to be played." Caracter relayed how Ebanks has been pulling "10-year veteran moves," like picking just the right time to ice up "for an hour."
"He's just complaining right now," laughed Ebanks. "I guess they just like to pick on him more than me. He's jealous."
Caracter then told us to ask Ebanks how many towels he'd picked up that day, and it was on like Donkey Kong. Devin motioned us over to a large whiteboard featuring a Derrick Caracter stick figure drawn by the small forward. (I'll go out on a limb and predict Ebanks took few, if any, art classes at West Virginia.) Ebanks' rendition of Caracter included a size 18XL jersey, size 10XL shorts and a bag of oranges in each hand, commemorating how the big man likes to eat an orange during a game.
Or by Ebanks' count, "20 or 30" oranges.
Caracter insisted Ebanks was exaggerating, although
his own estimation of 15 oranges per game still ventures into Cool Hand Luke and "50 eggs" territory.
I have to assume these are small oranges, but even so, my gut would likely be in agony after 15, and I've been known to stuff my face. For the rookie, however, the courtside consumption is apparently no big thing. "I like to keep my vitamins right," shrugged Caracter, who noted how
Ron Artest
and
Lamar Odom
are big proponents of oranges.
It wasn't officially announced until after practice closed, but
Caracter has been assigned to the D-League's Bakersfield Jam squad
. I don't know how familiar the rook is with Bakersfield, but it shouldn't take too long to locate a grocery store and maintain his citrus fix. Although really, should orange shopping evolve into an all-night activity, so be it. If Caracter is gonna to hit the town, I imagine the coaching staff would prefer the kid be trolling supermarkets on the hunt for the perfect
Cara Cara
than perhaps other spots with a higher potential for shenanigans.
March, 26, 2011
3/26/11
4:13
PM PT
Man, it's a fun time to be a Laker fan right now. By extension, it's a fun time to kick back with a batch of ear candy. ESPNLA.com's
Dave McMenamin
stopped by the studio to dissect all things purple and gold. Among the talking points:
Andrew Bynum is back from his two-game suspension and addressed the media on Thursday for the first time since getting put on punishment. If the league was hoping for a statement of contrition, as Balki Bartokomous would say, they're barking up a dead horse. Should fans be concerned by Drew's insistence of having done nothing wrong and there being nada to learn from? And do you agree with Kobe Bryant's assessment of Bynum having "earned his stripes?" (It reminded me of that scene in "Goodfellas" when the young Henry Hill doesn't rat on the mob bosses after getting pinched for selling illegal smokes.)

PODCAST
Andy and Brian are joined by ESPNLA.com's Dave McMenamin to talk Andrew Bynum's return from suspension, potential first round draws and the NBA landscape if the Nets drafted Kobe. Plus, "Friday" or "We built this city": Worse song?

" Podcast

The New Orleans Hornets, Sunday's opponent and the Lakers' potential first round playoff opponent, just lost power forward David West for the season. Can they stay in the playoff race with Carl Landry stepping in? Would you rather play the Grizzlies or Rockets, should the Hornets fade? We all agree Memphis would be the tougher draw for a variety of reasons.
What Jerry West and "Team Kobe" hadn't talked John Calipari out of drafting Bryant as a member of the New Jersey Nets? What if Lamar Odom had joined the Miami Heat in 2009?
Awards season is approaching. We revisit our case made on The Triangle for Odom as Sixth Man of the Year, and then discuss Kobe's candidacy for MVP. The perception seems to peg The Mamba as more of a qualified-yet-peripheral candidate than front runner, but would that change if the Lakers' torrid pace holds? Particularly when consider Bryant's season as a whole and the mind-boggling prospect of Kobe wrapping up a career with just one trophy? Could sentiment perhaps help push 24 over the top?
13-year old Rebecca Black's single "Friday" is both an Internet sensation and punching bag. The ditty is getting slammed as the worst song ever. And make no mistake, it's pretty bad. But worst song ever??? We serve up some other candidates, written by actual adults. "Popo Zao," by Kevin Federline. "Cotton Eyed Joe," by Red Nex. "Informer," by Snow. "We Built this City," by Starship.Along the way, Dave sticks up for his man Phil Collins, plus "Sometimes when we touch." I mean, he really sticks up for that song.
Feel free to offer up some other terrible songs we missed.
March, 25, 2011
3/25/11
9:34
AM PT
By the Kamenetzky Brothers
ESPNLosAngeles.com
Archive
This week, the Kamenetzky Brothers and Lakers beat writer Dave McMenamin answer you these questions three:
So, this 13-1 run after the break, did you see it coming?
ESPNLA.com's Ramona Shelburne looks at Ron Artest, coming around after a slow start thanks in part to a change in how he relates to management, and how they relate to him. What else accounts for his upswing?
Does Lamar Odom deserve the NBA's Sixth Man of the Year award?
March, 23, 2011
3/23/11
1:52
PM PT