Los Angeles Lakers:

small forward
July, 18, 2012
7/18/12
3:04
PM PT
Per ESPNLA's
Dave McMenamin
:
"Jamison will sign a one-year deal for the veteran's minimum with the Lakers ... The 36-year-old forward will bolster the Lakers' bench with scoring and veteran leadership while pursuing the first championship ring in a career largely spent as the best player on bad teams...

... Jamison had several suitors for his services, including his hometown Charlotte Bobcats, the Brooklyn Nets and the Golden State Warriors, his employer for his first five NBA seasons. For a player who has never advanced past the second round of the playoffs in 14 NBA seasons, the Lakers' chance to contend apparently was too enticing to Jamison."
Brian recently shared some thoughts on Jamison
. The two-time All-Star was
among the bigger "names" available, but also among the more productive players
. His numbers may be trending southward, but
last season's 17.2 ppg and 6.3 rebounds is nothing to sneeze at
. Even if those figures -- along with his shooting percentages from the field and downtown -- continue to dip, Jamison could become the most useful Lakers reserve since
Lamar Odom
. And we all remember how much LO (or a credible equivalent) was missed in 2012.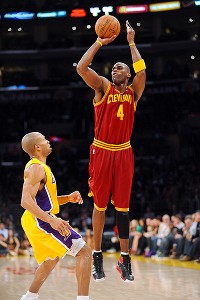 Andrew D. Bernstein/NBAE/Getty Images
The Lakers really needed a bench player who can score.
Beyond his age -- and all joking aside, it wouldn't be worst thing to add another rotation player who refers to a 30 year-old as "sir" -- the biggest issue I suspect fans will raise about Jamison is his defense.
And with good reason
. The guy wasn't a particularly good defender in his prime, which means at 36, he's only slightly more effective slowing foes than an Antawn Jamison fathead. (Which, incidentally,
can be yours for the low, low price of just $99.9
9!) Will that be problematic at times? I imagine so. Perhaps the chance to play for a title, an opportunity rarely presented over the course of Jamison's career, will spark a greater commitment to the defensive side of the ball. Granted, one doesn't typically discover his inner-
Bruce Bowen
15 years into a career, but if increased effort led to even 10-20 percent better lockdown, that beats the alternative.
And even if Jamison remains an absolute sieve, here's the thing: Last season, the Lakers subs averaged
a league-worst 20.5 ppg
(more than a third of which were
provided by Matt Barnes
, who ain't walking through that door). Unless the bench scoring is drastically improved, the reserves' collective defense is largely irrelevant, because they'd need to hold opposing second units to 10-15 points a night to be effective. That being a completely unrealistic goal, enter Jamison, who nearly outscored the purple and gold reserves himself in 2012. He's often a volume shooter, but outside of his rookie season, he's never averaged less than 14.8 points (which came off the pine). Jamison's proven ability to unite ball and basket removes pressure off the starters and reserves alike. Simply knowing somebody can consistently score should provide the bench with a mental lift, and defenses being forced to key on Jamison should make the unit as a whole more effective. Thus, I'm guessing the points generated by Jamison will offset the inevitable buckets he'll allow in the process.
There are other pluses as well. He's a former Sixth Man of the Year. Yes, that was eight seasons ago, but success in that role requires a specific mentality. Some players adjust well to joining games already in progress. Others struggle to catch a groove. Jamison is familiar with the process, so hopefully this will help him hit the ground running. The half-season spent under
Mike Brown
in 2010 means he's at least somewhat familiar with the coach's style and system, which could result in a reasonably smooth transition. (Ditto
Steve Nash
after their 2004 season as Mavericks teammates.) While probably better suited for the four at this age, Jamison can play both forward positions, which provides depth at two spots. Durability isn't an issue, even at his age, which is important for a team lacking the depth to absorb an injury to a key player. He's also long carried a reputation as a good locker room addition, and even veteran teams can never get enough of those players.
And finally, the money involved makes this a pretty sweet deal. More often than not in life, you get what you pay for. On paper, Jamison represents more help in one player than I figured the Lakers could realistically land at that cost. Unless he seriously underachieves, this signing should prove a very useful bargain.
May, 30, 2012
5/30/12
11:51
AM PT
It was an interesting season for
Metta World Peace
. (Is there any other kind?) The campaign began with a visibly/admittedly overweight MWP tapped to pick up where his close friend
Lamar Odom
left off: The bench Kahuna. Having watched Metta spend two triangular seasons doing little more than spot up and wait,
I enthusiastically endorsed Mike Brown's plan for more responsibilities
. With the ball in his hands more often, I was reasonably confident Metta would emerge more consistently engaged and perhaps even an effective scoring and play-making source. For a brief period, that vision seemed doable.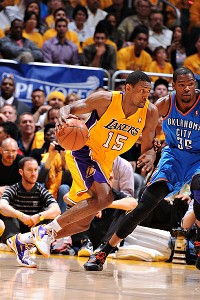 Andrew D. Bernstein/Getty Images
Driving the lane, MWP experienced early success. Further out, not so much.
In his first seven games
, MWP notched 10+ points three times, 3+ assists four times and drew fouls as a point-forward/post-presence. Defensively, he was typically a step (or three) slow and his 3-point shot was staggeringly absent -- through January, 14 percent success,
rounding up
-- but Metta still brought something to the table as an imperfect option. However, as time marched on, so did MWP's distance from the basket. For reasons I never could get explained by Brown or Metta, those post opportunities steadily declined, making MWP once again
a lonely man there on the corner
. Banished from the lane and lagging defensively, MWP's ineffectiveness reached the point where unless a return to the block was orchestrated, I questioned the logic of even playing him.
Shortly after
an unusually strong effort against the Clips
, MWP joined the first five, but consistent production still eluded him. For every game his defense or a timely 3-pointer made a difference, in several others Metta played like a shell of himself. Nobody would reasonably expect a Xerox of "Indiana" Ron-Ron, but something better than this version certainly was fair to request.
Desperately needed signs of life first came in March. Five double-digit showings. His 3-point shot began to fall semi-regularly.
LeBron James
and
Paul Pierce
were forced to work hard for points during Lakers victories. MWP looked more comfortable, and spoke freely about improved health and confidence. Still, his impact wasn't pronounced enough for MWP nor fans to hang their proverbial hat on.

April, however, proved a veritable hat rack.
On both sides of the ball, Metta performed not just like the dude from his debut season in L.A., but better. When a shin injury shelved
Kobe Bryant
for seven games, MWP picked up a big piece of the slack, averaging 16.3 points and reaching double-figures six times. A season-high nine assists against Golden State, was indicative of MWP's hand in shaping wins. Obviously, these numbers were to some degree a byproduct of The Mamba's absence, but 23 points (on a tidy 13 shots) against Houston came with Kobe in uniform. A sustainable high gear had been discovered, and for an underdog team looking to make a deep run, MWP became the roundball equivalent of found money.
Then came bankruptcy in the form of
an elbow to the head of James Harden
.
May, 28, 2012
5/28/12
10:10
AM PT
The more things change for
Matt Barnes
, the more they first get better, then turn unfortunately worse before reaching an endpoint that feels, for all intents and purposes, the same.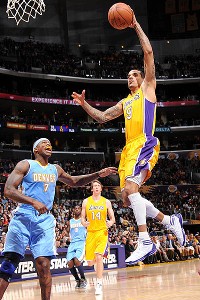 Andrew D. Bernstein/NBAE via Getty Images
Once again, injury tripped up Barnes heading into the postseason.
Last season, Barnes performed as a solid, if not necessarily spectacular, reserve before a knee injury rendered him a stiff-legged shell of himself in the playoffs. Barnes returned this season healthy and determined to make up that disappointment, and largely found success despite obstacles in the way. Everyone not named "
Kobe
," "
Pau
" or "
Andrew (Bynum)
" experienced fluctuating minutes under
Mike Brown
, but Barnes' roller-coaster ride was arguably the wildest. He's been everything from a bench-warmer to a starting small forward to a key reserve, and in every case, performed admirably.
Barnes began the season buried in favor of then-starter
Devin Ebanks
and then-bench captain
Metta World Peace
. But rather than pout, he cheered enthusiastically for teammates from the bench and said all the proverbial "right things." Five games in, Barnes took Ebanks' place, and held the gig until late-January when Brown flip-flopped him and MWP. All the while, his minutes were sometimes difficult to predict. Barnes openly admitted how frustrating this topsy-turvy backdrop could be, but never allowed that to bleed onto the court. In fact, he was arguably the Lakers' fourth best player for the season as a whole.

On a macro level, and without disrespect intended, a career journeyman being the most productive Laker beyond the Big 3 epitomizes why things rarely came easy. Barnes is a nice player, but for a squad seeking a title, he shouldn't end up so pivotal, whether by design or accident. However, that's an "other guys who needed to step more consistently" problem, not a "Matt Barnes" problem. He's responsible for his own actions, and for the most part, rose to the challenge of contributing a fair share. (To put the consistency in perspective,
Barnes averaged 7.8 points as a starter and a reserve
, underscoring his general reliability in a season marked by chaos.)
What Barnes brought to the table became evident after he badly sprained his ankle in the 64th regular season game. Severely hobbled for the postseason, the small forward gave it his best, but his effectiveness rapidly declined with each game. Barnes is a player who thrives off whirlwind motion, which makes immobility a difficult thorn in his side. And whether because of the ankle or declining confidence, his stroke went missing. In seven games against Denver, he averaged 12 percent from 3-point land, and down the stretch against OKC, the ball in his hands seemed to cause anxiety.
By Game 5 against the Thunder, Barnes was too big a liability to put on the floor, a crummy conclusion to an otherwise quality season.
Statistics
63 games, 22.9 mpg, 7.8 ppg, 5.5 rpg, 2.0 apg, .8 bpg, .458 FG, .333 3-pt
Highlights
Against Denver on 4/13, with players needing to make up for Kobe's absence against a quality opponent, Barnes had among the best games I've ever seen him play: 24 points off the bench. Nine-for-11 from the field. Four triples in as many tries. A halftime buzzer-beater. 10 rebounds. Two assists. Generally speaking, Barnes lent a nice hand while the Mamba nursed his shin injury, notching double figures in five of those seven games. A career 32.9 percent shooter from Downtown, Barnes has long carried a "sniper" reputation I've never quite understood. But in March and April, his respective 38 and 37 percent monthly averages made him look much closer to the real deal.
Lowlights
Barnes began the season on the bench and that's unfortunately the way things ended.
Prospects for 2012-13 (contract, likelihood of being on the team)
As much as any Laker, Barnes is well aware most players can and often will be deemed expendable by their teams.
Based on his exit interview comments
, Matt didn't seem like a guy counting on a return. If both Ebanks and MWP are retained, I can't imagine Barnes will be. And honestly, he could be out the door no matter who's on the Lakers roster. After a few years taking offers below market value in search of a ring, it sounds like money will play a larger role in signing his next contract. Obviously, Barnes ain't getting a max deal from anybody, but he could command more than the $1.9 million the Lakers paid him this season. Given the tight purse strings these days, I don't know if the front office would give him a raise. Thus, the well-traveled Cali native could be on the move again.
If that's the case, while coming up short in a bid for a title with the franchise he grew up rooting for is obviously disappointing, Barnes can take solace knowing he carved together a credible showing as a purple and gold role player.
Grade
B
Previous 2011-12 report cards:
February, 15, 2012
2/15/12
7:54
PM PT
Lakers fans hoping for
Devin Ebanks
to get some run will finally get their wish... sort of.
The organization just announced Ebanks will be sent down to the L.A. Defenders, the Lakers D-League affiliate.
Having not played since January 31, nor logged double digit minutes since January 13,
this move hardly qualifies as a surprise. First and second year players are eligible for a stint in the "minors," so to speak, and franchises typically like taking advantage of this opportunity with youngsters buried on the bench. (And for those wondering, Ebanks in the D-League DOES NOT open up a roster spot, so don't treat this as a sign of a move in the works.)
As a card carrying member of the "I don't get why Ebanks can't crack the rotation" club, I get whatever disappointment may be felt by those hoping he'd get a shot at improving a wildly inconsistent small forward tandem. Personally, I think Devin's skill sets and athleticism provides a unique utility for the Lakers, and he started out the season looking pretty good before abruptly being removed from the rotation altogether. Plus, as one of the few young players on the roster -- and at a position of weakness to boot -- I think it would behoove the Lakers to figure out what they have in him moving forward. But for the time being,
Mike Brown
is going with
Metta World Peace
and
Matt Barnes
, and that doesn't appear to be changing anytime soon. And like I said, Ebanks is a young player, so from a developmental standpoint, he can't afford to take season-long residence in "DNP-County." He needs actual game-minutes, and the D-League will provide just that opportunity.
Better to remove your warmups as a Defender than remain a Laker who might as well be wearing a business suit underneath his during games.
December, 22, 2011
12/22/11
8:44
PM PT
As usual when it comes to
Kobe Bryant
and injuries, he was a man of few, barely audible, highly impatient words.
But as Dave McMenamin reports
, he was willing to utter the ones that mattered most.
"I should be fine," said Kobe when asked about his availability for the Christmas Day season opener against the Bulls.
Of course, "fine" isn't necessarily quite sunshine and lollipops. Kobe described his wrist as "swollen and painful," and I'm guessing that won't change by the time Sunday rolls around. The Mamba has a famously absurd tolerance for pain, but I have a hard time believing lacing 'em up on Sunday won't entail enduring an exceptional amount of discomfort.
There's also the question of the effects the injury will have on Bryant as a player. After all, right-handed players tend to use their right wrists a decent amount of time over the course of a basketball game. Plus, that wrist is connected to a hand with some jacked up fingers. Kobe's handle occasionally suffers due to those digits. With the wrist now a factor, it's fair to wonder how Bryant's shot, or ability to create for himself or others could suffer. Even as one of the best athletes I've ever seen playing through injuries, there are limits, especially as you get older.
Predictably, Bryant downplayed the issue.
"If you can play through the pain and you can catch a ball, pass a ball, you should be fine," he said.
For those concerned playing through the injury will stymie the healing process, that's a valid fear. Why? Because Kobe said so himself. However, this is just being viewed as a fact of life, rather than a sticking point to consider.
"It's not really going to heal," Bryant conceded. "I mean, it's gone. The ligament is gone. So there's nothing I can do about it. But I've dealt with so many hand injuries. It should be all right."
The ligament is "gone?" Wowza, that's dark. I'm not even disagreeing with him. I've just never heard an injury framed in such
"dust in the wind"
terms. Kobe always claims he's not very sentimental. Clearly, he's not kidding.
June, 27, 2011
6/27/11
1:20
PM PT
The K Bros and 710 ESPN's Dave Miller discuss Ron Artest's petition to legally change his name to Metta World Peace, and whether this should give us pause.


May, 15, 2011
5/15/11
9:39
AM PT
We continue our series of Lakers' report cards. Next up, the reserve forwards of note (which means no report cards for the sparingly used
Derrick Caracter
,
Devin Ebanks
,
Joe Smith
and
Luke Walton
).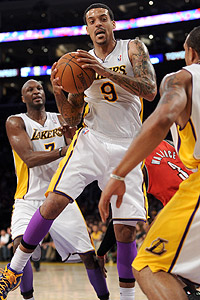 Harry How/Getty Images
Before getting injured, Barnes was always in the middle of the action.
Matt Barnes
was, for me, a prototypical case of expectations turned on their head. Before this season, memories that stood out included Barnes operating like a lunatic during the Golden State Warriors' upset of the No. 1 seed Dallas Mavericks in 2007. Or his
ball fake at Kobe Bryant's face last season
-- a hilarious, ridiculous bit of bravado.
Or this "screen" set on Rafer Alston
. Factor in how a player of his caliber had been unable to stick anywhere, and my perception of Barnes the person wasn't too favorable.
As it turns out, that was just Barnes' fire on the court. Away from the hardwood, the guy is almost jarringly soft spoken.
Similarly, I never realized the scope of Barnes' skill set until watching him on a regular basis. From the outset,
I thought his ability to move without the ball and hit the offensive glass would fit well into the Lakers' system
. But perhaps because he's always been labeled an "energy player," I figured his contributions would be more "hustle" oriented than anything tangible. Barnes revealed far more ability as a ball handler and play-maker than I ever would have guessed.
With all that in mind, it's only fitting he'd end up the biggest surprise of the season.
October, 13, 2010
10/13/10
7:34
AM PT
Ever since our live show at Media Day
, Brian and I have been tracking down the players who weren't directed to our table. First came
Derrick Caracter
. Then
Shannon Brown
. Our next victim... I mean,
Laker
? Rookie
Devin Ebanks
.
Question:
What have the first couple of weeks in training camp been like?
Devin Ebanks:
Pretty much a learning experience, really. Still trying to get the plays down. My defensive rotations. And just playing as hard as I can. Right now I'm just trying to do everything right and listen to the coaches.
Q:
Phil Jackson
mentioned that defensively you were up to speed, but the offense is something you're still trying to catch up to. Right now, are you playing as much on instincts as anything else?
DE:
Pretty much. Just using every skill that I learned in college and bringing it to the NBA level. I played that kind of NBA defense in college, so I'm pretty much up to speed on that. Just learning the offense and get my footwork right.
Q:
What about the triangle, in particular? Are there areas where you're still learning your spots?
DE:
It's really just the footwork part. I think that's the toughest part. Knowing what footwork to use, and the defense to play. It's kind of tough. Everything else, I'm in the flow of it.
(
Note:
Because Ebanks wasn't initially specific about how footwork is crucial to the triangle, I caught up with him the next day for clarification. "There are certain ways you have to clear out or pivot to make certain things work, provided how the defense plays you," explained Ebanks. "Just using your footwork is important."
Ebanks has never played in a system so dependent on footwork before, but time spent watching a certain 12-time All-Star and listening to an eleven-ringed coach drives home the necessity.
"The prime example is
Kobe Bryant
. He's the best at it, and he shows it. If we watch film and you look at his footwork, you know why he's the best right now... Coach Jackson is real big on fundamentals, as far as passing and footwork. It's the little things. If you find that, you become a great player.")