Los Angeles Lakers:

Smush Parker
October, 12, 2012
10/12/12
6:31
PM PT

By Ramona Shelburne
ESPNLosAngeles.com
Archive
EL SEGUNDO, Calif. -- It's a bit too much to call whatever is taking place between
Kobe Bryant
and former
Los Angeles Lakers
guard
Smush Parker
a feud. War of words seems a bit much, too. This is after all, Kobe Bryant versus Smush Parker.
But whatever it is, this latest "entanglement" between the former teammates has been highly amusing to watch.
It all started up again Wednesday evening when Bryant was in the kind of mood to dish, or rather, playfully diss pretty much anyone in sight as he got treatment on his strained shoulder before the Lakers' exhibition game. Third-year guard
Jodie Meeks
was his first target.
Asked by reporters how Meeks -- who was starting in his place that night -- had looked in practice, Bryant laughed and said, "I've been murdering that guy" and proceeded to quiz any teammate in sight to see if anyone would disagree with him.
A couple of minutes later in a bit of comedic timing you could never script, Meeks walked up and sat down at the locker next to Bryant. Reporters started asking Meeks about starting in the game while Bryant basically heckled him from two feet away.
Eventually the topic turned to Parker and Bryant cracked, "Smush, was the worst. He shouldn't have been in the NBA, but we were too cheap to pay for a point guard so we let him walk on and had
Tierre Brown
back him up."
It didn't take long for the quote to go viral and get back to Parker, who had started all this in the first place a few years ago when he called Bryant "overrated."
Within 12 hours Parker was on an
internet radio station based in New York to fire back.
August, 31, 2012
8/31/12
11:49
AM PT
Everyone else keeps talking about the Lakers. Why shouldn't we?
The show can be heard by clicking on the module and a list of talking points is below:



- (1:30):
Basketball players are often reticent to shower the opposition with more than generic or obligatory praise. Thus, eyebrows raised when Chris Bosh of the reigning champion Miami Heat
recently declared the Lakers the best team "on paper."
Interestingly enough,
Academy Award front-runner Kevin Durant
, whose OKC Thunder squad took out the Lakers en route to reaching the Finals, seconded that statement.
Is this a case of gamesmanship or self-motivation from Bosh and Durant or just a begrudgingly honest assessment? In a world made of paper, are the Lakers really the best team?
- (10:50):
Seven years ago
, I conducted
a wide-ranging interview with Kareem Abdul-Jabbar,
but forgot to seek a critical bit of clarification about his role in 'Airplane.' This brain cramp has eaten away at my soul ever since. Kinda like the way not having a statue in front of Staples Center seemed to have eaten away at Cap's soul.
That honor is finally (and deservedly) a scheduled event
, but it's fair to wonder if
Kareem's previous complaints
will put a damper on the impending ceremony.
- (20:16):
The Lakers loaded their roster this offseason, but with those stars comes the fear of clashing egos. Factor in the Lakers' well-documented history with this problem, and it stands to reason the media is licking its chops in anticipation of an implosion.
Or not.
As part of its "Summer Forecast" series,
100 ESPN.com "experts" (quotation marks added since Brian and I are part of that panel) voted on
which team would be most likely to experience turmoil this season
. Not surprisingly, the Knicks led the pack with 41 votes. But in what might be considered a minor shock, the Lakers only received two votes. Whether that's because smooth sailing is expected or the talent on hand is simply immune to tension, the results caught BK by surprise.
(And speaking of surprises...
Ramon Sessions
:
Team killer
? It feels like one voter considered this a very real danger.
August, 2, 2011
8/02/11
12:27
PM PT
In the category of "Things that are kind of ridiculous and drive home how much free time the average American has on his hands, but nonetheless are pretty flippin' cool and
a boatload more fun than today's lawsuit filed against the NBA players association
," I give you...
Kobe's 81 points, presented in NBA2K11 form!!!
To better appreciate the quality craftsmanship at hand for this video game reenactment, watch
this clip with all of Kobe's points
, which was clearly was the model for the Pixel version. As you can see, it's a very faithful walk down memory lane.
Except for one notable oddity.
Watching the video game version, I noticed a dude in a No. 13 jersey. This caught my attention because I didn't recall anybody wearing that number during the 2006 season. With good reason, since those digits were retired in 1983 to honor
Wilt Chamberlain.*
So who was this character with a 13 on his back? After a few frame by frame comparisons, I believe I've pinned down our player in question.
Smush Parker
, who wore No. 1 as a Laker.
So what's with the 13 in the video game? Perhaps tagging Smush with the traditionally unlucky digits is a cheeky reference to dark cloud of negativity synonymous with his stint here. Perhaps it's a refusal to refer William Henry as "No. 1" on any level. Or perhaps it was just good old-fashioned human error. Either way, the outcome does feel appropriate.
(
UPDATE:
I guess I became so obsessed with solving the "13/Smush Parker" mystery, a brilliant bit of randomness flew right over my head.
Pau Gasol
is on the Laker bench and actually takes the floor, fist pumping in celebration, after Kobe scores 81. For that matter, it looks like
Shannon Brown
might be on the sidelines as well. Stock footage? Thanks to Land O' Lakers regular
Dan Bailey
with the heads up.)
* - For those wondering, the last Laker to wear 13 was forward/center Dwight Jones during the 1982-83 season. His middle name? Elmo. For realz.
(Hat tip to
Laker Nation
and
Forum Blue & Gold
.)
March, 21, 2011
3/21/11
10:02
PM PT
With 12 wins in the last 13 games since the All-Star break, there isn't much these days to complain about in Laker Land, save perhaps
the suspended status of Andrew Bynum
. (Should the Lakers come through
Tuesday against the Suns
, you could even argue the games missed were a healthy blessing in disguise for a player not yet at 100 percent by his own admission.) Thus, who can blame the team for feeling a bit cheeky? Thus, Praise for purple and gold brothers was overflowing, but offset at times with good-natured teasing.
Except, of course, for a certain ex-teammate, who received no mercy.
For example,
Phil Jackson
full of props for
Derek Fisher
and
Lamar Odom
, the former over his ability to organize a game during crunch time and the latter for his ability to succeed whether starting or coming off the bench.
"He's been very productive," said Jackson of Odom. "It's invaluable. We made a decision as an organization two years ago to sign Lamar which put us into a difficult cap situation, yet we were convinced that without him, we wouldn't win a championship again. That was a good decision by the organization."
When approached with the topic of
Pau playing extended minutes in Bynum's absence (as was the case against Portland
), PJ couldn't resist a mild tweak:
"He gets depressed out there when he has to play that much. It just wears him out."
ZING!
On his way over to talk with us, Pau actually ran into Phil, who informed him about the jab. Consistent with his nature, Pau took the teasing in stride.
"It's just kind of the games that he plays," said Gasol with a wry smile. "It's all fun. It's all fun for him, fun for (the media) and I try to make it fun for me."
Now in his fourth season under Jackson, Gasol has gotten used to PJ's antics. And while the needling has occasionally crossed what he considered the line (PJ painting Pau as a hypochondriac regarding last season's hamstring injury, for example), Gasol's generally able to laugh it off. He views their relationship as a "close connection," even if PJ often treats him like a third girl grade girl who hits the boy she likes.
"If he didn't care about you, he wouldn't say anything about you," shrugged Pau. "It's just a sign that he cares."
So he cares a lot about Pau in particular, I noted.
"Apparently so," Gasol nodded. "Some are not so lucky. I feel lucky to get all that caring. It's nice and warm."
January, 22, 2011
1/22/11
10:27
AM PT
On Jan. 22, 2006, a Sunday game between the Los Angeles Lakers and the Toronto Raptors turned into a piece of NBA history. It was a game in which
Kobe Bryant
-- with the Lakers down 63-49 to their 14-26 guests from Canada -- strapped the supporting cast on his back and told everyone to get out of his way.
The result was 55 second-half points. 28-for-46 from the field. Seven makes from downtown. Just two misses in 20 trips to the line.
By the time he took a final seat to a thunderous ovation, Bryant had scored 81 points, the second-highest single-game total in NBA history. Since that iconic moment, so much has changed regarding Kobe.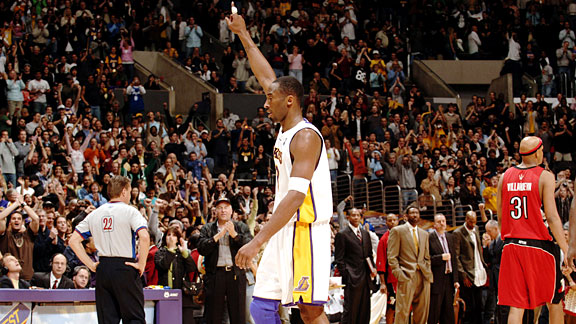 Noah Graham/NBAE/Getty Images
Just say "81." Every basketball fan knows what you mean.
He's grown as a player, with a desire to improve that is unmatched by any elite player in the league. He's grown as a leader, having developed the ability to communicate high standards for teammates without alienating them in the process. He's grown as a basketball mind, typically a step or two ahead of the competition mentally. And he's grown as an NBA face, now as popular as he was before scandal derailed his image.
Trust issues still surface -- most recently in a San Antonio loss admittedly too heavy on "takeover," and most famously during Game 7 against Boston -- and the balance between imposing will and empowering teammates will always remain a work in (largely positive) progress. But the changes over the past five seasons have nonetheless been remarkable.
Looking back on Kobe at the time of "81," the most striking change is arguably the teammates surrounding him.
Among those playing for the Lakers in 2006, six are now out of the league.
Devean George
was a decent role player but erratic, and his championship experience was gained largely as an observer.
Devin Green
was a nice kid but barely a fringe NBA player.
Smush Parker
had the makings of a competent backup guard, but an attitude so bad
the Miami Heat ate a few million bucks just to get him out of their hair
.
Aaron McKie
has since retired after an excellent career as a role player, but his two injury-riddled seasons with the Lakers were absolutely worthless. If
Chris Mihm
hadn't lost a career to injuries, he'd have been a nice backup center, but any good team is pushing its luck with him in the starting five. And even as
president of the Slava Medvedenko Fan Club
, it's a massive stretch to label the master of unintentional comedy "reliable."
Among those still cashing an NBA check,
Brian Cook
and
Von Wafer
re-entered the association this season after getting released by former teams. Both have been journeymen, and the odds favor this trend continuing.
Kwame Brown
's biggest contribution to the Lakers was a salary closely matching
Pau Gasol
's, and Brown has yet to prove he can bring much to the table beyond God-given size.
Ronny Turiaf
and
Sasha Vujacic
have nice roles with the Knicks and Nets, respectively, but each was deemed expendable as the competition at their position increased.
Of the three remaining Lakers, only
Lamar Odom
was worthy at the time of a central role on a championship-caliber team, and he's since improved as a player.
Andrew Bynum
has emerged as an elite-caliber big man, but as a doughy, inexperienced rookie he didn't even remove his warm-ups for "81."
Luke Walton
had his moments as a starter and reserve over the years, but injuries and the influx of more talented teammates have drastically reduced his minutes each season since the 2008 Finals run.
Forget how much better the Lakers' current starting five is than the group announced by Lawrence Tanter on Jan. 22, 2006. With all hands on deck,
Steve Blake
,
Shannon Brown
,
Matt Barnes
, Odom and either Gasol or Bynum comprise the second unit. I honestly like their odds against the 2006 starting five of Smush-Kobe-2006 Odom-Kwame-Mihm. And if the old-school team won out, you'd assume Bryant was the equalizer. Just as he was forced to be time and time again during that season.
That underscores the biggest reason Kobe's life is different, and for the better.
They say too much of anything is a bad thing, and that can even apply to displays of historic greatness. As incredible a feat as "81" was, the sobering reality is that the majority of those points were required to beat a mediocre foe at home. (This truth certainly wasn't lost on Kobe.) Bryant entered that game with exceedingly little to accomplish as a scorer, yet achieved the seemingly impossible as a survival mechanism. He proved beyond the shadow of any doubt that he could put up staggering points.
And happily for Bryant, the odds of having to prove it again are reassuringly low.
May, 15, 2010
5/15/10
1:32
PM PT
The obvious Western Conference Finals storyline is the Lakers attempting to exact revenge on the Suns for first round exits in 2006 and 2007. The former series saw the Lakers become just the eighth team in NBA history to blow a 3-1 lead. The latter featured one Laker victory. Now the Lakers are the consensus favorites and the Suns are the respected underdog, so the story has been turned on its ear.
But like most great tales, there's a B-plot. The story within the story. And that's where
Jordan Farmar
fits in.
The Lakers backed into the 2007 playoffs 4-6 run after final 10 regular season games. Cohesion was minimal, and with
Kwame Brown, Mo Evans, Lamar Odom
and
Luke Walton
nursing injuries, so was health. Plus, they just weren't that great a team. An active imagination was needed envision victory. Because of these realities, the series itself contained little genuine intrigue (although Kobe's radio tour aftermath certainly made up for it). Still, this anticlimactic affair featured one interesting wrinkle.
Smush Parker
had become a lethargic basket case, so
Phil Jackson
made a drastic decision 80 games into the season and promoted rookie
Jordan Farmar
.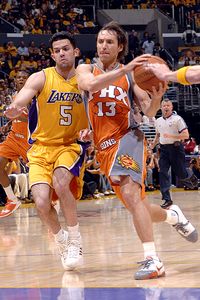 Noah Graham/NBAE via Getty Images
Farmar spent a lot of the 2007 playoffs
chasing Nash, but it was a growing
experience.
Matching playoff wits against
Steve Nash
is a challenge for seasoned veterans, much less a newbie averaging 15 minutes per game. The kid was clearly overmatched and after a solid Game 1, steadily faded. Still, there's no shame in getting outplayed by a two-time MVP, and it was a positive experience for the point guard.
"It was cool," said Farmar while recounting the experience at a recent practice. "I want to be a starter all the time. My whole career. So it was great for me. I got a chance to get out there at the beginning and play the game a little differently. More comfortable in the situation."
As Farmar noted, starting's always the goal, and to many, this series represented a signpost moment for his eventual career as the Lakers' starting point guard. Even with the offseason acquisition of
Derek Fisher
, it was only a matter of time before the reins were passed from a (then) 34 year-old to his protege.
Three seasons later, Jordan remains Fisher's backup. More notably, he hasn't made headway in taking the gig, despite L.A.'s obvious need for an heir apparent. I asked Farmar if this was a disappointment development in his career.
"Yeah. I mean, that's what I want for my career. I'm all about winning, so given my role on this team, I accept it wholeheartedly and try to do my best to help us win a championship. That's my obligation to the team and to the organization. At the same time, in my personal career, as my career goes on, I want to make strides to progress in my career. From that point, it's kind of gone up and down a little bit. I want to continue to keep getting better, to keep getting more opportunities. I really want to run a team."