Los Angeles Lakers:

soccer
July, 30, 2013
7/30/13
7:28
PM PT

By Dave McMenamin
ESPNLosAngeles.com
Archive
It has been an interesting offseason for the remaining active members of the famed NBA draft class of 1996.
Marcus Camby
, the No. 2 pick that year, was traded from New York to Toronto -- the team that selected him way back when -- and was summarily waived when he made it clear he had no desire to bookend his career with another run with the Raptors. The
Houston Rockets
snatched the 39-year-old Camby up on a one-year deal once he was available.
[+] Enlarge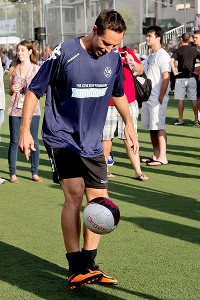 Tibrina Hobson/Getty ImagesSteve Nash, who says he still dreams "every day" about playing professional soccer, is eager to make up for an injury-plagued season with the Lakers.
Ray Allen
, the No. 5 pick, is still basking in the glow of his championship run with the
Miami Heat
, made possible thanks in large part to his already-legendary corner 3-pointer late in Game 6 of the Finals. The 3 tied the game, and the Heat, of course, won in overtime and then won Game 7.
Jermaine O'Neal
, the No. 17 pick, signed a one-year deal with the
Golden State Warriors
.
Derek Fisher
, the No. 24 pick, signed a one-year deal with the
Oklahoma City Thunder
, and a source close to the five-time champion told ESPNLA.com that Fisher plans to retire after the season.
And speaking of retirement, what about that
Los Angeles Lakers
backcourt full of '96ers?
Kobe Bryant
, who like O'Neal is younger than the rest of his classmates because he joined the league straight out of high school, told multiple media outlets he plans to play three more years, and even stretched that timeline to three or four more years during an interview while on a Nike-sponsored trip to Brazil.
As for his backcourt mate,
Steve Nash
?
"I don't really want to think about it," Nash told ESPNLosAngeles.com during a phone interview from New York on Tuesday. Nash was in the city to promote the Guinness International Champions Cup and had a "tryout" with soccer team Inter Milan as part of the event. (From the way Nash described it, it was more like when Garth Brooks was in spring training with the San Diego Padres than a serious audition.)
"I want to concentrate on this season and have a great season, and then next year I'll worry about next year. After that, there's a chance I could keep playing, but I'm totally open to not playing or playing again, and I don't really want to predict. I just want to concentrate on the now and worry about the future when it arrives."
The fact that Nash, 39, is running around a soccer pitch and even considering extending his career further into his 40s than the two years remaining on his contract is an encouraging sign for the veteran who missed 32 regular-season games plus two playoff games last season because of a fractured fibula in his left leg followed by lingering nerve discomfort.
September, 22, 2012
9/22/12
9:34
AM PT
Over the last few years, there has been a heightened awareness about concussions, brain injuries and the long-term risks potentially faced by athletes as the result of playing contact sports (and even sports commonly designated as "non-contact.") It's at the forefront of the NFL landscape, whether you're talking Bountygate, lawsuits or new penalties assessed for helmet-to-helmet hits. And as Lakers fans are well aware,
even the Mamba-est of NBA superstars are susceptible
.
The more learned about the subject, the more serious it must be regarded.
With that in mind, we were joined by
documentary filmmaker Steve James
, best known for the seminal, groundbreaking
"Hoop Dreams."
(If you haven't seen the movie, correct this immediately. It's a unique, emotionally gripping, and important film.) He also directed
"No Crossover: The Trial of Allen Iverson"
as part of ESPN's outstanding "30 for 30" series. His latest movie,
"Head Games,"
sparked by the same-titled book from former Harvard defensive lineman and ex-WWE wrestler Chris Nowinski, examines the issue of concussions in sports and the widespread effects.
Click on the module to hear the show, and a breakdown of talking points can be found below:



- (1:25):
James explains how he grew interested in this issue, and why meeting various athletes who'd suffered these injuries amplified its importance.
- (5:40):
Regarding concussions and brain injury, what have we learned and what remains a mystery?
- (9:40):
As more former NFL players (
Junior Seau
and
Dave Duerson
, among others) have taken their own lives, research on the brains of such athletes to better understand any link between these tragedies and brain injuries has increased. For a more complete study, notes James, scientists must also study the brains of NFL players with no outward signs of depression or similar problems.
- (11:50):
Whether because of heads willfully planted in the sand or a genuine lack of information, across all walks of the sports world some remain in denial about the prevalence of brain injuries. James notes as well the dilemma suffered by parents torn between awareness of the risks and the joy their kids experience from these sports. What's "too young" when it comes to playing contact sports? How safe are these sports at the grade school and high school levels?
- (18:22):
James shares thoughts on Bountygate.
- (21:00):
Beyond the potential tie between brain injuries and depression, what problems are created by the lifestyle change for athletes upon retirement from contact sports? Suddenly, a career centered on some degree of violence ends, taking the outlet for aggression with it. For that matter, a life spent as a modern day gladiator -- along with the accompanying accolades and limelight -- also concludes. Could this also trigger drastic mood swings?
- (24:00):
James' children are now grown, but if he faced the choice today, would he allow them to play football or hockey?
- (26:45):
It has been nearly 20 years since the release of "Hoop Dreams" in 1994, a time when reality TV basically consisted of "The Real World" still in its infancy, documentary projects were considered largely niche and the Internet, relatively speaking, barely existed. Since then, reality TV is everywhere, sports specials like "Hard Knocks" offer insane access, and we broadcast our lives on YouTube. From the perspective of a documentarian, what does James think of the world as we currently know it?
February, 8, 2012
2/08/12
10:26
AM PT
A stunning 1986 performance as
Sid Vicious
announced a largely unknown
Gary Oldman
as an actor to watch. He made good on that promise with indelible, often volcanic work in movies like "Prick up your Ears," "State of Grace," "JFK," "Dracula," "True Romance," "The Professional," "Immortal Beloved" and "The Contender." In recent years, he became part of the "Harry Potter" and "Batman" series, reintroducing himself to audiences in sympathetic, likable parts.
In 2011, Oldman solidified his status of one of Hollywood's premiere chameleons with his portrayal of George Smiley in "Tinker Tailor Soldier Spy." Reprising a role made famous by
Sir Alec Guinness
in a 1979 BBC production of the spy novel, Oldman remains understated and quiet, but powerful nonetheless. The performance earned him a well-deserved Academy Award nomination.
We were thrilled to get Oldman in studio for nearly an hour to talk about "TTSS," his career and even a little sports.
THE ENTIRE SHOW CAN BE HEARD HERE
, and a breakdown is below with links to specific sections:
-
(4:27): Oldman explains his initial terror at following in Guinness' footsteps for "TTSS."
A week before shooting began, he debated backing out, but ultimately geared himself up to meet the challenge.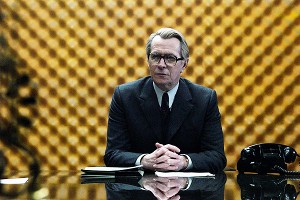 Win McNamee/Getty Images
Oldman's "Tinker Tailor Soldier Spy" performance is a remarkable achievement.
"I viewed it as a classical role that had been played before," Oldman said. "I imagined what it would be like to play Lear or Hamlet and then be measured against all those wonderful actors that had played the role before and that the comparisons would be inevitable... I sort of played a trick on my head.
It's all in my head
. Yes, Guinness gave this incredible performance. But the dragon, like all dragons, they're in your head and you have to slay them. So I kind of played a trick on myself to get me to walk through the fire."
- (5:30):
Oldman explains the differences between playing a iconic character and a real-life icon like
Sid Vicious
,
Beethoven
or
Joe Orton
.
- (14:28):
Oldman's "TTSS" role is
the polar opposite of what he's spent the majority of a career playing. And that's not by accident. Over the last several years, Oldman's moved away from the eccentric, over-the-top parts that once defined him. In part, because he was concerned about increasingly limited options as a typecast actor. But also because he grew to find these characters dissatisfying on an artistic level, which killed his passion for the craft.
"I was bored," Oldman says. "I was just going through the motions and it just didn't interest me and I lost my love for it. I sort of lost my way a little. I lost my love for acting and did not look forward to it and that was the rut I was in. You deal with sports. There are great players and they're just pitching well or they're not hitting well. ... I found it quite debilitating and boring. I started to sort of hate the job. And I've never really felt [that]. I feel very privileged and very lucky that I do what I do, and it's never, ever really felt like I go into work. Let's face it. And so I went through a patch there."
September, 6, 2011
9/06/11
10:47
PM PT
In addition to being sports fans, Brian and I are really into pop culture. Movies. Television. And of course, music. Some might even call us "music geeks" or "music snobs," both labels difficult to deny. These passions made it quite fun having
Steve Gorman
on as a guest. He's got the "music" end covered, having spent 20+ years as the drummer for
The Black Crowes
. He's also a sports junkie who even has own sports podcast,
Steve Gorman Sports!
It was only natural that a marathon podcast would ensue.
PODCAST
Andy talks with Steve Gorman, drummer for The Black Crowes and host of Steve Gorman Sports!, about his abandoned love of the Lakers, LeBron James, the state of music in 2011 and the Gods of drumming.

Podcast

On the music front, Gorman shared his thoughts on the state of music in 2011, the touring lifestyle and what it's like to share a stage with
Jimmy Page
. He also talked about wearing musical influences on your sleeve, and why his two drumming gods (
Ringo Starr
and
John Bonham
) are actually more similar than your ears might think. Great stuff for anybody who takes their CD collection seriously.
We also talked a lot of NBA, and Gorman offered takes on topics ranging from "The Decision" to the Dallas Mavericks to the mental focus required of an elite athlete. He also discussed
Kobe Bryant
, and like many folks who don't cheer for the Lakers -- and even, frankly, some who do -- Gorman's not a fan of The Mamba's personality. But unlike some who never warmed up to Kobe, Gorman doesn't use this as an excuse to deny the future Hall of Famer his props:
"I don't want to know him. I don't ever want to have dinner with him, but man, you can't take a thing away from him. You know what I think about him? I think he's somewhere in the world right now working really hard. At this very moment you and I are speaking, he is enraged and he's dribbling a ball with his fingers taped together. Or he's got ankle weights on and he's running through some swamp somewhere holding onto a ball and people are throwing things at him, because he's gotta get ready for the season. I mean, I love that he is as maniacal [as he is]. On the maniac scale, I'd say he's up there with
[Michael] Jordan
. He's just obsessed with winning and competing. And I love that."
Besides, when it comes to Lakers, Gorman has bigger fish to fry than Kobe, literally and figuratively. From childhood ("Before
[Kareem Abdul-]Jabbar
," as he notes) until 1996, Gorman was a rabid Laker fan. Ginormous. More than any other team in sports. While working on the Crowes' second album (
The Southern Harmony and Musical Companion
), Magic Johnson held his press conference to announce his retirement and HIV-positive status. The drummer flat out lost it.
"I had to leave that day," reveals Gorman. "I cried for three hours. I couldn't take it. It was the saddest thing in my life at that time."
With this said, it stands to reason a lot would be necessary to make Gorman turn in his back on the Lakers. Unfortunately,
Shaquille O'Neal
not only accomplished mission impossible, but on his first day as a Laker:
"They signed Shaq, who I was not a huge fan of. But it was okay, because I appreciated getting another dominant big man. He gets to his press conference. One of the questions comes to him about how many championships do you want to win, or do you see a championship in your future. He sidestepped the question and said,
'I just want to be young, have fun and drink Pepsi.'
That was a quote. Look it up.
"That turned into the representation of everything I hated about professional sports in the 90's. It really did. And now it sounds so ridiculous saying it. The truth is, this is another way of saying I didn't have kids yet, because I was still living and dying with adult millionaires that I'll never meet. It wound me up so much that my only response that I felt I could live with was to swear off the Lakers for life.
"That was it, because I couldn't stand the thought [of rooting for Shaq]. And then I made myself feel better every time I saw his free throws down the stretch in the fourth. I was like, 'I made the right choice.' And they didn't win a ring for a few years, so it wasn't like right away, it came back to haunt me. I had a few years to get over it. Or at least pretend I was over it and move on before they truly ascended yet again."
Strong sentiments from Gorman, which prompt the
Question Of The Day
: Could the Lakers ever sign a player that would make it impossible for you to continue rooting for them?
As a purple and gold card-carrying fan, my answer is no.*