Los Angeles Lakers:

Spain
April, 4, 2012
4/04/12
1:25
PM PT
Four years ago this summer,
Kobe Bryant
and
Chris Paul
were two of 12 NBA players determined to restore America's standing as the worldwide kings of basketball. In a classic game against Spain (featuring none other than
Pau Gasol
), Team USA won the gold and showed fans how a team of elite superstars can push egos to the side for the sake of a larger goal.

With Lakers-Clippers on the docket this evening
, various ESPN scribes (including the K Bros) gathered thoughts from Bryant's and Paul's Olympic teammates and coaches about the experience of working with them.
Click here to make a patriotic trip down Memory Lane
, and below are excerpts with Kobe's and Paul's recollections about one another:
Kobe on Paul: He's tough. He's tough as nails, man; he doesn't back down from anything or anybody. I'd never been as close to him, but when I was [on the Olympic team] I'd try to challenge him, see what he's made of and he's a tough little sucker.
Paul on Kobe: Me and Kob really figured out how much we had in common on that trip. That Olympic experience is when we got a lot closer. Me and my wife send him Christmas cards and his family sends us Christmas cards, and now we talk on a regular basis. We both want to win so badly. It's one of those things where as great a relationship as we have, as long as we're playing on the same court against each other, we're always going to get into it, you know what I mean? That's the respect factor, because you know that he wants it just as bad as I do
.
February, 1, 2012
2/01/12
6:44
PM PT
An exchange between
Kobe Bryant
and Timberwolves rook
Ricky Rubio
has been making the viral rounds.
After the Laker victory in Minnesota on Saturday
, Bryant spotted Rubio and
Pau Gasol
talking and congratulated the kid on a game well played. From there, the following chatter,
as seen on Tuesday's "Around the Horn,"
commenced.
Kobe:
"You talking about London (where the 2012 Olympics will be played)?"
Rubio:
"You gonna be there?"
Kobe:
"[Expletive] yeah, I'm gonna be there."
Rubio:
"You're gonna get that silver medal."
Kobe:
"[Looooooong drawn out expletive.] I'm taking bets. I'm taking bets."
Rubio:
"I bet you won't."
Kobe:
"If I win, I get the key to Barcelona."
Rubio:
"I bet what you want."
Kobe:
"I'll take it."
The natural inclination for some will be to treat this as trash talk bound to blow up this summer, as
Chris Rock
would say, "like The Godfather." But it's fairly mild and playful. Kobe's expressed admiration for the Spanish phenom after previous Olympic mano y' mano's, and the two are slapping hands and having fun. Plus, Rubio still looks like a 15-year with a beard Krazy-Glued to his cheeks, which doesn't make him the ideal candidate for boiling blood.
Even acknowledging the competitive nature of both players (especially Bryant) and brashness required to even initiate a challenge towards The Mamba, we've hardly entered "Oh know, he didn't!!!" territory.
To me, the biggest takeaway is how Rubio got suckered by Kobe into an all-or-nothing bet. If Team USA wins, Rubio has to call in serious favors to various friends in high places, then deliver Barcelona's
llave
to Kobe. But if Spain takes the gold, Rubio might end up getting the key anyway after such a historic victory. Thus, Spain's paying the bet for Kobe, so what does he care? "Low risk, high reward" wagering at its best.
And that, my friends, is how a cagey veteran takes advantage of a pup still wet behind the ears.
September, 16, 2011
9/16/11
6:20
PM PT

By Brian Kamenetzky
ESPNLosAngeles.com
Archive
It wasn't exactly easy, but Spain
managed Friday to squeak past tournament Cinderella Macedonia
, simultaneously putting them in the Finals of the European Championships against France, and earning a berth in the 2012 London Olympics.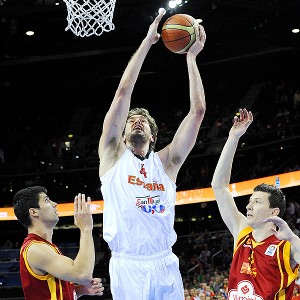 Janek Skarzynski/Getty Images
Pau Gasol and Spain are rolling to the Eurobasket Final.

Two wins for the price of one, really.
As has periodically been the case throughout the event, the Spanish struggled at times, as Macedonia erased an eight point deficit after one to lead by a point at the break. In the third quarter, though, the talent disparity between the two nations finally reared its head. Spain won the quarter by 10, and held Macedonia at arms length the rest of the way.
Juan Carlos Navarro
was the star, hitting five of his nine 3-point attempts and 13-23 overall en route to 35 points.
As it was in
Spain's quarterfinal win over Slovenia
,
Pau Gasol
wasn't as efficient as he's been from the floor through many games in the tournament, hitting eight of 20 shots from the floor, but
still finished with a very solid 22 points and once again hit the glass hard
. Pau grabbed a game high 17 boards, a full 36 percent of Spain's total as a team, and added three assists and a pair of steals.
While from a scoring standpoint at least, the night clearly belonged to Navarro, who blew up for 25 in the third and fourth quarters, Gasol had 13 points after the break, helping Spain pull away. It was another in a solid string of games for Pau, which, not that L.A. doesn't love itself some Juan Carlos Navarro, is really all Lakers fans are looking for.
September, 9, 2011
9/09/11
3:12
PM PT

By Brian Kamenetzky
ESPNLosAngeles.com
Archive
Most Lakers fans following
Pau Gasol's
progress with the Spanish national team through the European Championships are looking for three things each time he takes the floor:
1.
High end, skill-sharpening, confidence-galvanizing performances helping destroy, like hardwood Listerine, any lingering bad mouth flavors following last spring's playoff letdown.
2.
Everything in item 1, done in as few minutes on the floor as possible.
3.
Don't get hurt.
If that's your formula, and it's certainly mine, then
Thursday's 84-59 victory for Spain over Serbia
was about as good as it gets. Pau was dominant on the floor, making nine of his 11 field goals, along with seven-of-nine from the line en route to 26 points. Add in eight rebounds, three assists, and a pair of blocks, and it all adds up to a very, very productive night. Best of all, Pau played a grand total of 23 minutes. In the wake of a 30 minute night against Germany, coming after he sat out Monday's game against Turkey with a bad ankle, a little extra rest is a very good thing.
Pau scored Spain's opening four points, first on a catch-and-shoot jumper from below the left elbow, then with a layup after a nice seal of a fronting Serbian defender, then did serious damage in the second quarter. Five points in the first 4:10 of the period and nine overall, before coming back after the break with another eight points in the third.
It should be noted the first three of those post-halftime tallies came on yet another triple, Gasol's fifth of the tournament in six tries. Whatever it is Gasol has discovered, he needs to bottle it for easy transfer to Lakers guards and wings back on this side of the Atlantic.
With the win, Spain advances to the knockout round.
September, 5, 2011
9/05/11
12:51
PM PT
As
Brian noted in his breakdown of Spain's Sunday victory over Lithuania
, Pau landed awkwardly during the second quarter while contesting a
Jonas Valanciunas
jumper. The immediate discomfort was obvious, but given how Pau played 30 minutes, BK logically concluded the forward was fine. As is often the case with injuries, however, soreness can worsen once you get off your feet. Despite being classified as a "minor" injury, the player and his coach opted against any chances, particularly with a first place showing in Group A already iced.
"He is day to day," said Spain coach Sergio Scariolo
of Gasol. "He's having treatment and the doctors will assess him before the second round begins."
Those sentiments were later echoed by Gasol after the loss
via Twitter:
I'm better. I had some pain in the ankle but I'll be ready to go on our next game on wednesday. Thanks for your support #Eurobasket2011
Gasol will rest two days before Wednesday's round two kickoff. Between the universally positive prognosis and Pau's well-documented cautiousness -- he took so long to return from a 2009 hammy injury,
I suspected he was milking matters to promote a "CSI" appearance
-- the odds favor a happy outcome. Still, it's natural to fear a minor injury aggravated into something worse. Moreover, Pau's situation is exactly why fans and franchises alike never rest easy while players compete for their homeland. Considering the high odds of
Andrew Bynum
getting hurt at some point next season, the Lakers need El Spaniard with as few nicks as possible come training camp.
I admire Gasol's loyalty to Spain, and sustaining his fine level of play throughout the tournament should bump his confidence after a brutal playoffs. But if there's any reason for cautiousness, it's mandatory to err on that side, even if a title defense lies in the balance. Bottom line, Pau may be one of Spain's favorite athletic sons, but his main gig is with the purple and gold.
August, 31, 2011
8/31/11
8:28
PM PT
The European Championship got off to a nice start for
Pau Gasol
and Spain,
as the defending champs posted a 83-78 victory over Poland
. My hunch is the average Laker fan, while certainly not rooting against the good people of Espana, couldn't care less if the trophy remains in their neck of the woods. Still, they'll be watching that squad, eager for glimpses of "Pau Gasol," rather than the impostor who floated through last season's playoff run like a ghost who settles for jumpers and forgot how to rebound. Certainly, 29 points sounds like the fella we've come to know and love.
So is El Spaniard "back?"
Dunno, and we won't know for a while.
My reaction to this performance and other theoretical strong performances throughout this tournament will likely be viewed through this perspective: In a vacuum, fantastic news, but hardly a bellwether when it comes to the larger, burning question with Pau. Not to be a wet blanket, but this tournament, and all the individual successes accrued, is arguably meaningless as a sign of what lies ahead next season.
For starters, while he's hardly competing in a Euro facsimile of a YMCA rec league, the competition doesn't stack up against what Pau faces in the NBA. Talented ballers, to be certain, but nonetheless largely folks unable to carve out careers in the Association. There's also the psychological difference between operating in your wheelhouse -- Gasol traditionally owns Euro basketball -- and returning to the proverbial scene of the crime. Pau bricked the NBA playoffs, and thus must redeem himself at the NBA level. Even as someone confident in Pau's purple and gold track record after disappointing postseasons (see, "the 2009 season"), closure is necessary.
Plus, Pau is chasing a championship after a few months of rest, rather than on the heels of a 82-game regular season. For a player with several consecutive seasons of big minutes, often out position, that toll can't be underestimated. Especially when it comes to last year's inconsistencies, which were on display well before the postseason spun out of control.
Which brings me to the most important factor:
Andrew Bynum
.