Los Angeles Lakers:

St. Andrews Park
June, 8, 2011
6/08/11
2:47
PM PT

By Andy Kamenetzky
ESPNLosAngeles.com
Archive
As part of a continuing series, NBA players share the various ways growing up in L.A. shaped their game.
Los Angeles Clippers forward
Craig Smith
moved from South Central L.A. to the Miracle Mile area as a young kid. As a result, the Fairfax High School legend spent a lot of time playing ball on that side of town. In particular, he practically lived at places like
Pan Pacific Park
or
Robertson Park
(the latter with no less than current Wizard and fellow Angeleno
Nick Young
). On the surface, spots like these feel like a far cry from some of the presumably tougher courts around Los Angeles, but as Smith explained, don't judge a court by its zip code.
Andy Kamenetzky:
Pan Pacific isn't necessarily a court people would naturally picture as potentially rough like a court in Watts or Compton. Is it tougher than it looks?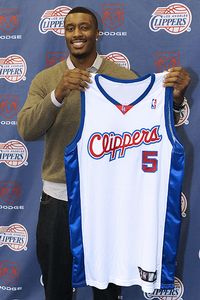 Juan Ocampo/NBAE/Getty Images
When Craig Smith was traded to the Clippers, it took the L.A. native full circle in his basketball life.
Craig Smith:
Well, the new "Pan" is the one on Beverly. Everyone doesn't know about the old one that was close to Third and Gardner where they put in a senior citizen's home. Basically, it's like telling two totally different tales. Back in the day, Pan and
St. Andrews
(another Smith favorite, but much further south) were difficult and pretty physical. We were playing against some gang members who thought they can play basketball and other guys who enjoyed to play at the same time. So it would be a lot of arguing and a lot of physical toughness.
I played everywhere, though. I've lived in Compton when I was younger. I've lived in South Central. My mom was fortunate enough to upgrade her job to support us and put us in a nice situation. But I still had to fight my way against gang members. Nothing was easy.
AK:
When you were playing in St. Andrews and Pan Pacific, were you typically among the younger guys?
CS:
Yeah, I was definitely one of the younger players and there were a lot of guys who played collegiate ball or a couple of years in the NBA who came from St. Andrews Park as well.
Hassan Adams
.
Brandon Heath
, who went to San Diego State. There were a ton of guys coming into West L.A. There were a lot of guys who did D-1 and college. But everybody knows, the league isn't for everybody.
AK:
Were there any locals you patterned your game after?
CS:
I would say in the mold of
Schea Cotton
. He always a small dude,
kind of like a (Charles) Barkley type.
Those guys, they paved the gateway for us coming from toughness and coming from tough streets.
AK:
Do you remember the first time you saw Schea play in person?
CS:
Yeah, I was kind of overwhelmed. I was seeing somebody that was out there determined to try to be the best player on the floor. That experience in came out with always trying to put yourself in the best position possible and know this is a competition. And try to best at it in every aspect.
AK:
Can you about the influence Fairfax High School basketball coach
Harvey Kitani
had on you?
CS:
Harvey Kitani showed me how to keep my poise when people are out there talking on the floor. He showed me hard work and what it takes. Me and Harvey used to go back and forth because coming out of junior high, I wouldn't say I was the nicest kid or the kid that wanted the ball the most. I was kind of a bad ass and had a little bit of an attitude problem. But I loved playing the game. Sometimes I was just being hardheaded. He kind of told me the truth about things. Got me (in shape). We had to run to run on the track in September in 80 degree weather. (Laughs)
AK:
Did the attitude problem you mentioned come as a result of playing in those rough games and needing to prove your manhood?
CS: Yeah. It's all about proving your manhood. It's kind of like, in a sense, somebody being in jail. You can't ever let them see you sweat. Even though I moved over into West L.A., there wasn't nothing soft about me. I'll always a South Central child, you know?