Los Angeles Lakers:

Stan Van Gundy
May, 11, 2014
May 11
12:30
PM PT

By Dave McMenamin
ESPNLosAngeles.com
Archive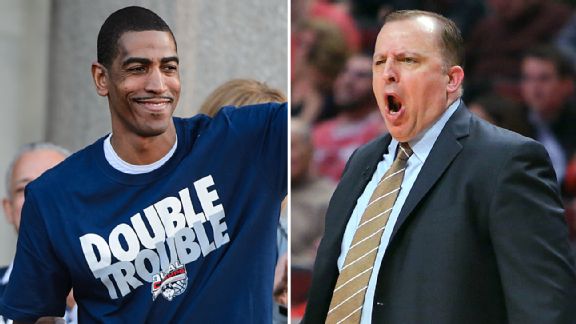 AP ImagesKevin Ollie might fit a rebuilding Lakers squad; a reloaded team needs a Tom Thibodeau.
The
Los Angeles Lakers
are in the market to hire the 25th head coach in franchise history, and now, several weeks after the job became available, it seems as if there are 25 candidates to fill the position.
The Lakers have still not reached out to any of the names they are considering, according to a team source familiar with the coaching search. They are expected to commence a preliminary round of phone interviews soon, but will not schedule any sit-down sessions until later in the month.
As the clock keeps ticking since Mike D'Antoni resigned April 30, three pertinent questions spring to mind:
1. What should the Lakers be looking for in their next coach?
2. Who are the Lakers considering?
3. What is taking so long?
We'll start in reverse order.
While it's natural to assume the Lakers should have a sense of urgency about finding their coach -- particularly as other jobs open up around the league (Golden State, New York, Utah, Minnesota and, presumably, Detroit) -- the Lakers are in something resembling a high-stakes game of Texas hold 'em.
They know what cards they're holding: two aging future Hall of Famers in
Kobe Bryant
and
Steve Nash
under contract for close to $34 million for next season; a significant chunk of cap space beyond that; and, of course, the intangible asset of calling Southern California home -- plus a prestigious résumé as one of the most storied franchises in the league.
The draft lottery

What they're waiting for is the flop. In this case, the information that will determine how they play their hand will come May 20, when the NBA conducts the draft lottery in Times Square.

The Lakers' 27-55 record was sixth worst in the league this season, thus giving them a 43.9 percent chance of ending up with the No. 6 pick. But in the lottery system, it's a crapshoot. The Lakers have a 6.3 percent chance of ending up with the No. 1 pick and a 21.5 percent chance of ending up in the top three. Then again, they have a 34.6 percent chance of picking somewhere in the Nos. 7-9 range, worse than their finishing slot.

In a New York minute, everything can change, as they say. The Lakers are hoping for a little luck on their side when they send the last No. 1 overall pick in team history, James Worthy, to New York to represent them for the night.

Whichever draft tier they ultimately find themselves in -- picks Nos. 1-3, standing pat at No. 6 (they are ineligible to move up to 4-5 in the current system) or falling to 7-9 -- could lead the franchise in drastically different directions on its coaching quest.

Let's say they luck out and catapult into the top three. The Lakers will find themselves in a win-win situation. On one side of this coin, they believe that one of the top prospects -- Joel Embiid, Andrew Wiggins, Jabari Parker, etc. -- will be an immediate franchise-changer, a player they can bring into the program to learn from Bryant for a couple of seasons before he takes the reins alongside whichever max-level free agent they bring in over the next two summers. On the other, they find another team that believes there is transformative talent available at the top of this draft and trade the pick.

Both are enviable positions for the Lakers to find themselves in, but they are the starting points for vastly divergent paths. If they use their top pick on a player they think can lead the team for years, then the coaching hire will surely be expected to cater to that prospect's strengths as his top priority. While the sun and moon in the Lakers' universe have revolved around Bryant for nearly the past two decades, developing that young player would suddenly become an even more important task for the franchise than protecting Bryant's legacy as he plays out the final two years of his contract for $48.5 million.

If the Lakers trade the pick for an established veteran such as Minnesota's Kevin Love, for instance, it puts the franchise on a totally different trajectory. Suddenly, by pairing Bryant with another star in his prime, the Lakers are theoretically back to being a factor right away, even in the stacked Western Conference.

Let's say the pick ends up being worse than they were hoping for, in the Nos. 7-9 range. Maybe they fall in love with a prospect and take him at that spot, but maybe the pick is expendable. And while a selection that late in the draft surely wouldn't be enough to land a vet like Love, it might be enough to convince the Chicago Bulls to let Tom Thibodeau out of his contract to coach the Lakers.


The opt-out options

If the draft lotto is the flop, then seeing which players choose to opt out of their current contracts and test free agency come July 1 represents the turn in this big poker game.

Why hire a coach in June if it develops come July that LeBron James is looking to leave Miami? Why commit prematurely to a coach -- and, subsequently, a certain style of play -- and potentially shut yourself out from consideration by James, Carmelo Anthony, Chris Bosh and others when it comes time to decide on their futures?

That's another major variable the Lakers are weighing. When it comes to landing a marquee free agent, you want any edge you can garner over the other teams competing for his services. The Lakers could be in a position where they can tell James or whomever else they target, "Not only do we want you, but we want you so much we'll let you help pick who is going to be your coach." For some players, that could be a major incentive.

With all that in mind, it should offer some clarity as to why the Lakers' candidate pool is so deep at this point.

They have different coaches in mind who would be specific fits for every different direction they could end up heading in.

If they are going to be a rebuilding team, why not take a chance on a younger coach who can grow with those young players? It worked in Phoenix this season with first-time head coach Jeff Hornacek. Why not hire Kevin Ollie, fresh off taking Connecticut to a surprise NCAA title, to lead that transition and cut his teeth in the league without the pressure to win every night? Or maybe Atlanta Hawks assistant coach Quin Snyder becomes that guy. Or Derek Fisher should he retire from playing after the Oklahoma City Thunder finish their current playoff run.


[+] Enlarge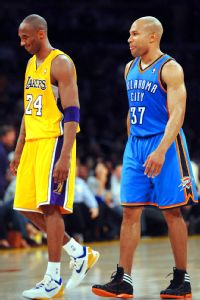 Kamin-Oncea/USA TODAY Sports Kobe Bryant and Derek Fisher came into the league together with the Lakers -- and that kind of relationship is not inconsequential.
If the Lakers are going to get a couple of big names this summer and find themselves back in win-now mode, the candidates they'll consider -- as well as the candidates who will consider them -- will shift.
Veteran coaches who are looking for work, like Lionel Hollins, George Karl and Mike Dunleavy, have all expressed interest, but they are at points where they have little leverage. They would take the Lakers job whether they end up with the No. 1 pick or the No. 9 pick; whether Los Angeles signed a big-name free agent or held onto its cap space for the summer of 2015; whether Nash and Bryant were healthy or they were going to continue to struggle with injuries.
But making moves to become a more veteran-laden squad could coax Jeff Van Gundy or Stan Van Gundy to leave their broadcast jobs. Equipping their team to be competitive right away next season could get Thibodeau to tell Chicago to listen to the Lakers' pitch. Bringing in guys who already know how to win could convince Mark Jackson to come on board. Going that route could get John Calipari to consider leaving his ready-made gig at Kentucky. It might even get Steve Kerr, who seems to have his pick between the Knicks and the Warriors at the moment, to want to don the purple and gold.
All of the names mentioned above have surely already been bandied about by the Lakers' front office. Throw in Byron Scott, Kurt Rambis, Ettore Messina, Roy Williams and Larry Brown. There are others, undoubtedly.
The Lakers just don't have enough information at this point to start eliminating any, nor do they really have enough to rank names properly, either.
Which brings us back to the first question: What should the Lakers be looking for in their next head coach?
There are three job requirements that he must be able to handle, no matter what happens in the lottery or in free agency. First and foremost, he must have a clear vision defensively. Seeing the video-game-like numbers opponents put up against the Lakers this season -- including that terrible stretch when they gave up an unthinkable 408 points over three non-overtime games -- convinced Lakers execs they have to go back to a coach who will make it a priority.
The Kobe factor

Second, the coach must be able to coexist with Bryant. The Bryant-D'Antoni relationship deteriorated to the point where the pair barely spoke by the end of their tenure together. Even in D'Antoni's first season in L.A., when the Lakers still managed to win 28 of their final 40 games to make the playoffs, there was conflict.

Bryant would often use the Lakers' shootaround time to receive treatment in the training room. When D'Antoni thought this was causing a disconnect between Bryant and his teammates, the coach asked the star guard to change his routine, according to a league source. As a compromise, Bryant still often used shootaround for treatment, only he had the training table brought out next to the practice court so he was physically present, technically, during the sessions. After playing such a long time at an elite level, it was understandable for Bryant to need extra time to get his body ready, but it led to occasions on the court where the team would be executing one way based on adjustments made during shootaround that morning -- and Bryant would be executing another.

With the financial commitment the Lakers have made to Bryant and the clout he has in both the locker room -- several of Bryant's younger teammates grew up idolizing him the way that he grew up idolizing Michael Jordan -- and with the fans in Los Angeles, to whom he has helped deliver five championships, the coach must have a rapport with Bryant if the team is going to have any chance at real success.

Bryant won't necessarily be best friends with whomever gets put on the sidelines next to him -- he even famously clashed with Phil Jackson at times -- but will buy in if he is convinced the coach is capable.


[+] Enlarge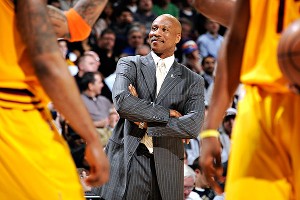 David Liam Kyle/Getty ImagesMight Byron Scott be able to convince a big-name star -- Kyrie Irving? -- to follow him to L.A.?
"Honestly, it's not really about whether the players like the coach or not," Bryant said as a guest on "Jimmy Kimmel Live" last week. "It's really about getting results. Liking somebody and those results don't necessarily go hand in hand."
So the fact that Bryant, as a rookie, was teammates with Scott and has been in contact with him in recent weeks, according to Chris Broussard of ESPN the Magazine, cannot be understated. Then again, he has relationships with many of the other coaches mentioned above, from Thibodeau (who was an assistant with Philadelphia when a high school-aged Bryant used to practice with the 76ers) to Rambis, Snyder and Messina (who all have coached him in L.A.) to Fisher, of course, a fellow rookie on that 1996 Lakers squad.
Third, the coach had better be just as astute at recruiting as he is with X's and O's. With the restrictive nature of the NBA's collective bargaining agreement preventing the Lakers from going over the luxury tax as willingly as they did in the past, having a coach who attracts top talent can be a workaround. The best players in basketball generally go on to win championships. Teams like the 2010-11
Dallas Mavericks
or 2003-04
Detroit Pistons
that win as a collective are much more rare than James and the Heat, or Bryant and the Lakers, or
Tim Duncan
and the
San Antonio Spurs
stacking titles because they have the best individual talent on the court.
With that said, if whomever the Lakers choose arrives with the promise of getting one of those top-tier players to join him in L.A. down the line, it makes that candidate all the more attractive. Scott is a nice coach and all, but Scott plus
Kyrie Irving
is a pretty package. Same goes for Calipari if he can leverage his relationship with James, or Ollie or Fisher if they can sway
Kevin Durant
to head West.
The chips are down in the Lakers' coaching search. The stakes are high. But don't expect to spot any tell signs until the draft lottery May 20. And even at that point, there could still be a lot more poker to play before the hand is decided.
March, 3, 2013
3/03/13
8:51
PM PT

By Dave McMenamin
ESPNLosAngeles.com
Archive
LOS ANGELES -- The
Los Angeles Lakers
might have been the only NBA team without a representative at the MIT Sloan Sports Analytics Conference in Boston over the weekend, but general manager Mitch Kupchak says that will change in the future.
"We have our reasons [for not attending] that we'll keep internal," Kupchak told ESPNLosAngeles.com before the Lakers played the
Atlanta Hawks
on Sunday. "We'll get some feedback and send someone next year."
Kupchak said that the Lakers have never sent a representative from the basketball operations side in the six years the event has been presented. Jeanie Buss, Lakers executive vice president of business operations,
was a speaker at the conference
last year, however.
Houston Rockets
general manager Daryl Morey started the conference in 2007 after initiating one of the first MBA programs with a sports analytics class in 2004. The purpose of the event is to discuss the way advanced metrics continue to increasingly influence the way in which professional sports organizations make their decisions and do their business.
According to the Toronto Star, 26 of the 29 NBA teams in attendance this year had more than one representative, as Sloan has clearly become an event with some traction around the league.
Not that the Lakers' presence was missed, however.
"If we can keep the Lakers locked out, that's fine with us,"
San Antonio Spurs
GM R.C. Buford
told The Star
.
The 2013 basketball analytics panel of speakers included Buford,
Indiana Pacers
director of player personnel
Kevin Pritchard
,
Boston Celtics
assistant general manager Mike Zarren, former
Orlando Magic
head coach Stan Van Gundy and ESPN The Magazine senior writer Pablo S. Torre.
September, 16, 2012
9/16/12
5:33
PM PT
Earlier today,
Brian posted the edited version of Ric Bucher's Sunday Conversation with Dwight Howard for SportsCenter
. But for those folks with a hankering to hear even more from Superman, the whole enchilada has also been posted. A lot of ground was covered, ranging from Dwight's rehab regiment to his excitement over being a Laker to his better-than-likely-expected relationship with former Orlando Magic coach Stan Van Gundy. But I wanted to focus on a comment that could be positively instructive in gauging the year ahead, and perhaps even beyond, for Howard.
Bucher asked Howard what, while looking back on the "Dwightmare," he'd do over if possible. The center insisted he has no regrets, that everything happens for a reason, and he ultimately wouldn't change a thing because the final result was positive. That being said, he still recognizes the chance to reclaim his image.
"This is a great time in my career," explained Howard. "I have a chance to start over. This is a clean slate. I'm gonna do whatever I can on the court, off the court, to just show people that this is who I am. I haven't changed. I'm the same person. I love to have fun. I love to smile. I love to joke. But when I step on the court, I'm gonna have fun. I'm gonna joke. And I'm gonna dominate. That's how it's always been."
I realize there are fans who'll chafe at this sentiment, as Dwight's taken heat over the years for not taking the game seriously enough. Some don't care for the impersonations, funny interviews and persistent grin. Personally, I think it's pretty difficult to win Defensive Player of the Year three consecutive years,
lead the league in rebounds four times
and carry a team to a Finals appearance without being fully invested, but that's just me. There are those who prefer players like Kobe and MJ who remain in "steely assassin" mode 24/7 and that's fine. Everyone is entitled to their own aesthetics.
But at the same time, a player is also entitled to his own identity, and cultivating an unnatural persona is often a recipe for failure. Hearing Dwight insist on being who he is reminded me of the way LeBron James mentioned on several occasions last season his concerted effort to bring back the joy to his game. When he left Cleveland, he was cast as the villain, and James made the mistake of trying to embody the persona chosen for him by fans and media. Unfortunately, NBA basketball isn't WWE wrestling, where good guys and bad guys are determined through a writer's meeting. This is real life, where being hated ain't fun. LeBron was transparently uncomfortable in the role of the heel, and one season later stopped playing the game from a place of spite.
Safe to say, quality results followed.
Similarly, I'm hoping Dwight remains comfortable enough to be himself in L.A. Under any circumstances, he'll be playing basketball inside a metaphorical fishbowl placed underneath a high-powered microscope. That's life as a Laker if you're Troy Murphy, much less a Hall-of-Fame caliber player arriving on the heels of a PR disaster. It is what it is, and it can't be changed. However, the transition will ultimately be made easier by Howard not trying to be someone he isn't. As Howard acknowledged many times in this conversation, you can't please everybody. Then again, being himself has played out pretty well for Howard over eight years in the NBA. Fundamentally, there's no reason to drastically change, and trying to might cause more problems than it solves.
The videos can be seen below by clicking on the "more" tab.
September, 16, 2012
9/16/12
12:52
PM PT

By Brian Kamenetzky
ESPNLosAngeles.com
Archive
Lakers center Dwight Howard joined Ric Bucher for SportsCenter's Sunday Conversation this week.
In a wide-ranging interview, Howard talked about the pain in his back pushing him to surgery, his rehab and recovery, what it means to join the Lakers, and more.
He also addresses the Dwightmare
, why things played out the way they did, and the major lesson he learned.
"It was a tug of war between my feelings and the fans and everybody else and their feelings and what happened to LeBron. And I saw him -- everybody hated him for leaving Cleveland and what he did," Howard said of LeBron James' free-agent move from the Cleveland Cavaliers to the Miami Heat in 2010. "I never wanted anybody to hate me, you know. I wanted everybody to love me, you know, like me, for sticking around and doing what they wanted me to do. And making everybody else happy. And that was a valuable lesson for me, you know.

"I can't make everybody happy."
Particularly when the endgame -- moving from one franchise to another -- is impossible for a star player to do without upsetting at least one group of people. No matter what he did, how legitimate his reasons, or how totally within his rights Howard was to try and influence the course of his career, fans in Orlando were going to resent him. Ultimately, he was trying to make an omelette, and never got comfortable with the broken eggs.
The same basic process influenced Howard's thinking about joining the Lakers. He acknowledges reluctance initially about coming to L.A., rooted in concern over what people would think. Was he just trying to parrot Shaq? Why couldn't he strike his own trail? That sort of thing.
Again, he appears to have learned the lesson. "Who cares what people say?" he tells Bucher. "This is my destiny, this is where I want to be."
It'll be interesting to see how Howard's experience in Orlando influences the one waiting for him in Los Angeles, in terms of his contract status and how he handles the inevitable scrutiny coming with it. Ultimately, I believe he'll re-sign with the Lakers at the end of the 2012-13 season, but until he does there will be speculation. There will be reports, true or not, of indecision, of wavering commitment, or interest in other teams - particularly if he or the Lakers struggle.
But if he's genuinely less concerned about what others think about him and his career, this season will definitely be a happier one for him than last.
Take a look below at the short cut of the Sunday Conversation, and we'll get the extended cuts up ASAP.
March, 14, 2011
3/14/11
12:13
PM PT
The last time the Lakers and Magic met, the results opened the floodgates for a sea of concerns about an L.A. three-peat. After winning the opening four games of a marathon seven-game roadie,
the Lakers dropped one in the Magic Kingdom
. The 89-75 loss featured little backcourt support for
Kobe Bryant
(who might have been feeling the effects of an impending flu), inferior rebounding and
Pau Gasol
being perpetually oblivious to the concept of
Dwight Howard
getting fed over the top. At the time,
the bad performance struck me as teamwide exhaustion
, but subsequent losses in Charlotte and (gulp!) Cleveland meant an All-Star break ripe with speculation about what's wrong with the Lakers.
Since the hiatus, the Lakers have won nine of 10 games. Beyond the status of
Kobe's sprained left ankle
, there is tranquility among fans. Assuming the two-time defending champs can even out the series Monday evening, they'll have three days to get the Mamba's wheel healthy again before a game against the Wolves. (And really, how healthy does he need to be for that contest?)
For a better look at the Magic, I sent a few questions to Evan Dunlap of
Orlando Pinstriped Post
. Here are a few items to keep an eye on once the ball is jumped. (Also, while watching the game, drop by ESPNLA.com and click on the 710 ESPN live stream link to hear Brian and me do live commentary throughout the game.)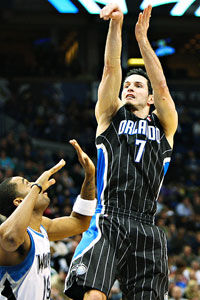 Brace Hemmelgarn/US Presswire
J.J. Redick will be missed if he's unable to go.
K Bros:
If an abdominal strain prevents
J.J. Redick
from suiting up, what are the ramifications? How much does that change the way the Magic operate?
Evan Dunlap: Losing Redick does have a bit of a trickle-down effect in terms of the rotation. Gilbert Arenas will shift to shooting guard for a few minutes per game; he's played the point almost exclusively in Orlando, which is why I say "shift." The Magic can get away with it when the Lakers have Shannon Brown in the game, but when Kobe's in and Jason Richardson needs some rest, they'll turn to Quentin Richardson instead.

Redick is a better player than a lot of people realize; he's developed a solid all-around offensive game despite entering the league as a standstill shooter. And while opposing guards can just play over the top of him at the other end, Redick at least makes them work for their shots by playing intelligent defense, both on-the-ball and off.

As far as strategy without Redick, the Magic will rely on Arenas to create offense from the 2-spot. He'll dominate the ball while the point guard, either Jameer Nelson or Chris Duhon, spots up in the corner. Redick doesn't get nearly as many such chances to run the offense.

March, 11, 2011
3/11/11
11:15
PM PT
Big games like Thursday's in Miami
mandate a big guest in studio for reflection.
Bomani Jones
(
The Morning Jones
, ESPN) qualifies on both counts. But the discussion wasn't limited to just the battle in South Beach. So much is happening these days in the NBA, we found ourselves recording two shows, both remain free of charge for the Land O' Lakers community! That's how much we care about y'all.
Here are the talking points.
PART I
PODCAST
Andy and Brian talk with Bomani Jones (The Morning Jones, ESPN) about Lakers-Heat, the Lakers' late-game execution, and Kobe's shoot-a-thon after the loss." Podcast

- Our thoughts on the game itself.
Chris Bosh's
redemptive performance. The Lakers' fourth-quarter execution. Miami's supporting cast finally showing up. And
Kobe Bryant's shot selection in the last few minutes
.
- Bomani wonders if Kobe and
Derek Fisher
are too old as a starting backcourt. We also celebrate the concept of
"Joe Smith"
and what life would like at 6-feet-10 or taller.
- We dissect the bizarre dichotomy of how
Pau Gasol
regularly beasts the glass, yet still periodically feels "soft."
- Was Kobe's hour-long shooting practice after the Miami loss a reflection of his work ethic, a reflection of his desire to make sure you never forget his work ethic, or both? And why Kobe's personality always keeps people speculating.
PART II
PODCAST
Andy and Brian talk with Bomani Jones (The Morining Jones, ESPN) about the war of words between Stan Van Gundy and David Stern, the CBA, and whether the Dallas Mavericks remain a soft team." Podcast

- The war of words between
Stan Van Gundy
and
David Stern
, the latter of whom sounded ready to leave a horse's head in the Magic coach's bed. The Commish loves heavy-handed reminders that he's in charge.
- Thoughts on the Collective Bargaining Agreement, the lunacy that is the Mid-Level Exception and why the players will never win the P.R. battle if there's a work stoppage. Or, for that matter, their personal financial battles.
- Bomani has tickets for an upcoming
Prince
concert. In related news, the K Bros are extremely jealous, and
Carlos Boozer will not likely be in attendance
.
- With Dallas next on the docket, we examine whether the Mavericks' "soft" reputation is earned or people refusing to let go of the past. Plus, how much different would the 2011 NBA landscape be if the 2006 Mavericks hadn't lost in the Finals?
March, 13, 2010
3/13/10
6:08
PM PT

By Brian Kamenetzky
ESPNLosAngeles.com
Archive
An excerpt from a great piece of Onion satire tweaking
Phil Jackson's
well-chronicled practice of handing out books to his players, under the headline,
"Stan Van Gundy Gives Players 'Dr. BBQ's Big-Time Barbecue Cookbook' To Read During Road Trip:"
"...Throughout his six-year head coaching career, Van Gundy has separated himself from his colleagues not just with his impressive record, but with a Zen-like commitment to getting his players to think about the world of barbecue in a different way. Orlando Magic players have said that Van Gundy is always finding new ways to motivate his team, whether showing them inspirational footage of his 23-year-old self receiving his official barbecue-competition judge's certificate, or canceling practice altogether to take them to a classic Kansas City rib joint. During their victory over the Lakers last Sunday, Van Gundy called a timeout for a quick meditation and breathing session, encouraging his players to remember the aroma of the plate of brisket he ate during halftime.
"He preaches patience," guard Jason Williams said. "Whenever we're rushing things on offense, he'll always tell us to slow down and imagine the poise and control it took for some of the country's greatest barbecue chefs to infuse their pork rib slabs with a handcrafted spice blend, refrigerate them in marinade for 12 hours, massage them, and then patiently cooking them 'low and slow' for another 10 hours at 250 degrees." Van Gundy reportedly promised his team that Dr. BBQ's Big-Time Barbecue Cookbook will force them to step outside themselves and ask metaphysical questions about the cooking style, such as: What is the true difference between grilling and barbecuing? What is the best barbecue smoker to buy, and how do I use it to its full potential? When can you trust your own instincts to predict a beef brisket's marbleization, and when do you enlist the wisdom of others? And most importantly, what are the secrets to becoming a true barbecue champion?..."
Brilliant stuff.