Los Angeles Lakers:

Stephen Curry
November, 22, 2013
11/22/13
10:15
PM PT

By Dave McMenamin
ESPNLosAngeles.com
Archive
LOS ANGELES -- The
Los Angeles Lakers
lost by 31 points the last time they played the
Golden State Warriors
, in the second game of the season. It has, by far, been their worst defeat, in terms of margin, this season.
On Friday, they pulled off their most impressive win so far against those same Warriors, who came into the game with the fourth-best record in the Western Conference.
Warriors coach Mark Jackson was asked before the game what has changed in the Lakers from late October until now.
"The same concerns," Jackson said of his game plan for the Lakers. "Obviously
Pau [Gasol]
, his ability to score on the block, on the perimeter creates problems. His ability to make plays. ..."
Gasol went on to have his finest game of the season, putting up 24 points and 10 rebounds on 11-of-19 shooting.
"... Same issues at the point-guard position, the problems that they create," Jackson continued. "
Steve Nash
not playing, but
Steve Blake
playing the way he is capable of playing. ..."
Blake's streak of four straight games of 10-plus assists ended, but he finished with 14 points and five assists to set the pace.
"...
Jordan Farmar
's ability to come off the bench and impact the game, and then the scorers that they have on the wings, a knock-down shooter in
Jodie Meeks
. So, the same concerns. ..."
Farmar put up 14 points and eight rebounds in 18 minutes.
Nick Young
, one of those wings that Jackson mentioned, had 21 points. Meeks added two more 3-pointers to his season total.
" ... I don't think they've changed at all."
No, maybe not yet. Maybe "change" is too strong of a word. The pieces are all the same, after all. But somehow, those pieces seem to be fitting together better than before.
How it happened:
The Lakers had a nine-point lead at the half before going cold to start the third quarter, allowing the Warriors to tie it up. That's when Farmar and Young got cooking and put L.A. back up by 12 heading into the fourth. The Lakers pushed the lead all the way up to 16 before settling for a seven-point win.
What it means:
It took them 13 games to do it, but the Lakers finally have their first win streak (albeit a meager two) of the 2013-14 season. After some rocky times early on, the team clearly has some momentum in its favor, especially with
Kobe Bryant
's return on the horizon.
Hits:
The Lakers shot 11-for-24 on 3-pointers as a team (45.8 percent).
L.A. had only 14 turnovers compared to 19 for Golden State.
Misses:
Chris Kaman
(sore back) did not play.
Xavier Henry
was 1-for-5 for three points.
L.A. was outrebounded 50-36.
Stat of the game:
$24,000. That's the amount of money Gasol will donate to Philippines relief through UNICEF, $1,000 for every point. Former Lakers coach Phil Jackson pledged an additional $50 per point and $50 per rebound to Gasol's efforts, accounting for another $1,700 for the cause.
Up next:
The Lakers host the
Sacramento Kings
(4-7) on Sunday. A win would put them back at .500 heading into a three-game trip through Washington, Brooklyn and Detroit.
April, 12, 2013
4/12/13
10:33
PM PT

By Dave McMenamin
ESPNLosAngeles.com
Archive
LOS ANGELES -- The
Los Angeles Lakers
got the win, but they lost the man who pushed them to get there.
Kobe Bryant
had beaten the odds all season long, tossing in turn-back-the-clock dunks while racking up statistical achievements that were supposed to be impossible for a 34-year-old in his 17th season until it all came to a crashing halt on Friday.
Even Bryant proved to be not totally indestructible.
After hurting both his left knee and right knee following collisions with Golden State's
Festus Ezeli
in the third quarter and managing to stay in the game, Bryant took one hit too many and couldn't keep playing in the fourth.
Bryant checked out of the game with 3:06 remaining in the fourth quarter after playing every minute up to that point and did not return. The team announced after the game that Bryant had suffered a probable torn Achilles tendon and that an MRI exam would be performed Saturday. He finished with 34 points.
L.A. won a game it needed to win, but with Bryant out of the lineup going forward, the Lakers will have a major challenge in front of them if they want to reach the playoffs.
How it happened:
L.A. erased a nine-point Warriors lead in the second half thanks to some clutch play down the stretch from
Steve Blake
(14 points, five assists) and
Dwight Howard
(28 points, seven rebounds), and
Carl Landry
missed a go-ahead jumper that could have won it for the Warriors.
What it means:
Utah started the night with a win against Minnesota, so the Lakers knew what was at stake before tipoff. The Lakers held serve. They lead the Jazz by one game with two left to play. They still control their own destiny.
Hits:
Pau Gasol
finished with 26 points, 11 rebounds and 10 assists to register his sixth career triple-double.
Misses:
A game after the Lakers allowed Portland's
Damian Lillard
to go off for 38, Friday was
Stephen Curry
's turn to shine. Curry was absolutely on fire, finishing with 47 points on 17-for-31 shooting, including a 9-for-15 mark from 3.
Stat of the game:
Howard went into Friday shooting 49 percent from the free throw line this season -- the lowest percentage of his career -- but he had been on a minor upswing recently, shooting 12-for-20 in his previous three games. He made 14 of 22 free throw attempts Friday night.
Up next:
Eighty down, two to go. All that's left is Sunday at 6:30 p.m. PT against San Antonio and Wednesday at 7:30 p.m. against Houston.
November, 9, 2012
11/09/12
1:27
PM PT

By Andy Kamenetzky
ESPNLosAngeles.com
Archive
After the
early upheaval today
, there's still a game to be played tonight.
For more insight on the Warriors, I sent some questions to J.M. Poulard, who covers the team for the True Hoop network's
Warrior's World
. Below are his responses.
Andy Kamenetzky:
Five games into the season, how would you describe the Warriors' style of play? What type of matchup do you think they present for the Lakers?
J.M. Poulard:
The 20-minute cap on Andrew Bogut's minutes coupled with Stephen Curry's struggles to effectively run the offense make it as such that the Warriors have a small identity crisis. They have been surprisingly good with Jarrett Jack on the court -- even when paired with Curry in the backcourt -- which would have you think that they are a good small-ball team. But they actually stick to traditional positions for the most part. That's essentially a long-winded way of saying they are a selective, fast-breaking team that tries to masquerade itself as a good half-court team … for now.
As for the matchup, it stands to reason the Warriors will attack the trapping Pau Gasol in the pick-and-roll, then try to generate shots from 3-point range as a result of the action. They'll also progressively attack the interior to take advantage of a backpedaling Dwight Howard.
January, 6, 2012
1/06/12
10:04
AM PT

By Brian Kamenetzky
ESPNLosAngeles.com
Archive
There are things to like about the Golden State Warriors. Their uniform redesign, for example, produced some of the slickest togs the NBA has to offer. Go get yourself a
logo patch
, and maybe a t-shirt or
replica jersey
. The Warriors also have dedicated fans, an association with
Jerry West
(always nice, particularly
when it comes to thinking big
), and a very young, appealing franchise player in
Steph Curry
.
Plus,
David Lee
is from St. Louis, always good for cheap points on this site.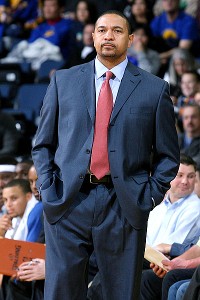 Jack Arent/Getty Images
I'm sure Mark Jackson will look a little more excited once the Warriors are playing better.

What they don't have these days is a culture of consistent winning.
Since 1994-95, Golden State has
won more than 38 games in a season twice, 26 or fewer seven times
, and have made the playoffs once. That ain't good. For a long time the Warriors were saddled with brutally bad ownership under
Chris Cohan
. Now new rich guys are in charge, led by
Joe Lacob
and
Peter Guber
, so there's hope the Warriors might turn a corner. Still, it won't happen quickly. New coach
Mark Jackson
has tried to instil a defensive mindset, and with the understanding all things are relative, in the early going has had some success. Through TK games, Golden State has shaved about four points off opponent's scoring per 100 possessions. Still only good for 22nd in the league, but better than the three previous seasons (26th, 29th, 28th).
Unfortunately, that defensive improvement has come at the expense of Golden State's offense. Once a juggernaut putting ball through hoop, the Warriors have thus far been among the league's most anemic teams, 25th in scoring (90.3 ppg) and efficiency (98.9 points per 100 trips), a huge drop from previous seasons. Blame some of that on Curry's recurring ankle problems, but it still amounts to trouble for Golden State folks may not have expected.
To get a little more insight into tonight's opponent, I sent some questions to Ethan Sherwood Strauss of
WarriorsWorld.net
, your GSW stop on the TrueHoop track.
1. Not to get all judgmental, but things seemed to go off the rails up there as the Don Nelson era wound down, and didn't improve under Keith Smart. How has Mark Jackson impacted the Warriors culture?
Ya, it did get pretty dark and weird back there with Nellie, huh? The best was when he
slurrily called a sports radio show from an Indianapolis bar
, made loud mention of his scotch in hand, and lamented
Stephen Jackson's
terrible trade value. The culture has calmed down since then, but in the wake of cultural chaos we're left with mediocre talent. Perhaps Mark Jackson can motivate athletes, but this team might have no way to pair with a will.
2. What are the prospects for Year 2 of the Monta Ellis/Curry/Lee core? Can it become a playoff contender, or do more changes have to be made?
The prospects are bleak, the team must decide on Monta vs. Steph. It feels as if the catharsis of making the decision matters more than making the right decision. Lee has immense defensive flaws, but I'm enjoying his progress as a pick-and-pop big.
March, 4, 2011
3/04/11
9:49
AM PT

By Andy Kamenetzky
ESPNLosAngeles.com
Archive
Are five consecutive wins coming out of the All-Star break enough to ease the minds of Lakers fans with the dreaded Bobcats on the docket? No. Okay, what about the recent trade jettisoning
Gerald Wallace
(unquestionably the best player in franchise history) to the Blazers? Not there yet. Well, surely a two-game losing streak -- the most recent a 40 point thumping at the hands of Denver -- and the 10-20 road record will push things over the top.
Not so much. The willies are still there.
It's undeniably inexplicable that competition against a franchise with one playoff appearance in its admittedly young history would spark such uneasiness. Then again, eight losses in the last 10 games against Charlotte is pretty darn loopy, too. Ridiculous as it may sound, a few wins will likely be required before nerves are entirely settled. That first step (hopefully) begins today.
For a better perspective on this pesky foe, we called upon
Brett Hainline
from
Queen City Hoop
s. Here are a few points to consider before the ball is jumped.
Q:
With Wallace now in Portland, how different are the Cats? What changes have you noticed in the way they play, or even body language? Also, how much does
Nazr Mohammed's
absence matter?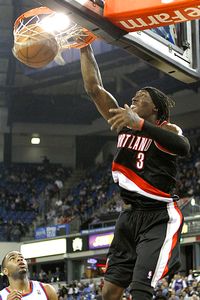 AP Photo/Rich Pedroncelli
Crash looks weird in a Blazer uni.
Brett Hainline
: Without Gerald Wallace, the Bobcats are smaller and play smaller. Gerald provided strong rebounding from the 3 spot and with
Stephen Jackson
sliding over and
Gerald Henderson
taking over as the starting 2, the Bobcats aren't as strong on the glass as they were. With Gerald, Charlotte got away with starting
Boris Diaw
at the 4 and letting him ignore rebounding for the most part - they aren't able to ignore that anymore. Gerald Henderson (G2 for the duration) rebounds pretty well for the 2 spot but with a team that struggles to score like the Cats do, anything extra they give up at the other end is just more points they struggle to score.
That "Crash" was also the Bobcats most efficient scorer (among the primary options) only further compounds their shortcomings.
As for Nazr - the fan outcry over Charlotte trading Gerald so overshadowed Nazr's departure that is hard to remember he is gone. As hard as he worked and as professionally as he carried himself, the move made sense for Charlotte to take a look at a younger player in
D.J. White
rather than continue to trot Nazr out there for the backup minutes in the middle. Nazr is a solid post scorer, for an undersized center. But on a team that's best trait is its defense (as the Cats' still is, despite the drop off from last year), Nazr wasn't a good match, as he was just a bit too slow and too short to rotate and challenge shots from the weak side.
March, 15, 2010
3/15/10
11:17
PM PT

By Brian Kamenetzky
ESPNLosAngeles.com
Archive
A few seasons back, NBA writer
Ross Siler
, then of the Los Angeles Daily News, now in Utah covering the Jazz for the Salt Lake Tribune, described the experience of writing about the Lakers as "82 Super Bowls a year."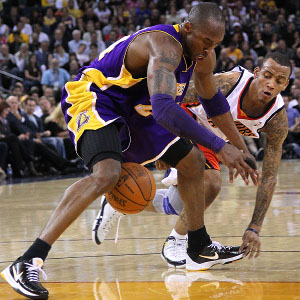 Jed Jacobsohn/Getty Images
Kobe Bryant with one of his nine turnovers, part of L.A.'s 24 giveaway basketball fire sale Monday night in Oakland.
Plus playoffs, of course.
Every game, big or small, is generally treated like Game 7 of the Finals by the faithful. But in my nearly five seasons covering the team, I've taken some amount of pride in keeping a level head. In not freaking out, or losing perspective, remembering always on any given night in the NBA one team can beat another. Especially on the road.
Monday night in Oakland, the Lakers chose to test my calm demeanor in a serious way. Quite frankly, against an undermanned, undersized Golden State Warriors team, one with about 35 percent of the D-League on its roster, only an act of God- I'm talking a genuine, Lord Almighty-touching-the-Warriors-during-the-anthem act of God- should have allowed the game to be close. This is a Golden State team so small, the sign at the amusement park noting how tall you have to be to ride this ride could post up half their lineup.
This was one in which the Lakers should have handled business, right? Particularly now that they're prepping themselves for the playoff run, ready to end a season of inconsistencies and buckle down. Since they've learned lessons about focus?
Yet there we all were, watching Golden State inbound the ball with 8.6 seconds to play, down by three after
Kobe Bryant
split a pair of freebies at the other end. We watched
Stephen Curry
inbound the ball to
Corey Maggette
then cut hard to the top of the arc, as if to get a handoff from the former Clipper. Instead, Curry stopped his run and cut back above the three-point line along the right wing, losing
Derek Fisher
, who was trying to deny him the ball on the initial move- this was a very slickly drawn play, actually- and catching a nice bounce pass from Maggette.
Wide open, Curry rose for the tying three.
He had 29 points, and was nine-of-13 in the second half, with nine assists to boot. The kid was brilliant. The release on the last shot looked pure, the ball rotating tightly en route to the rim. It was dead on line... but an inch or two too long. Curry drew back iron.
The Lakers, probably figuring the shot would go in- I certainly did- were caught ball-watching as
Monta Ellis
charged the rim from the right corner, just in case. Perhaps the shortest guy on the court (he and Curry both list at 6'3", and I don't know who's actually taller), Ellis grabbed the offensive board, and streaked to the top of the key for one last heave. His wild shot hit the rim three times before bouncing harmlessly to the Oracle Arena floor.
The Lakers won, barely.
Final score 124-121.