Los Angeles Lakers:

surgery
September, 29, 2010
9/29/10
7:00
AM PT

By Andy Kamenetzky
ESPNLosAngeles.com
Archive
During our
ESPN LA.com Media Day broadcast
, there may have been no more interesting -- and potentially controversial -- exchange than one involving
Andrew Bynum
. By then, it was old news his offseason knee surgery revealed more damage than expected and his anticipated absence during the preseason could extend into the regular season. Bynum is targeting late-November for his return. Delaying surgery until mid-July to accommodate an overseas vacation was endorsed by
Phil Jackson
and the front office alike, as all signs pointed towards a relatively minor procedure and rehab.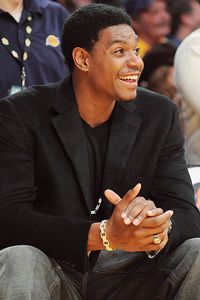 Win McNamee/Getty Images
Andrew Bynum missing games has become as inevitable as death and taxes.
But we wondered, knowing what Bynum knows now, if he would have altered his time line? He said he wouldn't:
"Nope. I had to have the surgery when I was ready for it. I was coming off the emotional high of going out and winning your second championship. I just kind of needed a little me time. Me and the family. I just took it from there. I went to go see the World Cup, it was a great time for me, one of the best of my life. I got to stay on safari. And then when I got back home, I took care of business."
This unfiltered wasn't what either of us expected to hear. We debated the issue the following day during a Sunday broadcast of
ESPNLA.com On Air,
my brother somewhat undecided on how he felt and me okay with the decision. Since then,
Brian has expressed unhappiness with Bynum's call
.
I remain okay with the decision.
Before I present my opinion, I want to make clear my expectations of being in the minority, along with my awareness of the legitimate reasons for displeasure with Bynum's statement. The Lakers are attempting to keep this championship train rolling, and Bynum is a big piece of the puzzle. These missed games could affect the team's overall record, which could jeopardize home court advantage throughout the playoffs. Bynum has already missed considerable time due to injury throughout his career, which has possibly affected his growth as a player and without question limited his comfort level playing alongside
Pau Gasol
. These are legitimate issues.
Plus, for many fans, there is a principle involved. Yes, Bynum isn't even 23 yet, and most folks have a lot of growing up to do at such a tender young age. However, they're typically not offered an eight figure salary as an incentive for rapid maturity. Players making $14 million are expected to be accountable professionals, which in this case means exhibiting a thorough concern for the team employing them. At face value, I understand why fans might label Bynum's willingness to delay the surgery, even in the face of games missed, as something showing questionable dedication to the Lakers.
But looking deeper, I'm reminded of Bynum gutting through the playoffs on one leg last season. And I'm compelled to examine Bynum's words explaining himself; how he needed to be "ready" for the surgery, how he expressed a desire for "me time" after coming off an "emotional high," and talked about the importance of being with family and about taking "care of business" once he returned home.
I'm sure Bynum felt a World Cup and European jaunt would be a unique and fun experience, but I wonder if the trip may not have been about indelible memories as much as it was about what he needed to forget:
Basketball.
August, 11, 2010
8/11/10
12:45
AM PT
As part of our look ahead at the Lakers' projected roster next season, we continue to work our way from the bottom to the top of the rotation. Next up...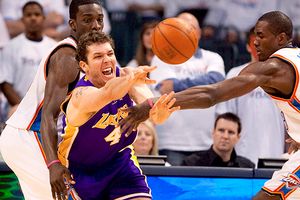 Dilip Vishwanat/Getty Images
It remains to be seen whether Walton will be
healthy enough next season to help facilitate
the offense.
Player
Luke Walton
Salary
$ 5.26 million
Role for 2010-2011
The quintessential "your guess is as good as mine" crap shoot. Never a strong bet to go a season without an injury, 2010 was a particularly bruised affair for Walton. A bad back limited him to
a career-low 29 games, with stats mirroring that valley nearly across the board
. During his exit interview, Luke expressed hope surgery could be avoided, but to the best of my knowledge, a date with the knife hasn't been ruled out.
Mitch Kupchak
drafted
Devin Ebanks
in part
as insurance should the seven-year veteran miss a large chunk of time
. Since then, Kupchak has expressed
concern Walton could miss the entire 2011 season
. Hence, the signing of
Matt Barnes
.
Backs can be difficult to treat and even harder to predict. They can be set off by anything from hard contact to a sneeze to just sleeping funny. One day you feel great. The next day, horrible. But whatever lack of progress for Walton since last preseason (when this ailment first surfaced) hasn't been for lack of trying. Or lack of desire to carry his weight. I can say with absolute certainty Luke's not the kind of player content to simply cash an unearned check. He was quite unhappy and frustrated by this turn of events.
Unfortunately, the same experience could be on tap next season.
July, 20, 2010
7/20/10
2:19
PM PT

By Andy Kamenetzky
ESPNLosAngeles.com
Archive
ESPNLA.com's Dave McMenamin is reporting a date
of July 28, if you're looking to send a gift or just spend the day praying to the basketball gods.
During Drew's exit interview
, he indicated a penciled-in time frame of mid-July to meet the knife. I'm not sure why Bynum opted to go later in the month, but I wouldn't worry about it. His injury wasn't as much serious as simply difficult to play through, especially compared to Bynum's other injuries. Save an unforeseen setback, I'm guessing rehab will continue as planned and he'll be in camp on time and ready to roll.
Also, Lakers.com scribe
Mike Trudell
says Drew's strained Achilles, which cost him several regular season games down the stretch,
has healed up nicely
. Fingers and toes crossed, 2010-2011 marks the season where Bynum finally gets through a campaign of big minutes without a hitch.