Los Angeles Lakers:

Suspension
May, 30, 2012
5/30/12
11:51
AM PT
It was an interesting season for
Metta World Peace
. (Is there any other kind?) The campaign began with a visibly/admittedly overweight MWP tapped to pick up where his close friend
Lamar Odom
left off: The bench Kahuna. Having watched Metta spend two triangular seasons doing little more than spot up and wait,
I enthusiastically endorsed Mike Brown's plan for more responsibilities
. With the ball in his hands more often, I was reasonably confident Metta would emerge more consistently engaged and perhaps even an effective scoring and play-making source. For a brief period, that vision seemed doable.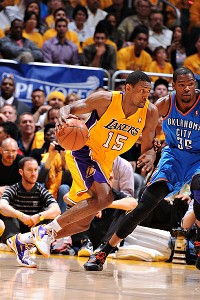 Andrew D. Bernstein/Getty Images
Driving the lane, MWP experienced early success. Further out, not so much.
In his first seven games
, MWP notched 10+ points three times, 3+ assists four times and drew fouls as a point-forward/post-presence. Defensively, he was typically a step (or three) slow and his 3-point shot was staggeringly absent -- through January, 14 percent success,
rounding up
-- but Metta still brought something to the table as an imperfect option. However, as time marched on, so did MWP's distance from the basket. For reasons I never could get explained by Brown or Metta, those post opportunities steadily declined, making MWP once again
a lonely man there on the corner
. Banished from the lane and lagging defensively, MWP's ineffectiveness reached the point where unless a return to the block was orchestrated, I questioned the logic of even playing him.
Shortly after
an unusually strong effort against the Clips
, MWP joined the first five, but consistent production still eluded him. For every game his defense or a timely 3-pointer made a difference, in several others Metta played like a shell of himself. Nobody would reasonably expect a Xerox of "Indiana" Ron-Ron, but something better than this version certainly was fair to request.
Desperately needed signs of life first came in March. Five double-digit showings. His 3-point shot began to fall semi-regularly.
LeBron James
and
Paul Pierce
were forced to work hard for points during Lakers victories. MWP looked more comfortable, and spoke freely about improved health and confidence. Still, his impact wasn't pronounced enough for MWP nor fans to hang their proverbial hat on.

April, however, proved a veritable hat rack.
On both sides of the ball, Metta performed not just like the dude from his debut season in L.A., but better. When a shin injury shelved
Kobe Bryant
for seven games, MWP picked up a big piece of the slack, averaging 16.3 points and reaching double-figures six times. A season-high nine assists against Golden State, was indicative of MWP's hand in shaping wins. Obviously, these numbers were to some degree a byproduct of The Mamba's absence, but 23 points (on a tidy 13 shots) against Houston came with Kobe in uniform. A sustainable high gear had been discovered, and for an underdog team looking to make a deep run, MWP became the roundball equivalent of found money.
Then came bankruptcy in the form of
an elbow to the head of James Harden
.
May, 11, 2012
5/11/12
9:55
PM PT
Before this series began, I listed a number of reasons
Metta World Peace's suspension could prove sticky for the Lakers against Denver
. By and large, however, Lakers fans didn't express much concern. Whether because most were focused more on the fairness of MWP's punishment or because most just didn't consider the Nuggets a particularly scary foe, the ramifications never became a major talking point. Six games into an increasingly unsteady playoffs, the small forward remains under the radar, brushed to the side by the likes of
Andrew Bynum's
Game 1 triple-double,
Ty Lawson
,
JaVale McGee,
"Closeout games are kinda easy," stomach viruses,
Pau Gasol's
steadily decreasing presence,
Matt Barnes'
ankle
, Andre Miller
torching Lakers guards, etc.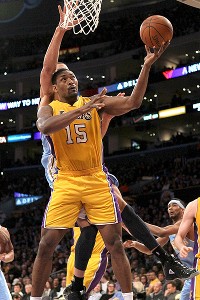 Stephen Dunn/Getty Images
The Lakers need Metta to make an impact on both sides of the ball.
But make no mistake: This roster vacancy has caused serious problems. The supporting cast beyond the Big Three (and recently, beyond "The Big Anyone Not Named "
Kobe
" OR "
Bryant
") hasn't consistently put up points.
Devin Ebanks
was pulled from the starting lineup in Game 6's second half in favor of
Matt Barnes
... which says something, considering that Barnes hasn't been terribly effective. Metta's defensive skills have obviously been missed, but more importantly, so has the defensive versatility. He can be employed against Nuggets ranging from Miller to
Danilo Gallinari
to
Al Harrington
to
Kenneth Faried
. His presence also means the Lakers can go small without playing
Ramon Sessions
and
Steve Blake
together, a move that inevitably leaves one to get bullied defensively.
Beyond all else, there's Metta's energy, something he brings consistently whether playing well or playing poorly. MWP is among the most mercurial players in NBA history, but you can set your watch by him going full speed.
As Kobe said after the Game 6 loss,
"He's the one guy that I can rely on night in and night out to compete and play hard and play with that sense of urgency and play with no fear." MWP is also the rare player who can change games through the force of his intensity. The Lakers have collectively failed to match Denver's energy as the series has progressed.
This is a team in desperate need of a spark, and Metta can be that human flint.
May, 4, 2012
5/04/12
8:53
PM PT

By Dave McMenamin
ESPNLosAngeles.com
Archive
Metta World Peace
has stayed busy through the first four games of his seven-game suspension in a variety of ways. According to
his Twitter account
, he has been recording tracks for his upcoming mix tape, entitled "Passion." He has been waking up for 5 a.m. workouts and tweeting the results, whether it be a picture of his chiseled abs or a
chart tracking how he has changed his body
-- in December he weighed 267.8 pounds, in April he was down to 246.5. He has recorded his podcast,
"Mettaphorically Speaking: The Ron & Metta Show."
He even booked an appearance on "Conan" for next week.
But that's not to say he hasn't been paying close attention to what the Lakers have been doing in their first-round series against the Denver Nuggets.
"He's working hard. He's engaged," said Lakers coach
Mike Brown
said before Game 3 on Friday. "Obviously, you never know (how World Peace will be able to perform when he returns from his suspension), but he's working his tail off and he is engaged and that's all you can ask for during this period."
Part of that engagement has included passing along tips to Brown with what he's seeing in the games. World Peace noticed something about how the Lakers were getting back in defensive transition against the Nuggets and told Brown, and Brown in turn, told the whole team at Friday's shootaround.
"After every game he talks to us and during practices he talks to us," Brown said. "He's heavily involved with watching the game and trying to give his opinion on different things to different individuals and stuff like that, so he's been good."
Coach Metta?
Not quite. Per the rules of an NBA suspension, World Peace cannot be in the arena during games, so you won't see him in a suit on the sidelines drawing up plays the way
Kobe Bryant
did when he earned his "Coach Kobe" moniker.
Despite that fact World Peace is banned from being in the Pepsi Center during the games, the Lakers brought him along for the road trip for Games 3-4.
The only way he'll play in the first round is if it goes to Game 7. If the Lakers beat Denver in six games, World Peace will be available for the start of the second round. If the Lakers beat Denver in four or five games, L.A. will (likely) start out against the Oklahoma City Thunder (who are up 3-0 on Dallas) and would have to face
Kevin Durant
without World Peace to stick on him.
While having World Peace from the start against the Thunder would certainly improve the Lakers chances of advancing to the conference finals, Brown is not about to throw a couple games in the first round to make that happen.
"I just want to win the next game and go on to the one after that, but I'm not trying to figure out when we get him back and all that other stuff, we just got to go play with whoever is in uniform," Brown said. "Whenever he comes back is when he comes back. We got to take care of business right now as best we can."
Dave McMenamin covers the Lakers for ESPNLosAngeles.com. Follow him on Twitter.
April, 25, 2012
4/25/12
7:46
AM PT
By the Kamenetzky Brothers
ESPNLosAngeles.com
Archive
It was a lively morning on the chat in the wake of
Metta World Peace's
suspension. Plenty of conversation about the implications going forward, and they are significant. Plus questions about resting starters for Thursday's game, whether
Kobe Bryant
ought to go for the scoring title, and more.
Here's the link to the transcript
.
April, 24, 2012
4/24/12
5:24
PM PT
Newton's third law contends that for every action, there is an equal and opposite reaction. Using that principle as a guide, Metta World Peace met the side of James Harden's head on Sunday with a fairly vicious elbow, laying out the likely NBA Sixth Man of the Year and earning himself an ejection. In other words, a powerful force of action. Tuesday, the league office met that action with one of its own, announcing that MWP will be suspended for seven games.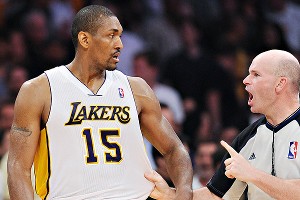 Jayne Kamin-Oncea/US Presswire

Gary Zielinski didn't buy what MWP was selling, and neither did the league.
Does this truly constitute an "equal" reaction? Hard to say, as the science of comparing 'bows and penalties is similarly murky to that of apples and oranges. But the penalty was no joke, which was to be expected. Between the act itself, the way MWP squared off against Serge Ibaka afterward and his long list of previous transgressions (including last season's playoffs against Dallas), a wrist slap felt unlikely. And MWP didn't deserve to be let off easily. This was extremely dangerous, dirty and unwarranted, a sucker punch with an elbow. Harden could have been seriously hurt, and a strong reaction was necessary to create a future deterrent.
Since Sunday's incident, I've heard Los Angeles Lakers fans on the blog, on Twitter and on radio say Harden got what he deserved because he "talks trash to Kobe Bryant" and "was making contact with Metta." Respectfully, either rationale is ridiculous. The "contact" initiated by the Oklahoma City Thunder guard was what I often refer to as "getting in place to receive an inbound pass." Were Harden looking to instigate or irritate, he'd have hit MWP with some actual force, rather than meander into him at a glacial speed. And second, yapping throughout a game isn't grounds for an elbow that could result in having your jaw wired shut. This isn't a street fight. You don't go clocking dudes because they got in your face or talked smack. Everyone in the NBA is a paid professional, and in the case of Metta, a rather handsomely paid one.
There are boundaries, and everybody knows them. Admitting the painfully obvious -- Metta's actions were irrefutably wrong -- doesn't make you any less loyal to the Lakers or even to Metta himself. It just makes you sound like you possess a shred of objectivity.
As for matters concerning basketball, Metta's ban puts the Lakers in a bind. Offensively, he has experienced an April rebirth, particularly during Bryant's absence. Whether as a scorer or facilitator, an outside shot and comfort zone has been discovered after nearly a season's worth of physical and mental struggles. The Lakers may be stockpiling scorers these days, but they can never have enough sources of scoring, especially with Ramon Sessions currently in a funk. Plus, World Peace has a knack for hitting big shots. That Kobe has consistently passed to Metta late in fourth quarters isn't only because the dude's always left open. That ability to come through in crunch time will be missed.
April, 24, 2012
4/24/12
5:20
PM PT
The news is here.
The NBA released a statement regarding the suspension:
"The Lakers' Metta World Peace has been suspended for seven games without pay for striking the Thunder's James Harden in the head with his elbow, the NBA announced today.

The incident, which resulted in a Flagrant Foul Two and ejection, occurred with 1:39 remaining in the second quarter of the Lakers' 114-106 victory over the Thunder on April 22 at Staples Center.

"The concussion suffered by James Harden demonstrates the danger posed by violent acts of this kind, particularly when they are directed at the head area," NBA Commissioner David Stern said. "We remain committed to taking necessary measures to protect the safety of NBA players, including the imposition of appropriate penalties for players with a history of on-court altercations."

The suspension will begin with the Lakers' next game at Sacramento on April 26. The remaining games of the suspension will be served over the next six games in which the player is eligible and physically able to play, including this season's playoffs."
Lakers General Manager
Mitch Kupchak
issued a statement on behalf of the team:
"Metta has for the most part been a model citizen both on and off the court since joining the Lakers. Still, his most recent lapse in judgement is not to be condoned or accepted. His actions could have seriously injured another player, and his absence during this suspension will hurt our team as well. While we accept the league's decision, we will be supportive of Metta and try to help him be more professional on the court."
April, 23, 2012
4/23/12
9:47
AM PT
Andy and I participated in
today's 5-on-5 at ESPN.com's NBA page
weighing in on
Metta World Peace's
elbow to James Harden
. Also joining the panel are ESPN.com's Kevin Arnovitz and Michael Wallace, and ESPN the Magazine's Chris Palmer. The five questions:
1. What was your gut reaction to the play?
2. How long should the NBA's suspension of World Peace be?
3. Should MWP's track record influence the NBA's decision?
4. How will this impact MWP and the Lakers going forward?
5. What's your take on violent play in the NBA?
Check out our takes, and leave your own in the comments section below.
December, 30, 2011
12/30/11
9:07
PM PT
It was a fairly mellow afternoon in El Segundo, the vibe notably casual after a whole bunch of hand-wringing over the Lakers' 0-2 start (which came on the heels of more hand-wringing over "pick your favorite issue since camp opened"). But after two straight wins, a feeling of normalcy has blanketed the Lakers, and with
Saturday marking Andrew Bynum's return to action after a four-game suspension
, that ease further increases. Missing those four games was as tough on Drew as the Lakers, and it felt even weirder being separated from the team.
"Suspensions are definitely weird," shrugged Bynum. "You're not hurt. There's nothing wrong with you, so you're kinda just sitting out, watching all the games on television. That's all I did... Even in practice, you can't really practice, because they have to simulate game situations and you won't be out there. So you gotta your work in before they get to the arena, and all that. It's almost like you're trying out again."
In terms of getting up to speed with the game plan, Drew said he feels pretty good defensively, since very little has changed for him beyond showing hard on pick and rolls. The offense remains a trickier work in progress with "things I still need to get accustomed to," but he's scouring the playbook. The biggest concern, truth be told, is actually conditioning.
"I won't be able to play major minutes at this point," Bynum said. "I'll be a little bit winded, probably. So, I'm going to be out there working on my game."
December, 23, 2011
12/23/11
1:37
PM PT
Christmas comes early for the Lakers, who've been due to catch a break of any kind.
The league has decided to reduce Andrew Bynum's five game suspension by one for his playoff elbow to J.J. Bare
a. With the seasoned shortened to 66 games, the punishment was tailored to fit the schedule (if not necessarily the crime). Normally, five games equals six percent of the season. Ditto four games during this truncated campaign. Math is a wonderful thing. Shout out to
Carl Friedrich Gauss.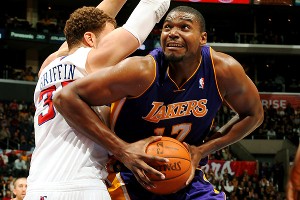 Andrew D.Bernstein/Getty Images
Andrew Bynum will now return to the Lakers' lineup after four games, not five.
The implications of this decision are pretty huge. Every game truly counts this season, and Drew's presence obviously increases the odds of winning as the hiccups and bumps of their learning curve are negotiated.
Josh McRoberts
and
Troy Murphy
may be solid enough role players, but they're not
Lamar Odom
when it comes the Laker tradition of compensating for Bynum in street clothes. And
Kobe Bryant
shouldering an increased load is never an ideal development at this stage of his career, much less with a shredded ligament in his right wrist. Even if it's just one less game
eating first AND third at the proverbial "buffet
," I'll take it.
Plus, as last season demonstrated,
Pau Gasol
playing big minutes at center (likely the case with Drew gone) is a taxing assignment. He'll start out this season doing so in three consecutive games against Chicago, Sacramento, and Utah meaning plenty of challenging run against
Joakim Noah
and
DeMarcus Cousins
. After a day off, it's a date with the Knicks and
Tyson Chandler
, probably the NBA's best defensive center other than
Dwight Howard
and maybe Drew himself. The fifth game Drew was originally slated to miss comes against the Nuggets and
Nene
, an extremely physical big. Better to have Drew in the middle, especially since the Lakers fly immediately to Denver and its thin air for a rematch. Thus, Drew saves Pau some bruises on day one, then prevents him from being too gassed the next day.
Finally, this team needs to compete at full strength in order to develop chemistry, master the playbook in a game setting, and allow
Mike Brown
to solidify his rotation. The sooner, the better, which means "better" now arrives 24 hours earlier.
March, 26, 2011
3/26/11
4:13
PM PT
Man, it's a fun time to be a Laker fan right now. By extension, it's a fun time to kick back with a batch of ear candy. ESPNLA.com's
Dave McMenamin
stopped by the studio to dissect all things purple and gold. Among the talking points:
Andrew Bynum is back from his two-game suspension and addressed the media on Thursday for the first time since getting put on punishment. If the league was hoping for a statement of contrition, as Balki Bartokomous would say, they're barking up a dead horse. Should fans be concerned by Drew's insistence of having done nothing wrong and there being nada to learn from? And do you agree with Kobe Bryant's assessment of Bynum having "earned his stripes?" (It reminded me of that scene in "Goodfellas" when the young Henry Hill doesn't rat on the mob bosses after getting pinched for selling illegal smokes.)

PODCAST
Andy and Brian are joined by ESPNLA.com's Dave McMenamin to talk Andrew Bynum's return from suspension, potential first round draws and the NBA landscape if the Nets drafted Kobe. Plus, "Friday" or "We built this city": Worse song?

" Podcast

The New Orleans Hornets, Sunday's opponent and the Lakers' potential first round playoff opponent, just lost power forward David West for the season. Can they stay in the playoff race with Carl Landry stepping in? Would you rather play the Grizzlies or Rockets, should the Hornets fade? We all agree Memphis would be the tougher draw for a variety of reasons.
What Jerry West and "Team Kobe" hadn't talked John Calipari out of drafting Bryant as a member of the New Jersey Nets? What if Lamar Odom had joined the Miami Heat in 2009?
Awards season is approaching. We revisit our case made on The Triangle for Odom as Sixth Man of the Year, and then discuss Kobe's candidacy for MVP. The perception seems to peg The Mamba as more of a qualified-yet-peripheral candidate than front runner, but would that change if the Lakers' torrid pace holds? Particularly when consider Bryant's season as a whole and the mind-boggling prospect of Kobe wrapping up a career with just one trophy? Could sentiment perhaps help push 24 over the top?
13-year old Rebecca Black's single "Friday" is both an Internet sensation and punching bag. The ditty is getting slammed as the worst song ever. And make no mistake, it's pretty bad. But worst song ever??? We serve up some other candidates, written by actual adults. "Popo Zao," by Kevin Federline. "Cotton Eyed Joe," by Red Nex. "Informer," by Snow. "We Built this City," by Starship.Along the way, Dave sticks up for his man Phil Collins, plus "Sometimes when we touch." I mean, he really sticks up for that song.
Feel free to offer up some other terrible songs we missed.
March, 25, 2011
3/25/11
12:16
AM PT
The biggest news from Thursday's practice came in the form of literally the Lakers' biggest player. With his two-game suspension finally served,
Andrew Bynum spoke to the media for the first time
since a flagrant foul on
Michael Beasley
landed him in the Commish's dog house. For Drew, the exile provided a knee still-not-100 percent extra time to strengthen, but that bright side wasn't enough to turn the kid's frown all the way upside down. While he "knew [they'd do something]," Bynum made no secret of an opinion the league went overboard in his punishment:
"They tell us when the guy falls down, that's what's going to be what makes it even worse. If he didn't leave the game or he didn't get hurt, it probably would have been different.
"I don't think what I did was deserving [of multiple games]. I don't think I really did anything too wrong. It was unfortunate the guy fell the way he did and got hurt, but at the end of the day, sometimes fouls happen."
Asked if this was a learning experience, Drew said no, the idea being a) he already knows what constitutes a problematic foul and b) he didn't think he did anything wrong in the first place. Taken at its most literal, this is somewhat disconcerting. Not that I'm looking for Drew to have spent the last few days locked in a closet sobbing guilt-ridden tears -- in point of fact, he did text Beasley to see if he was OK -- but zero remorse on any level makes me wonder if Drew will find himself in a similar pickle in the not-so-distant future.
Hopefully, these comments reflect a reluctance to publicly admit fault rather than a "stand" of sorts being taken. As much as you want the lane protected and a reputation for physical play as a team, the risk-to-reward ratio of Drew's foul wasn't worth it. Yes, the Lakers won both games without him, but that's not the point. I honestly doubt a "message" reverberated throughout the league after seeing Bynum elbow a member of a Western Conference bottom feeder. In the meantime, Drew will now be under a more powerful microscope and likely has a reputation of sorts developing, which is never a positive.
Hopefully, he'll keep this in the back of his mind moving forward.
March, 21, 2011
3/21/11
10:02
PM PT
With 12 wins in the last 13 games since the All-Star break, there isn't much these days to complain about in Laker Land, save perhaps
the suspended status of Andrew Bynum
. (Should the Lakers come through
Tuesday against the Suns
, you could even argue the games missed were a healthy blessing in disguise for a player not yet at 100 percent by his own admission.) Thus, who can blame the team for feeling a bit cheeky? Thus, Praise for purple and gold brothers was overflowing, but offset at times with good-natured teasing.
Except, of course, for a certain ex-teammate, who received no mercy.
For example,
Phil Jackson
full of props for
Derek Fisher
and
Lamar Odom
, the former over his ability to organize a game during crunch time and the latter for his ability to succeed whether starting or coming off the bench.
"He's been very productive," said Jackson of Odom. "It's invaluable. We made a decision as an organization two years ago to sign Lamar which put us into a difficult cap situation, yet we were convinced that without him, we wouldn't win a championship again. That was a good decision by the organization."
When approached with the topic of
Pau playing extended minutes in Bynum's absence (as was the case against Portland
), PJ couldn't resist a mild tweak:
"He gets depressed out there when he has to play that much. It just wears him out."
ZING!
On his way over to talk with us, Pau actually ran into Phil, who informed him about the jab. Consistent with his nature, Pau took the teasing in stride.
"It's just kind of the games that he plays," said Gasol with a wry smile. "It's all fun. It's all fun for him, fun for (the media) and I try to make it fun for me."
Now in his fourth season under Jackson, Gasol has gotten used to PJ's antics. And while the needling has occasionally crossed what he considered the line (PJ painting Pau as a hypochondriac regarding last season's hamstring injury, for example), Gasol's generally able to laugh it off. He views their relationship as a "close connection," even if PJ often treats him like a third girl grade girl who hits the boy she likes.
"If he didn't care about you, he wouldn't say anything about you," shrugged Pau. "It's just a sign that he cares."
So he cares a lot about Pau in particular, I noted.
"Apparently so," Gasol nodded. "Some are not so lucky. I feel lucky to get all that caring. It's nice and warm."
March, 20, 2011
3/20/11
2:04
PM PT
I'm surprised, but not exactly shocked.
In the wake of the flagrant foul 2, and the accompanying ejection, of
Andrew Bynum
in the fourth quarter of Friday's game against Minnesota, speculation immediately began on a possible suspension. In my unscientific polling of other media types, the overwhelming consensus had Bynum sidelined for a game. Arguing against it was almost impossible, given the violence of the play on
Michael Beasley
as he attacked the basket from the right side of the floor. Bynum launched himself at the T-Wolves forward, leading with his elbow and forearm, delivering a dangerous shot against an airborne opponent.
The play was worthy of discipline from the league. Sunday, the NBA handed down its decision, and the verdict is harsh.
Bynum will miss L.A.'s next two games
.
The big debate isn't over the suspension itself, but whether the second game is warranted.