Los Angeles Lakers:

Tayshaun Prince
November, 4, 2012
11/04/12
11:58
AM PT
By akamenetzky
ESPNLosAngeles.com

As I mentioned in
the Rapid Reaction from Friday's loss to the
Clippers
, I'm not losing my head over this 0-3 start. However, if the
Lakers
remain winless after a date with the
Detroit Pistons
, a team that probably won't make the playoffs
in the Eastern Conference
, I will in fact panic. Not in response to the loss itself, but rather because the streets of L.A. will be filled with fans who've lost their minds. They'll inevitably turn on each other, which will quickly transform L.A. into an apocalyptic free-for-all. And I care too much about my loved ones to expose them to such madness. Thus, I'll pack up the fam and the cat, and we'll head to an undisclosed location, preferably at higher ground. (Big Bear sounds safe enough.)
So those are the additional stakes in play as the Lakers try to get off the schneid: My ability to continue living in Los Angeles County.
For more perspective on the Pistons, I sent five questions to Patrick Hayes, who covers the team for the TrueHoop network's
Piston Powered
blog.
Land O' Lakers:
With the season now underway, what have been your biggest takeaways of the Pistons? Do you think they have any ability to surprise this year?
Patrick Hayes:
The Pistons appear to be taking advantage of all of the youth on the roster by looking to run more on offense after being one of the slowest-paced teams in the league the past three seasons or so. In the season opener against
Houston
, although the defense was bad, the Pistons did come up with 12 steals, which helped their transition game. Most of the players on the roster will never be confused with good defenders, but they do have a lot of length, even at the guard position, and quickness, so being disruptive in passing lanes could be a new skill displayed this season.
As far as ability to surprise, I'm not convinced. I think they'll be improved and more fun to watch, but I don't necessarily think that will automatically lead to more wins. They'll be in the conversation, along with three or four other teams, for the final playoff spot in the East if everything goes perfectly. My guess, though, is 30-35 wins.
April, 4, 2012
4/04/12
1:25
PM PT
Four years ago this summer,
Kobe Bryant
and
Chris Paul
were two of 12 NBA players determined to restore America's standing as the worldwide kings of basketball. In a classic game against Spain (featuring none other than
Pau Gasol
), Team USA won the gold and showed fans how a team of elite superstars can push egos to the side for the sake of a larger goal.

With Lakers-Clippers on the docket this evening
, various ESPN scribes (including the K Bros) gathered thoughts from Bryant's and Paul's Olympic teammates and coaches about the experience of working with them.
Click here to make a patriotic trip down Memory Lane
, and below are excerpts with Kobe's and Paul's recollections about one another:
Kobe on Paul: He's tough. He's tough as nails, man; he doesn't back down from anything or anybody. I'd never been as close to him, but when I was [on the Olympic team] I'd try to challenge him, see what he's made of and he's a tough little sucker.
Paul on Kobe: Me and Kob really figured out how much we had in common on that trip. That Olympic experience is when we got a lot closer. Me and my wife send him Christmas cards and his family sends us Christmas cards, and now we talk on a regular basis. We both want to win so badly. It's one of those things where as great a relationship as we have, as long as we're playing on the same court against each other, we're always going to get into it, you know what I mean? That's the respect factor, because you know that he wants it just as bad as I do
.
March, 6, 2012
3/06/12
8:11
AM PT
By The Kamenetzky brothers
ESPNLosAngeles.com
Archive
Words won't be minced. The Pistons are a bad team. Yes, second year center
Greg Monroe
--who could receive Most Improved Player of the Year votes -- and rookie point guard
Brandon Knight
could emerge a foundation worth building around. But unless they can jump forward in time five or so years, gain seasoning and veteran savvy, then go back to March 6, 2012 to stop the Lakers (like
"The Terminator,"
but with basketball), they can only elevate a crummy Detroit squad so much. The Lakers are a far superior team, which makes this a game that should feature 5-10 minutes of garbage time from
Devin Ebanks
,
Jason Kapono
,
Josh McRoberts
, and
Luke Walton
.
Then again, being so outmatched, in its own right, makes the Pistons potentially dangerous. The Lakers are coming off a victory against Miami, which makes a battle in Detroit feel anticlimactic by comparison. The game should be pretty one-sided, but those expectations could turn this into a legitimate game. A sham will do just nicely, thank you very much.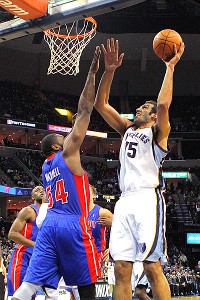 Spruce Derden/US Presswire
The Piston cannot stop Hamed Haddadi. They can only hope to contain him.
For more thoughts on the Pistons, we called upon
Patrick Hayes
of the True Hoop Network's
Piston Powered blog
.
Land O' Lakers: I realize there are many to choose from, but if you had to put your finger on the single biggest reason the Pistons are struggling so mightily this season, what would it be?
Patrick Hayes:
Yeesh ... like you said, tough question. I'll go simply with defense, though. Heading into the season, the reality was everyone knew the roster had major deficiencies.
Lawrence Frank
has done a good job with restoring some semblance of locker room harmony and he's given young players Greg Monroe, Brandon Knight,
Rodney Stuckey
and
Jonas Jerebko
plenty of minutes, but with Frank's defensive pedigree, I hoped the Pistons would be more competitive at that end of the floor sooner. There are many games where opponents simply do whatever they want offensively with no resistance.
August, 25, 2011
8/25/11
11:20
PM PT
Or more accurately, "the Compton in my game," as it pertains to
Brandon Jennings
. Milwaukee Bucks point guard's So Cal ties are specific to Compton. It's a reminder of his unique path to the NBA, just like hitting the court against real competition at the tender age of five. Or transferring to
Oak Hill Academy in Virginia
, despite already playing at Dominguez High School, a basketball force in its own right. Or bypassing college for a professional stint in Italy,
the first American kid to make such a leap
. Jennings has always been his own person and the foundation of that confidence was built in Compton.
Andy Kamenetzky:
Which parks were you a regular at when you first began playing?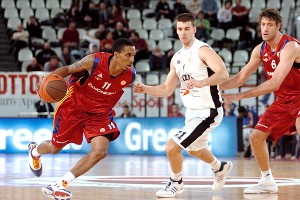 Luca Sgamellotti/Getty Images
Going straight from high school to Italy was another example of Jennings doing things his way.
Brandon Jennings:
Rowley Park in Gardena
. That's where I really started playing. That's where I came back this year during All-Star weekend. I went up there
and [renovated] the basketball court
. There were a lot of great players growing up coming out of there. The atmosphere was crazy. Back then, AAU wasn't really that big yet. Especially for me, because I was younger. So everyone played in the park in the recreation league.
I started when I was about five at the park. I was playing in a seven-and-under [league] and I was five, so I was the youngest on the team. They told me as long as I can get the ball up to the rim, then I could play.
AK:
How intimidating was that at age five?
BJ:
It wasn't intimidating at all. I felt like I could play with the best kids. As long as you put me out on the court, I was gonna play hard.
AK:
How did you manage to hold your own at such a young age?
BJ:
I was faster than all the other kids, and back then, I had a pretty good handle with the left hand.
AK:
Is this one of those things like
Tiger Woods
and his clubs as a little kid? You picked up a basketball and it automatically felt right?
BJ:
Well, I started playing basketball when I was about three years old. After that, everything else just came naturally. I had older cousins that used to let me hang with them, so I got my toughness from them. They said I could play as long as I don't cry. That was their main thing. No whining and no crying. Just go out there. If they knock you down, get back up and keep playing.
AK:
How did starting out so young against bigger guys shape your skill set and development?
BJ:
I was able to pick up a lot of things faster than most kids, because just being around older kids and seeing some of the things they did. Also, just watching some of my favorite players back then. I was a big
Allen Iverson
fan and a big
Kobe Bryant
fan. Kobe Bryant used to have the afro back in the day, so I used to have all his sneakers and AI's shoes.
AK:
The situation with your father's suicide happened
when you were about seven or eight. How did that affect you as a basketball player? Did it change the way you approached the game, in terms of what you wanted from it?
BJ:
I just knew that I would have to be the man of the house. When I was about 12 years old, I knew I had to take the game more seriously if I wanted to be able to provide for my family. I knew this was my way out. It made me realize that if this was something I wanted to do, then I would have to be serious about it and I would have to work hard every day to be able to be one of the best players.
AK:
That's when you really began to take basketball seriously?
BJ:
Yeah. When I was 13, I won the AAU Nationals in Midgets and ever since then, I just took off from there. I never looked back.
July, 22, 2011
7/22/11
10:28
AM PT

By Brian Kamenetzky
ESPNLosAngeles.com
Archive
If there was a benefit to last year's bottom-of-the-barrel production at the point, it's that it provided a nice distraction from the relative wasteland at small forward.
Purple and gold 3's ranked 23rd in efficiency differential
, 25th in field goal percentage, and 19th in 3-point percentage. This despite that
Kobe Bryant
guy soaking up some minutes there. The main combination of
Ron Artest
and
Matt Barnes
wasn't up to snuff. Some of it was circumstance:
Barnes was playing well
, providing more or less exactly what the Lakers expected (offensive rebounding, off-ball movement, energy, defensive effort) until hurting his knee in January, and never fully bounced back. At least he had an excuse. Artest, healthy enough all season,
fell off at both ends of the floor relative to his first year in L.A..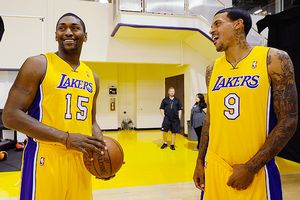 Kevork Djansezian/Getty Images
The combination of Ron Artest and Matt Barnes didn't exactly set the world on fire last season.
It's reasonable both to expect a healthy Barnes to once again look more or less like the perfectly useful player he was starting last season and to wonder if Artest's slide will continue. A new system could benefit Ron Ron, but then again, it isn't the system making it tough to slide a deck of cards under his feet when he jumps. The decline in his explosiveness is worrisome. How the Lakers might juggle things if they're willing and able to add another small forward is an outstanding question, but fair to say from a productivity standpoint, even if Barnes bounces back there's room for improvement.
As it was with the shooting guards
-- some of whom could also slide to the 3- the free agent rolls provide a few
pinkie-to-the-mouth
options.
Here's how it breaks down:
THE YOUNG, INTRIGUING, AND TOTALLY UNREALISTIC
Thaddeus Young (Restricted Free Agent, Philadelphia)
Wilson Chandler (RFA, Denver)
After showing promise in his rookie and sophomore seasons, Young seemed to backslide in his third year. Fair to say he ended that trend in his fourth. As a guy who drafted Young in the late rounds of his fantasy draft, I can attest firsthand how well he played last season. Career highs in field goal percentage (54.1) and points per 40 minutes (19.6) and an improved rebound rate. Only 23, Young is a great athlete who should continue improving. Some might say he's more accurately listed as a power forward. For our purposes here, I say the distinction is irrelevant, because the Lakers can't afford him. Philly has made a $4 million qualifying offer, and would easily match whatever L.A. can present. Chandler, young, athletic, and smooth to the bucket (with an improved outside shot) is also not a viable option, financially.
IF YOU SQUINT HARD ENOUGH, IT'S SORT OF POSSIBLE TO SEE THE POSSIBILITIES
Caron Butler (Unrestricted Free Agent, Dallas)
He's coming off a major knee injury, right? Teams will be scared off, right? And Butler, with good skill offensively and tenacity at the other end, was tight with Bryant during his one year in L.A., right? He'd be a nice fit playing a supporting role for a good team, like he did in Dallas last season, right?