Los Angeles Lakers:

Team USA
August, 13, 2012
8/13/12
12:12
PM PT

By Brian Kamenetzky
ESPNLosAngeles.com
Archive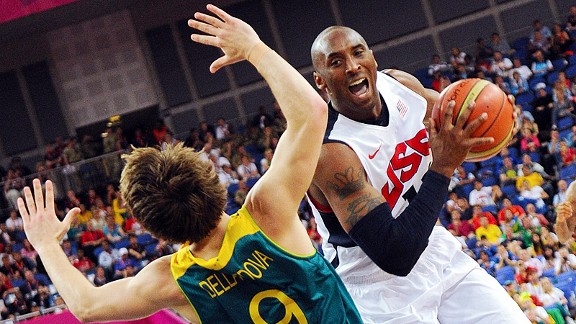 Mark Ralston/AFP/Getty Images
Once again, the United States has a gold medal in Olympic basketball, and the natural order of the roundball world remains intact.
When it was over,
Kobe Bryant
acknowledged
Sunday's game against Spain was his Team USA swan song.
"This is it for me," he said. "The other guys are good to go."
It's an exit for Bryant on the international stage (or at least the stage of international competition -- watching his reception in London shows Kobe's career as an international superstar isn't ending anytime soon), where he had a great deal of success. It also foreshadows what's coming, domestically. More than once this summer, Kobe has made reference to playing two or three more years, not necessarily beyond, meaning significant moments like one last gold-medal game are no longer on some distant horizon. His last All-Star Game, his last in the Garden, his last time in front of the home fans, his last playoff game, and so on.
They're all coming, likely sooner rather than later.
It's in that context the Lakers have completely resurrected their title chances with a stunningly effective offseason.
Dwight Howard
,
Steve Nash
,
Antawn Jamison
and
Jodie Meeks
are in, and
Jordan Hill
returns. Among real contributors to last season's team, only
Andrew Bynum
and
Matt Barnes
are out. Management didn't make these moves and push the payroll to $100 million just for Kobe -- they wanted to win before he got there, and will want to win when he's gone -- but no question, there's an awareness this chapter of Lakers history is ending, and if it is to be fully taken advantage of, it has to happen now.
April, 4, 2012
4/04/12
1:25
PM PT
Four years ago this summer,
Kobe Bryant
and
Chris Paul
were two of 12 NBA players determined to restore America's standing as the worldwide kings of basketball. In a classic game against Spain (featuring none other than
Pau Gasol
), Team USA won the gold and showed fans how a team of elite superstars can push egos to the side for the sake of a larger goal.

With Lakers-Clippers on the docket this evening
, various ESPN scribes (including the K Bros) gathered thoughts from Bryant's and Paul's Olympic teammates and coaches about the experience of working with them.
Click here to make a patriotic trip down Memory Lane
, and below are excerpts with Kobe's and Paul's recollections about one another:
Kobe on Paul: He's tough. He's tough as nails, man; he doesn't back down from anything or anybody. I'd never been as close to him, but when I was [on the Olympic team] I'd try to challenge him, see what he's made of and he's a tough little sucker.
Paul on Kobe: Me and Kob really figured out how much we had in common on that trip. That Olympic experience is when we got a lot closer. Me and my wife send him Christmas cards and his family sends us Christmas cards, and now we talk on a regular basis. We both want to win so badly. It's one of those things where as great a relationship as we have, as long as we're playing on the same court against each other, we're always going to get into it, you know what I mean? That's the respect factor, because you know that he wants it just as bad as I do
.