Los Angeles Lakers:

Thabo Sefolosha
May, 14, 2012
5/14/12
9:09
AM PT
With sincere respect to the Denver Nuggets, that it took the Lakers seven games to defeat them suggests how well the Lakers must play against Oklahoma City to have even a hope of advancing.
Kevin Durant
and the gang were the preseason favorites to come out of the West, with some pundits predicting they'd win the whole enchilada. An erratic April cost them a No. 1 seed, but any doubts about their viability were put to bed by an opening-round sweep of the Dallas Mavericks. Matched against L.A., at full strength,
the results have been pretty lopsided in OKC's favor
. The Lakers enter this series in the unfamiliar position of being underdogs and have their work cut out to pull the upset.
For a look ahead to the series and Game 1, I spoke via instant message with
Royce Young
of the True Hoop network's
Daily Thunder
blog. Below is the transcript.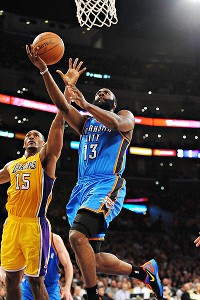 Noah Graham/Getty Images
We meet again, friend.
Andy Kamenetzky:
What was your biggest takeaway from OKC's opening series?
Royce Young:
I was most impressed with the way the Thunder closed games. Last postseason, Oklahoma City's crunch-time offensive struggles became a well-discussed topic, with
Russell Westbrook
the focus. This playoffs, it was the opposite. Three big fourth quarters are what won the series in four. Of course, just because
James Harden
was able to dice the Mavericks doesn't mean it will be so with the Lakers.
AK:
As long as you mentioned Harden, might as well jump right into the prominent B-plot. Do you expect any lingering trepidation or animosity from Harden toward
Metta World Peace
?
RY:
I don't think so. Carrying anything like that onto the floor would be too obvious. And it wouldn't reflect well on the team's focus. You're not there to get payback on Metta. You're here to advance. A vendetta in Game 1 doesn't make much sense. Then again, it'll have Thunder fans charged up, and many people feel as if
World Peace is feeding the beast with his comments
.
AK:
Well,
I was there as MWP addressed this issue
, and actually took his words at face value. Starters never go out of their way for pregame handshakes with opposing reserves, so why would anyone necessarily expect it from Metta? And I honestly understand why he doesn't think now's the time and place for a reconciliation of sorts (if there's even a feud to begin with). These guys are about to enter competition. Frankly, I doubt Harden wants MWP to seek him out before Game 1 anyway. It would be awkward for both.
RY:
For the record, I totally agree with that assessment.
AK:
In any event, Harden is so important for OKC. You can make an argument he's their most important player, which is why I don't put much credence in the Lakers' double-OT win, Harden missing the second half and all.
March, 28, 2012
3/28/12
8:25
PM PT
The Lakers' 2012 season can essentially be divided into two parts: "Pre-
Ramon Sessions
," when everyone wondered whether the CP3-less Lakers were capable of surviving more than a round or two in the playoffs without a notable upgrade at the point. (For that matter, not everyone was entirely convinced the front office was committed to a long playoff run to begin with.) Then "post-
Ramon Sessions
," when the Lakers featured a lead guard capable of penetrating, distributing and potentially allowing the Big Three to operate with maximum efficiency. In turn, the Lakers are now evaluated through the prism of legitimate contention. Is this a team good enough to reach the Western Conference Finals? The NBA Finals? To raise the O'Brien for the third time in four seasons?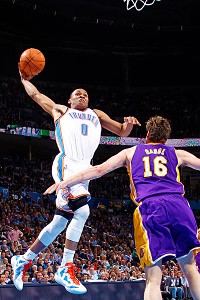 Win McNamee/Getty Images
Can Sessions help ground this man?
Thursday marks the first of five regular season games capable of providing, if not the definitive answer, strong clues.
The Lakers will then play the Spurs three times between April 11-20, then face OKC again on April 22. Days later, the playoffs begin. In between there will be notable opponents, such as the Clippers (4/4), a perhaps healthier Nuggets (4/13), and the Mavericks (4/15). But no games stand to be as potentially instructive as those against Oklahoma City and San Antonio. The Lakers have yet to play the Spurs and
got waxed by 15 in their one February meeting against the Thunder
. However, that was also before the playoff roster was constructed, so to some degree, that result can be dismissed to some degree.
Moving forward, only so much rationalizing can be offered in the face of losses. Conversely, wins could provide tangible optimism about the prospects moving forward. And either way, we'll have some clarification in regards to some specific questions. As for those Thursday against the Thunder:
-
How Sessions affects a game matched against
Russell Westbrook
, a player of equal speed and better, more proven talent. It's a larger issue than simply whether Sessions can check Westbrook. Obviously, Sessions' ability to stay in front of the former Bruin matters, and this represents a major test for a player not known for his defense. But Sessions can also play a role in alleviating turnovers that allow Westbrook -- not to
Kevin Durant
,
James Harden
, etc. -- to be deadly in transition. And in the meantime, with the ball in his hands, perhaps Sessions can turn those same tables on Westbrook, whose own defensive effectiveness can wane.
And if things go poorly, this game could also serve as a stark reminder Sessions, as well as he's played, is a career backup who's never been given this much responsibility on a team with such lofty goals.
April, 10, 2011
4/10/11
12:11
PM PT
I've long contended the phrase "must win" should only apply to games with elimination hanging in the balance. Elimination from the playoffs, or playoff contention. That's it. Everything else is a matter of degrees.
PODCAST
Royce Young, ESPN True Hoops Blogger and Daily Thunder writer comments on Kendrick Perkins arrival and what he has adds to the Thunder, Ron Artest's smothering defense on Kevin Durant, where the Thunder can compete with the Lakers and Nate Robinson's health and how he can help.

Podcast

Take, for example, today's game against the Oklahoma City Thunder, one of two teams -- the Dallas Mavericks being the other -- the Lakers could face in the Western Conference semifinals. Last season, the Lakers encountered no Western Conference opponent more difficult than the youngsters from the Midwest. The Thunder have only improved this season and what makes OKC a potentially tough out is hardly a mystery.
Their athleticism and speed is envied by most teams, much less the Lakers. Duos are rarely more dynamic than
Russell Westbrook
and (struggles against the Lakers acknowledged)
Kevin Durant
.
Thabo Sefolosha
is among the more skilled wings in the league at the art of making
Kobe Bryant
work. The fans are deafening. And while
Pau Gasol may not care that new Thunderian Kendrick Perkins thinks he's soft
, it doesn't change the fact Perk is plenty capable of giving him fits. Ditto
Andrew Bynum
, for that matter.
On the flip side, the Mavericks are playing inconsistently as the postseason approaches. They lack quality size to battle Bynum, Gasol or
Lamar Odom
over the course of a series and their wing stoppers for Kobe are either slowing down (
Shawn Marion
) or unproven in the playoffs (
Corey Brewer
). Beyond
Dirk Nowitzki
and
Jason Terry
, there's not much in the way of dependable scoring. Plus, fairly or not, the Mavs are perceived as a house of cards under pressure. They look like potential mince meat against a team with the Lakers' pedigree, and it'll take more than
a two-handed shove of Steve Blake
to change that consensus.
By this logic, Dallas is the preferable second-round opponent. The two-time defending champs would be favored against either squad, but all things being equal, let the Nuggets and the Spurs eliminate OKC. (Or tucker them out before the Western Conference Finals, whichever comes first.) A victorious afternoon goes a long way toward keeping OKC out of the Lakers' hair as long as possible. Come up short and Team Durant is breathing down their purple-and-gold necks.
Again, it's not "must win," but the stakes are certainly tangible.
To preview today's action, Brian and I spoke Saturday during
ESPNLA On Air
with
Royce Young
of the
Daily Thunder
blog. (It's also worth reading
Arash Markazi's fine article about the way Sam Presti built the Thunder
.) The entire conversation can be heard by clicking on the box to the right, but here are a few choice opinions:
On what Kendrick Perkins has brought to the Thunder since arriving at the trade deadline: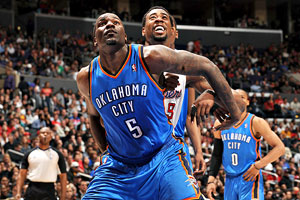 Noah Graham/NBAE/Getty Images
When it comes to the little things like boxing out, Kendrick Perkins holds his new teammates accountable.
"I'd say
attitude
, number one. That's what everybody in Oklahoma City immediately noticed when he stepped on the floor. ... He kind of provided an accountability measurement that the team didn't have before. ...
Scott Brooks
called it self-policing. Kendrick Perkins kind of makes sure everybody on the floor is handling their assignments. I remember his very first game that he played in against the Washington Wizards,
Serge Ibaka
gave up an easy layup and immediately, Perk got right in his face and let him know that he gave it up. And that's just not something that the Thunder had before he got there.
"Other than that, interior defense. The Thunder haven't had a guy that can play one-on-one post defense since the team moved to Oklahoma City. He's freed up Serge Ibaka to roam the lane and try to block everything that goes up towards the rim.
"Rebounding. Defense. Attitude. He's really just kind of changed the whole demeanor of the team, defensively."
April, 28, 2010
4/28/10
8:04
AM PT
It was a game the Lakers had to have after the Thunder buried the purple and gold Saturday night... and man alive, did they ever have it.
111-87
was the final in Tuesday's pivotal Game 5 at Staples,
and as we noted in last night's postgame wrap
, it was a positive experience on nearly every level. Start with
Kobe Bryant's
management of the offense to his work on
Russell Westbrook
. Then there was the hyperactivity of L.A.'s big men, a rebirth of
Ron Artest's
offensive production, great ball and player movement, and more.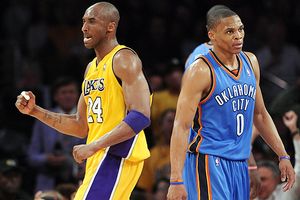 Mark J. Terrill/AP Photo
The facial expressions basically tell the story...
Plus, by going up 28 and holding OKC to only 60 points through three quarters, the Lakers put an early hammer lock on tacos for the devoted. What's not to like?
Well, their stomach acid-inducing inconsistency for one. Or maybe not.
ESPNLA's Dave McMenamin suggests fans embrace the roller coaster:
"...You never know what you're going to get with this team, so revel in the surprises. The Spurs have been a model of consistency revolving around Tim Duncan like a ball tethered to a pole for the last decade and a half, but have they ever provided the intrigue the Lakers do?... Neither Bryant nor Jackson would commit to reattaching the labels to their team they gave them last year after the game. But Bryant explained how the team deals with its sinusoidal personality. "It's adjustments," Bryant said. "It's playoff basketball, that's why you can't get too high or too low after a big win or a tough loss. You make your adjustments and move on." Lakers fans should adjust their expectations in conjunction. There'll be good days and bad days and great days and days that make you hate them, but there will be nary a dull moment."
Meanwhile, rumors of Bryant's decline
ring a little hollow to Kevin Durant, writes ESPNLA.com's Arash Markazi
:
"...After the game, Durant, looking as if he had just gotten out of class, wearing a backpack, flannel shirt, jeans and sneakers, was still shaking his head at the notion Bryant had somehow lost his step. After getting embarrassed by Bryant on an up-and-under move and seeing him hit a couple of shots over him, Durant was as convinced as ever Bryant was still able to do whatever he wanted on the court. "You all are killing me man, you all killing me with this," Durant said. "Kobe Bryant is the best player in the league; one of the best players in the world. You're talking to me like he played a phenomenal game which is something he normally doesn't do. He's Kobe Bryant, he's going to come out and lead his team. That's what he's been doing for 12 or 13 years. He's a guy who doesn't need to score on this team to win games now. Maybe a couple years he has to but now he can get everybody involved..."
Much, much more next-day reaction below the jump...
April, 26, 2010
4/26/10
2:39
PM PT
Let me be clear- I still think the Lakers are going to win this series. I'm not willing to bet the proverbial farm, but it's still my pick. It's a best-of-three, with two games at Staples. And while people are rightly concerned, if our poll data is any indication,
I'm impressed with the confidence and calm displayed by the faithful.
It's the playoffs, and the playoffs are supposed to be hard. "This,"
Kobe Bryant
said Monday at practice, "is how playoff basketball is supposed to be.
Good for ratings, bad for blood pressure.
I have, however, seen too many comparisons (from fans and media alike) between this first round tussle with the Thunder and last year's seven game series with the Rockets. Yes, there are some cosmetic similarities. Quick point guards to defend, frustrating periods of ineffectiveness for the Lakers, low post advantages seeming ripe for exploitation, and so on.
But this series is, in the immortal words of
Ted Striker
, an entirely different kind of flying. Altogether.
(Anyone sitting at his computer who just said, "It's an entirely different kind of flying," congratulations. You win a Land O'Lakers Gold Star.)
Five reasons why:
The Lakers' final seven regular season game weren't terribly pleasant for
Kobe Bryant.
Three forged
a combined 21-for-70 shooting clip
, and the other four were skipped in an effort to rest his finger, knee, ankle and whatever else aches. After several days off,
Kobe deemed himself recharged at Friday's practice
. Of course, that's his standard assessment, so who knows what Sunday's playoff kickoff against the Thunder -much less beyond- will bring?
Kobe's health is at the front of the Laker nation's collective mind
, the worry being
too little gas to fuel a repeat championship
. The validity of these concerns remains to be seen, but even optimistically, I imagine Bryant's legs, timing and touch won't resurface overnight, and maybe before a few games are settled. Fortunately, I don't think 24 leaning on his teammates during this series, perhaps more than any in his career, is necessarily problematic.
In particular, if Kobe agrees to lean on
Pau Gasol
to carry a significant load. Here are five reasons why, plus the added bonus: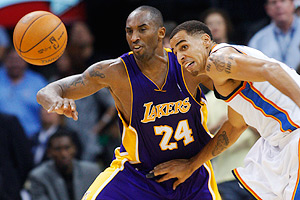 Sue Ogrocki/AP Photo
The average fan may not know who Thabo Sefalosha
is, but Kobe's well acquainted.
1) Kobe's matchup:
At full strength, much less below, this could be a difficult series for Kobe to dominate. He'll be checked throughout the game by
Thabo Sefolosha
, among the league's premier wing defenders with a string of recent success against Bryant. According to ESPN Stats and Information, while guarded by Switzerland's favorite son, Kobe's scoring efficiency dropped to 0.81 points per play (compared to his season average of 0.97), a turnover was committed about 15 percent of time and he shot under 25 percent on jump shots. These bad effects surfaced in pointed fashion during
the most recent showdown, where Kobe's turnovers (nine) nearly matched his points (11)
.
I'm not suggesting Thabo will hold Kobe below a dozen over a series. That would be ridiculous. But he's nonetheless capable of making Kobe work for long stretches, and should Bryant allow himself to become a volume shooter, he's doing the Thunder a solid. Better to be selective and pick your spots, which should still amount to plenty.
April, 1, 2010
4/01/10
10:00
AM PT
Despite the terrible road trip, for all practical purposes the Lakers have wrapped up the top seed in the Western Conference playoffs. (If they somehow lose it, what follows becomes a moot point and quite frankly I'll already have hunkered down in my secret underground bunker, waiting for the fallout to pass.) Behind them, the other seven teams on the postseason ladder are clustered together, stepping all over each other and fighting for space on the same rungs.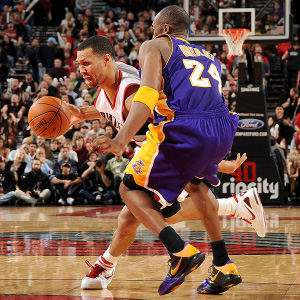 Andrew D. Bernstein/NBAE via Getty Images
So is Kobe vs. Brandon Roy a good thing or a bad thing for L.A.?
Through Wednesday, only 4.5 games separate seeds two through eight, and things are particularly tight near the bottom. Oklahoma City has 28 losses, Portland and San Antonio 29. While there's still a fair amount of basketball to be played, in all likelihood, the Lakers will see either Timmy D. and Co., the Blazers, or Thunder.
None are cakewalks.
Currently the Spurs occupy the eight spot, and while Monday's road loss to the Nets implies they're not interested in rising, don't be fooled. They destroyed the Rockets Wednesday, and are filled with cunning, guile, and championship savvy. Meanwhile, the Thunder are young, dynamic,
just beat the snot out of L.A. last week
and are fresh off a road win in Boston. Portland is finally healthy (as healthy as they'll get, at least) and have won 14 of their last 17.
Any of the three constitute a greater opening round challenge than the Nuggets two years ago, or last season's Jazz squad.
So which one constitutes the most favorable matchup for the purple and gold? Which is the least?
(Note: I'm aware the current answer seems to be "any NBA team with a pulse," but putting aside those concerns for a moment...)
We have our opinions... but at this point in the season, aren't you tired of hearing them? So we polled 15 members of the local and national media, from beat writers to bloggers, asking for their POV's (we'll chime in at the end, because we can't help ourselves).
The Respondents:
Elliott Teaford
(Los Angeles Daily News),
Kevin Ding
(Orange County Register),
Mark Medina
(Los Angeles Times),
Henry Abbott
(ESPN.com TrueHoop),
Kevin Arnovitz
(ESPN.com TrueHoop),
Ramona Shelburne
(ESPN Los Angeles.com), Dave Miller (former NBA assistant coach), Chris Palmer (ESPN The Magazine),
Kurt Helin
(ProBasketballTalk.com),
Eric Pincus
(Hoopsworld), Chris Clark and "Wondahbap" (
Silver Screen and Roll
), Darius Soriano (
Forum Blue and Gold
),
Arash Markazi
(ESPNLosAngeles.com).
Here's how it broke down: