November, 26, 2011
11/26/11
7:28
AM PT

By Brian Kamenetzky
ESPNLosAngeles.com
Archive
While everyone is
excited players and owners have reached a tentative deal to play ball again
, the reality is a season starting on December 25 doesn't leave
Jim Buss
and
Mitch Kupchak
much time to tweak a roster that, while not in need of a major overhaul, definitely needs some tweaking. A few after market upgrades to match a still-solid engine and transmission, so to speak.
No matter how the fine print of the CBA reads, the Lakers, well over the cap and into the luxury tax, will not only have a small window, but also won't have a ton of options available to make those changes. Meaning they'll need to shop quickly and wisely.
Below are five big areas of need,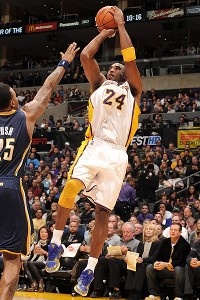 Evan Gole/NBAE/Getty Images
The Lakers need a knock down 3-point shooter to space the floor for Kobe Bryant and their bigs.

1. Outside Shooting:
If there was a single issue dogging the Lakers offensively last season, it was an inability to force opposing defenses to respect them from the perimeter.
Derek Fisher
, who took just under two 3's a game, was the only
Laker shooting 40 percent
(39.6, technically, but we'll round up) from downtown. From there,
Lamar Odom
and
Steve Blake
were around 38 percent,
Metta World Peace
was a tick over 35, and
Kobe Bryant
, who led the team with 4.3 triple attempts per game, hit only 32.3 percent of them. In the playoffs, things were even worse. 28.9 percent as a team, and only one guy (Fish) converted more than one of three.
Blake
had performed at a much higher level
in the seasons leading up to signing with the Lakers, and it's reasonable to expect he'll improve (I say this not only because I advocated so strongly for him last offseason, and would like to be proven correct). Unfortunately, Odom's mark was a career high, meaning regression wouldn't shock anyone, and Kobe has never been an efficient shooter from downtown.
Andrew Goudelock
arrives from the College of Charleston with the pedigree of a shooter, but even if he makes the team-- big if-- playing time will likely be scarce. Meaning if the Lakers want a pure 3-point specialist to stretch the floor, they'll have to do some shopping.
Lest you think the Lakers were lacking from 3, but gangbusters everywhere else, via Hoopdata.com,
the Lakers were 26th in the NBA from 16-23 feet.
Generally speaking long 2's are the worst shot in basketball, but they'll happen and it would be nice for the Lakers to convert at a higher rate.
As a team, the Lakers can absolutely abuse the opposition in the paint, whether with
Andrew Bynum
,
Pau Gasol
, and Odom doing what big guys do down on the block, or with Kobe operating in the high, mid, or low posts, making life miserable for defenses. Inside play will remain their calling card under Brown, but without the ability to knock down jumpers with consistency, as they did in last season's early run of dominance, the offense will never operate with the efficiency suggested by their talent.
2. Point Guard Productivity:
Ask
John Q. Lakers Fan
where the team most needs improvement and he'll likely say point guard. And with cause!
As laid out on Hoopsstats.com
, the Fisher/Blake tandem scored the fewest points per game with the fewest assists than any other group in the NBA. They had the lowest combined field goal percentage, and, had the lowest efficiency and efficiency differential.
All appropriate caveats (
Phil Jackson's
offense didn't feature the PG, Fish and Blake are low level offensive options for the Lakers, etc.) aside, that ain't good. Unfortunately, the prospects for improvement are limited. Particularly after a grueling offseason of marathon CBA negotiations, it's hard to picture a 37-year old Fisher elevating his numbers all that much. Blake has real potential for improvement in a more traditional system, but even then it's important to remember he'll then be playing like Steve Blake should. He won't suddenly morph into
Russell Westbrook
.
Unfortunately, whereas the Lakers have some flexibility in how they address the shooting issue -- new blood can come in the backcourt, on the wing, as a stretch four, and so on -- only a point guard can improve the depth at point guard. It's a serious reach expecting contributions from
Darius Morris
,
the free agency rolls at the position are extremely thin
, and given their dearth of appealing trade chips beyond team cornerstones Bynum and Odom, cobbling together a solid deal in a tiny preseason while everyone is still digesting the new CBA feels like a reach.
Is the point a weakness? Yep, but more likely than not, the Lakers will have to make do, and look to compensate by strengthening the team somewhere else.
3. Center Depth:
The roots of Gasol's postseason meltdown could very well be found in
Theo Ratliff's
bum knee.