Los Angeles Lakers:

Tiago Splitter
November, 13, 2012
11/13/12
10:58
AM PT
Well,
the Lakers have a new coach in place
, but the Bernie Bickerstaff era will not yet go quietly into the night. Happily for those (like me) who enjoy pressers with a hilariously grumpy coach who doesn't hide any disdain for the comical situation he's been put in, Bickerstaff will remain the interim coach for this contest. And while life under Bickerstaff has been fruitful, his double-digit wins have come against the Warriors and Kings, mediocre teams missing several notable names (Andrew Bogut, Brandon Rush, DeMarcus Cousins). The Spurs are far more talented and their roster is fully loaded, which poses a threat to Staples Center's sudden party atmosphere.
For more insight on the Spurs, I conducted an IM conversation with Andrew McNeill from the True Hoop network's
48 Minutes of Hell blog
. Below is the transcript.
Andy Kamenetzky:
So far, the Spurs have remained, like the Terminator and cockroaches, impossible to kill. How are they making it happen this time around?
Andrew McNeill:
A number of things. Good health (so far, fingers crossed). They've got a deep roster that has a number of players who can step up any night. Gary Neal had a career high in scoring against the Blazers on Saturday night, for example. Also, magic.
AK:
Just like Gob in "
Arrested Development
," which reminds me of
a brilliant Photoshop sight gag involving Tim Duncan
! Speaking of The Big Fundamental,
he's putting up some of his best numbers in recent years
, and without much of an uptick in minutes. Could this be shaping into a memorable season for Timmy?
AM:
It could. I believe pretty strongly his numbers are going to drop off soon, closer to those of last season, mainly because his minutes should drop. But his per-36 minute numbers never change because of Duncan's consistency (and the aforementioned magic). Some have suggested that instead of playing Duncan fewer minutes per game, Gregg Popovich should instead play Duncan heavier minutes and sit him out of more games completely. It's definitely more extreme, but the biggest problem against the Thunder last season was that Duncan couldn't play 40-plus minutes on defense. Once Duncan was out of the game, the Spurs lost their best interior defender.
AK:
How do you expect San Antonio's front line to deal with Pau Gasol and Dwight Howard?
AM:
There's no question the Spurs have had trouble with Andrew Bynum in the past, and now Howard. Amazingly, though, I think they're a little better equipped with Boris Diaw alongside Duncan. Matt Bonner and DeJuan Blair really struggle with bigger players, but Diaw uses his -- ahem --
frame
well. The more minutes Duncan, Diaw and Tiago Splitter occupy at the two big positions, the better the Spurs will be. Pop has played Duncan and Splitter together some in this early season, which isn't something he's done a lot of the past two seasons. He'll never admit it, but it could be with the idea of playing them together against bigger front lines like the Lakers.
So the Lakers now have Mike D'Antoni. Are they really equipped to be playing his style of ball, outside of Steve Nash?
August, 16, 2012
8/16/12
11:23
AM PT
For the past several seasons, the San Antonio Spurs have served as basketball's version of
Jason Voorhees
: They cannot be killed. Since about 2008, fans and media (I've been as guilty as anybody) have cited their long teeth, declining athleticism and rising competition as reasons to declare the end of an era. But the Spurs refused to fade into the sunset, having finished consecutive regular seasons with the West's best record. Yes, the ensuing postseasons were anti-climactic, but either way, the message was made clear: The Spurs are still formidable. The Lakers learned that lesson as well as any team last season, losing twice to San Antonio -- home and away, with and without
Kobe Bryant
-- by 20+ points.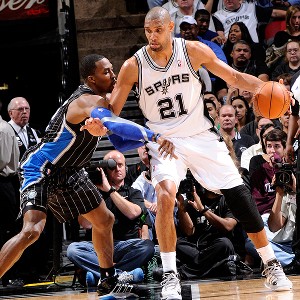 D. Clarke Evans/NBAE/Getty Images
With Howard in L.A., the game just changed between the Lakers and Spurs.

But this off-season it appears the scales have been tilted towards Los Angeles. For some perspective on how the new-look Lakers appear from San Antonio, we talked via email with
Tim Varner
from the True Hoop network's
48 Minutes of Hell
blog.
Land O' Lakers:
What was the general reaction in the 48 Minutes of Hell-osphere when word broke that Howard was heading to the Lakers?
Timothy Varner:
In general, we recognize that it puts the Spurs behind the Thunder and the Lakers in the West. Even worse, the Nuggets improved themselves as well. The Spurs could be fourth in the West.
LOL:
But aside from that, Mrs. Lincoln . . .
TV:
The worst part about the Howard trade is the Spurs' weaknesses along the front line. The Lakers not only improved themselves, they did so in a way that exploits one of San Antonio's roster deficiencies.
LOL:
How much can someone like a (theoretically) improved
Tiago Splitter
help? And I guess this might actually keep
DeJuan Blair
in town.
TV:
I don't think either player helps, unfortunately. Splitter does not do well against Howard, and Blair will be traded as soon as the Spurs find a good partner. He's an especially awful matchup against Howard and Gasol. Splitter, I should also note, is an expiring contract with good value whom San Antonio may not be able to afford next season. So, somewhat counter-intuitively, Howard could force the Spurs to move Splitter for a roster upgrade at another position.
LOL:
On the plus side, nobody will mind if
Boris Diaw
packs those pounds back on. It might be necessary.
TV:
True, but within the Spurs' offense, Diaw is more of a passer for the p-and-r than a post player. So even his re-signing tilts away from bolstering the frontcourt in the sense of matching bodies with bodies.
LOL:
That's too bad, because there's always a 50/50 chance Diaw will be
wearing a "bro" to begin the season
. The weight might as well provide some utility.
TV:
I suspect the Spurs understand they can't match Howard and Gasol, so they will look to beat the Lakers in other ways.
LOL:
Run them off the court, I assume? Or pick-and-roll them to death? Last season,
Manu Ginobli
and especially
Tony Parker
dizzied the Lakers with multiple pick-and-roll sets, often within the same possession.
TV:
That's right. Pace and p-and-r are better options for San Antonio than adding more (seemingly useless) bodies to the front court. Look at what the Spurs have done this off-season. They added
Nado De Colo
, re-signed
Patty Mills
(high pace point with range) re-signed
Danny Green,
and concentrated on the development of
Kawhi Leonard
and
Cory Joseph
. Those are all moves with San Antonio's offensive attack in mind, especially as it originates from the back court.
April, 17, 2012
4/17/12
7:34
AM PT


It's been nearly a week since
the Lakers put a very unexpected beatdown on the San Antonio Spurs
at the AT&T Center without
Kobe Bryant
. Since then, the Lakers have ripped Mamba-free wins against Denver and Dallas, and are steadily jelling as a well-rounded team in ways not witnessed all season. Of course, this was also a game in which
Andrew Bynum
grabbed 30 rebounds and the Spurs' Big Three (
Tim Duncan
,
Manu Ginobili
,
Tony Parker
) combined for 27 points. In other words, more extreme circumstances than reliable outliers in terms of gauging how these teams match up in a series. The Spurs haven't been one of the NBA's best all season by accident. Assuming they play at full strength (always a question mark with Gregg Popovich), I expect a tighter sequel.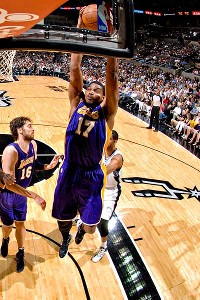 D. Clarke Evans/Getty Images
Gobble them boards, Drew!
For some thoughts on Lakers-Spurs Part Deux, I had an IM conversation with
Timothy Varner
from the True Hoop network's
48 Minutes of Hell
blog. Below is the transcript.
Andy Kamenetzky:
What was the cause of the Spurs' collapse in the first meeting? From start to finish, they just laid an egg.
Timothy Varner
: Those who think the Spurs are legitimate contenders always qualify their confidence by saying, "But they're not great against size." For the most part, I agree, although the Spurs did sweep Memphis this season. I suspect the first game was something of a tempest in a teapot. The Spurs should play better against the Lakers in the postseason. However, I will say this.
DeJuan Blair
is a major defensive liability. He might assume the unusual distinction of starting the majority of games this season, then find himself outside of the playoff rotation. The Spurs' best big-man rotations feature one of
Tim Duncan
,
Tiago Splitter
, or
Boris Diaw
with
... Matt Bonner
. Odd, huh?
So is Bynum capable of playing that way for an entire series?
AK:
"Thirty rebounds a night" capable? No. The kid's talented, but a joke's a joke. But dominating a series is absolutely realistic. And it's important Drew makes domination a goal. More than any player on the Lakers, Bynum dictates wins or losses. There was a three- to four-week stretch after the All-Star break when his effort and intensity fluctuated, particularly on defense, and the team suffered. Over the past few games, he's been focused, and the difference is as massive as his frame. Bynum's presence on the boards and in the lane makes or breaks the Lakers.
You mentioned Blair's defensive issues. On the season, the D has been merely acceptable for San Antonio. Given how the Lakers have evolved into a team with an increasingly prolific and varied scoring attack, do you picture S.A. able to slow them?
April, 11, 2012
4/11/12
12:15
PM PT
April, 12, 2011
4/12/11
12:21
PM PT
Two weeks ago, this appeared like a collision course for all the marbles. Upon winning 17 of 18 after the All-Star break, the Lakers were poised to snatch the Western Conference's #1 seed away from the Spurs, who'd entered a mini-free fall.
But the times, as Bob Dylan famously noted, have a tendency to change
. Since then...
- The Spurs got their act together and clinched the top seed on April 6.
- The Lakers dropped five straight, two of those games inexplicably (or predictably, depending on your cynicism) against non-playoff teams. As a result,
the Lakers are now battling Dallas and Oklahoma City for the second seed
, and a tumble to the fourth spot remains a possibility.
- I've been left to wonder if the Lakers' problems are somehow related to my daughter, whose birth coincided with the five game skid. Brian continually frames the issue as me not being in attendance for the games, and while it's common knowledge
Kobe Bryant
draws most of his confidence from my presence, I've been wondering if the issue is more sinister. Perhaps my child was put on this Earth to derail the Lakers. It's like
Rosemary's Baby
, but instead of the devil being the child's real father, she was somehow the spawn of
Red Auberbach
. (These are the thoughts running through your head when your Laker universe suddenly turns "up is down/black is white" and you're operating on 4-6 hours of continuously interrupted sleep.)
In any event, the game isn't quite the anticipated showdown, but with both teams battling for as much home court as possible, stakes still exist. Plus, it's a potential playoff preview.
Plus
, it's Lakers-Spurs, and the NBA by-laws explicitly state these teams squaring off will
always
matter on some level.
For more Spurs insight, we turn as always to
Tim Varner
of
48 Minutes of Hell
(True Hoop network). Check out his thoughts, plus mine regarding his question of
whether the Spurs would be better off losing this game to put off a potential meeting with the Lakers for as long as possible.
"Tanking," as the kids day.
K Bros:
The Spurs have the conference all sewn up and Pop has been known for resting his vets. On the flip side, They're still fending off Chicago for best overall record and home court throughout. How "pedal to the metal" do you expect the Spurs to be in this game?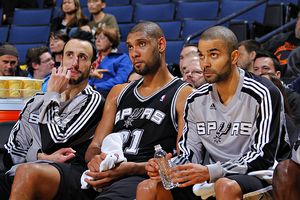 Rocky Widner/Getty Images
How often will the Big Three take in the action from this vantage point?
TV:
Imagine a fast car speeding through the passing lane. Now imagine that car passing the Spurs' team bus.
Gregg Popovich
is not going to overextend his veterans. The veterans will play -- I'd guess 25 minutes or so -- and the young guys are going to play. At some point in the 4th quarter those young players will look tired. And that tired look will only scream the obvious: "Coach, get us a timeout. We're not used to playing these minutes."


Having said that, the concern of finishing ahead of Chicago is a legitimate one. The players don't want to finish second. The Bulls, after all, play defense like the Spurs wish they could. I'm sure the Spurs would rather play the field in the Finals, if they make it that far. The real intrigue of this game is whether the competitive spirits of Manu Ginobili and Tony Parker can dupe Popovich into letting them run around the court for 35 minutes, as if this were a game that mattered.