Los Angeles Lakers:

Tiger Woods
March, 4, 2011
3/04/11
9:49
AM PT

By Andy Kamenetzky
ESPNLosAngeles.com
Archive
Are five consecutive wins coming out of the All-Star break enough to ease the minds of Lakers fans with the dreaded Bobcats on the docket? No. Okay, what about the recent trade jettisoning
Gerald Wallace
(unquestionably the best player in franchise history) to the Blazers? Not there yet. Well, surely a two-game losing streak -- the most recent a 40 point thumping at the hands of Denver -- and the 10-20 road record will push things over the top.
Not so much. The willies are still there.
It's undeniably inexplicable that competition against a franchise with one playoff appearance in its admittedly young history would spark such uneasiness. Then again, eight losses in the last 10 games against Charlotte is pretty darn loopy, too. Ridiculous as it may sound, a few wins will likely be required before nerves are entirely settled. That first step (hopefully) begins today.
For a better perspective on this pesky foe, we called upon
Brett Hainline
from
Queen City Hoop
s. Here are a few points to consider before the ball is jumped.
Q:
With Wallace now in Portland, how different are the Cats? What changes have you noticed in the way they play, or even body language? Also, how much does
Nazr Mohammed's
absence matter?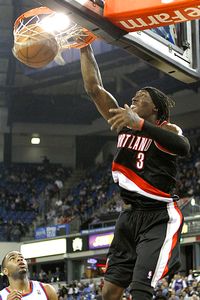 AP Photo/Rich Pedroncelli
Crash looks weird in a Blazer uni.
Brett Hainline
: Without Gerald Wallace, the Bobcats are smaller and play smaller. Gerald provided strong rebounding from the 3 spot and with
Stephen Jackson
sliding over and
Gerald Henderson
taking over as the starting 2, the Bobcats aren't as strong on the glass as they were. With Gerald, Charlotte got away with starting
Boris Diaw
at the 4 and letting him ignore rebounding for the most part - they aren't able to ignore that anymore. Gerald Henderson (G2 for the duration) rebounds pretty well for the 2 spot but with a team that struggles to score like the Cats do, anything extra they give up at the other end is just more points they struggle to score.
That "Crash" was also the Bobcats most efficient scorer (among the primary options) only further compounds their shortcomings.
As for Nazr - the fan outcry over Charlotte trading Gerald so overshadowed Nazr's departure that is hard to remember he is gone. As hard as he worked and as professionally as he carried himself, the move made sense for Charlotte to take a look at a younger player in
D.J. White
rather than continue to trot Nazr out there for the backup minutes in the middle. Nazr is a solid post scorer, for an undersized center. But on a team that's best trait is its defense (as the Cats' still is, despite the drop off from last year), Nazr wasn't a good match, as he was just a bit too slow and too short to rotate and challenge shots from the weak side.
July, 21, 2010
7/21/10
5:00
AM PT

By Brian Kamenetzky
ESPNLosAngeles.com
Archive
By one measure at least, he's the country's most popular.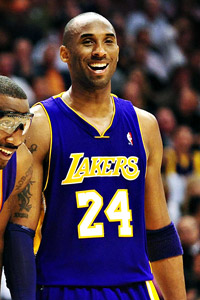 Mark J. Rebilas/US Presswire
Why is this man smiling? Because he's popular, that's why.
A new Harris Interactive shows
Kobe Bryant has caught Tiger Woods as America's most popular athlete.
Granted, Woods' recent history brought him back to the field in a big way, but it doesn't change the basic reality: The
"love me or hate me"
thing with Bryant is dead, and has been for a while now.
Love won.
Not to say some basketball fans still don't like him or certain writers don't pick on him. But generally, 24 die-hards are left to complain Bryant doesn't get a lofty enough placement in the G.O.A.T. conversations, or to protest when he's called the league's second best player. Neither constitutes fodder for first ballot induction into the Haterade Hall of Fame. Kobe rarely endures the sort of criticism he more regularly faced a few years back while at the center of controversy in Colorado, during the breakup of the Threepeat squad, or even as recently as the Radio Tour of '07.
Instead, Kobe's jersey has been
the league's top seller for two seasons
, as it was in 2007. His threads have
dominated Europe
and China as well. The
Lakers play only for sold-out crowds
, and it's not because of
Sasha Vujacic
. Even if some still haven't come around on Kobe the person, they have on the player. More respect, more enthusiasm, and connection to a guy owning consecutive Finals MVP awards, and a regular season version as well. Winning helps a great deal, as has time.
Bryant used to dare people to hate him.
Now he just rides a horse
, because there aren't enough people carrying the torch for the old narrative declaring Kobe the most polarizing player in the league. He's not. He's the most popular, apparently not just in the NBA but perhaps in all of American sports as well.
Hopefully the tired storyline can be put to bed for good in light of today's news. I doubt it will. People still call the Lakers a soft, finesse, offense-oriented team despite all evidence to the contrary. Convenience is a powerful lure. Just rest comfortably knowing the next time you hear Kobe depicted as a wildly controversial figure, it's really not true.