Los Angeles Lakers:

Timofey Mozgov
May, 4, 2012
5/04/12
6:37
AM PT

By Andy Kamenetzky
ESPNLosAngeles.com
Archive
With a 2-0 series lead, the Lakers couldn't ask for a better position as their opening round moves to Denver. On the other hand, while the Nuggets never controlled Game 2, they were able to make it far more competitive, and more importantly, they often dictated the style of basketball played. Can this development, along with a home crowd's energy, be converted into the first win of the series, or are the Nuggets simply overmatched against the Lakers' size and a certain 2-guard?
To preview what Game 3 may have in store, I had an IM exchange with
Jeremy Wagner
of the True Hoop Network's
Roundball Mining Company
. Below is the transcript.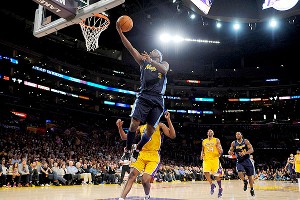 Noah Graham/Getty Images
The Nuggets got to the rim in Game 2, but their outside shooting was ice cold.
Andy Kamenetzky:
Denver lost Game 2, but how much encouragement did you take from the way the Nuggets managed to push pace, attack the paint and generally play their game?
Jeremy Wagner:
The Nuggets can bring some confidence into Game 3. They always knew they could run on the Lakers, but running alone does not equal winning. It just means they have a chance to keep the game close in the final few minutes. Their ability to continually fight back and control certain portions of the game is encouraging, but that feeling only goes so far.
But I do think Game 3 will be very competitive. Denver knows a loss will be the final nail in the coffin. If Denver wins Game 3, Game 4 should be a fantastic battle. If they lose, Game 4 might be much like Game 6 in 2009.
AK:
Beyond continuing to run the break, what can Denver realistically do to finish Friday at 2-1?
JW:
Denver must hit some 3s. The Nuggets are a very poor 3-point shooting team, but they do have capable 3-point shooters. If they had made a couple more in Game 2, things would have been interesting. The Nuggets are doing a great job on the offensive boards and running. If they can add one other positive characteristic, they will be in good shape.
The big discussion among Nuggets fans is whether to go with bigger lineups to try to beat L.A. at their own game, or go even smaller and risk completely sacrificing the paint? From a Lakers perspective, what lineup would be more concerning?
Ty Lawson
,
Arron Afflalo
,
Corey Brewer
,
Danilo Gallinari
and
Al Harrington
(small and fast), or Lawson, Gallo,
Kenneth Faried
,
JaVale McGee
and
Timofey Mozgov
(big and still fast)?
AK:
It depends on how successfully the Nuggets pushed tempo, whether by getting the Lakers to take the bait or just fall apart defending in transition. Were that the case, I'd probably use the smaller lineup, since that feels like the group best at forcing the issue. But if the Lakers stay disciplined, you might need to hedge your bets with the bigger group to avoid being comically overwhelmed. However, I'd be concerned about how little McGee (lobs aside) and Moz would force the Lakers' bigs to defend. That's not exactly a frontcourt you run an offense through.
April, 6, 2012
4/06/12
2:21
PM PT

By Dave McMenamin
ESPNLosAngeles.com
Archive
Lakers coach
Mike Brown
doesn't have a DeLorean to take him back to Wednesday evening so he can save
Pau Gasol
from joining
Timofey Mozgov
and
Kendrick Perkins
as
Blake Griffin's
most battered dunk victims, but that doesn't mean he can't try to add a postscript to the plays by getting the league to admit
the dunks
should have been disallowed.
Brown told reporters at shootaround Friday in preparation for L.A.'s game against the Houston Rockets that the Lakers have reached out to the league seeking clarification as to why both of Griffin's dunks on Gasol -- a putback in the first quarter and the poster-worthy jam in the third -- weren't called as fouls against Griffin.
"I'm waiting to see an interpretation on the call because it's a heck of a play [but] I thought if you led with your forearm, I thought that's an offensive foul," Brown said. "But maybe I don't know the rules that well. It will be interesting to make sure that I have an explanation or understanding of what the rules are."
Brown said Lakers general manager
Mitch Kupchak
has reached out to the league office on behalf of the team, searching for answers.
Gasol took umbrage with Griffin's Mozgov-like dunk after the game Wednesday.
"You don't really see what happened," Gasol said. "It was quick, a hit-and-run kind of thing, right? The ball went in, I was on my ass, I woke up, I stood up and told the referee I had a f---ing forearm on my face, on my throat, and that's something that needs to be looked at."
Brown said Griffin's first-quarter dunk on Gasol also should have been an infraction.