Los Angeles Lakers:

Tom Thibodeau
June, 12, 2014
Jun 12
6:09
PM PT
Chicago Bulls
coach Tom Thibodeau was one of the first names to trickle out as a potential candidate for the
Los Angeles Lakers
to hire when Mike D'Antoni resigned almost six weeks ago.
ESPNLosAngeles.com had reported the Lakers planned to reach out to the Bulls for permission to interview the 2010-11 coach of the year.
Now, the Lakers have cooled on the idea of trying to get Thibodeau. And that request to the Bulls never happened.
[+] Enlarge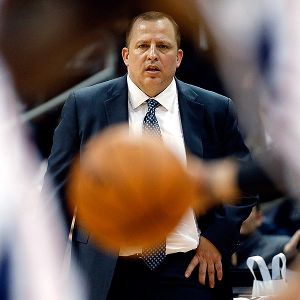 AP Photo/John BazemoreThe Lakers originally were high on pursuing Chicago Bulls coach Tom Thibodeau, but their interest has since waned.
What gives?
Well, for starters, the Lakers are all but sure that Chicago will require that L.A. trades its No. 7 pick in the first round, if not more assets, to allow Thibodeau out of his contract that runs through the 2016-17 season.
With only three players under contract for next season and the draft considered to be loaded, the Lakers deem that too steep a price to pay.
Getting a good, young player on a relatively affordable rookie deal could end up doing wonders to fielding a competitive team, while maintaining the bulk of the Lakers' cap space to pursue a veteran or two on the free-agent market in the coming summers.
Beyond that, even if the Lakers were willing to go down that road and part with a pick for Thibodeau, the only way they could get Thibodeau to bite at the idea of abandoning a team that has the reigning defensive player of the year in
Joakim Noah
and a bright young star, albeit an injury-prone one, in
Derrick Rose
, for an uncertain situation in L.A. would be to hand him a lavish contract.
And why would the Lakers want to be paying their coach $8 million to $10 million a year when privately they know they might not be a playoff team, let alone a championship contender next season?
The Lakers may already have done their homework and realized that if even if it has been well documented that Thibodeau and the Bulls' brass don't always see eye to eye, he isn't necessarily looking to leave Chicago. The last thing the Lakers' front office would want to do, considering how unpopular they are with the fan base in L.A. these days, would be to formally go after Thibodeau only to have their interest be rebuffed.
The Lakers aren't the only team to be linked to Thibodeau this offseason, either. Grantland's Bill Simmons reported the
Memphis Grizzlies
had visions of trading for Thibodeau, hoping to lure the coach with a .657 winning percentage in his four seasons on the Bulls' sidelines to the Memphis gig by offering him additional power as team president.
Memphis ended up going in a different direction, of course, extending coach Dave Joerger's contract after he went 50-32 in his first season with the team.
The Lakers, though, are still on the hunt to settle their coaching situation.
May, 11, 2014
May 11
12:30
PM PT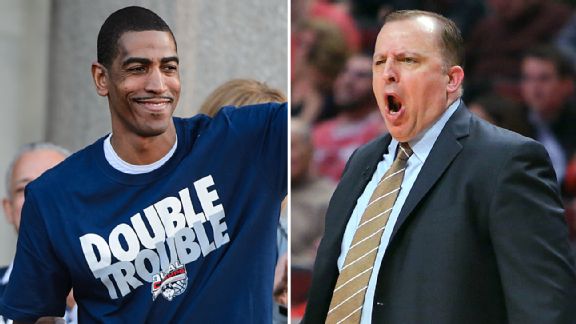 AP ImagesKevin Ollie might fit a rebuilding Lakers squad; a reloaded team needs a Tom Thibodeau.
The
Los Angeles Lakers
are in the market to hire the 25th head coach in franchise history, and now, several weeks after the job became available, it seems as if there are 25 candidates to fill the position.
The Lakers have still not reached out to any of the names they are considering, according to a team source familiar with the coaching search. They are expected to commence a preliminary round of phone interviews soon, but will not schedule any sit-down sessions until later in the month.
As the clock keeps ticking since Mike D'Antoni resigned April 30, three pertinent questions spring to mind:
1. What should the Lakers be looking for in their next coach?
2. Who are the Lakers considering?
3. What is taking so long?
We'll start in reverse order.
While it's natural to assume the Lakers should have a sense of urgency about finding their coach -- particularly as other jobs open up around the league (Golden State, New York, Utah, Minnesota and, presumably, Detroit) -- the Lakers are in something resembling a high-stakes game of Texas hold 'em.
They know what cards they're holding: two aging future Hall of Famers in
Kobe Bryant
and
Steve Nash
under contract for close to $34 million for next season; a significant chunk of cap space beyond that; and, of course, the intangible asset of calling Southern California home -- plus a prestigious résumé as one of the most storied franchises in the league.
The draft lottery

What they're waiting for is the flop. In this case, the information that will determine how they play their hand will come May 20, when the NBA conducts the draft lottery in Times Square.

The Lakers' 27-55 record was sixth worst in the league this season, thus giving them a 43.9 percent chance of ending up with the No. 6 pick. But in the lottery system, it's a crapshoot. The Lakers have a 6.3 percent chance of ending up with the No. 1 pick and a 21.5 percent chance of ending up in the top three. Then again, they have a 34.6 percent chance of picking somewhere in the Nos. 7-9 range, worse than their finishing slot.

In a New York minute, everything can change, as they say. The Lakers are hoping for a little luck on their side when they send the last No. 1 overall pick in team history, James Worthy, to New York to represent them for the night.

Whichever draft tier they ultimately find themselves in -- picks Nos. 1-3, standing pat at No. 6 (they are ineligible to move up to 4-5 in the current system) or falling to 7-9 -- could lead the franchise in drastically different directions on its coaching quest.

Let's say they luck out and catapult into the top three. The Lakers will find themselves in a win-win situation. On one side of this coin, they believe that one of the top prospects -- Joel Embiid, Andrew Wiggins, Jabari Parker, etc. -- will be an immediate franchise-changer, a player they can bring into the program to learn from Bryant for a couple of seasons before he takes the reins alongside whichever max-level free agent they bring in over the next two summers. On the other, they find another team that believes there is transformative talent available at the top of this draft and trade the pick.

Both are enviable positions for the Lakers to find themselves in, but they are the starting points for vastly divergent paths. If they use their top pick on a player they think can lead the team for years, then the coaching hire will surely be expected to cater to that prospect's strengths as his top priority. While the sun and moon in the Lakers' universe have revolved around Bryant for nearly the past two decades, developing that young player would suddenly become an even more important task for the franchise than protecting Bryant's legacy as he plays out the final two years of his contract for $48.5 million.

If the Lakers trade the pick for an established veteran such as Minnesota's Kevin Love, for instance, it puts the franchise on a totally different trajectory. Suddenly, by pairing Bryant with another star in his prime, the Lakers are theoretically back to being a factor right away, even in the stacked Western Conference.

Let's say the pick ends up being worse than they were hoping for, in the Nos. 7-9 range. Maybe they fall in love with a prospect and take him at that spot, but maybe the pick is expendable. And while a selection that late in the draft surely wouldn't be enough to land a vet like Love, it might be enough to convince the Chicago Bulls to let Tom Thibodeau out of his contract to coach the Lakers.


The opt-out options

If the draft lotto is the flop, then seeing which players choose to opt out of their current contracts and test free agency come July 1 represents the turn in this big poker game.

Why hire a coach in June if it develops come July that LeBron James is looking to leave Miami? Why commit prematurely to a coach -- and, subsequently, a certain style of play -- and potentially shut yourself out from consideration by James, Carmelo Anthony, Chris Bosh and others when it comes time to decide on their futures?

That's another major variable the Lakers are weighing. When it comes to landing a marquee free agent, you want any edge you can garner over the other teams competing for his services. The Lakers could be in a position where they can tell James or whomever else they target, "Not only do we want you, but we want you so much we'll let you help pick who is going to be your coach." For some players, that could be a major incentive.

With all that in mind, it should offer some clarity as to why the Lakers' candidate pool is so deep at this point.

They have different coaches in mind who would be specific fits for every different direction they could end up heading in.

If they are going to be a rebuilding team, why not take a chance on a younger coach who can grow with those young players? It worked in Phoenix this season with first-time head coach Jeff Hornacek. Why not hire Kevin Ollie, fresh off taking Connecticut to a surprise NCAA title, to lead that transition and cut his teeth in the league without the pressure to win every night? Or maybe Atlanta Hawks assistant coach Quin Snyder becomes that guy. Or Derek Fisher should he retire from playing after the Oklahoma City Thunder finish their current playoff run.


[+] Enlarge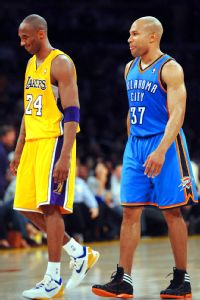 Kamin-Oncea/USA TODAY Sports Kobe Bryant and Derek Fisher came into the league together with the Lakers -- and that kind of relationship is not inconsequential.
If the Lakers are going to get a couple of big names this summer and find themselves back in win-now mode, the candidates they'll consider -- as well as the candidates who will consider them -- will shift.
Veteran coaches who are looking for work, like Lionel Hollins, George Karl and Mike Dunleavy, have all expressed interest, but they are at points where they have little leverage. They would take the Lakers job whether they end up with the No. 1 pick or the No. 9 pick; whether Los Angeles signed a big-name free agent or held onto its cap space for the summer of 2015; whether Nash and Bryant were healthy or they were going to continue to struggle with injuries.
But making moves to become a more veteran-laden squad could coax Jeff Van Gundy or Stan Van Gundy to leave their broadcast jobs. Equipping their team to be competitive right away next season could get Thibodeau to tell Chicago to listen to the Lakers' pitch. Bringing in guys who already know how to win could convince Mark Jackson to come on board. Going that route could get John Calipari to consider leaving his ready-made gig at Kentucky. It might even get Steve Kerr, who seems to have his pick between the Knicks and the Warriors at the moment, to want to don the purple and gold.
All of the names mentioned above have surely already been bandied about by the Lakers' front office. Throw in Byron Scott, Kurt Rambis, Ettore Messina, Roy Williams and Larry Brown. There are others, undoubtedly.
The Lakers just don't have enough information at this point to start eliminating any, nor do they really have enough to rank names properly, either.
Which brings us back to the first question: What should the Lakers be looking for in their next head coach?
There are three job requirements that he must be able to handle, no matter what happens in the lottery or in free agency. First and foremost, he must have a clear vision defensively. Seeing the video-game-like numbers opponents put up against the Lakers this season -- including that terrible stretch when they gave up an unthinkable 408 points over three non-overtime games -- convinced Lakers execs they have to go back to a coach who will make it a priority.
The Kobe factor

Second, the coach must be able to coexist with Bryant. The Bryant-D'Antoni relationship deteriorated to the point where the pair barely spoke by the end of their tenure together. Even in D'Antoni's first season in L.A., when the Lakers still managed to win 28 of their final 40 games to make the playoffs, there was conflict.

Bryant would often use the Lakers' shootaround time to receive treatment in the training room. When D'Antoni thought this was causing a disconnect between Bryant and his teammates, the coach asked the star guard to change his routine, according to a league source. As a compromise, Bryant still often used shootaround for treatment, only he had the training table brought out next to the practice court so he was physically present, technically, during the sessions. After playing such a long time at an elite level, it was understandable for Bryant to need extra time to get his body ready, but it led to occasions on the court where the team would be executing one way based on adjustments made during shootaround that morning -- and Bryant would be executing another.

With the financial commitment the Lakers have made to Bryant and the clout he has in both the locker room -- several of Bryant's younger teammates grew up idolizing him the way that he grew up idolizing Michael Jordan -- and with the fans in Los Angeles, to whom he has helped deliver five championships, the coach must have a rapport with Bryant if the team is going to have any chance at real success.

Bryant won't necessarily be best friends with whomever gets put on the sidelines next to him -- he even famously clashed with Phil Jackson at times -- but will buy in if he is convinced the coach is capable.


[+] Enlarge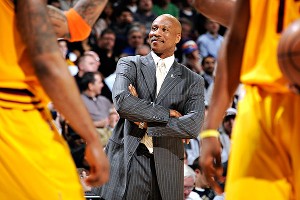 David Liam Kyle/Getty ImagesMight Byron Scott be able to convince a big-name star -- Kyrie Irving? -- to follow him to L.A.?
"Honestly, it's not really about whether the players like the coach or not," Bryant said as a guest on "Jimmy Kimmel Live" last week. "It's really about getting results. Liking somebody and those results don't necessarily go hand in hand."
So the fact that Bryant, as a rookie, was teammates with Scott and has been in contact with him in recent weeks, according to Chris Broussard of ESPN the Magazine, cannot be understated. Then again, he has relationships with many of the other coaches mentioned above, from Thibodeau (who was an assistant with Philadelphia when a high school-aged Bryant used to practice with the 76ers) to Rambis, Snyder and Messina (who all have coached him in L.A.) to Fisher, of course, a fellow rookie on that 1996 Lakers squad.
Third, the coach had better be just as astute at recruiting as he is with X's and O's. With the restrictive nature of the NBA's collective bargaining agreement preventing the Lakers from going over the luxury tax as willingly as they did in the past, having a coach who attracts top talent can be a workaround. The best players in basketball generally go on to win championships. Teams like the 2010-11
Dallas Mavericks
or 2003-04
Detroit Pistons
that win as a collective are much more rare than James and the Heat, or Bryant and the Lakers, or
Tim Duncan
and the
San Antonio Spurs
stacking titles because they have the best individual talent on the court.
With that said, if whomever the Lakers choose arrives with the promise of getting one of those top-tier players to join him in L.A. down the line, it makes that candidate all the more attractive. Scott is a nice coach and all, but Scott plus
Kyrie Irving
is a pretty package. Same goes for Calipari if he can leverage his relationship with James, or Ollie or Fisher if they can sway
Kevin Durant
to head West.
The chips are down in the Lakers' coaching search. The stakes are high. But don't expect to spot any tell signs until the draft lottery May 20. And even at that point, there could still be a lot more poker to play before the hand is decided.
April, 30, 2012
4/30/12
5:09
PM PT


The opening weekend of the 2012 NBA playoffs featured two games with dramatic fourth quarter results that got the rest of league's attention.

On Saturday, Chicago Bulls guard Derrick Rose tore the ACL in his left knee when he was still on the court in the fourth quarter even though the Bulls led the Philadelphia 76ers by 12 with just 1:22 remaining.

On Sunday, the Los Angeles Clippers trailed by as many as 27 points in the second half and came back to beat the Memphis Grizzlies with a furious rally in the fourth quarter.

Chicago coach Tom Thibodeau, the NBA's reigning Coach of the Year, was left to defend his decision to keep Rose and the rest of his starters in the game. Just a day later, Clippers coach Vinny Del Negro continued to play his best players late in the game even though his team entered the fourth quarter down by 21 points.


November, 28, 2010
11/28/10
8:00
AM PT

By Brian Kamenetzky
ESPNLosAngeles.com
Archive
The Lakers were a lot of things last season: Strong-willed, strong defensively, championship caliber, just to name a few. They weren't, however, unusually elegant offensively. Scoring was often a struggle, and too often they were left dependent on
Kobe Bryant
to throw on his cape and play superhero. They improved some down the stretch and into the playoffs as players grew a little healthier and obviously won again in the end, but did it with an offense ranked 11th in efficiency (points per 100 trips) and 17th in effective field goal percentage (FG% adjusted for 3-pointers).
Both figures were very low relative to past champions
.
[+] Enlarge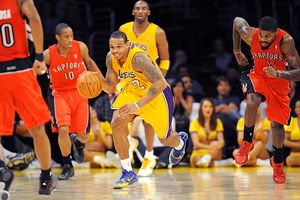 Kelvin Kuo/US PresswireShannon Brown has always been fast, but his work this summer paid off in the form of quickness.
Through 16 games this season, fair to say they've solved that problem.
The Lakers are, by leaps and bounds, the most dominant offensive team in the NBA,
averaging 112.6 points per 100 possessions through Friday's games
, nearly five points more than San Antonio (numbers via Basketball-Reference.com). To put it in perspective, the gap between the Lakers and Spurs is bigger than the one between the Spurs and Toronto, currently ranked 16th. For the gaudiness of their efficiency figure, the Lakers can in part thank a relatively easy schedule, though only once -- in the super sloppy home win over Minnesota -- have they not outpaced their opposition's season standard for points against per trip.
The most obvious reason is 3-point shooting. Even after Friday's 4-for-15 showing against Utah, the Lakers still enter Sunday's game against the Pacers
hitting 42.4 percent from downtown
, good for second in the league, on 20.9 attempts per game. Last season, on 19 long-distance hoists a night the Lakers hit only 34.1 percent of the time. Moreover, the triples this season have been well distributed.
Matt Barnes
,
Lamar Odom
,
Shannon Brown
,
Steve Blake
, and
Derek Fisher
are all over, in some cases well over, 45 percent from downtown.
Understanding how this gooses an offense isn't exactly rocket science.
A second factor is also helping fuel the offensive explosion: pace. At 90 possessions,
Friday's game was the slowest the Lakers have played all season
, but they still average 94.9 a game, good for sixth in the league and about two more than last season's figure. It's also more in line with L.A.'s speed during the '08-'09 (94.3) and '07-'08 (95.6) seasons, in each of which the Lakers finished third in offensive efficiency and were generally seen as so good on that end of the floor A) their defensive prowess was totally undersold and B) many still assumed they were points-generating monsters last year, too.
November, 22, 2010
11/22/10
3:06
PM PT

By Brian Kamenetzky
ESPNLosAngeles.com
Archive
As a high schooler in Philadelphia,
Kobe Bryant
counted among his major influences then-Sixers assistant, now Bulls head coach
Tom Thibodeau
. "He was crucial. He was with me when I was 16 or 17 years old," Bryant said after Sunday's win over Golden State. "Just doing drills and just working on ballhandling and just teaching me the game. He was there from Day 1."
For his part, Thibodeau recognized Bryant's prodigious talent right away,
writes ESPNChicago.com's Nick Friedell
. It's an interesting story, one of those cool "six degrees of" type things I really didn't know much about. Worth a read.