Los Angeles Lakers:

Tony Brown
November, 15, 2010
11/15/10
4:59
PM PT

By Andy Kamenetzky
ESPNLosAngeles.com
Archive
With just under a minute remaining and the Lakers down by four points in their eventual 121-116 loss to the Suns on Sunday night,
Pau Gasol
snagged a missed 17-footer from
Derek Fisher
, then kicked the ball to
Kobe Bryant
to reset a new possession. Bryant eventually drove the lane, then dished to a baseline-cutting
Lamar Odom
. LO was met at the rim by
Hedo Turkoglu
, who couldn't prevent the basket despite a forearm to Odom's chest.
No question, this was a foul, and Odom quickly reacted by screaming "And one!" arguably in the direction of nobody specific, much less referee
Tony Brown
, who was facing the player's back at the time.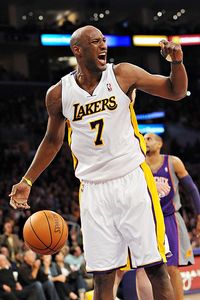 Lisa Blumenfeld/Getty Images
Lamar Odom's technical foul was a bigger mistake on referee Tony Brown's part than LO's.
Brown hit LO with a technical foul, which sent
Steve "automatic at the line" Nash
to the free-throw line. Freebie drained, Phoenix was up by three and retained possession of the ball after a timeout. Seventeen seconds later, Turkoglu buried a deep 3-pointer with Kobe's mitt in his mug.
The end officially began for the Lakers.
True, this technical didn't literally "cost" the Lakers a win. They were behind in any event. There was a matter of both teams playing out the remaining 53.7 seconds. But it definitely shaped the game. Phoenix literally gained a point, and the Lakers had to shake off the psychology from a bad turn of events. I have no idea how the game would have turned out if no tech had been issued, but I refuse to believe it didn't matter.
Before I go too far, Odom's responsibility in this matter bears mention. Even before the league dropped the
"Respect The Game"
hammer, players reacting to calls and/or non-calls with outbursts were susceptible to techs. Perhaps not with a minute left, but in a vacuum, the risk was present. This season, demonstrativeness is explicitly verboten. While one could rightly argue this rule hasn't been consistently enforced, it definitely has been drilled into everyone's heads.
With his team clawing its way back into the game -- a bucket from tying the score after his layup -- LO has to be aware of circumstances and stakes. Sometimes you just have to sit back and take it to preserve the bigger picture, and with that in mind, Odom lost his head.
Like any sport, basketball is and should be an emotional game, which provides a legitimate explanation for LO's reaction. Emotion, however, can't be the catch-all excuse. We live in a world where people are responsible for their actions. Odom is no exception.
But to reiterate, we live in a world where people are responsible for their actions. Along these lines, Brown failed considerably more than Odom to hold up his end of the bargain.