Los Angeles Lakers:

Toronto Raptos
November, 5, 2010
11/05/10
1:09
PM PT

By Brian Kamenetzky
ESPNLosAngeles.com
Archive
Oh, Canada! this is not a good basketball team. The Raptors were a barely mediocre-in-the-Eastern Conference squad last year, and that was with
Chris Bosh
. Without him, they're awful, among our northern neighbor's most depressing exports since
Leonard Cohen
.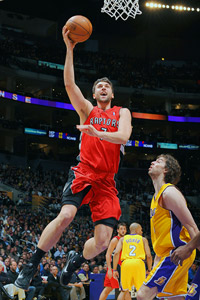 Noah Graham/NBAE/Getty Images
Beware the points Andrea Bargnani can score. Relish the points Andrea Bargnani can allow.
If there's a knock on the Lakers and their 5-0 start, it's that they haven't really played anyone of quality. Yes, Houston is well respected, but are off to a terrible start. Phoenix is adjusting to life without
Amare Stoudemire
, Memphis was missing
Zach Randolph
, while Golden State and Sacramento are lottery teams. Tonight's date with the Raptors will do nothing to counter that charge. If this was college football and the BCS, the Lakers would likely fall in the rankings just for playing them.
But they can only play the teams on the schedule, and Friday provides another opportunity to earn short minutes for the headliners ahead of Sunday's game with Portland. Here's what to watch...
1. Reggie Evans-
If you look through the early season rebounding metrics, the Raptors aren't exactly terrible in many categories, and are actually pretty good in a few. For this, they can thank Evans. While he's still more
widely known for grabbing... other stuff
, Evans has also put his hands on a ton of rebounds. Toronto has played four games, and Evans has 55, a 13.8 per night average. The next most proficient rebounder on the Raptors is
Andrea Bargnani
, at 4.5 a game. By comparison, the Lakers have four players averaging 6.8 boards and above, including two (
Lamar Odom
and
Pau Gasol
) are at 11 or higher.
Evans is particularly ferocious on the offensive glass,
grabbing a league-leading 5.3 a night
. I noted before Wednesday's game, while the Lakers have been very strong generating second chances off their misses, they've also been pretty weak preventing them. Sacramento had nine by halftime, accounting for the extra points needed to keep the game competitive. Obviously Evans, then, becomes a factor, someone needing to be accounted for.
The good news? Evans is pretty bad at everything else. He rarely shoots (a 28.6 percent mark from the floor could explain why), doesn't pass all that well, can't put the ball on the floor, and so on. Plus, he fouls a lot. While Evans is undoubtedly good at rebounding and works his tail off, his limitations as an offensive player help explain the gaudy numbers since his lack of other discernible skills makes it easy for whoever guards him to leave and help on another player. To help cut down on cheap points, the Lakers will need to resist the temptation. If they control Evans, they likely control the glass as a whole.