While there's been no hard reporting to suggest he would -- none I've seen, anyway, and this is the sort of thing we'd make a to do of-- the tumultuous start to the 2011-12 season combined with other factors (lack of consultation on the Mike Brown hire, a perceived non-to-frosty relationship with Jim Buss, and so on) speculation has increased Kobe Bryant might demand a trade should things go south this season.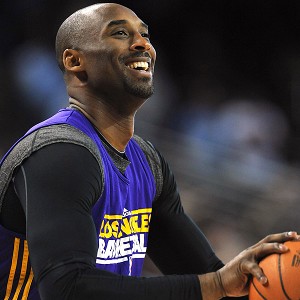 Jayne Kamin-Oncea/US Presswire
Does this look like the face of a man prepping to be traded?
Some, Stephen A. Smith on his radio show for example, have publicly predicted it will happen, and for other media types, myself included, it certainly has over the last week been a vibrant water cooler hypothetical. In a Q and A with Marc Spears of Yahoo! Sports, Bryant says such concern is unwarranted.
"I've been here for 16 years," he tells Spears. "I'm going to up and leave now?"
Spears doesn't specifically ask if Bryant would pull the ripcord on his no-trade clause and push to be moved if the Lakers stall out this season, and certainly behind closed doors Kobe could be a seething ball of anger and resentment, taping Jim Buss' face on a dartboard. Outwardly, though, he's showing no signs. It emphasizes how trouble in Lakerland, particularly when grounded in legitimate short and long term concerns, is magnified to the nth degree. Sparking the negative imagination of those following the team is not hard.
It's certainly possible Bryant could lose faith and demand a trade. He's done it before. Except about 25 other steps have to happen before Bryant exercises the nuclear option, and we're maybe at two. This year's Lakers haven't even played a preseason game yet.
The Lakers face real challenges. A lot can go wrong, and it's all very easy to visualize. But as I've written, a lot can still go right, too.