Los Angeles Lakers:

Turkey
September, 5, 2011
9/05/11
12:51
PM PT
As
Brian noted in his breakdown of Spain's Sunday victory over Lithuania
, Pau landed awkwardly during the second quarter while contesting a
Jonas Valanciunas
jumper. The immediate discomfort was obvious, but given how Pau played 30 minutes, BK logically concluded the forward was fine. As is often the case with injuries, however, soreness can worsen once you get off your feet. Despite being classified as a "minor" injury, the player and his coach opted against any chances, particularly with a first place showing in Group A already iced.
"He is day to day," said Spain coach Sergio Scariolo
of Gasol. "He's having treatment and the doctors will assess him before the second round begins."
Those sentiments were later echoed by Gasol after the loss
via Twitter:
I'm better. I had some pain in the ankle but I'll be ready to go on our next game on wednesday. Thanks for your support #Eurobasket2011
Gasol will rest two days before Wednesday's round two kickoff. Between the universally positive prognosis and Pau's well-documented cautiousness -- he took so long to return from a 2009 hammy injury,
I suspected he was milking matters to promote a "CSI" appearance
-- the odds favor a happy outcome. Still, it's natural to fear a minor injury aggravated into something worse. Moreover, Pau's situation is exactly why fans and franchises alike never rest easy while players compete for their homeland. Considering the high odds of
Andrew Bynum
getting hurt at some point next season, the Lakers need El Spaniard with as few nicks as possible come training camp.
I admire Gasol's loyalty to Spain, and sustaining his fine level of play throughout the tournament should bump his confidence after a brutal playoffs. But if there's any reason for cautiousness, it's mandatory to err on that side, even if a title defense lies in the balance. Bottom line, Pau may be one of Spain's favorite athletic sons, but his main gig is with the purple and gold.
July, 23, 2011
7/23/11
6:53
PM PT
The Ear Candy Express chugs along. Among the taking points:
PODCAST
Andy and Brian discuss Kobe playing overseas, Andrew Bynum's maturity and wacky trade scenarios. Plus, the proper way to say "Besiktas.".

Podcast

- Will he or won't he? That's
the question these days when it comes to Kobe Bryant and playing in Turkey
. While neither of us are remotely certain how to pronounce
"Besiktas
," we're both fairly confident the team is using The Mamba for some free publicity. For that matter, we both have strong hunches Bryant isn't going anywhere.
Between Besiktas' frozen assets, the very low monthly salary (by his standards), and the blip a Turkish league title would represent on his resume, this isn't worth Bryant's time on any level. There are more practical ways to stay in shape --
like barnstorming in China
-- at this stage of his career and health.
(On a related note...
Man alive, Kobe is wealthy
!)
-
Andrew Bynum's poor judgment with handicapped parking spots
is the latest incident prompting fans and media to question his maturity. As an isolated matter, Bynum's actions were indefensible, callous and
summarized poorly in 140 characters or less
, but not necessarily an overwhelming reason for concern.
But combined with a penchant for flagrant fouls and a mind freely spoken without fear of consequence, you wonder if he's mentally where he needs to be. Is Bynum ready for the expanded role he deeply desires? And even the answer is yes, how will
Mike Brown
balance the ambitions of his young center and a certain shooting guard?
- Because it was so much fun,
a look back at "Do it, Mitch!!!
"
July, 18, 2011
7/18/11
3:05
PM PT

By Brian Kamenetzky
ESPNLosAngeles.com
Archive
Heading into the weekend, former Lakers shooting guard
Sasha Vujacic
, a free agent at the end of the 2011 season,
signed a deal to play in Turkey
. There appears to be
some question as to whether or not the deal includes an out
clause allowing Vujacic a return to the NBA when the lockout ends, but there's certainly a chance it doesn't, particularly since the contract contains an option for a second season.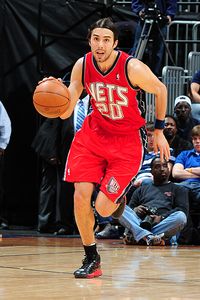 Scott Cunningham/NBAE via Getty Images
Former Lakers guard Sasha Vujacic is heading to Istanbul (not Constantinople).
Should that be the case, it would be bad news for the Lakers. Not because they lost out on a guy they badly want -- despite needing a shooter, I doubt seriously the Lakers would bring Vujacic back, though you might be surprised how many notes we get hoping they would (apparently absence makes the heart, if not grow fonder, at the very least forget all the things that used to tick it off) -- but because of what it might represent. No matter how the new CBA is constructed, the Lakers will have limited flexibility financially to address a variety of needs.
In the backcourt, and particularly at the point, the free-agent pool is thin. Losing players like Vujacic, in the tier of of player the Lakers can likely afford, only further weakens the class, driving up demand/price on a smaller pool of remaining options.
Speaking Sunday to a free agent with NBA experience but a long track record playing overseas and no guarantee of a roster spot in the Association, he said the temptation to jump on an offer in Europe or Asia and lock in a paycheck is strong. Out clauses are ideal, but can't always be had, and for many players business considerations could at some point trump the preference to stay stateside.
For all the talk of big name players following the
Deron Williams
model, assuming no Lakers join him, there's no practical impact for L.A.'s 2011-12 roster. (Unless someone backs the EuroBrinks truck up to
Kobe Bryant's
front door with an offer substantive enough to offset the costs of the insurance required to protect the $85 million or so remaining on his contract, I don't think he'll go.) But if more lower-level, lower-income players fear a potentially protracted work stoppage and accept deals overseas sans out clauses, it'll squeeze the less glamorous portion of the eventual free-agent market.
Otherwise known as where the Lakers will do most of their shopping.
July, 7, 2011
7/07/11
7:00
PM PT
With the lockout now six days in the books, the world has waited for an NBA player to apply pressure by committing to an overseas squad.
Sonny Weems fired the first warning shot
, but was mostly met with responses along the lines of "Who is
Sonny Weems
?" On Thursday, however, things got a little more interesting.
ESPN The Magazine's
Ric Bucher
confirmed reports that All-Star point guard/theoretical Nets building block
Deron Williams has agreed to play for Besiktas in the event of a prolonged lockout
. (For those of you unfamiliar with the Turkish roundball circuit, this is the same team that briefly employed
Allen Iverson
.) With an agreement also in place with Hawks backup center --
and serial head butter
--
Zaza Pachulia
, Besiktas coach E
rgin Ataman
is apparently confident enough to shoot the moon:
"If there's a possibility, we'll talk with Kobe (Bryant) if he'd like to play in Europe with Deron and with other guys to play we can talk with him," Ataman said. "If Kobe would like to play with us, we will also contact his agent and maybe with him."
And with that bit of name dropping, let the rumor mill turn!!!
Or, if I may inject a bit of sanity... it's more than a little premature to fret Kobe ordering
some (presumably free) Turkish Airline tickets
and donning
Besiktas white and black
.
Ataman merely said he'd like to speak with Team Kobe, which is stating the patently obvious. For that matter, I'm sure he'd love to speak with Team
LeBron
, Team
Rose
and Team
Dwight
, too. That he chose to drop Kobe's name in particular feels more indicative of Kobe's worldwide popularity (bigger than any NBA player) and newly minted Turkish celebrity than the actual likelihood of something happening.
Yes, I realize Bryant has European roots and would easily attract individual sponsorship (which Ataman told SI's
Sam Amick
would provide bigger paydays for D.Will and, theoretically, Kobe
.) And Yahoo!'s
Adrian Wojnarowski
has reported Kobe would be
"open to considering overseas offers."
But again, why not? Bryant would be silly not to take a phone call.
Still, that's a long way from actually uprooting his family or committing to a life away from them on the other side of the planet. (Frankly, we're a long way from Williams boarding a jet. He wouldn't report until late August or early September, when the lockout could either be over or close enough to a resolution to bow out.) When you factor the history of players experiencing problems getting paid overseas, the culture adjustment, and by Kobe's ginormous standards, the relative pittance he'd earn at this stage of his NBA championship window, a Turkish schlep feels like a major hassle.
It makes way more sense to lead
a frivolous barnstorming tour in China
(which, as ProBasketballTalk's
Kurt Helin
wisely notes,
would probably enhance his brand than playing in Turkey
, and at half the sweat.)
Naturally, everyone is curious about the next step. Will other players feel emboldened by a player of Williams' stature and follow suit? I'm guessing no, since I think the idea of going overseas doesn't appeal to most NBA baller and most clubs can't afford to sweeten the pot. But it's certainly less stigmatic than during the last work stoppage. And does Deron's move (and maybe a few others) really put the screws to the owners? Again, I don't think so, because they knew Europe loomed going into this lockout. Plus, if they're truly willing to sacrifice a season to "win," they're by definition thinking about a picture too big to cave over a few stars updating passports.
Mostly, this wrinkle adds spice to an already zesty story line. And perhaps a little more posturing in an endless series of bluffs. As I said before, Williams is a long way from truly committed to a season overseas. I've long felt these negotiations and verbal battles have featured a fair amount of mutual posturing, heels dug in because nothing truly substantive has been lost yet. In other words, because they can.
Once crunch time approaches, I expect both sides to work harder in earnest to find a resolution in lieu of missing half or more of a season. Call me naive, but I believed that yesterday and I believe it today.